Champions & #1 contenders
Summer Splash interest in Natasha Loclear?
Mon Apr 09, 2018 11:30 pm by daemongirl
Well my girl hasn't missed a summer splash yet, would anyone be interested in a match with her? Open to just about anything match wise, just pm me!
Comments: 1
Been Out with the Flu
Sun Apr 22, 2018 7:47 pm by daemongirl
Just letting those I have threads with know I've been out with the flu since early last week, but I will be back to posting tomorrow.
Comments: 0
The Austrailian Mudslide is Back.
Sat Apr 21, 2018 6:20 am by Softsquad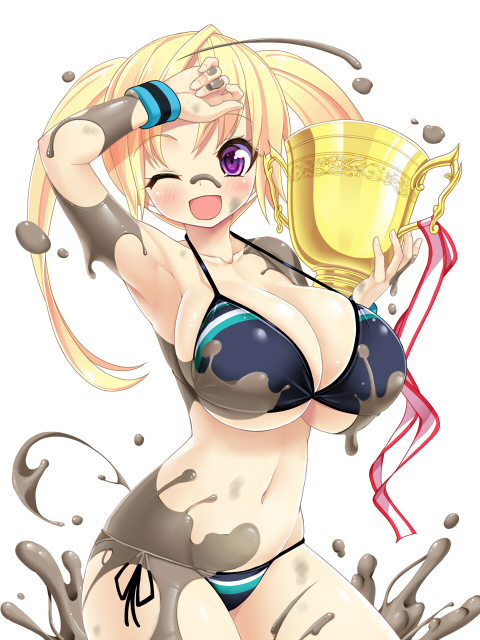 Granted that most of you won't know me or remember me, but I've had a few matches here and there some time ago. Well I think its time to become a regular around here and try to have some fun again, but at the same time keep coming back. Anyway I think its time to jump into some matches with Zoe Taylor, my mud wrestling character from Australia and get her back into the squared circle. Furthermore I will update my characters as I think some proper changes need to happen.
So if anyone would …
[
Full reading
]
Comments: 0
Page 5 of 5 •

1, 2, 3, 4, 5

Blossom woke up to the sound of rain on her window and waves from the ocean sloshing around beside her ear. The former came from outside, as a gentle rainstorm started up. When she opened her eyes, she could see the dull gray clouds outside, with the sun barely squeaking out a few rays through them. It would've been hard to tell what time of day it was, if not for the latter sound - that came from her alarm clock, which was set to gently wake her up with ocean sounds at 9:00 AM.

She had to be at work in about one hour, start her shift at the Friction gym. She was considering calling in, though, for the first time since she'd been employed. Somehow, Blossom couldn't quite bring herself to get out of this bed. Not while Death Bunny was in it.

She pulled herself out of the covers just enough for them to cover her naked chest. She didn't know why she bothered, especially since it was her own home and the woman beside her had already seen everything that was to see on her body just a few hours ago. There wasn't anything left to hide with Death Bunny, anymore. Free at last.

Blossom didn't say anything. She barely moved and she tried to keep her breath from getting too loud. In a little while Death Bunny would be up again, and they could talk and discuss what happened. They could tell each other how wonderful it felt, ask if either of them had ever experienced anything quite like it, and figure out where they went from here, if there was anywhere to go at all.

But, for now, Blossom had this moment to just sit back and watch Death Bunny as she slept. That was more than enough.
As surly and downright prickly D.B. could be when she was awake, her sleeping mannerisms seemed to compensate for that thoroughly. Her nose twitching cutely with nearly every gentle breath, she remained pleasantly docile while she enjoyed what was undoubtedly the best sleep she had in ages. The past few weeks had weighed heavily on her mind, a whirlwind of events and consequences that had kept her at an average of 4-5 hours of sleep a night. Hence why she felt the need to try and catch up on some sleep on that wooden bench in the locker room...the one harmless act that led to all this.

Eventually the digitized sounds of crashing waves started to rouse the bunny girl out of her slumber as well, rolling over to lay on her side and slowly opening her eyes. She was still under that initial, groggy daze when you first wake up in the morning. The foreign feeling of not immediately recognizing your surroundings or the bed you were lying naked in made her heart beat faster, though once she made out the fuzzy image of the person laying so comfortably next to her she eased up...everything coming back to her in a wave.

*...oh yeah...I told her everything, didn't I?...* Her half-lidded eyes remained fixated on Blossom, letting the moment sink in with as much gravitas as it deserved. For several seconds she was perfectly content with just maintaining eye contact with Bloss and appreciating the silence...except for the alarm clock anyway. Remembering her confession and the incredibly wild night that came afterward did bring a tint of red to her cheeks, shocked that they did half the things they did and in those positions to boot.

D.B. finally let it all out...laid everything to bare...stopped repressing everything. She'd spent the last year cold-heartedly rebuking Blossoms affections, and now here she was practically spooning with her after a night of intensely passionate love making...their were so many things that needed to be discussed, but for now she chose to keep things simple."...hey..." D.B. eventually uttered the same greeting she started the night with under her breath. "It...it took us a while to get here didn't it? Guess...a lot can happen in a year's time..."
Blossom was sorely tempted to take a picture of Death Bunny as she laid asleep, twitching and curled up and looking more peaceful than she ever thought physically possible. It was just another of the many surprises she'd experienced over the past twelve or so hours, new sensations that she was learning how to properly process. Like the feel of Death Bunny's skin against her own, the taste of her mouth as their tongues danced along each other, the heady scent of her breath all around her face. It was funny, but Blossom never imagined that she would be such an attentive and tender lover - but she was. Death Bunny paid attention, and worked with her, and didn't try to outpace her. They made a perfect pair underneath the sheets. Surprise of surprises.

"Hey to you, too." Blossom's voice was hoarse and haggard, a much more gravely version of her usual upbeat tone. Just the way she sounded in the morning. Plus, all the screaming didn't help things.

"Good things come to those who wait." Blossom leaned forward and placed a peck on Death Bunny's forehead. "This was worth it."
The adorable peck on her forehead served to be the perfect bookend on a night where everything that didn't seem possible to happen, happened. Afterward D.B. looked back at her flowery companion with widened eyes and a fixated gaze on the cherubic, practically glowing companion staring right back at her. For someone who would naturally repel from most signs of affection, this time she remained pleasantly docile. Muttering a single word as she looked down and away...
"...
idiot
."
Blossom's shuffling forward had brought their naked forms closer together under the sheets, practically tasting each others breath until D.B. instinctively closed the gap. Pulling her in tightly by her slim waist until their heaving chests and toned abs compressed together, all just so D.B. could once again know what it was like to pull Blossom closer as opposed to pushing her away for once. The heated embrace was made even moreso since they were under a layer of fluffy comforters. Though D.B. didn't remember Blossom being this warm before, their legs intertwining at the foot of the bed. Her heart was fluttering when she forgot it could even do that, taking one long breath against Bloss' collarbone before speaking up again.
"I'm...gonna be perfectly honest with you...I have...no idea where to go from here. Or if this is even going to work out...
I just know this felt right
."  A rare moment of weakness and uncertainty from someone who isn't known for expressing either.
That was actually a good question, one that Blossom hadn't really considered before and really hadn't had time to consider last night. What was the next step for them? She wasn't a wrestler anymore, wouldn't be taking part in any matches from this point on. Death Bunny still was, but her position made things tenuous. Even if she stopped hanging around with Kelly, she'd always be connected to the night Kelly stole the title. That dark cloud would be hanging over her entire career.

"It did." She sighed, smiled, and kept on rolling, getting on top of Death Bunny and rubbing their foreheads together. "We could stay here, you know. Just kinda…" She bobbed her head from side to side. "Be here, with each other. No more drama, no more feuding. Just the two of us together. Order in food when we need it. Maybe get some kind of job on the internet." Blossom brought her lips over to Death Bunny's ear and gave her the gentlest of licks. "We'd never have to leave."

Blossom giggled almost as soon as the last word left her mouth. It was a lovely picture, but not a realistic one.
After hearing how cozy Blossom was with Taylor, coupled with the fact that they never truly came to an amicable resolution to her involvement with the Coalition, it would stand to reason that D.B. would unearth that uncomfortable topic from its grave. She highly doubted she'd be invited to the AFW Christmas party this year. Was she really alright with being seen associating with one of the most despised women in the league?

It was strange though, how for all of Bunny's worried apprehension about the future and where this relationship would take them, Blossom was able to set her mind at ease as if it she had been doing it for years. D.B. blushed as their noses flicked and rubbed against each other's in inadvertent eskimo kisses from the playful forehead rubbing. The slippery tickle at her ear had her hum vibrations into Bloss' neck, all this cutesy cuddling disarming her and putting her in a heady daze faster than any headlock.

"Mmm...why is it that when you say it doesn't sound like such a far-fetched idea?" It was indeed a sorely tempting suggestion, and in a perfect world...but D.B. got the message. All of that outside noise could wait for now. The arm wrapped around Blossom's waist slowly inched down to caress the curvy rear just below. Thin sheen's of perspiration along their bodies from how close they were under the covers. "You...sure you can spare the day off?" D.B. mumbled in between suckling pecks on Blossoms' neck.
Blossom was trying to be as sexy and serious as she could be at the moment, but it was a little difficult to do when Death Bunny's nose was rubbing against her like that. It was amazing how such a strong woman could from being so scary and formidable, yet be so soft and caring when they came to the bed. This wasn't the Death Bunny that was the scourge of the locker room and Kelly Conway's feared muscle. This was the kinder Death Bunny. The loving Death Bunny. Blossom's Death Bunny. And she didn't want to let her go.

"Ah ah, watch it." Blossom burst into a giggle fit, as Death Bunny's kisses reached a tender spot just below the ear. "Ticklish, ticklish. But yeah, I can get the day off." She brought her lip over to Death Bunny's ear and graced it with a long lick. "For you, I'd take off a whole month. Probably wouldn't be good for my job, but sooooooo worth it."
"Mmm~..." All those teasing licks of her earlobe were only making it more and more tempting for DB to just keep melting into that bed of hers. Burying her face into the crook of Blossom's neck to help suppress the moan from escaping her mouth, even her bunny ears twitching from the invasive yet sensual lapping.

"...thought you'd say that..." From here Bunny would sit up right with her arms wrapped around Blossom to position her so she sat on her lap and looked dead center into Bloss' emerald eyes. Not one inch of the front of their bodies didn't come into sweaty contact with the other. The comforters that were encasing them in a cocoon of warm fluffiness collapsed to their sides to reveal their exposed forms clutching each other tightly.

"...and that's why I want you to go to work today. I don't want you sacrificing one second of this dream job of yours because of me. Come on, I'll give you a ride myself..." Breaking up this moment was difficult enough for DB, but she could already tell that she would need to be the voice of reason in this relationship at times.
"Awwwwwwwwwwwwwwwwwwww!"

Blossom let out a long, droaned out grown as Death Bunny hit her with the cold shower of reality. She wasn't wrong, of course, but, well..."I want more sex!"

Blossom hit Death Bunny with the pout, and managed to hold it for all of two seconds before she broke out in a burst of giggles. That trick probably wouldn't work on her anymore, if it ever got any mileage. Blossom just sighed and rolled off the bed, accepting Bunny's logic. She did need the job, especially now, when she had an extra awesome reason to stay in Japan.

She gave Death Bunny a quick kiss and rolled off the bed, skipping across the room and hopping over discarded clothes. "Just let me take a shower and I'll be ready."

Blossom turned a corner, only to poke her head back a moment later with a fiendish grin. "Wanna join me?"
Putting an official end to the night's festivities was no picnic for her either, despite her trademark stone-cold veneer making her seem indifferent. Blossom had her way of showing she cared...D.B. had her own. And that included not allowing Blossom to jeopardize the job she was gushing over earlier in the night just for her. The bunny eared one did raise an eyebrow to Blossom's adorable plea for more of their sexually festive romp, momentarily fixated on the cuteness of her pouty face with a flash of red on her own cheeks...

*...she...she's definitely been working on that...*

With Blossom off and heading in the direction of the bathroom, D.B. would turn to her side to put her feet on the carpeted floor. Surveying the cluttered surroundings of discarded clothing until she found her lacey panties by the night stand. Slipping them on and adjusting them around the curvature of her butt, D.B. just then realized that she hadn't slept so well in years, especially ever since dethroning Taylor. Her unhealthy sleeping habits were the entire reason she ran into Blossom in the first place. That thought alone brought a brief smile to her face...until she would perk up to hear Blossom's request...

...A Lucky Charms T-shirt being thrown at Blossom's face soon afterward.
Page 5 of 5 •

1, 2, 3, 4, 5


Similar topics
---
Permissions in this forum:
You
cannot
reply to topics in this forum