Champions & #1 contenders
Been Out with the Flu
Sun Apr 22, 2018 7:47 pm by daemongirl
Just letting those I have threads with know I've been out with the flu since early last week, but I will be back to posting tomorrow.
Comments: 0
The Austrailian Mudslide is Back.
Sat Apr 21, 2018 6:20 am by Softsquad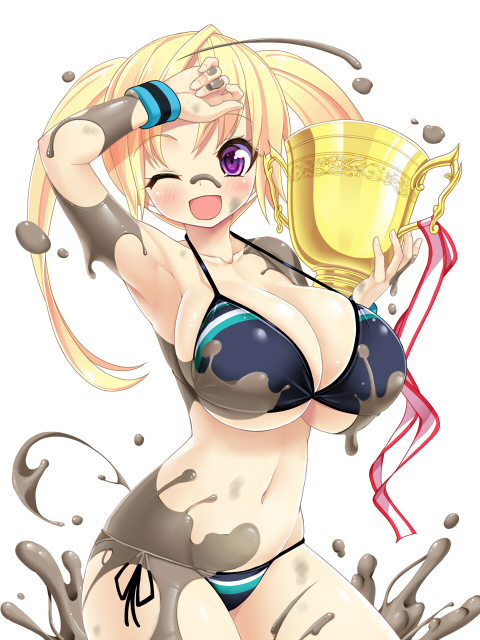 Granted that most of you won't know me or remember me, but I've had a few matches here and there some time ago. Well I think its time to become a regular around here and try to have some fun again, but at the same time keep coming back. Anyway I think its time to jump into some matches with Zoe Taylor, my mud wrestling character from Australia and get her back into the squared circle. Furthermore I will update my characters as I think some proper changes need to happen.
So if anyone would …
[
Full reading
]
Comments: 0
Looking for a debut character match.
Fri Apr 20, 2018 7:44 pm by Tarantulust
Hello everyone,
I am looking for a match to debut my first character, Juno Sawyer, as well as get accustom to the site. I am mostly looking to solidify Junos character, and how she acts.
I would prefer to stay away from hentai right now, though a perverted character or action is fine is fine if its within reason. I don't expect it to be too long, but if you wish to add a rivelry or enemy spin to it I am open. If you are interested, feel free to reply or PM me.
Comments: 3
Page 2 of 5 •

1, 2, 3, 4, 5


Blossom waved to Death Bunny as she approached, adding a little pep in her step as she closed in. From the looks of things, the raging rabbit was actually going to let her ride on her motorcycle, something she'd secretly wanted to do since the first time they'd met. Granted, she hadn't outright said that was what would happen, but Blossom was more than willing to let the notion remain unsaid, lest she scare it away.

The staring caught her off guard, though. And what Death Bunny said after the staring caught her even more off guard.

"Huh?" She cocked her head to the side, then her eyes widened as realization hit. DB was Irish. Duh. Should've remembered that. "Sorry, sorry." She stretched her t-shirt out and sighed. "I have an extra Honey Nut Cheerios shirt in my locker, if it bothers you. Doesn't match my skirt very well, though."

The notion to go back was quickly erased as Death Bunny confirmed that, yes, they would be riding on the same motorcycle together. She pratically teleported onto the back, and immediately shifted around, trying to get comfy. "Well, I can eat just about anything. There's a pizza place near here that's kind of like CiCi's, and then you have this neat place with a sushi buffet and tea and stuff. There's even a place around here that's kind of like a spa, but you can eat while you're in the hot tub or the sauna. Super relaxing."

Her hands reached out, starting to encircle around Death Bunny to hold, but she hesitated at the last moment. "Do you mind if I...you know?" She'd never riden a bike before, but from her understanding, holding the person in front of you was sort of a prerequisite if you were in the back. Still, she'd learned well to never assume when it came to close contact with Death Bunny.
While going through the routine procedure of getting her motorcycle revved and shifting into first gear, it had yet occurred to D.B. just how uncharacteristically lax and lenient she must have appeared to Blossom, who could attest firsthand to D.B.'s less than sociable nature. Though when she noticed the trepidation Blossom had towards laying the slightest touch on her, the stark differences in her general demeanor since last year was glaringly evident. It caused D.B. to reflect briefly on why she was now so much more lenient and open to certain things...but only briefly. She believed she knew the answer anyway...something she would probably have to share with Blossom tonight...

"Uh...Here..." D.B. replied before she reached behind her and tenderly grabbed Blossoms wrists before tugging them forward and crossing them over her bare slim abdomen. "Just hang tight...and whatever you do, don't tickle me." D.B. quipped with her usual grim tone, hoping to alleviate any tension from the somewhat awkward moment. With Blossom now hugging her securely from behind, the noticeable sensation of Blossom's chest compressed against her back caused that damned heart tick to reignite, D.B. fake coughing into her fist again to try and get her mind off the warm and fuzzy feelings and onto the road.

Gradually easing up on the clutch and applying the throttle had them off and careening through traffic within seconds. Her floppy bunny ears wafted in the summer winds while the roaring engine of their ride had them dodging traffic with reckless impunity. By now it was pitch black out and there were brief times during the ride when it was just the two of them on the road, the summer breeze cooling the both of them off despite the dry weather and making the drive memorably pleasant...

...though their drive was short-lived since D.B. had decided in her head where she preferred to spend the evening, pulling up to the location and turning the engine off with fortuitous parking right in front of the entrance.

"This was the sushi place, right? I'd passed by it a few times while on my..." D.B. paused to look behind her to see that Blossom was still clenching her tightly. "Hey...you can let go of me now ya know."
Blossom's heart skipped a beat - literally, she could actually feel it, kinda hurt - when she found out that she would be allowed to actually embrace Death Bunny for an extended period of time. The dream was finally coming to beautiful fruition. Granted, in the dream, Blossom was wearing a helmet, so safety was a concern here. She would have to hold on very tight, and trust in her friend's driving abilities. This would make for a very weird accident report.

It was a fun ride. Not just the feel of Death Bunny's body against hers, but the peacefulness of it. Something about the roar of the engine and the violet hair whipping about her face seemed to make the whole world disappear. It was just the two of them in this moment. No words. Just feelings.

Blossom smiled. She hoped Death Bunny was smiling, too.

Luckily for her health but unluckily for her desires, the ride didn't last too long. Death Bunny pulled in front of Isuzu, the sushi place, quickly enough. Not that Blossom noticed at first. "Oh!" She quickly unhooked and slid off the bike, striaghtening out her skirt to keep things from getting even more awkward. "Yeah, this is the place." She took out her billfold and took a quick check on her funds as she started to saunter in. "Have you ever eaten sushi before? Used chopsticks?" Blossom held up her fingers like she was holding an invisible pair.
"Seeing as how I live in Japan, I think eventually I'd have to develop a taste for it, right? Plus some of Maki's best dishes were sushi plates..." D.B. coyly responded while kicking out her stand and dismounting her ride. The promise of soothing tea and cooked shrimp seemed to be the appropriate middle ground between a rowdy pizza joint and some sort of gimmicky sauna/restaurant where they would just end up getting sweaty again after busting their ass at the gym. Though as tempting as a hot sauna was to her battered body, D.B. somehow felt Blossom may have had an ulterior motive when she suggested that location, having nothing to do with getting a hearty meal...

"Though ever since she's been gone these past few months...I don't know...Guess I lost my appetite for it..." D.B. lowered her voice a few octaves at that last part, a sense of longing in her tone as she approached Blossom. "And give me that..." Snagging the billfold out of Blossom's hand, D.B. would stuff it back in whichever dress pocket she took it out of. "Don't wanna see that for the rest of the night, got me?" She was trying really hard to be a respectable friend to Blossom...and that meant not allowing someone who lives off of a gym trainers salary to pay for her or anyone elses meal tonight. Seeing her shatter her leg...suffer consecutive devastating losses...have her cut short her own career...for once...D.B. just wanted life to come easy for her.

Slinging her tote bag over her shoulder, she turned to approach the fishy establishment and brush past the doors, not exactly sure what she would find inside.
Blossom opened her mouth to ask about Maki, but she stopped herself at the last moment. The look of Death Bunny's face, the tone of her voice, they both told her that it wasn't exactly a subject that should've been breached right now. Maybe after they'd had a few bites of shrimp and settled down for a moment, she could slip the subject in. She'd only met Maki briefly, but the two of them had clicked so well, and-

"Hey!" Blossom yelped as her billfold was taken away and restuffed in her own pocket. She quickly calmed and followed Death Bunny inside, more than happy to go along with her demand. "If you say so..." For one thing, it was a great sign of their relationship that the Floppy One was actually volunteering to spend her own money in a situation like this. For another thing, Blossom was on a budget, and she could refuse a little financial help.

Isuzu was more of a lunch place, which meant that it was fairly filled out come dinner time. Perfect for her. The two of them were able to get a good seat on the second floor fast enough, by the window so they could have a decent view of the area.

Blossom shuffled into her side of the booth and got comfy, waiting for the waittress to slide on by. While they waited, she did have a few questions to ask, especially one that had been tickling the back of her brain since they left.

"So..." She pointed at the leprauchan on her shirt. "Do they even have Lucky Charms where you come from? Or is it just, sort of...forbidden?"
With as hustling and popping as the sushi restaurant was that night, it should come as now surprise that the unlikely pairing would draw a curious glance from the patrons inside. Cock-eyed expressions that seemed to follow them all throughout their maneuvering inside and upstairs to their seats, including from two smiling children situated in the booth behind D.B. who were inexplicably fascinated by the bunny girl and her floppy earlobes.

All largely ignored by D.B. as she sat across from her flowery companion and placed her tote bag by her side. Cupping her chin and propping her head against her arm, she stared grimly across from Blossom as she immediately reverted to probably the most inane small talk imaginable.

"...*groan*...If they did I wouldn't know, I haven't been home in years, Look Blossom, I..." The bunny girl responded quickly as she pinched the bridge of her nose and scrunched her face as if she were in physical pain just from answering that question. "...idle-chit-chat has never been my forte, alright? After nearly a year apart I know their has to be something more worth while to talk about while we wait to get served..."

Blossom blushed and stared at the table, as her futile attempt at small talk was shot down and fell to the ground in a burning wreck. She'd never been good at this sort of thing - filling in the gaps, especially when there was a big, dark cloud hanging over everything.

She knew what she wanted to talk about, and she knew it was only a matter of time before she did. The elephant in the room wouldn't stay quiet forever.

Blossom drummed her fingers on the table for a moment, before looking up with a quick glance and wide eyes. "Maki."  She leaned forward, elbows on the table."Where'd she go? Heck, why? She seemed happy the last time I saw her."
D.B. lowered her hand from her face and crossed her arms before slumping back in her seat. Not that she wasn't completely opposed towards the occasional round of small talk, but she felt that their were more dire topics at hand and too many issues that needed to be straightened out between them before she could toss her feet up and relax.

"Yeah...things are noticeably quieter without her around, right?" D.B. somberly quipped, looking upward from the table to lock eyes with Blossom. "Not sure if she's ever told you this but, her parents own their own sushi bar up in Kiyokawa. S' kind of a rustic town, can't even get there from any major highways...anyway, her father suffered a stroke a few months back and she was on the next taxi home. Guys fine, but...Maki stayed behind to help with the family business. She's kept in touch, saying she'll be back when the time's right for her and her father recovers...

"Since then...*yawn*..." D.B. would arch her back and stretch outward like a cat to coincide with her wide-mouthed yawn, rotating her arm before continuing in a tired tone. "S' just been me...bangin my head against the wall back home..."
Blossom was glad to hear that Maki was okay and that she hadn't quit for any crazy reasons. Blossom hadn't really seen her in too many matches with the AFW, but she'd caught some of the Valhalla Garden stuff - Maki was good. Maybe a little crazy, but good. Blossom wanted to see more of her, and she'd be paying close attention for the return.

The waiter came and took their order, breaking up the rather uncomfortable silence that was starting to loom over the conversation. There were things that were going unsaid, a sort of tension that you could almost physically feel over the table, and she knew it was only going to get worse the longer she drew it out.

There was no getting around it. Time to dive in.

She propped her elbows up on the table and leaned forward as the waitress left, taking on the most serious face she could muster. Which probably wasn't that serious. But she did try. "Okay, I'm...not all that good with this sort of thing. So I'll just come out and ask - why are you working with Kelly?" She sighed as her brows furrowed up. "I mean, really. Why her?"
.
D.B. never saw herself as a stirring conversationalist, still noticing the lulls in spoken words and awkward silences herself. It didn't help that the topics so far were merely the appetizer to the more meaty questions she knew were looming in the distance. Also perhaps a product of her perpetual desire for solitude, a craving that even she couldn't deny was waning over the past year.

"Heh, you make it sound like I signed a deal with the devil herself. But yeah, I know. It doesn't quite add up, right? Someone like me...teaming up with someone like her..." D.B. spoke with a slight smile as she slouched back in her chair, her arms folded again as she peered down at the table between them to collect her thoughts. For someone who knew D.B. like Blossom did, the notion that she would have even the most basic of affiliations with Kelly Conway must have been wracking her brain all this time. The ludicrousness of their team up wasn't lost on D.B., though she needed a moment to think of how to best explain herself, looking back up towards Blossom when she felt she had the answer.

"We...don't really have control over how opportunities present themselves to us. But that's exactly what she offered me in the end. I join up with her, and I get a chance to make waves in this company. Letting management dictate my career was becoming less appealing by the day anyway, especially after seeing how well they handled yours. Believe it or not I was contemplating calling it quits for a time before she quite literally came between me and the exit doors. So...I saw an opportunity...and I grabbed it. Everything else after that...just sort of fell into place." The waiter who had taken their order would return early with their drinks, for D.B. a cup of hot green tea which she brought to her lips for a quick sip.

"I...take it you disapprove?"
Page 2 of 5 •

1, 2, 3, 4, 5



Similar topics
---
Permissions in this forum:
You
cannot
reply to topics in this forum