Champions & #1 contenders
Highfly Flying Out Of Town
Tue May 22, 2018 1:31 am by HighFly
Hello everyone, I just wanted to inform all I have threads with that I will be gone from this coming Wednesday through Sunday. I won't be able to post consistently if at all during this time, but I will try to make up for it next week! I am sorry for the inconvenience to everyone.
Comments: 7
The Austrailian Mudslide is Back.
Sat Apr 21, 2018 6:20 am by Softsquad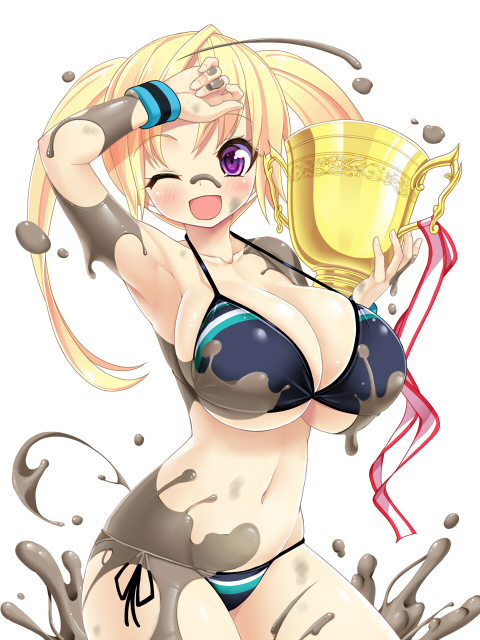 Granted that most of you won't know me or remember me, but I've had a few matches here and there some time ago. Well I think its time to become a regular around here and try to have some fun again, but at the same time keep coming back. Anyway I think its time to jump into some matches with Zoe Taylor, my mud wrestling character from Australia and get her back into the squared circle. Furthermore I will update my characters as I think some proper changes need to happen.
So if anyone would …
[
Full reading
]
Comments: 5
Page 3 of 4 •

1, 2, 3, 4


Yeah, the screaming was raking his nerves, no doubt. When he started to crush her between his arms, she let out a high-pierced wail that grated him like nails on a chalkboard, and with him being so close he got more than a fair share of it. Enough to make his ears ring.

"Fuck! Lady, shut up!" He winched, grinding his teeth as the screech went on. "Just quit already. Then you can go to your photoshoot and I can get something to eat and we can just forget this whole stupid night ever happened. Won't that be fun? Don't you want to do that?"

It would seem the answer was a resounding 'NO'. And she didn't need to say it, either. Her head and her knee spoke loudly.

He croaked as she slammed into his balls and face at the same time, making him let go as he fell to his knees. One hand grasped his face, while the other did the arguably more important job of nursing his balls. "Cheap shooting bitch..." He groaned, looking back up to her, then to the ref - all that shit about the closed fist, and now low-blows were sliding? "Oh, come on, tell me you saw that crap."
His bearhug was getting tighter and stronger, she could barely breathe being squeezed like that, her breasts hugging her sports bra tightly as she was cramped up against him but it looks like her little cheap shot actually worked, good thing the referee's angles were all wrong and he just about missed that knee that she jammed up against his crotch,successfully covering that up with a headbutt. It looks like her shrieking and yelling was causing him some discomfort as well, oh well more plus pointers for her to use against him. Although bearing in mind- she was no harpy lady!

She was relieved that he let her go immediately after her combo strikes, she staggered back clutching her back as she moaned out in pain. Beads of sweat shine off her well athletically toned models body, she looked around and saw the big guy down on his knees clutching his face and massaging his balls as he started to complain about that knee strike, "Pssst-Miss Ami, Nii-san is in the crowd. Go for it" Kyle whispered out to his client, the supermodel. She grinned and then her act began. The referee was close to where Armando was listening to his complains of that low blow but he didnt see anything wrong with the way she escaped, SUDDENLY Ami just threw her body towards the referee as she lunged in at him and leaned against him, clutching her back. "Ohhh ref, ref, ref oww my back- I think this brute injured my sensitive supermodel back- owww look ooowwww" she was leaning against the ref, getting him distracted no doubt. The ref was confused but flustered at the same time having a sweaty supermodel in his arms, a fake tear forming across her beautiful eyes as she pouted and whined.

As the ref was distracted, someone got out of the crowd and quickly made his way into the ring behind where Armando was down on his knees. It was her brother Daisuke Takeuchi! He was wearing a black hood, shirtless underneath and in his wrestling trunks and wrestling boots. The most deadliest thing he was wearing was a pair of brass knuckles on his right arm, as soon as he entered the ring he went straight for Armando. Rushing across him from the side as he dived in at him, looking to strike the side of his head with his closed fists covered by those brass knucks, he struck him as hard as he could! A shot that could very well put someone in a concussion if he/she wasnt strong enough! During all this time, the supermodel had the ref distracted by her playacting. It was papered as a one on one match up but other players were involved, noticeably the manager and her brother!
Army had actually bought a cup for just this sort of thing, after he watched a few Tension matches and noticed a disturbing trend with the female fighters - it was a safe bet that his balls would eventually come under fire. During the last fight, though, he lost the stupid thing and he hadn't bothered to buy a new one yet, figuring he wouldn't really need it to fight a supermodel, of all people.

Wrong. So wrong.

Fortunately, Ami didn't capitalize on it immediately - no, instead she started complaining to the referee about her back, getting all over him as she went off. It was silly as hell, but whatever. It gave Army some time to recover, so he couldn't complain, and he started to get back up and ready for the next strike - as soon as the ref moved, he was coming at the bitch with a spear, right in the gut. No question.

Army had only made it to one foot when he heard the pitter-patter of little feet enter the ring off to his side and turned around just in time to greet some brass knuckles with the broad side of his face. His world went white for a solid second, the crowd's roar was muted, the taste of blood filled his mouth, and down he went, face first on the canvas, flopping about like a fish in a boat. "...the fuck, what the..."
The ref was in a blind spot, he couldn't have seen what had occurred behind his back as he was "helping" the supermodel with her back ache. The ref couldn't be in on it? Could he? I mean sure, the Takeuchis are a rich bunch but could it be possible? Nah! Hmm...

Ami had a corner view of what just had occurred and she could barely keep her laughter in control. She felt like bursting out in laughter but she held it in, Daisuke was clever enough to use brass knucks and not a chair shot- a chair shot would surely get anyone's attention with the sound it makes


"uhhmmm, I'm Ok I'm Ok, continue, continue" she said acting out of breath. She pushed the referee aside and moved straight to Armando who looked out cold. She didn't pin him right away , she wanted to have landed the last move before she pinned him to get the satisfaction

"Okk get uppp little baby" she smirked as he grabbed a fistfull of his short hair and hauled him up back to his feet. She quickly began to wrap her arm around the back of his head and made sure his body was bended down at the waist, she waited for a few seconds before lifting her left leg up and falling back down on her butt, trying to drive Armando's head first into the ring canvas as she attempts an Impailing DDT.

If she managed to successfully pull this move off, she would immediately turn him over onto his back and hook his leg up high, her upper back pinning his shoulders and go for the pin.

"1......2......"
Couple questions in Army's mind.

First, who the fuck was that? He hadn't done any real homework on Ami like his sister would have, but he was pretty sure she wasn't the sort of person to have random thugs she could just summon to the arena whenever she liked. And the fucker had the nuts to hit him with brass knuckles, too - as soon as this match was over, he was freeze-framing the video and doing a little hunting.

Second, was the ref deaf? Army heard that shit coming and he was recovering from a ball bash. Ami wasn't bad to look at, but she was that hot.

Whatever the reasons, he was down and vulnerable, and Ami, opportunistic pain in the ass that she was, took advantage of it. The next thing Army knew, his head was getting implanted into the ring with a DDT, smashing his head into the ring with a thunderous crash. Before, it wouldn't have been the most fun thing by any stretch, but after that knuckle shot? He was left on his back, grasping his head as she went for the pin.

"3...!"
Three? Three! THREE!?!. Ami could hardly believe it, she actually won against this macho stud. Her eyes widened with a shocked look on her face, she unhooked his leg and just sat down on her butt with her hands stroking her sweat slickened hair backwards, her shocked expression soon turned into a grin as she licked her lips and laughed out a bit.

She slowly got back upto her feet, "Hah - Hah! I won. Ref, REF! I WON, Raise the winners hand. "/color] she commanded the referee as he reluctantly moved towards her and raised her left arm. [color=#000040]" Good, now the other one. ". He was a bit confused but she did win,so he raised her right arm as well.

She wasn't done yet, she pinned her right boot on top of his abs and put her hands on her hips, making a pucker face with her lips as she struck a pose over her fallen male opponent. " Heh, not bad for a photoshoot eh?" she winked. Her manager Kyle, applauded her from outside the ring while the hooded Daisuke backed up on the ring ramp, walking in reverse as he watched the post Match action. A sly grin could easily be spotted even though he had his hoodie up.

" Come on now miss Ami- your going to be late for the photo shoot" Kyle said from ringside. Ami looked back and waited for a few seconds before finally beginning to exit the ring, before she did, she gave the fallen Armando one last look over her shoulders before exiting and heading backstage. She needed a long shower and an appointment with her make up artist to cover up some of those bruise marks on her face.

Winner by pinfall: Ami Takeuchi
Last edited by 12085 on Thu Jun 12, 2014 10:08 am; edited 2 times in total
It was the last match of the night, so the crowd started to get up and leave. The crew started to mop up for the night. The titantron went off. Speakers went down, and the lights started to follow.

Army just stayed there. Laid out. Staring up at the ceiling. Dumbfounded. Flabbergasted. A few other fancy words for 'fucking confused as hell.

It wasn't long before his sister's face appeared above him, shadowing him with an all-too satisfied grin on her face. "You just going to stay here until the show starts back up again, or are you going home at some point?"

"I lost to a supermodel."

"Yes." She gave him a little kick in the shoulder.

"I. Lost. To. A. Supermodel."

She let out a long groan and took him by the hand, pulling him up - not the easiest thing, since he weighed a ton. "Oh, get over the macho bullshit, will you?" She gave him a slap on the back and started to lead him out, waving to one of the janitors as she made it through the ropes. "You got jumped, everybody saw it. Funny as hell, but it's not like it was a fair loss. It's wrestling, it happens."

"I guess." He groaned and dropped down, rolling after her. "We gonna get even?"

"Hell yes."

"You ever gonna let me live this down?"

"Hell no."
Even backstage the situation was something similar, a few janitors here and there, other staff etc. Although there was one person standing right outside the V.I.P locker-room of the "Supermodel" Ami Takeuchi. He was leaning a bit on a desk near her door, there was no chair for him to sit on so he was busy wiping the sweat off his forehead with his arm while being busy organizing some files. It was Kyle, Ami's manager. He had a frustrated and pissed off look on his face as he looked around the files and messing with his cell phone. No doubt busy organizing Ami's work schedule's for both her careers.

"*grumble*grumble* Urgh, I get no respect! work work work work....that darn snot nosed rich brat-Eh?" He heard some people talking and wondered who else could be working this late? perhaps fellow managers he could gossip away with. As he looked around he saw *GULP* Armando with someone else. He just took part in a major screwjob with his client and her brother. Ironically now the victim was walking right down the hallway "C-crapppp" he hissed as he took a briefcase and brought it upto his face to hide his face, hoping the two dont notice him standing nearby. Hoping to avoid some questions and answers.
Last edited by 12085 on Fri Jun 27, 2014 9:56 pm; edited 1 time in total
Army was so wrapped up, still trying to piece together what hit him, nursing his headache and dealing with Carmen's teasing that he almost didn't notice the guy as he passed. Almost walked right on by.

But a grown man hiding behind a briefcase is pretty hard to miss.

He stopped and exchanged a few glances with Carmen, standing right in front of the guy and looking him over, head to toe. He looked scared shitless, which made Army wonder exactly why that was - he didn't have a habit of just beating up defenseless old guys. Even ones that had it coming.

Army rubbed his chin for a moment, then reached out and grabbed hold of the briefcase, peeling his fingers off. "Let me just..help you with this. Yoink." He pulled it out of the guy's hands, while Carmen waved to the newly exposed manager. "Hey. Is your name Bob? You look like a Bob. I'm calling you Bob. What's wrong, Bob?"
Last edited by 12547 on Fri Jun 27, 2014 10:13 pm; edited 1 time in total
Sweat trickled down his sideburns and forehead as the two came near him. His knees started to shake when he felt Armando's hand peeling his fingers off the briefcase. The briefcase dropped and the young adult in the suit was exposed, a goofy smile formed across his face as he twitched and stuttered. "Eh-hehehheehehehheheheeh! Ummmm No- Its Kyle, my name is Kyle. Nice to meet you *bows* nothings wrongs, everythings fine. Well, looks like were all quite busy. Lots of paperwork for me to do and im sure you young couple have a nice warm date planned soooooo ill cya later Ehehehheehhehee" he said without pausing or taking a moment to catch his breath.

He turned around, grabbed his file and bent down to get his briefcase. With everything haphazard in his hand he slowly tried to walk away.....nice....and easy.....
Page 3 of 4 •

1, 2, 3, 4


---
Permissions in this forum:
You
cannot
reply to topics in this forum