Champions & #1 contenders
Looking for character debut
Sat May 26, 2018 9:07 pm by Hedgehawk
Hey Guys,
So i have finished rounding the basics off my new guy
Ichiro Kuo
.
I was wondering if anyone would be up for threading with him for his debut. It doesn't have to be match, it can be some backstage stuff. Just wanna set something up to get the creative juices flowing.
Comments: 0
Highfly Flying Out Of Town
Tue May 22, 2018 1:31 am by HighFly
Hello everyone, I just wanted to inform all I have threads with that I will be gone from this coming Wednesday through Sunday. I won't be able to post consistently if at all during this time, but I will try to make up for it next week! I am sorry for the inconvenience to everyone.
Comments: 7
Page 1 of 9 • 1, 2, 3, 4, 5, 6, 7, 8, 9


Match Type: Standard
Victory Conditions: Pinfall, Submission, or KO
[url=http://s41.photobucket.com/user/bacongood_2008/media/Silver_zps59fb8bf6.jpg.html:1ytixjeu]
[/url:1ytixjeu]
Ace could barely contain her energy as she bounced around backstage, awaiting her music to play to signal her entrance. It was just a couple days beforehand that she had been emailed by her opponent for the evening, an older woman named Valley Doll, inviting her to do a little meet and greet before their matchup. Initially reluctant and nervous, given her out of ring experiences since joining AFW, Ace was more pleasantly surprised to find the woman wasn't a psycho, trying to use her, or somebody with a desire to beat people up and then demean them for getting beaten up. Instead, Valley turned out to be a normal person, with a genuine love for the wrestling business. For the first time since she started her career, Ace finally felt she had made a friend.
Of course, the fact that the woman was incredibly hot didn't hurt matters. In between talking, the two had flirted back and forth, eventually ending up in a brief, yet pleasurable kiss. But tonight wasn't about that. Tonight was about the veteran and the young blood going at it in the ring, and seeing who was the better fighter. The two had a lot in common skill and ring wise, so Ace was expecting a pretty hard fought match.
Dressed in her standard black and red dress, with long sleeves and a short skirt, spandex shorts underneath. Stockings and boots covered her legs, allowing her to show off her figure without showing off anything else. She had dyed her hair and eyes, as per standard, and doing so made her feel complete and ready.
Her music now playing, the riffs of [url=http://www.youtube.com/watch?v=sqFBPdpv9yA&feature=kp:1ytixjeu]Warrior[/url:1ytixjeu] blaring, the announcer calling her name, Ace burst out onto the entrance ramp, charging down the ramp and sliding under the ropes to get into the ring. Once on her feet, she began bouncing back and forth, shadow boxing. She ignored the crowd, who alternated between small cheers, small boos, and general neutrality for her. Her relationship with the crowd was an odd one, getting all their support in her debut, but having the crowd turn completely and utterly against her in her last two matches against more popular opponents. Perhaps she could win the crowd back tonight, but she was starting to give up on that idea.
Pushing that out of her mind, she looked to the entrance ramp, eager to see Valley come out.
Last edited by 143 on Sun Mar 30, 2014 7:30 am; edited 2 times in total
Match Type
: Standard
Victory Conditions
: Pinfall, Submission, or KO
[url=http://afwrpg.informe.com/forum/viewtopic.php?f=10&t=9882:46vr75v8]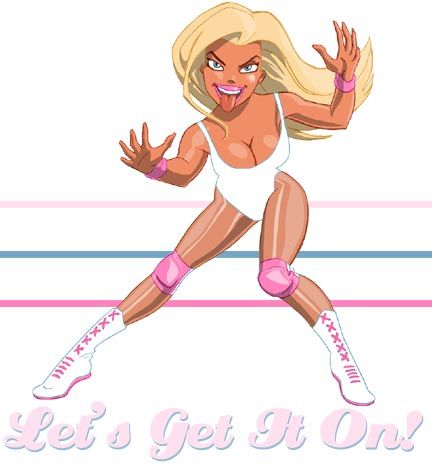 [/url:46vr75v8]
Being a fan of all things rock, Valley had to make Van Halen's 'Ain't Talking 'Bout Love' her intro music. Great music to dance to; back in her high school days, she did a routine off it for her audition on the cheerleading squad, and she still did a variation of that routine everytime she went to the ring. Brought back good memories, always got her pumped, perfect for hair-flipping.
But that wasn't the music she was coming out to today. No, today, she had a little something special planned.
The audience was a bit confused when Rush's [url=https://www.youtube.com/watch?v=EA-yqCCbTF4:46vr75v8]Headlong Flight[/url:46vr75v8] played instead of Valley's usual music - raised eyebrows all around as Valley came out with an entirely new routine.
That was fine - it wasn't for them. This time, the dancing wasn't even for them. It was for
her
.
This was probably the quickest she'd ever come up with a new dance routine; she'd only worked on it the past night after she and Ace parted ways. But it was worth it, just for the reaction she knew it would give Ace - she couldn't resist. Her hair twisted and twirled, her body flipped and fell, spinning about, gyrating her way to the ring and rolling inside and raising up to her knees - she pointed Ace's way with a knowing wink, then jumped up to her feet, making her way to the corner.
Valley jumped up on the middle rope, swinging her head around as the cameras flashed for a good photo, before bouncing away with a backflip, landing just a few feet away from the younger wrestler, exchanging a brief, knowing glance with her. "Ready to show them something special?"
Last edited by 12547 on Mon Mar 31, 2014 8:13 am; edited 4 times in total
Ace smirked as Rush started playing, Valley clearly going out of her way to impress young Ace.

What was really impressive though, was the erotic dance that Valley busted out as she came down the ramp, dressed in an incredibly hot singlet that left just enough to the imagination. Whatever shmuck in AFWs hiring department thought women became less attractive as once they went past 24 had clearly had never seen Valley Doll before, as the 30 year old was still firm and smoking hot.

When Valley got in the ring, Ace had to close her mouth, and make sure she wasn't drooling, even as she smiled at Valley's brief glance. She was being subtle, clearly letting Ace know the attraction from before wasn't lost, but unlike 98 percent of AFW's wrestlers, wasn't flaunting it in front of the crowd. It was for them, and them only, which felt nice.

"You better believe it..."

She replied, noting the crowds cheers for Valley Doll and getting her arms up as the ref made sure they were ready.

Once the bell rang, Ace stepped closer to the center of the ring, slowly circling the older blonde.

"I gotta admit, that was cool playing Headlong Flight. It's my third favorite song on the album, after The Wreckers and Halo Effect...Plus it was a nice change from your old music...No offense, I'm a Van Hager girl myself."

She said, both honest and teasing at once.

"So, shall we see if your strong enough to hold my hand?"

She said softly with a wink, an invitation to lock up.
Good - Ace approved. Valley had been just a little worried that she might've been coming off too hard with the music, maybe appearing a bit obsessive about their relationship, but Ace seemed to love the nod - an unspoken gesture between them, their own little in-joke. And from the gaping look as Valley entered the ring, the music wasn't the only thing she approved off.

Valley bounced in place as the ref started to set things up, getting in the middle. The bell sounded and business began - physically, anyway. Valley dropped into her stance and started to circle along with her, talking in what would've looked like trash to the audience. "Thought you might like that." She took a tentative step closer. "And no offense taken - nobody's perfect, after all. Though you're closer than most."

With that said, she took Silver Ace's challenge and closed the distance, pushing as hard as she could into her potential lover, trying to push her back to the ropes. It was amazing how similar the two were, and she could feel it up close - it was almost like wrestling herself, Ace's body was so familiar. "I'm interested in a lot more than just hand-holding..."
Ace grunted lightly as they locked up, having to force herself to not stare at Valley Dolls cleavage. Pushing against her, she found resistance, Valley matching her strength from the get go. Similar height, weight, mostly similar build, and apparently similar in strength as well. The two girls actually ended up staying in place as they pushed, to the surprise of the crowd.

"High praise, but your no slouch yourself, I'm actually jealous of your legs..."


She muttered, feeling herself starting to slide back as Valley pushed, the silver haired girl bracing her legs to stop herself, trying to push back harder.


"Oh don't worry, I've got bigger plans as well. Trust me, you'll be ending up between my legs alright."

She said with a smirk, even as she grunted from effort. Whether her comment was meant in a sexual sense, a simple teasing, or an actual threat, given her triangle choke finisher, was up to Valley to decide.

Ace let out another grunt as she slid back again, just a little.

"Damn your strong....I might have to follow your workout.."
Just as she suspected, the two of them were almost even in terms of pure power; even gaining an inch on the Silver Ace took a monumental effort. If she really did like her legs that much, she was getting quite a show, because they were straining to their maximum; both things rippling, straining, feet dug hard into the mat.

She chuckled a bit herself at Ace's double entendre, falling back a step then quickly regaining it with a solid push. "Promises, promises..." Typically, she wasn't big on in-match banter, but this wasn't really trash talk, was it? It was casual, for a change; just a little dialogue for them and the ref when she got close enough.

As amusing as the lock up was, they couldn't stay that way forever; sooner or later, one of them would have to break it, and Valley decided it would be 'sooner'.

"Follow my workout?" She spoke through gritted teeth. "Okay - let's see how you keep up." She suddenly started pulling instead of pushing, drawing Ace in and raising up her leg, throwing a hard knee right into that stomach of hers.
Realizing they couldn't stay deadlocked, Ace had formulated her own idea to break the lock up, planning on stepping forward and sweeping her leg behind Valley's to trip her.

It seemed Valley was just as quick a thinker however, as the second Ace stepped forward to attempt her plan, Valley pulled her in and drove her knee into Ace's stomach, causing the girls eyes to widen as she bent over Valley's tanned leg.

"UGH!"

She let out, a burst of air escaping her as she reached up, holding her stomach and panting while she tried to back herself up.
This was a new one - Valley had faced plenty of opponents before, and quite a few of them had been good friends - the concept of going up against someone near and dear wasn't new. But hitting Ace felt bad. Actually...bad. The way she cried out, seeing her in pain. It hurt.

Oh, it wasn't going to make her hold back any punches - she was a professional. She'd taken her own mother on in the ring a couple of times - she could do this. Easy. But it did hurt. She'd just have to work that much harder to make it up to Ace when they were through.

Valley stayed on Ace as she backed away and reached out of for the younger girl's hand, looking to take her by the wrist and give her the Irish Whip, right into the turnbuckle - keep her in the corner, pour on the pressure, make her fight to get out if she can get out at all. It was way too earlier to be thinking about finishing Ace off, but Valley would start building a solid foundation.
Last edited by 12547 on Mon Mar 31, 2014 12:17 am; edited 1 time in total
The knee caught her by surprise, but if a simple knee was all it took to keep Ace down she never would have made it this far in the first place.

Grabbed by Valley, Ace locked her hand around Valley's wrist as well, keeping the girls connected as Valley tried to whip her towards the turnbuckle, Ace's grip allowing her to turn around and pull Valley in towards her.

When they closed in, Ace threw her free arm out, trying to clothesline Valley, her arm smacking into the blondes busty chest.
Valley was fully expecting the whip to come off without a hitch, and she even had the follow up move already planned - she would use a couple of flips to close the distance and slam into Ace's body with a back splash, hammering her into the turnbuckle - good, early damage.

But the platinum princess apparently had other things in mind - instead of flying off, she held on and come at Valley like a slingshots, swinging a sharp clothesline straight at her. Valley's reflexes kicked in, she started to duck - against someone else, she might have even managed to avoid the blow completely, but the closeness in their stats made that undoable; the speed advantage she typically enjoyed was gone, and she took the blow in her face, instead of her chest. She was too dazed to tell if that was a bad thing or a slighty less bad thing.

She hit the canvas hard, groaning, but not seriously hurt - just stunned, and already starting to sit back up. "Nice, nice one..."
Last edited by 12547 on Mon Mar 31, 2014 1:23 am; edited 1 time in total
Page 1 of 9 • 1, 2, 3, 4, 5, 6, 7, 8, 9


---
Permissions in this forum:
You
cannot
reply to topics in this forum