Who is online?
In total there are
47
users online :: 1 Registered, 0 Hidden and 46 Guests :: 2 Bots
skip-stop
Most users ever online was
418
on Tue Jul 30, 2019 9:51 am
Champions & #1 contenders
Looking for matches
Fri Nov 25, 2022 8:50 pm by Void Effect
Comments: 0
Looking for fun Fights
Wed Nov 23, 2022 1:55 pm by Leon564
Hi hiiiii
Hope you are well my fellows! Happy holidays to those that celebrate. Though some of you may indeed be busy, some of you might be bored and alone. Well I'm here as well bored and alone
So same boat. But not always the same tastes.
Anywhoooooo I've got my two characters available for some battles. James is decently flexible on whom he fights. But Melanie is strictly for the men. She can't get enough of'em
Take a gander at them and hit me up either with a …
[
Full reading
]
Comments: 0
Free Face Claim
Thu Nov 17, 2022 6:11 pm by Void Effect
Three of my character is getting Axed, just ya guys want em, just let me know in DM
https://www.afwrpg.com/t20236-ellie-haise-kaneki#543253
https://www.afwrpg.com/t20341-satella-the-witch-of-envy
https://www.afwrpg.com/t20571-eveline-lector-the-cruel-rabbit
Spoiler:
Spoiler:
Spoiler:
[
Full reading
]
Comments: 0
Page 1 of 10 • 1, 2, 3, 4, 5, 6, 7, 8, 9, 10
IMPORTANT NOTE: This RP was done in Discord with mikenike684. With his permission, I have posted the RP events here.
Hathiya, the Earthshaker!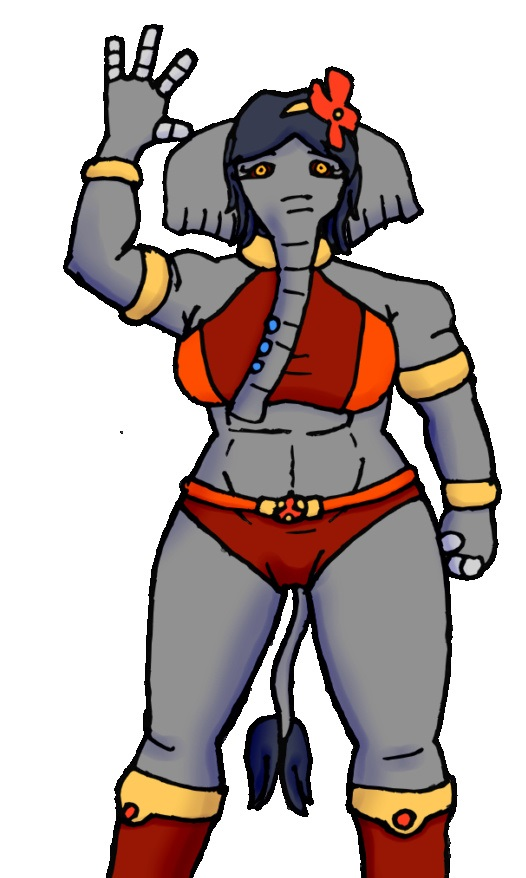 VS.
Ryleth Plaza was a well known water themed spot. It's marble architecture emphasized the immortality of it's architecture AND the materials durability for construction. Archways, aqueducts, atriums, and what not. Statues of old figures decorated the Plaza.
And in its center was the Plaza theater. A ring shaped structure with a circular pool and 2 bridges to cross it.
Often, this was used for special events that were held here in Ryleth Plaza. Concerts. Operas. Famous magic shows.
Today was gonna be a VERY different kind of show, though. And the first sign of THAT was the big truck that rolled into the parking area, followed by a small car. As the truck moved in, people would curiously look at what the overly massive container in it held.
The container, surprisingly, opened from the sides, and the onlookers immediately recognized the floral robes and the massive height. Screams and cheers started popping, as did cameras from phone flashes.
Out of the small car stepped a plant man some people would be familiar with. But nobody paid heed to him. He preferred it that way.
Cirkot the plantman motioned at Hathiya to follow him. The two contrasting figures walked through the Plaza, Hathiya's footsteps causing bits of dust to fall from atrium ceilings and off statues. A crowd of people started forming and following behind Hathiya, while Cirkot ran down the basics.
"Listen, Hathiya, you're dealing with another champ from the local tournaments though she's a tad more specialized than the previous ones you ran into, like
Sally.
Hathiya's clear, foreign voice asked, "Sooo, what's the objective again?"
"Pool water ring. First one to fall in water loses. Gotta get the loser over the ring ropes, too.  Stay sharp, though. This chick is a heavyweight, just like you."
The two walked towards the ring theater, where some harpies in uniforms with "SRW" written on the back had already appeared and setting up corner posts, much to the passerbys confusion.
Last edited by ARStudios2000 on Fri Nov 25, 2022 6:39 pm; edited 4 times in total

_________________
Dat ARS
mikenike684 —

The hippo would disrobe as she headed to the ring. Clad in her signature red sumo gear, as she cracked her knuckles, stepping in the ring and doing a signature sumo stomp.

_________________
Dat ARS
As Hathiya approached and the newly gathered crowds were taking there seats in excited glee, Hathiya saw her opponent.

"Oh! I know what she is. I never thought I'd see one here."

Cirkot, standing outside the ring ropes as Hathiya herself stepped into the ring, said

"All right, remember. Elimination only occurs when someone is thrown out of the ring and into the water pool all around the ring. I'm sure you can handle that."

Hathiya nodded. Cirkot quickly turned around and ran off as another harpy came to give him his commentary gear and what not.

While she was waiting for Cirkot to set up the actual bell and what not, she decided to check her hippo opponent again.

"Greetings!" she said with a smile. "What's your name? I don't think I caught it yet."

_________________
Dat ARS
mikenike684 —

"Daisy, nice to meet ya." She chuckled holding a hand out.

_________________
Dat ARS
Hathiya walked up to her, still in her robes, and tried not to shake the ring too much with her footsteps. She really was annoyed with how much everything shook with her steps, thouh she could guess Daisy would have no trouble with it.

Hathiya looked Daisy up and down. Daisy's massive girth and frame was quite impressive in it's own right, and she was quite the height too! Eight feet of pure, solid fat and muscle of pachydermatic power. Her massive body gave Hathiya a sort of...tickling feeling the more she looked at her.

"You too! I bet we're gonna have a great time here, because I'm looking forward to seeing you in action!"

_________________
Dat ARS
mikenike684 —

"Heh… this gal's gonna rock your world… I'm a lot tougher than i look."

_________________
Dat ARS
Hathiya nodded. "Wouldn't doubt it." She reached out one of her fingers to poke Daisy's stomach. "You're quite blessed with the body."

Cirkot finally had his little box set on the highest seating place, and with mic and speakers set, and already a rapidly increasing crowd here, he put on his showboat voice and into the mic, said

"LADIES aaaaaaand GENTLEMEN! CHILDREN OF ALL AGES, AND SENIORS OF ALL ERAS! Please take your eyes and BEHOLD, Sovereign Reign Wrestling gives you today's special event!

The Water Ring Elimination Battle, right here in Ryleth Plaza!"

The crowd was cheering wildly, and when the cheers died a bit, Cirkot continued.

"The local champ of this fine district, weighin' at a weight of "Yes", and the best sumo wrestler this side of the planet, a prodigy since the age of 5, and pushing her way up over the years, please give a round of applause fooooooor DAAAAAISSSSSY!"

The crowds cheering intensified.

_________________
Dat ARS
mikenike684 —

She waves over to the crowd, ready to take her opponent on.

_________________
Dat ARS
"Aaaaand, the challenger, from parts unknown, and cracking mountains with every step, please give a hand for HATHHIIYYAAAAAA, THE EARRRRRRTH SHAKEEERRRRRRR!"

The crowd cheers reached a new pitch and Hathiya had to wave her ears to drown out some of the noise in it. She then, with her signature one hand motion, pulled her robe off, as it folded around one arm, and threw it outside of the ring and neatly at the base of the folding bridges. She gave a finger gun to the crowd.

"And to spice it all up, we've got some extra stakes here!"

Hathiya turned to look at Cirkot. "Wha-"

"The loser is gonna be treating the winner, out of their own pocket, mind you, to a 5 star luxury trip all expenses paid 3 day stay at Riverside Hotel! Some of Tsubars finest, all at their fingertips. Oh and the loser will also be doing whatever the winner says during that duration too, I guess."

That last part Cirkot said quickly and matter of factly. Hathiya did not know either of those facts.

"You never told me that!" she yelled accusingly.

Cirkot shrugged, and explained,

"Non Objection Contract I signed said I shouldn't open my mouth on that to you."

_________________
Dat ARS
mikenike684 —

"I just figured to add more stakes in the match, make it more fun." She giggled.

_________________
Dat ARS
Page 1 of 10 • 1, 2, 3, 4, 5, 6, 7, 8, 9, 10
Similar topics
---
Permissions in this forum:
You
cannot
reply to topics in this forum