Who is online?
In total there are
58
users online :: 2 Registered, 0 Hidden and 56 Guests :: 2 Bots
skip-stop
,
Yori
Most users ever online was
418
on Tue Jul 30, 2019 4:51 am
Champions & #1 contenders
Looking for a tag team match up.
Mon Dec 04, 2023 2:38 pm by Moriarty
Comments: 0
Tension Match for Melanie~
Tue Nov 28, 2023 7:56 am by Leon564
Comments: 9
Howdy strangers.
Tue Nov 28, 2023 8:25 pm by Yori
Just a small hello from an old face. I will be coming around for a bit soon and figured I would pop in. To anymore I have an unfinished thread with, if you have a desire to continue it with me just let me know and shoot me a link. While I am open to fielding ideas for new threads, I will be very selective with taking anything while I gauge my activity capability and trim/update my roster.
Toodles.
Comments: 4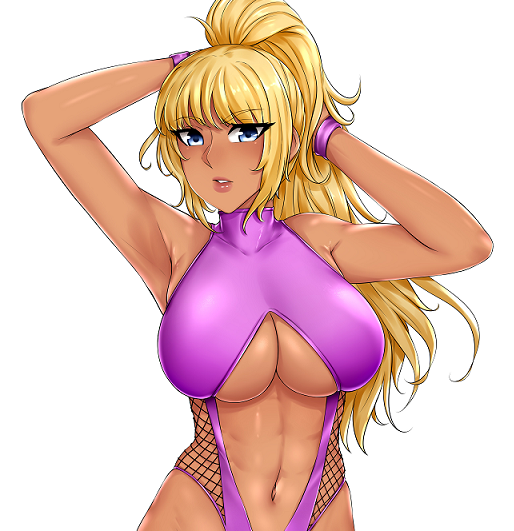 Randee Reagan
A rose growing her thorns
ProfileReal Name:
Randee Reagan
Nicknames:
Battle Angel, BlondeeOverBlue (her usual username)
Age:
24
Eyes:
Blue
Hair:
Blonde
Height:
5 feet, 6 inches
Weight:
146 pounds
Nationality:
American
Alignment:
Face
Entrance Music:
Hope Vista - I Prevail: click here
Appearance
Spoiler:

Sorry for the watermarks. The artist just will not put the finishing touches on her.  
Randee made an instagram living with model good looks above the neck including big blue eyes, puffy lips, and long blonde hair, but the rest of her definitely got her just as many followers with her long legs, a perky peach, and the type of chest that makes a skinnier girl wonder if she shouldn't get a reduction to save her back (Randee has thought about this herself). She has always been in shape, but she has gained a noticeable ten to fifteen pounds of muscle to get into wrestling shape.
Wrestling InformationStrategy:
Randee does not have a greatly defined wrestling style yet, still early enough in her training that one might call her abilities "basic." Her moveset is mostly safe and vanilla, but she is trying to add some more aggressive and high-flying moves to her repertoire. She is also now strong enough to lift women who are heavier than she is, but she is not confident enough to do this often in the ring even if she thinks powerhouse moves are fun and flashy. She has also been told to use her assets more often, and while it is not natural to her, she is starting to do so. Right now, she tries to keep up a cautious but consistent offense (because she doesn't know all that well how to defend herself), throws her weight around, and builds up a quick-hitting array of moves with her strong legs before locking on a submission or going for the finish.
Style:
Careful but builds up her intensity
Type:
Limited All-Rounder, Submissions
Preferred Attacks:
Legdrops, Big Boots, Dropkicks, Basic Piledrivers, Head & Bodyscissors, Camel Clutches, Bearhugs, Smothers
Preferred Matches:
She thinks she would try near anything that isn't too hardcore.
Physical StatisticsGeneral StatisticsEndurance
4.5/10 - Randee has not done much in her life that involved enduring pain, and she is still not great at it. She will usually give in rather than endure punishment for too long, but she does have a thick body and can take hits better than other women.
Strength
7.5/10 - Randee was a natural with weight training, and she has built herself from a girl who could only lift a table around her apartment in a pinch into a wrestler who can lift women who are bigger than she is into bearhugs or quick slams.
Speed
6.5/10 - She isn't fast by any means, but Randee has long legs and is quite graceful. She can bounce herself from one set of ropes to another quickly.
Defence
3/10 - Randee does not get much about defending herself in the wrestling ring that is not just instinctually dodging or raising her arms to protect herself. She leaves a lot of her body open for offense.
Technique
5/10 - Her work is not always efficient or pretty, but Randee has solid technique for someone who has been training about a year and a half for the ring.
Wrestling StatisticsStrikes
6.5/10 - Randee can deliver a strong dropkick or boot to the head and has a good understanding of how to deliver chops or shorter kicks. However, she is a little slow with her striking offense and relies on power.
Submissions
8/10 - Randee figured out submission holds (the basic ones anyway) early on in her wrestling career and worked to get better and better at them. Her submission holds are the most dangerous part of her offense.
Powerhouse
6/10 - Randee can only do a few powerhouse moves without losing her balance, but the ones she can do are delivered with a solid impact thanks to her newfound strength.
Aerials
5/10 - Randee was a cheerleader and still has some of the leaping athleticism that she had in her teens. She does not fly like an eagle, but if she can land on someone, she lands hard, usually ass-first.
Counters
3.5/10 - Randee is poor at countering her way out of moves or holds like she is defending herself. If she does manage to catch her opponent and turn the tables, it is usually with a dropkick or she snatches them in a submission hold if they are sloppy.
Mental StatisticsCharisma
8/10 - Randee does not have much experience with big crowds, but she knows how to work in front of a camera and is an eloquent speaker. Her ability to show herself off has gotten her hundreds of thousands of fans already.
Sexuality
6.5/10 - Randee does not have a ton of tangible sexual experience, but she knows how to handle herself in sexual situations without becoming too flustered. Those are normal sexual situations, however, not the ones that might strike her in the wrestling ring. But she is good at flirting to fluster others.
Tactics
4/10 - Randee usually has one plan to fight her opponent and one plan alone. If that plan fails, she does not have much in the way of a plan B to bail herself out of a problem, and her ring psychology is lacking.
Match Ending MovesSignature MovesTouch-Up:
Shoves the opponent's head between her thighs like setting up for a lifting move, but Randee squeezes the head tightly, pulls on the bottoms, and falls backward to spike the skull into the canvas while it's still stuck between her legs.
Clothesrack Hold:
A simple hold she uses to keep an opponent down when she needs a second to recover where she snags their head between her rear, thighs, and calves and grabs their arms so they can't squirm away. Puts a lot of weight on their neck and skull. Link to an example: click here.
Finishing MovesBolt from the Blue:
Randee jumps up to deliver a sudden, floaty dropkick to the chest or shoulder blades to knock the opponent flat. She lands softly on her palms so she can pop up, dart to rebound off the ropes, and come back to leap up and slam her rear against the opponent's head or upper body.
Perfect Snapshut:
A combination of a spladle and a headscissor hold where Randee folds the opponent over and traps their head and a leg between her legs and holds the other leg with her arms. Link to an example: click here.
Past
Randee Reagan arrived at AFW in one of the stranger ways a wrestler might reach a top company. Growing up on the west coast, Randee had those parents happy to have their daughter as a child model, and she appeared in a number of commercials until she was eight. The experience didn't seem to scar her too much thankfully, but it did have an impact on her. Acting, dolling up for the camera, all of it had its appeal to her, and during her time in school she tried such activities as drama, cheer teams, and fashion design activities.
In her late teens, she found a way to monetize her passion. Not super interested in four years of college like her parents wanted, she opted for two years while learning how to promote herself with pictures on social media before she took the dive to start making money off of modeling herself in everything from new fashions to swimsuits to whatever else was popular. She was a resounding success, gaining thousands of followers over the course of a couple years and enough income to support herself.
If that sounds a far cry from the wrestling ring, it is. Her first connection to wrestling came after she learned about a regionally known wrestler who was pushing the boundaries of in-ring fashion and chose to wear a couple of her own versions of the wrestler's outfits for a photoshoot. She did give credit, but the wrestler tagged her in a scathing message on twitter, telling her that she was stealing her look and that she better meet her in the ring so she could kick her ass.
The wrestler told her in private messages not to take her seriously, all that talk was just her character, but that she was a huge fan of Randee and would love for her to actually come wrestle her. And considering a cameo from a top instagram model would boost ratings, the higher-ups were all in on it, too! After coming to understand that the wrestler was not joking, Randee surprised herself by considering the offer. Wrestlers were made to look like goddesses, she couldn't shake having ideas for her own cute outfit, and it was an opportunity to market herself in a new setting and take lots of pictures with lots of fit people.
She accepted. The match was promoted and Randee trained for a few months, getting into even better shape. She was also taken in enthusiastically by many of the wrestlers, despite not being one of them. When she wrestled the match, she was sure her new friend was being easy on her, but she did alright by herself before she was made to tap. The experience amazed her though, and Randee took only a couple of weeks before she realized she wanted to go back.
She did, and she was accepted. She went back to being trained and had a few matches here and there, and though her record was middling, her reputation and looks won her popularity. She was just starting to get shaped into a capable wrestler, about a year later, when AFW called her up and offered her a contract.
Personality
Randee may appear an unassuming young woman who's all pageant smiles and fashion sense without any more substance to her, but she is a woman with eagerness and motivation to make what she wants to happen, happen. She has a confidence and radiant charisma about her, and not only about her looks, which helps her to take such steps as trying to make a living promoting herself on instagram with no one backing her or step into a wrestling ring with a hundredth of the experience of other wrestlers. She might sound reckless with her confidence, and she does get in over her head sometimes, but she tends to keep at something until she gets it figured out even if she is struggling. She gets discouraged, of course, but not easily.
Her confidence does dip into haughtiness, but she is naturally friendly and skilled with people and enjoys the warmth of close relationships. These traits can often only dull the fact that she can have an ego, but she does work at staying humble. She is also a bubbly, open flirt and tease, though she does not always mean for it to lead anywhere. It simply comes to her as easily, like breathing. Playing little tricks on people she finds enjoyable, too.
She may have self-confidence, but Randee knows her place in the wrestling ring. She might look to have no fear about stepping into the ring with near any opponent, but she understands she is still a guppy among the bigger fish. That does not mean she doubts herself stepping into the ring, and she can draw on a sharp edge to stand up for herself, too.
Likes: Photography, sweets, biking, animals, practical jokes, cleanliness, running around barefoot outside, beaches, light drinks, dresses

Dislikes: Cars, cardio days, cold weather/water, dark rooms, pushy men, fish, arguments, television, extremes of fashion, losing her tan

Goals: Start with a positive record in her first five matches (was 0-4 at one point in West Coast Wonders).
Grow a second instagram account just from good backstage shots and shots from her in matches or entering the ring (she should probably hire someone for this, huh?).
Maybe tag team with someone because it sounds fun.

Random Facts: Thinks she looks worse naked than wearing clothes.
Tripped and fell down small cliff once while trying to get a picture, but escaped with only a small scar on her butt, a hip stinger, and a sprained wrist.
Read a lot of books about faeries and fae creatures when she was younger, which turned into a lot of steamy romance novels with the same characters.
Used to sleepwalk occasionally, but medications got her over it.

Accomplishments:
- Had a "solid" 2-6 record back in her old promotion, West Coast Wonders, but also has claim to the three most attended matches in the promotion's history and was never truly crushed in any of her matches.
- Has over 700k followers on each of her social media accounts, putting her squarely in the top 50 models online.
Photographer:
Tessa Bekker:

Tessa Bekker is a Dutch photography student and AFW intern whom Randee made into a

paid

intern. She mainly takes "exclusive" and match-day photos of Randee for the second wrestling-only modeling account that Randee is building. She can mainly be found around Randee in the gym or on match days, but they get along well and can be found together on other days when Tessa can find five spare minutes. I would be willing to write her solo for shorter RPs, should someone wish to use her to get to Randee or something similar in the future.

Personality: Appears constantly rushed and stressed. Quiet and shy but reacts with friendliness when approached. Tries to stay out of everyone's way as best she can since she has no desire to get involved in this wrestling business. She does have her own eye on modeling.
RelationshipsFriends:Name:
Allies:Name:Rivals: Name:
Crushes:Name:
Enemies:Name:
Last edited by rogue-kiss on Sun Feb 06, 2022 10:05 am; edited 1 time in total

rogue-kiss




Posts

: 10


Join date

: 2022-01-31



Approved! You may rp as you wish.
_________________

acuyra




Posts

: 19142


Join date

: 2014-02-14


Age

: 37


Location

: Charlotte, North Carolina, WOOOO!



Similar topics
---
Permissions in this forum:
You
cannot
reply to topics in this forum