Who is online?
In total there are
36
users online :: 0 Registered, 0 Hidden and 36 Guests :: 3 Bots
None
Most users ever online was
418
on Tue Jul 30, 2019 9:51 am
Champions & #1 contenders
Watches wanted
Fri Sep 08, 2023 2:25 pm by Midori Hyuga
I have three characters who need matches
Wolfgang Bruan ( tension )
Sasuke Moto ( tension )
Fumiko Hyuga ( fraction )
If you are interested please private message me with a match idea and character you want me to use
Comments: 0
Back and ready for the fun!~
Fri Sep 01, 2023 3:45 pm by Leon564
Comments: 0
Debut match
Sat Aug 26, 2023 5:18 pm by Midori Hyuga
I am looking for midori hyuga's or my other three ( Alexis Jones, Roman Greco, Fumiko Hyuga ) debut match on fraction ( or tension for Roman ) pm me if you're interested, I'm up for any ideas for a match
Comments: 0
Page 1 of 2 • 1, 2
VS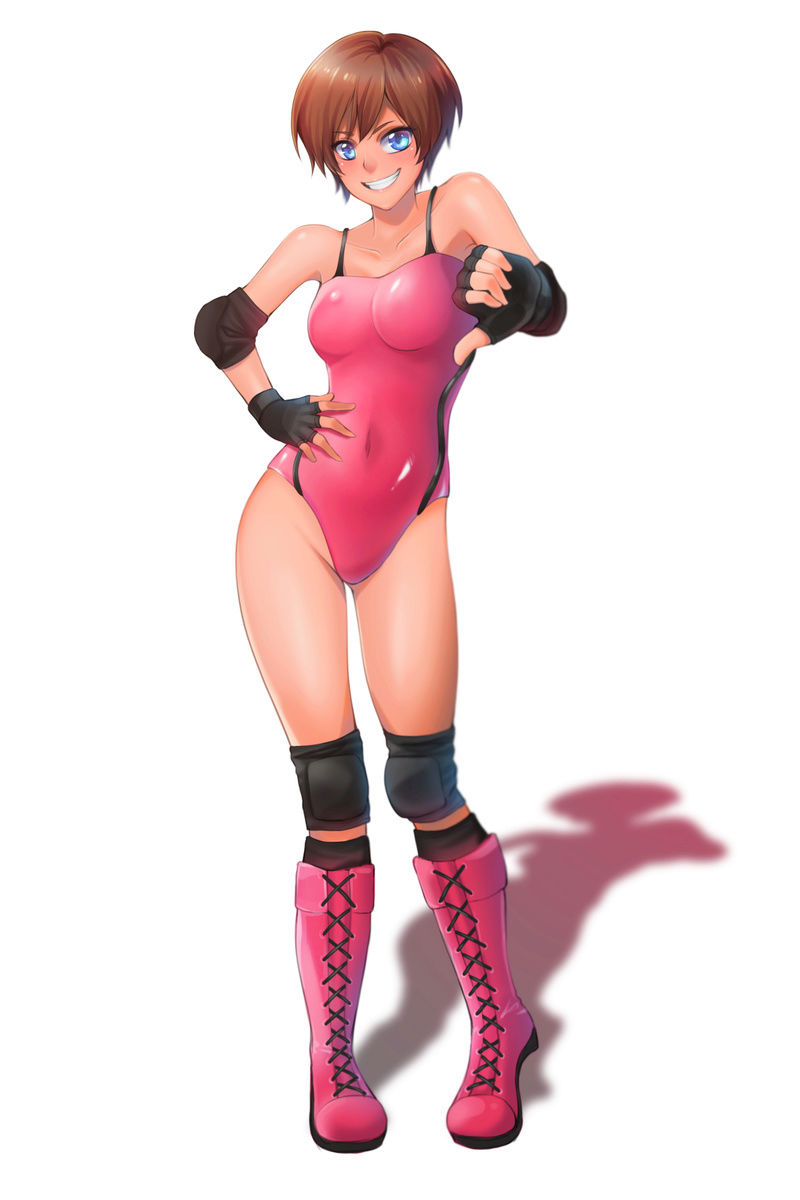 Match Type: Hentai
Victory Conditions: Must win by forced orgasm
"Oh my! What a cutie!~" Mira said to herself in the goriila position while she is looking down at her phone with a picture of a short brown haired woman with blue eyes in a pink leotard on the screen. This woman was Kairi Kamiya and she was Mira's opponent for a hentai match. Hentai matches was Mira's specialty and she was ready to go as she wore her usual attire of a red crop top with a heart shaped boob window in the middle, red shorts. a heart necklace around her neck, blacks gloves, black armbands, black boot with three hearts on each boot, and finally her long gorgeous red hair was tied up.
Mira hears the ring announcers calling out her name and her entrance song: Take me away by Taking Dawn, playing around the arena and knew that was her cue as Mira walks out from behind the curtain to entrance ramp where she immediately received an erupting of cheers from the crowd as they loved Mira and her sexy, curvy, slim body!
Mira blows air kisses at her screaming fans before beginning her descent down the ramp. She giving high fives to the fans as many as she could until she reached the ringside arena. Mira climbs up the steel steps to the ring apron, then slowly enters the ring by the middle rope as to allow the crowd to get a great view of her plump, thick, perfectly round ass. Once Mira was in the ring she blew more air kisses at the crowd, posing for the camera, and now stands in the ring as she waits for her opponent.
Last edited by Jstruggs716 on Tue Oct 06, 2020 10:46 pm; edited 1 time in total

Jstruggs716




Posts

: 809


Join date

: 2020-07-16



Backstage, Kairi Kamiya would be slipping her gloves on, making sure her pink leotard fit just right on her, and that her matching boots were tied tight. This was her first match in the league in some time, and she wanted to look her damned best for it.

She had to admit, she was a bit nervous coming in. She was a bit rusty, having not fought in quite some time, and her opponent, from the information and picture she had seen, was in fact taller, bigger, and probably stronger than she was. Her last hentai bout she had won via manipulating her opponent...she had a feeling head games might not be effective here.

Still, with her trademark Kamiya arrogance, she strolled out onto the ramp when her music played, showing off for everyone to see, holding her arms up and doing a slow, sexy twirl on the stage as a spotlight shined down on her. From there, she made her way down the ramp, letting a lucky few audience members slap her tight butt before she rolled under the ropes to enter the ring, looking over her opponent with a bemused expression.

"So you are supposed to be my opponent tonight? Real beauty and the beast type situation we've got going on here, now isn't it?"



Old_Man_Tai




Posts

: 9471


Join date

: 2008-04-29


Age

: 33



Mostly people would have took what her opponent said to her as an insult of some sort, but Mira wouldn't take it like that. Instead really more playing into it. "You are certainly correct about that~! As I'm very beautiful. And I will fuck you like a beast!" Mira said lustfully to younger and sexy opponent, licking her lip in anticipation, planning to make good on it!

Kairi Kamiya was much prettier in person and Mira couldn't wait to get her hands on her....well, more like....get her fingers inside the brunette! And she wouldn't have to as the bell rung, and the match was officially on the way! While normally she isn't her style The Busty Redhead charge toward Kairi at full speed! Then once she was close turns around, leaps into the air, and hits her opponent in the face with her thick rear end for a hip attack!

Jstruggs716




Posts

: 809


Join date

: 2020-07-16



Kairi could help but roll here eyes at the bigger womans response. "Well, I guess it's good that your confident, but that's really not gonna-GFFH!"

Kairis taunt was completely cut off as, moving far faster than the Kamiya girl had ever expected, her busty redhead opponent had cleared the ring and leaped at her with an ass attack that dropped the young woman flat onto her back, letting put muffled cries as she swatted at the large butt on her face!

Old_Man_Tai




Posts

: 9471


Join date

: 2008-04-29


Age

: 33



Before Kairi could have the chance to finish her sentence Mira rushed, turned, leapt into the air, slamming her butt into Kairi's face with a hip attack! This drops the young woman onto the mat, laying on her back. Mira giggles from feeling the vibrates of Kairi's muffled cries between her plump ass.

Mira shakes and grinds her ass on Kairi's face, getting quite comfortable on her opponent cute face. "Your face is quite comfy, you know. I could sit here all day~!" Mira playful said before reaching back and grabbing a handful of Kairi's short brown hair, pulled it upwards, forcing Kairi's face deeper between her ass!

Jstruggs716




Posts

: 809


Join date

: 2020-07-16



If there was one thing that Kairi absolutely shared with her Kamiya siblings Tai and Ryo, it was a low-key arrogance and ability to underestimate her opponents, and much like what often happened to her male relatives, it completely bit her in the ass, ironically this time because a large ass smacked her right in the face.

As if to make matters worse for her, there was a sharp pain flaring up in her scalp, as she was pressed even DEEPER into the large red-head's ass, her booted feet kicking hard on the mat, arms pawing at Mira's ass in complete protest of this humiliating assault!

"MFFFM! MFF! MMMM!"

Old_Man_Tai




Posts

: 9471


Join date

: 2008-04-29


Age

: 33



In any fighting sports the moment you left your guard down gives your opponent the chance to attack. And it'd be no different for Mira's opponent, Kairi Kamiya. As she focused more on taunting and rolled her eyes, taking her eyes off of Mira, which gave Mira the opportunity to strike as soon as the bell rung and her opponent wasn't paying attention to her. Mira rushed, spins, leaps, and hits Kairi in the face with your booty!

The short brown haired would fall down to the mat not long after with Mira's soft and plump butt seating comfortably on her face! Mira giggles at the vibrated coming from Kairi's muffled cries between her ass cheeks. And those muffled would continue and louder as Mira grabs Kairi's hair and forced her face deeper into Mira's ass!

"Getting a good feel I see, heh!" Mira giggles as Kairi pawing at Mira's ass! Mira lowers her free hand down Kairi's sexy body until she reaches her crotch. Then Mira rubs it a bit to pleasure sensual for her opponent. Next, she would let go of Kairi's, thus, not forcing her face into the redhead's buttcrack so deeper anymore but still was wedged between her ass!

Mira would stops rubbing Kairi's crotch, moving her hand out the way and lowering her head down, placing her mouth on Kairi's crotch then proceed to suck on it like a vaccine cleaner!

Jstruggs716




Posts

: 809


Join date

: 2020-07-16



In the history of pro wrestling, there were a few really bad ways for matches to start. Some people had even gotten knocked out in the first hit. Compared to those poor souls, having your face immediately smacked by the large ass of your opponent, and be stuck trapped face first in said opponents ass is...absolutely one of the worst ways to start out a match, especially a hentai match.

Even worse for Kairi, Mira had no issue with going for the kill right off the bat, as Kairi, while she kicked and struggled, slapping repeatedly at the large ass directly above her, blocking her vision and her air, the loud and large redhead above her began rubbing between her legs, causing a shiver to go through Kairi's body and her body to react in panic, squirming and writhing even more!

"Mmfmfmf! Mfff!"

Sadly, Mira would not stop there, as with a good hand hold and a few nudges, Kairi felt the bottom of her singlet moved, revealing a perfectly pink pair of pussy lips, bare and hairless, exposing them to cooler air...and then the feeling of a rough tongue licking away at her!

"MMMMMMM! MMMMFMFM!"

She moaned/protested, making a fist and trying to punch at Mira's ass and sides, kicking wildly in protest as the woman started dominating her!

Old_Man_Tai




Posts

: 9471


Join date

: 2008-04-29


Age

: 33



Starting out the match strong by immediately smacking her booty right into her cocky opponent's face as soon as the bell rang! Mira's luscious booty rested upon her opponent, Kairi Kamiya's face as the brunette girl is lying on her back against the mat. Then Mira would get Kairi by the hair and forced Kairi's face deeper into her fat ass to smother Kairi even more!

But she'd released her foe's hair and began to pleasure her as the redhead rubs Kairi's crotch a bit with her pussy and watched in a amusement as the younger girl shivers from the pleasure coursing through her body and in reaction to this her body panic, making her squirm and writhing even more! Mira can also hear Kairi's muffled moans.

But Mira was far from done as she stops Kairi's crotch and bends her head down licks Kairi's pussy to cause her even more pleasure! And it was working as Mira heard Kairi's muffled moans of pleasure and protested between her butt, but only made Mira licked faster and faster until Kairi started punching Mira's ass and side and was kicking wildly almost hitting the redhead's face more than once! "Ow! Ouch!" Mira cries out, stopping licking her opponent's crotch and lifts up her head. "Bad girl!"

Mira scolding her younger opponent before smacking her hand onto Kairi's crotch over and over again, knowing it would cause great pain!

Jstruggs716




Posts

: 809


Join date

: 2020-07-16




Between being smothered by the much larger ass on her face, and the tongue ravishing her between her legs, this was starting to look like Kairi was about to lose the fastest hentai match in the history of the league, the girls muffled cries and kicks doing nothing to keep her from her impending orgasm...until one of her kicks nearly came close to connecting, which pissed Mira off it seemed, as her tongue was suddenly replaced by her firm hand slapping Kairi's bare pussy with several hard smacks!

"MMMFF! MMM! MMFMMM!" Kairi screamed, her pained cries going right into the redhead's butt, each smack causing her pre-cum to splatter as she writhed in agony under her opponent!

Old_Man_Tai




Posts

: 9471


Join date

: 2008-04-29


Age

: 33



Page 1 of 2 • 1, 2
---
Permissions in this forum:
You
cannot
reply to topics in this forum