Champions & #1 contenders
Kawaii Opportunities
Sun Jun 17, 2018 3:04 pm by Daaharu
Hey, guys!
With the kawaii title match at Avalanche taking on an interesting wrinkle with the interruption by the Brat Pack, we are moving forward with the overall kawaii storyline, and at this point I'd just like to take stock of what kawaiis are out there that are interested in participating in a cohesive storyline.
Can't make any promises about titles or what exactly each girl's given role would be. We can talk a little more about the specifics of where the story is going soon, but I …
[
Full reading
]
Comments: 3
Match for Takeichi
Tue Jun 12, 2018 6:13 am by GrandAkumaShogun
So with my other two guys having their own matches I figure I should do something with my first character on here, Takeichi Mori. If anyone is interested feel free to post here or get in touch through a pm so we can plan it out. I can either have Takeichi remain a jobber or begin to work him towards being a more serious competitor.
Comments: 1
Match or RP?
Wed Jun 13, 2018 3:48 pm by Lotuswarrior
I'm just looking to do something while I wait for match replies. Really want to get some characters cemented a bit with a rival or some interactions with other characters here.
If anyone wants to do something hit me up.
Comments: 0
Page 2 of 6 •

1, 2, 3, 4, 5, 6


Natalia blinked a bit confused at Tomomi's demand for privacy. It wasn't like she hadn't seen the idol completely naked already, she even had taken several pics of Tomomi's delicious body soaked in sweat after their battle at the Satin Predator. Maybe it wasn't a good idea to remind Tomomi of that, Natalia thought after a couple of seconds. "oh...oh...sure. I'll leave you alone..." Natalia said as she turned around and left. "I'll be in the front entrance." she added as she walked away going for her bike.
She climbed on the motorcycle and zipped up her leather jacket deciding to let Tomomi wear the helmet. And then rode it very slowly to the entrance to wait for the idol. While she waited Natalia thought of where she should take Tomomi. Taking her back to the Satin Predator could be fun but probably Tomomi wouldn't like it. A karaoke may not work either; Tomomi was a professional singer after all. Natalia pursed her lips thinking deeply about the different options; she wasn't sure how well could Tomomi hold her drinks... although it could be fun to see how much
sake
or
shōchū
Tomomi could handle. Thinking of
shōchū
immediately made Natalia think of
yakitori
and got her hungry.
Natalia licked her lips as she already knew where to take Tomomi. A place with delicious food, drink, a karaoke in the first floor bar and a much more relaxed private place in the upper floor. "Purrrrrfect!" Natalia exclaimed congratulating herself for being so smart.
Tomomi walked out and saw Natalia ready. The girl sat on a pretty sweet ride, a jet black motorcycle that looked rather out of place given who was riding it. Perhaps it gave Natalia a sense of manliness to contrast her sensual femininity. It looked just big enough to seat two, provided Tomomi sat very close to Natalia. The idol never rode a motorcycle before. Seeing it made her excited to try it out.

"Nice bike," Tomomi said, walking around it and admiring both the bike and its owner. Surprisingly, Natalia's sexy form on that bike made her look even hotter, in a wild and dangerous kind of way. The idol took Natalia's helmet and jammed it on her head. She was glad for the extra safety, considering how dangerous it seemed.

She slid onto the bike behind Natalia, and her hands reached around Natalia's waist, hugging her tightly. It had the added effect of pressing Tomomi's substantial chest against Natalia's back in a rather suggestive way. "Alright, go ahead!" Tomomi said.
"Thank you, Momi-chan..." Natalia said at the compliment for her vehicle. Not many approved this kind of transport and Natalia herself sometimes prefered using a car. They were much more comfortable to travel than bikes, specially when it was raining, but the adrenaline and the sensation of freedom that riding her bike gave her was something so unique that Natalia couldn't resist it. Also inside a car Tomomi would have never need to get that close to Natalia and The Dream certainly enjoyed having Tomomi's arms wrapped around her slim waist. Chalk another one for bikes, Natalia thought giggling as she felt Tomomi's generous breasts pressing on her back.
"Hold on tight..." Natalia warned as she kicked the engine which immediately started to roar loudly like a beast hungry for miles. And with a sudden pull forward the bike and the two girls took on the road gaining speed very quickly. The trip along Tokyo streets didn't took much time, the bike was very fast and Natalia wasn't particularly observant of silly traffic codes; she also knew very well where she was going, a more less classy
yakitori
joint in Shibamata. It was classy in the sense that you didn't had to eat standing in the street; well you could it you wanted... but you could also go inside and take a sit and drink some of the house famous
, which they didn't sold on the street.
Natalia stopped her bike right in front of it, startling a few of the people that were asking for at a window to take home. "And here we are!" Natalia said smiling already smelling the grilled chicken over the scent of the burning fuel of her own bike.
Tomomi did hold on tight. She never rode a motorcycle before, and the last thing she wanted was any kind of accident. She practically bearhugged Natalia the whole time they were riding, though she did enjoy the feeling. Natalia was a good driver but she did take a lot of risks, like she didn't really care about traffic. That felt extremely reckless to Tomomi. But if Natalia liked to live on the edge, Tomomi had nothing to say to that. They both fed off of adrenaline after all.

They stopped outside a Yakitori shop. The smells emanating from the open doorway were nice, but this seemed like a very casual place to take her. Tomomi wondered what kinds of surprises this place offered for Natalia to think so highly of it. She slipped off the bike, a little shaky from the ride, taking off her helmet and giving it over to Natalia as she quickly fixed up her hair and her composure.

"Haaah... Alright, where are we?" Tomomi said, looking up, "Yakitori..." She looked over at Natalia and gave her a small smile. "I wonder what surprises are in here?" she asked, not expecting any real answer from Natalia, "Lets go?"
Natalia had enjoyed having Tomomi ride with her a bit too much and quickly found herself missing the idol's tight embrace around her waist, even if now she was finally able to breathe normally. She giggled when she heard Tomomi's reaction, apparently the idol had expected something refined and expensive or exotic, but although Natalia knew many places like that, she thought it would be a good idea to show Tomomi a more casual side of her to make the idol feel a bit less threatened...and she loved the food here. "Best yakitori in the city, Momi-chan..." Natalia said as she secured her bike and stood up, walking into the joint, taking Tomomi's hand to lead her inside.
"And a great selection of shōchū..." Natalia said with a giggle. "They have very good sake too if you feel like shōchū will be too much..." she added with a very teasing, almost challenging yet cute tone. A waitress came in as soon as they entered and welcomed them with a polite bow, Natalia bowed slightly and without saying a word pointed up with a finger, to the large balcony area upstairs that was a bit more private. the waitress nodded with a smile and lead the two girl's up to a very nice table that overlooked the whole place, which was completely full with all manners of people, from working-class families, to business men, to a group of men in suits in a corner that looked like yakuzas.
The table was arranged in the traditional Japanese way, with zashiki pillows on the floor instead of chairs.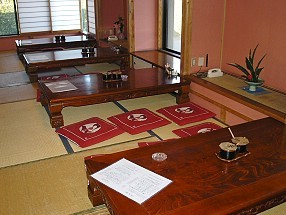 Natalia removed her boots to step on the seating area and sat on the pillow in a perfect lotus position. "There is also a karaoke if you want to sing, Momi-chan..." Natalia said as she knelt down. "But don't tire yourself... we will go dancing after this..."
Tomomi nodded, deciding to trust Natalia's taste and try out this yakitori. She could never put her finger on where Natalia was from, but she seemed to know her Japanese food. Tomomi wasn't much of a food connoisseur, and when she ate out she preferred a few places she knew were good. If this place turned out nice, then she'll add it to her list.

She followed Natalia into the store and up the stairs to the balcony area. "Ah, don't worry about that Natalia," Tomomi said, "I can drink!" Truthfully she didn't have much tolerance, but she wasn't going to let Natalia know that. She would just have to pace herself to not get too drunk. Goodness knows what Natalia would do once the idol's inhibitions were all gone. The upstairs area was packed with people of all types, a few of whom would've recognized the idol had Tomomi not been purposefully hiding her face. It wouldn't do to be harassed when she was out with someone. She took a seat across from Natalia on one of the comfy pillows. The atmosphere was nice, she had to admit. Natalia made a good choice.

"Dancing afterwards?" Tomomi asked, "Well, can we stop by my place first? I can't go dancing dressed like this." Even though her outfit was neat, it wasn't a dancing outfit. If Tomomi was going to go to a club, then she was going to wear something nice.
Natalia giggled at Tomomi's comment about how she could drink, showing her disbelief in the idol's drinking abilities and teasing her at the same time. The dark haired beauty thought it would be extremely fun to have a drunk Tomomi to dance with. Then Natalia looked up and down at Tomomi's clothes, thinking the idol looked real cute with what she was wearing, but she was not going to second guess Tomomi's decision, if the idol wanted to wear something special to go dancing that was good with Natalia. It also peaked Natalia's curiosity what Tomomi would dress for her. The Dream couldn't help but giggle at the idea that Tomomi was going to get dressed for her and soon found herself imagining the idol wide array of attires, most of which were probably not fit for dancing. Natalia tried to look away and find something to hide the bright red blush on her face but this restaurant didn't used menus, she decided to order some food quickly to draw the attention of Tomomi to the waitress.

"mmmm I want the yakitori special and a bottle of brown sugar shōchū..."
Tomomi didn't really know what was good in this store. Natalia obviously had been here many times before, so she probably knew exactly what was good. It would probably be a good idea to just order what Natalia ordered. "I'll have the same, thank you," Tomomi said to the waiter. The man nodded and bowed, taking their orders and disappearing into the kitchen. Tomomi then turned to Natalia, wondering what the girl was thinking. She had a bit of a perverted look before she ordered her food. Tomomi recognized it from the expressions Natalia had when she was raping her in that horrible club. Tomomi blushed whenever she thought about that. It had been kept quiet, thankfully. Only a few people knew about it. Tomomi didn't know what she would do if lots of people found out. That was probably the most humiliating experience she had ever been through.

"Umm, Natalia-san," Tomomi said, "You're blushing too much." Tomomi didn't want Natalia to keep on looking like a bright red bulb. She also didn't want Natalia to get too many dirty thoughts. It made her extremely nervous.
Tomomi's word only made Natalia feel even more embarrassed of her dirty thoughts which in turn made her cute face blush even brighter and there was no way to hide it. Natalia really wished she had brought a fan or something to cover her face but right now all she had was her hands so she placed them over her cheeks in a vain attempt to look less ashamed. "Sorry, Tomomi-chan... I am just... " Natalia made a long pause not sure what to say that could get her out of this mess. "Remembering things..." she said as she looked to the side trying to avoid eye contact with Tomomi. Realizing quickly that probably didn't helped she tried to move the conversation to something else.

"So...say Tomomi... how has AFW been treating you lately? Who was your last opponent?" the blue eyed cutie said, trying to drive Tomomi's and her own attention to somewhere else.
Hearing Natalia say she was remembering things; Tomomi's own face immediately turned a bright red. The idol bit her lips and turned her gaze downward, suddenly nervous and embarrassed once more. Not to mention just thinking about what happened was a huge turn on for Tomomi. Her nipples hardened beneath her shirt, poking out just enough for Natalia to see. Luckily, Natalia changed the subject.

"Ahh! I-it's been great!" Tomomi said, looking up quickly and trying to calm her beating heart, "I haven't had many matches recently, but that's because I've been super busy preparing for something big. And it's a secret, so I can't tell!" She chided herself in her head for saying that. Now Natalia was going to pester her about it. "My last opponent... I guess it would be Karina, though it wasn't any official match. I haven't had one in a long time..."

"But that's good! Because I'm not that much of a wrestler, and having less wrestling on my plate means I can do more idol stuff!" Tomomi continued, brightening up and smiling. Her embarrassment had evaporated as fast as it came.
Page 2 of 6 •

1, 2, 3, 4, 5, 6



Similar topics
---
Permissions in this forum:
You
cannot
reply to topics in this forum