Who is online?
In total there are
29
users online :: 4 Registered, 0 Hidden and 25 Guests :: 1 Bot
Cicilia
,
LunarWolf
,
TiefBlau
,
Underdog21
Most users ever online was
390
on Tue Jan 02, 2018 2:02 pm
Champions & #1 contenders
Kawaii Opportunities
Sun Jun 17, 2018 3:04 pm by Daaharu
Hey, guys!
With the kawaii title match at Avalanche taking on an interesting wrinkle with the interruption by the Brat Pack, we are moving forward with the overall kawaii storyline, and at this point I'd just like to take stock of what kawaiis are out there that are interested in participating in a cohesive storyline.
Can't make any promises about titles or what exactly each girl's given role would be. We can talk a little more about the specifics of where the story is going soon, but I …
[
Full reading
]
Comments: 3
Match for Takeichi
Tue Jun 12, 2018 6:13 am by GrandAkumaShogun
So with my other two guys having their own matches I figure I should do something with my first character on here, Takeichi Mori. If anyone is interested feel free to post here or get in touch through a pm so we can plan it out. I can either have Takeichi remain a jobber or begin to work him towards being a more serious competitor.
Comments: 1
Match or RP?
Wed Jun 13, 2018 3:48 pm by Lotuswarrior
I'm just looking to do something while I wait for match replies. Really want to get some characters cemented a bit with a rival or some interactions with other characters here.
If anyone wants to do something hit me up.
Comments: 0
Page 1 of 9 • 1, 2, 3, 4, 5, 6, 7, 8, 9


Match Type: Standard
Victory conditions: Pinfall, Submission, K.O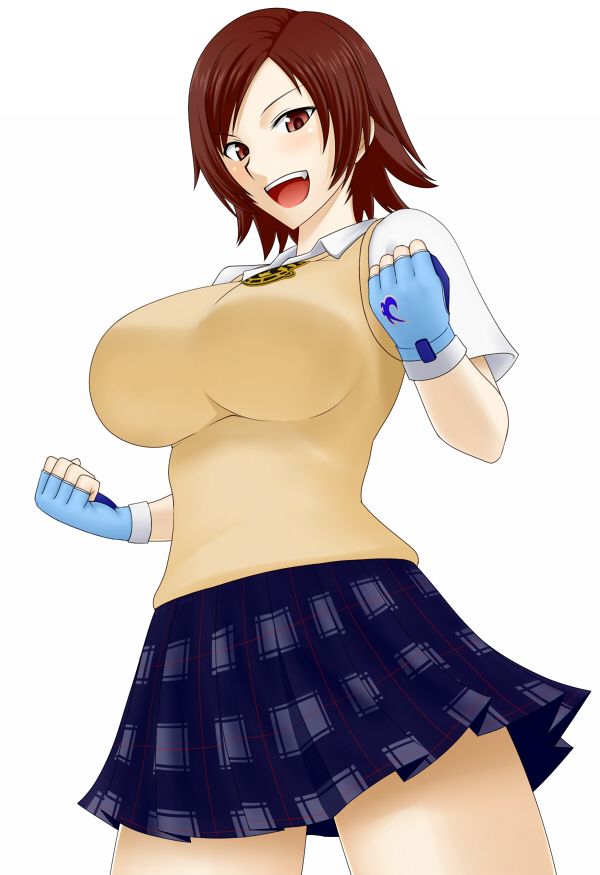 So she was going to fight Chigusa now.. She was the last member of Eclipse that she didn't have the pleasure to fight with after their first three versus three match and to be honest, she was quite excited to see what Chigusa could bring in this bout. She knew that the girl was an idol and they were always dressed cute and behaved cute, to win over the crowd, she would atleast have to be dressed in the same cute and attractive manner and decided to go for her schoolgirl outfit. She would definitely surprise both the idol and the crowd with this! Normally she would be using her spider like kimono and still pull off the sexy part, but now she was going to go for something cute after all.
She licked her lips as she thought back upon the many matches she had done with Eclipse but was still inexperienced in two things.. Wrestling and sex, it was all too blunt in her mind but those were the things that always held her weaker against Eclipse, but now Chigusa was going to be the first idol to experience how this new karina fought. She wasn't going to hurt the poor girl with punches or kicks, she was going to outwrestle her, overpower her and dominate her! Just the thought of that made Karina grin deviously.
She moved over to the staff member and told him that she was ready to begin, just tightening her fingerless gloves and standing near the entrance as she waited for her theme song to start up, thinking to herself how hard this match would be, or if she really could overpower Chigusa easily, though underestimating the girl had made her lose to opponents like Megumi and Tomomi in the first place, this girl might be the youngest one, she was not going to mess this up! " I'm gonna show Chigusa how I fight now! " She then heard her theme song start up and quickly stepped outside, eager to face the crowd and get into that ring to wait for her opponent.
She raised her fist in the air and let out a loud battle roar to the crowd, who mimicked her, fist wise and roar wise! Her grin couldn't get wider as it seemed the crowd was definitely into this as much as she was, stepping down the ramp and giving a few of them highfives as she made her way to the ring. She rolled inside and back upon her feet, bouncing about as she started to warm up while waiting for her opponent, throwing a few punches and kicks in the air to ready herself for her fight.
Last edited by 131 on Tue Nov 20, 2012 11:36 pm; edited 1 time in total
This bout against an AFW veteran was certainly going to be an interesting fight, so Chigusa thought. Karina Rine was one of Eclipse's many friendly rivals, and although they did not know each other too well Chigusa was confident that this was going to be a good match. She knew Karina's fighting power first-hand. The girl was dangerous in the ring, and even though she wasn't a scary heel anymore, she probably still had a violent streak. Chigusa knew to be careful with Karina and to not let herself get caught. Karina was strong enough to go toe to toe against Megumi after all. She had to be careful and use her speed to overwhelm Karina before the girl could defend herself, and hopefully get another win under her belt before going off to Avalanche.
The idol's music played over the speakers as she stepped out onto the ramp with only her silhouette visible from the bright lights shining behind her. The crowd, who had just been cheering Karina, immediately turned around and started screaming for their idol. Chigusa let the support wash over her and buoy her confidence up, raising an arm and waving to the crowd as the lights dimmed behind Chigusa and the big house lights illuminated the Schoolgirl Idol. Dressed as she was in her mock schoolgirl uniform, Chigusa appeared cute and not at all intimidating, but she hoped everyone knew how serious she was. She wanted to prove to them all that she was a good and worthy fighter.
She ran down the ramp as the crowd cheered, full of energy. With a powerful jump, she leapt onto the ring apron and then vaulted her way over the top ropes, landing on her feet with no shakiness at all to demonstrate her peak physical condition. Chigusa was ready. Her body was fully recovered from previous matches, and she was enthusiastic about this fight. She wanted to make it something to remember for everyone.
"Alright! Let's do this!" she said, turning around to view the entire crowd before facing Karina. "Are you ready to be beaten Karina-san? You've picked the wrong idol to mess with!"
Karina stopped her training when her opponent arrived with her cheerful lights and intro. Quite a show, but it was a idol's intro after all. She brought her arms back to her sides and looked Chigusa over when the girl seemed ready to fight her. She blinked a few times though, not remembering that Chigusa was this small before, well, atl east in Karina's eyes she was small. She certainly seemed like such a kawaii wrestler now! Though it was not originally Karina's plan, she wanted to at least tease Chigusa a little bit before their match would start, making her way over to Chigusa with a bright smile. " Awww, aren't you just adorable~ " She said with a teasing tone of voice, even going as far as to bring her hand up and to the top of Chigusa's hair to start ruffling it a bit in a playful manner.

" Did your big sister Megumi send you to play with little ol' me? Don't worry, I won't hurt you~ " Some of Karina's fans started to laugh at how the rocker was acting towards Chigusa, giving the girl a playful wink. " And I thought Tomomi was the kawaii of the group.. Now I know it's you! " She knew not to waste too many time though, stepping back and away from Chigusa to wait for the bell, the last thing she wanted was Chigusa managing the first strike when their match was ready to start.
Chigusa hated being treated like a little girl. She was a fully grown woman, and even if she looked much younger than she actually was she liked being treated with a bit more respect than this! For Karina to ruffle the idol's lilac hair, while teasing her in such a way, absolutely incensed Chigusa. Here she was wanting a good fight to prove herself, and her opponent wasn't taking her seriously at all. Well, she was going to change that. If Karina wasn't going to take her seriously then she was in for a world of pain.

"Stop that!" Chigusa said, reaching up to knock Karina's hand aside, "You'll regret it if you look down on me Karina-San, I'm just as good a fighter as you!" She raised a fist in front of her, "You've been warned, if you don't take me seriously I will kick your ass!" She shook her fist cutely, like a smaller schoolgirl yelling at her bigger and older sempai.

As the bell rang, Chigusa sprang into action. Karina stepped back but she was still well within fighting range for the speedy idol. Chigusa quickly stepped in, getting close enough to reach with a kick, and in one smooth motion turned her body and threw a powerful and extremely fast kick aimed right at Karina's stomach!
Karina couldn't help but laugh from Chigusa's little outburst, it was just too cute for words. She got into her stance when their match began and Chigusa surprised her with the speed she came in, barely being able to bring one arm across her stomach to absorb some of the kick, though it still did it's damage to Karina's stomach, who lost some air from that kick. Chigusa was certainly strong and fast for such a innocent looking idol, if her arm hadn't been close to her stomach, she would have taken some serious damage and her air would have completely left her lungs dry!

However, Karina was not just going to let Chigusa get away with that and moved in to close the distance between them, trying to bring her arms around Chigusa's body before the girl could get away from her or continue to attack, wanting to catch Chigusa in a bearhug though instead of just pulling the girl against her, she would lift the girl up and straight off her feet!
Chigusa demonstrated that despite her cute look and seemingly gentle demeanor she was a powerful fighter not to be looked down upon with that kick. It sent Karina reeling backwards, despite the defensive block she did with her arm, and winded her. The idol thought to press her advantage by stepping in to strike at Karina once more, hoping to land another powerful kick to hopefully send her crashing down onto the mat, when her opponent suddenly stepped in and threw her arms around the idol's slim waist! Chigusa gasped in surprise as she was caught totally off guard. She let out a scream as the air got forced from her lungs as she got lifted up off the ground by Karina's crushing strength.

"Ah-ahhhhh!" Chigusa screamed. Her eyes were screwed shut from the pressure in her back. She took as deep a breath as she could, which didn't give her much air, and focused enough to raise her arms. "Let me go!" she cried as she clapped her palms together on the sides of Karina's head, trying to deal a stunning blow to make her let go.
Karina made sure not to squeeze too tightly, she wasn't out to really hurt Chigusa more then necessary. " Come on, Chigusa. I just want to hug you! " Still, the idol wasn't down from just that and even clapped against Karina's ears, making her flinch and loosen the bearhug enough to let Chigusa's feet land back upon the mat. However, she wasn't going to let Chigusa get away with that and tried to tighten the bearhug again but this time she would try to bring her head over Chigusa's shoulder so she could avoid aother clap with that, though with Chigusa being the faster one of the two, she hoped the bearhug was not loosened neough for her to escape.
The strike managed to bring Karina's strength down enough to lower Chigusa onto the mat, where the idol regained her balance and sucked in some air to keep herself from passing out. But before she could push away, Karina hugged her back in tightly and put her head over Chigusa's shoulder so the idol couldn't her her again. Chigusa grunted, pushing back against Karina's busty form even though she knew she couldn't overpower her opponent. She certainly didn't want to get worn down while trapped in another bearhug! The idol had to act quickly before Karina could secure her hold.

So Chigusa decided on a gamble. She reached her arms around Karina's back, holding on tightly but not hugging nearly as tight as Karina. She would then jump up and attempt to wrap her legs around Karina's torso in a tight full-body hug, squeezing down with her thighs to crush the air out of Karina just like she was crushing Chigusa. Plus Karina would have to hold the both of them up. Chigusa was light, but she knew Karina was going to be worn out quickly if she was allowed to stay in that hold for a long time.
Now on full offenive once more, she wanted to give Chigusa no more options to use against Karina. She tried to fit the bearhug on quickly but once again Chigusa acted faster and wrapped all limps around Karina, who blinked out of confusion first, she didn't think Chigusa would have to power to actually outsqueeze her, but soon she was starting to understand it. It was difficult for Karina to maintain her air and with that, her balance was not getting any solid, it was actually becoming more unsteady, Chigusa might not be able to outsqueeze her with her hug, but those legs were effectively constricting her lungs, forcing the oxygen out of them.

Karina knew that she would be in trouble now as time would pass, sure she could keep the bearhug on but Chigusa's double squeeze was only making Karina's hold less powerful. She decided to do something different and instead try to fall forward, trying to slam Chigusa's upperback against the mat and fall ontop of the smaller idol to try and make her release the holds while Karina's only hold was loosened greatly.
Chigusa wasn't able to squeeze down as hard as she wanted to simply because Karina was doing a good job of keeping her under a lot of pressure as well. The idol panted, gripping Karina as tightly as she could so she didn't just slip off the bigger girl. She decided to try and negotiate. "Hey... How about we both let go at the count of three?" she asked, "One... Two... Th-"

Then Karina toppled forward. "Oh shit," Chigusa thought. This was the perfect counter to her counterattack! The idol let out a yell and tried to push away and get free, but it was far too late for that. Karina fell forward and smashed Chigusa backfirst against the mat, driving the air out of the idol's lungs and winding her completely. Her arms and legs fell off Karina's body as she lay limply underneath Karina, trying to get as much air as she could into her lungs so her head stopped spinning and the pain faded.
Page 1 of 9 • 1, 2, 3, 4, 5, 6, 7, 8, 9



Similar topics
---
Permissions in this forum:
You
cannot
reply to topics in this forum