Who is online?
In total there are
46
users online :: 10 Registered, 0 Hidden and 36 Guests :: 1 Bot
acuya
,
Daaharu
,
Harrier
,
LunarWolf
,
Nelv
,
Old_Man_Tai
,
shanecawf
,
Tarantulust
,
TiefBlau
,
Yori
Most users ever online was
390
on Tue Jan 02, 2018 2:02 pm
Champions & #1 contenders
Match for Takeichi
Tue Jun 12, 2018 6:13 am by GrandAkumaShogun
So with my other two guys having their own matches I figure I should do something with my first character on here, Takeichi Mori. If anyone is interested feel free to post here or get in touch through a pm so we can plan it out. I can either have Takeichi remain a jobber or begin to work him towards being a more serious competitor.
Comments: 1
Kawaii Opportunities
Sun Jun 17, 2018 3:04 pm by Daaharu
Hey, guys!
With the kawaii title match at Avalanche taking on an interesting wrinkle with the interruption by the Brat Pack, we are moving forward with the overall kawaii storyline, and at this point I'd just like to take stock of what kawaiis are out there that are interested in participating in a cohesive storyline.
Can't make any promises about titles or what exactly each girl's given role would be. We can talk a little more about the specifics of where the story is going soon, but I …
[
Full reading
]
Comments: 2
Match or RP?
Wed Jun 13, 2018 3:48 pm by Lotuswarrior
I'm just looking to do something while I wait for match replies. Really want to get some characters cemented a bit with a rival or some interactions with other characters here.
If anyone wants to do something hit me up.
Comments: 0
Page 1 of 7 • 1, 2, 3, 4, 5, 6, 7


Match Type: Submission match
Victory condition: Win by submission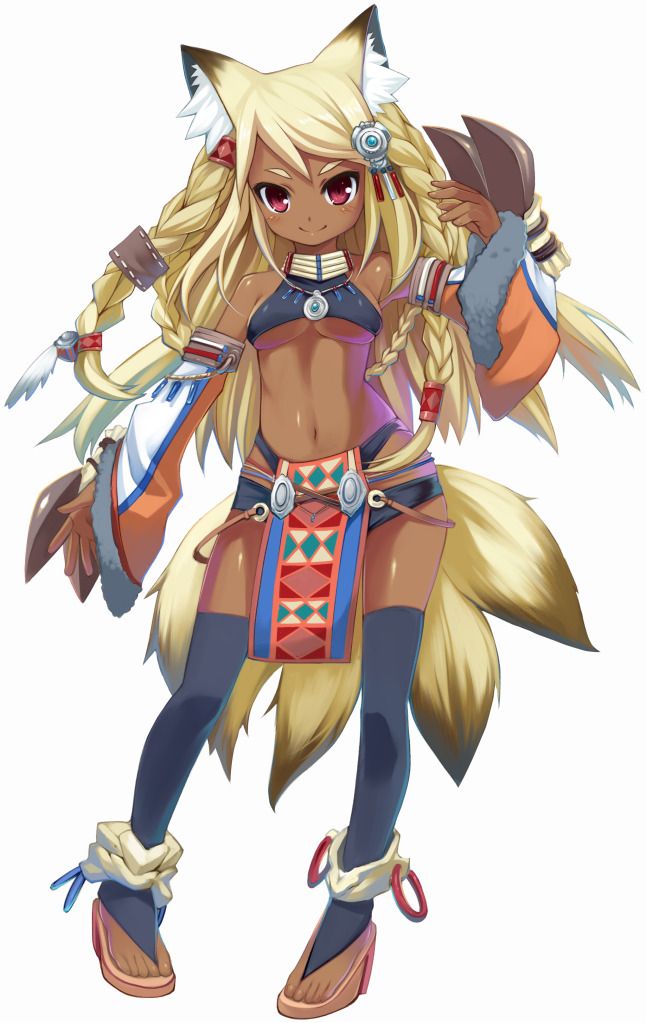 Her first match already! Zhu Rong was excited to face someone, she hoped her opponent was strong though. It seemed she was paired up against someone called Lucy Stone, nicknamed the Alpha Demon. She smiled to herself, opening her locker to hide her vanity claws and any kind of accessories that might be posed as dangerous, after all she was at a place where such objects should not be carried to a ring, nor would she even consider them to be weapons. She closed her locker and grinned at the reflection of herself she saw through it. " I'll show her that I'm the new alpha! " With that she stormed off and-- What was that? She came to a quick halt when she noticed some kind of box next to the hand washer, taking slow steps towards it and eyeing it like an animal who just came across a strange new creature.
Like always, whenever she found something new and became curious about it, she brought her hand up to start poking it repeatedly, wondering if it could move or anything. It gave no reaction, making Zhu Rong inch closer and start patting it until her hand moved underneath it, making an eerie sound and hot air to come out to her hand. She jumped back and immediately ran away from it! " Angry machine! " She yelled out as she ran to the backstage, where she was supposed to be for her match. She came to a full halt once she was with some staff members and her agent, who had everything settled for her intro. He told her not to worry about anything and just act like she always did, to go into that ring and fight until she won. Zhu Rong raised her fist cheerfully. " I will win! " She sung out and stormed towards the entrance, though stopped by her agent. " It's not time yet, they have to start your intro. " Zhu Rong pouted upon hearing the news and plopped down to wait impatiently. She had seen the videos of how matches started, people dancing their way to the ring or something else, but Zhu Rong wasn't interested in that.
When she heard her theme song starting, she wasted no more time, planting her palms upon the ground and flipped forward to do a handstand and further falling forward to land upon feet, showing amazing flexibility as she rose up straight and began running to the entrance, leaving her agent behind. She didn't stop when she appeared on stage, the crowd looking at her and cheering though she just ran down the ramp like an hungry animal, rolling underneath the bottom ropes and flipping herself back on her feet. She began to look around, making herself more familiar to this new environment. She was more used to fighting in the open, larger areas but this would do, she could still move and her prey wouldn't get away from her quickly. She headed for the nearest turnbuckle and hopped up to take a seat on it, planting each hand on each top rope to balance herself and simply waited for the Alpha Demon, curious to see what she looked like, would she have horns like the stories proclaimed demons to have? Would she be like a giant thingy? She wondered, passing time as the crowd got used to this newcomer and her exotic looks, who was swaying from side to side as she waited for her opponent.
Last edited by 131 on Mon Aug 13, 2012 3:56 pm; edited 3 times in total
Lucy had just returned to AFW after quite a long absence, taking her time to train and get over the fact that both her sister and her teacher had abandoned her for a time. During which that Lucy had spent a long time training and becoming stronger, one thing that was quite positive was that it had really worked, and she had gotten quite a bit stronger. Her kicks and strikes had become near as good as Cerbera's were and now she was still the master of Submissions as before.
Lucy stood in her locker room, putting on her coat and was now getting ready for her match, apparently it was supposed to be against a new girl, one that was making her debut and it was going to be against Lucy Stone, the Alpha demon...she was just now ready with putting on her coat and she was ready to return to the ring, she had hoped that her opponent would be quite...well more like at least a normal girl....but that would be quite difficult to find among the girl's in AFW. Lucy would walk out of the locker room and then begin to walk down towards the curtains before the ring, Lucy would stand there and would wait for her music to start up.
[url=http://www.youtube.com/watch?v=mF14wCVbeUk&feature=related:2d44o7kq]Nightwish - End of All hope[/url:2d44o7kq] would start up and then soon the Alpha demon would step out onto the ramp to a fair amount of cheers, her coat swaying behind her as she jumped out onto the ramp, The little demon would quickly run down towards the ring moving at a pretty impressive speed...even compared to how she was before. Lucy would slide into the ring and then move up to her feet, standing as she listened to the so so reaction from the crowd.
Lucy would walk up to the center of the ring and stare a bit at Zhu....she didn't look all that crazy, well compared to AFW standards she looked completely normal. Lucy would nod to the girl and then move back a few steps, getting ready for the match.
Her opponent came into view, with rather blinding speed at that! Soon her red haired opponent came into the ring, standing right in front of h-- Wait, red hair? Zhu Rong had never sen someone with bright red hair! She looked at Lucy like a shocked infant, big shiny eyes presented upon her face as she began to walk up towards Lucy and showed no hostility. Rather, she showed curiosity towards Lucy. Once she was close enough, she would press into Lucy, chest to chest, leaning her face very closely to Lucy before she nuzzled herself into the side of Lucy's face, sniffing at her hair.

Both hands came up, stroking them tenderly up Lucy's thighs, sides and soon her head, taking a gently hold of it so she could turn Lucy's head to the side and keep sniffing, then licking at it, though it was mostly Lucy's ear she licked. " Mmm.. I have never seen someone.. As pretty as you! " Her words were direct, releasing Lucy to step back and away from her, a big smile on Zhu Rong's face, thought there was something else, that famous predatory look in her eyes that simply wanted Lucy to be her own, but those words were soon said. " You'd make fine prey to capture! I will make you mine!"
Lucy looked on as her opponent began to walk up to her, Lucy would be a bit hesitant as Zhu pressed up against the Lucy and would then start to nuzzle her face. Lucy blushed a little and tried to move her face back a little as she then felt how the girl grabbed onto her head and pulled her along, licking and sniffing the Alpha Demon all over, Lucy couldn't take much more of this as then Zhu licked her ear, Lucy would attempt and move her hands up and grab onto Zhu by her shoulders and attempt to push the girl back.

" Aaa! Stop! You will not! Get back!" Lucy let out as she would try and push Zhu back, Lucy would then stumble back and try to realign herself and stand up, " What the hell is wrong with you ?!" Lucy would shout as she she wasn't exactly sure what this girl's deal was.
Zhu Rong shifted her body from side to side before she would crouch low, making a pouncing position, the tigress was ready to play and make this girl her own. " You will become my beta! " She would tease Lucy, the smile never fading her lips despite that dominant glare that had taken over her predatory one. She wanted Lucy to understand that she would have no chance in this match! That she belong within the grasp of Zhu Rong!

When the bell rung, Zhu Rong would dash forward, taking the initiative in this starting match and jumped off her feet when she was close, she didn't add power in this pounce before she wanted to do something else rather then make her body fall. She tried to wrap her legs around her opponent's waist while her arms tried to swoop around Lucy's arms and body so she could snatch her into a bearhug and have the girl's arms pinned by her sides. It wouldn't end there though, Zhu Rong would lean over to give Lucy a bite in the side of her neck.
Last edited by 131 on Thu Aug 16, 2012 3:54 am; edited 1 time in total
Lucy wasn't aware of what kind of opponent that this girl was, she was brand new after all and seemed to be rather...strange, to say the least she was almost loco even by AFW standards, which was a rare thing to find.

But she knew that she had to keep fight this girl, she didn't have much choice of the matter now, besides. Lucy didn't like being touched and played with like she had just been by this girl, one thing though that bothered her a bit was the fact that this Zhu had said that she was the pretties girl that she had ever seen, Lucy didn't know how to react to that.

The Alpha demon was not ready when Zhu came charging at her, the fact of the matter was that she was still taken a back by Zhu's previous actions, and even though Lucy was fast she didn't have time to react to the pounce that Zhu went for.

The Tigress crashed into the little demon, but what happend wasn't that she fell down on the mat, no she was still standing and Zhu wrapped her arms and legs around Lucy, trapping the little demon quite well, before she bit down against Lucy's neck. " Ow! HEY ! STOP THAT !" Lucy shouted out as she would attempt and turn around and move over towards the ropes and ram Zhu into them, as she did this she tried to pull her arms around from under Zhu's and break free from her hold.
Zhu Rong bit upon Lucy's neck like she would with a fish, though being very careful not to pierce the skin, only to show a bit of dominance over Lucy, whom was quite quick to start running and bringing her against the ropes, making her release both holds and quickly plant her feet upon the mat. She took the moment to press back hard against the ropes and use them for an extra boost of power to lunge back into Lucy, not to do the same hold though..

This time, she tried to crash right into Lucy and send the kawaii to her back with Lucy coming down on top of her, her hands would then quickly try to grasp Lucy's wrists to pin them at the sides of her head, she wanted to keep Lucy pinned so she could tease her some more and talk to her, after all, her red hair was just so addicted to look at that she considered the Alpha Demon to be really pretty, definitely worth getting as a prey, but like most prey, she was going to be hard to defeat.
Lucy managed to get Zhu off her when she moved up and slammed the girl's back into the right ropes, after seh was released Lucy began to stumble backwards, trying to keep herself up right and alright, as Zhu's attack had taken her by quite a bit of surprise and she hadnt' been ready at all to deal with it.

But before she would even have enough time to regain her senses Zhu came at her and tackled her down hard on the mat, pinning her down on the mat, and forcing her hands down against the mat, Zhu seemed the have quite a bit of a strength advantage over her and it seemd pretty difficult to just struggle, but that didn't stop, Lucy, for she would quickly attempt and wrap her legs around Zhu's waist and then attempt and lock her into a body scissor, and would try to puta tight squeeze on the girl.
Zhu rong came ontop of the girl and had her effectively pinned down, but she wasn't fast enough to capture those legs aswel, and they effectively came around her waist, giving her quite some trouble. Still, Zhu Rong grinned down at Lucy. " Not bad, pretty girl! " She would actually compliment her prey, bringing her knees to the mat and also lowering the girl's wrists down to her sides so she could quickly wrap her arms underneath Lucys body and once again slip her into a bearhug and to pin her arms to her sides.

This only served for Zhu Rong to try and get back upon her feet, using her knees mostly to rise up before she could get one foot at a time on the mat. Once shestood up straight while holding Lucy, she would run over towards the narest turnbuckle, lower her arms in the bearhug and try to slam Lucy's upper back against the turnbuckle to try and make her let go.
Lucy was pretty much caught under Zhu but she wasn't going down that easy and she knew it, she had her arms around the girl's waist and was putting her in a pretty tight squeeze, all the while she was being complimented by her opponent it seemed. Lucy still didn't know what to make of this girl, but she knew one thing, she couldn't let her get the better of her. Lucy soon felt how her wrists were pulled down a bit and then released, before they were caught up by Zhu's arms in another bearhug, she slipped them up and above her head.

Lucy would then attempt and wrap her arms around Zhu's head and place her in a kind of headlock, and body scissor combo. Although that didn't stop Zhu from lifting her up, something that started to cause a bit of fear in the little demon, as the Tigress soon ran off and slammed Lucy's back hard against the turnbuckle. " Agh!" Lucy shouted out before she let go of both holds of Zhu and slumped down onto her butt.
Page 1 of 7 • 1, 2, 3, 4, 5, 6, 7



Similar topics
---
Permissions in this forum:
You
cannot
reply to topics in this forum