Champions & #1 contenders
Highfly Flying Out Of Town
Tue May 22, 2018 1:31 am by HighFly
Hello everyone, I just wanted to inform all I have threads with that I will be gone from this coming Wednesday through Sunday. I won't be able to post consistently if at all during this time, but I will try to make up for it next week! I am sorry for the inconvenience to everyone.
Comments: 7
The Austrailian Mudslide is Back.
Sat Apr 21, 2018 6:20 am by Softsquad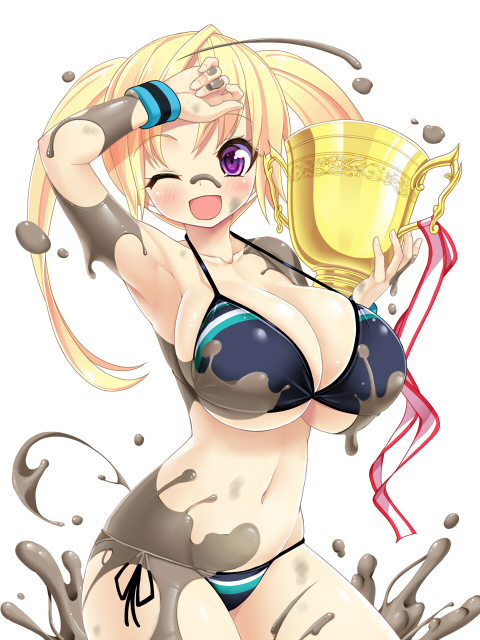 Granted that most of you won't know me or remember me, but I've had a few matches here and there some time ago. Well I think its time to become a regular around here and try to have some fun again, but at the same time keep coming back. Anyway I think its time to jump into some matches with Zoe Taylor, my mud wrestling character from Australia and get her back into the squared circle. Furthermore I will update my characters as I think some proper changes need to happen.
So if anyone would …
[
Full reading
]
Comments: 5
Page 2 of 6 •

1, 2, 3, 4, 5, 6


Natalia was a tease and a very effective one, she loved to have big strong girls moaning and trembling in her arms and that was just what she planned to do with Sabre. Rubbing her ass on the cavegirl's cute face while playing with her pussy made Natalia feel on top of the world, but apparently Sabre wasn't enjoying it that much. 'If she wanted to enjoy it it, she should have won, Natalia thought while she spitted water on Sabre's pussy.

"Aughhh!" Natalia whined as she felt Sabre's slap. She frowned cutely and pressed her butt harder on the cavegirl's face while with one hand she began to massage her pussy. "what's the matter Sabre? Too needy to cum?" she asked tauntingly as she shook her butt...and then she stood up.

"Fine... I'll let you cum....but" The Dream said as she stood up and began to rub Sabre's pussy with one foot, letting her big toe play against the cavegirl's clit. "You have to beg!"
Smothered under Nataliaâ€
s cute ass, Sabre let out a deep moan of pleasured frustration as her crotch was gently massaged. Having the smaller girlâ€
s butt rubbed hard into her face was degrading enough, and coupled with the teasing, aching desire she was being forced to submit to, it left her reeling with helpless indignation.
The masked girl was badly flustered, and breathing heavily by the time Natalia finally deigned to lift her hips and grant her some air. Though her panting chest was as much a sign of lust as anything.
"YOU the matter!" she growled, subconsciously thrusting her crotch up a little, as she lay back on the shower floor. With Natalia standing over her, it gave her a chance to look up at the Dreamâ€
s sumptuous thighs and rear (even if she had been given a bit much of a closeup on the latter). As the brunette stroked her sex with an outstretched toe, the savage felt truly dominated, and a shudder went through her body at that unusual feeling. Still, she wasnâ€
t about to roll over and grovel for this girl, even if she was desperately horny.
"Want your tongue…" she moaned insistently. The floored wrestler would turn her head and press her lips to Nataliaâ€
s ankle, kissing it affectionately while running her hand up the Dream's muscular calf, trying to encourage the other girl to start playing nice again.
"oh really?" Natalia asked with that teasing seductive tone she had so well practiced. She continue rubbing Sabre's slit with her bit toe and then massaged the savage girl's mound with the smooth sole of her feet. "unfortunately...for you... this isn't about what you want..." The Dream explained with a giggle as she moved her foot up to start massaging Sabre's abs and then, slowly turning around, the dark haired beauty moved her foot up some more to caress the underside of Sabre's magnificent breasts. "...you are mine by right of conquest..." Natalia began to play with Sabre's tits with her foot, letting her toes fickle the cavegirl's nipples as she kneaded the luscious orbs with her foot. ...all that matters is what I want..." now Natalia had turned her body around all the way to look down at Sabre, pushing her foot up to rub her sole on the cavegirl's throat in a gentle but extremely dominant gesture. The Dream locked her deep blue eyes with Sabre's own eyes and then lifted her cute foot up to then slowly put it down, pressing the ball of her foot on Sabre's lips and pinching the cavegirl's nose with her toes. "I want your tongue" she said smiling mischievously as she rubbed gently the ball of her foot on Sabre's mouth.
Sabre lay back on the floor, shaking with sexual anticipation as her body was caressed by Nataliaâ€
s foot, her nipples hardening as they were teased by the brunetteâ€
s toes. Her will to resist really was ebbing away now; she gave an anguished moan of desire as she was left gazing up at her tormentor. She was fast becoming this girlâ€
s subservient pet, to the point where she did not protest as she was put in a very gentle, but very submissive foot choke. It pained her to admit it, but she really was this girlâ€
s trophy, and she really was going to have to grovel if she wanted Natalia to start playing nice again.
"Hhhnnngggg….." Sabre gave a soft groan of protest as Nataliaâ€
s foot pressed down on her face. This was a really humiliating position to have to submit from, but the savage had no choice.
"Nnhh…. Okay…" the white-haired girl mumbled, her reply nasal and muffled by the mischievous foot smother. "You… you get it….."
And so, in a wicked parody of her own request, she obligingly gave Natalia her tongue, sliding out from between her pink lips to tentatively lick the sole of her captorâ€
s foot.
"....mmmm.... good girl...." Natalia purred and praised her prey with a dominant condescending tone. The Dream arched her back and played with her hair with both hands while she kept her foot on Sabre's face, her toes still trapping the cavegirl's nose so she would have no option but to sniff them when she breathe and the arch of her foot right over the girls lips now. "Not bad Sabre-chan....but you can do much better...come on!" Natalia 'encouraged' her victim, wiggling the girl's nose a little with her toes. "Lick long and slow... don't be shy...press your tongue hard into my sole...and search for that spot right below the ball of the feet... that precise spot that never touches the floor when you walk...and kiss it..." Natalia explained what she wanted between moans.

While she kept her victim literally under her foot, Natalia reached for a bath sponge and put a bit of liquid soap she had brought on it, to the start rubbing herself with it, covering her curvaceous body in soap foam. The Dream made it very clear she wasn't just taking a bath, but also playing with herself; she paid a lot of attention to massage her breasts all over, pressing them together then running the sponge in between her orbs all the way to her tummy and then in circles around her belly button. She even slid the sponge in between her legs to rub herself, letting out cute soft moans as she did.
"Hhhhnnngggghhhh!!!" Foot-smothered Sabre shuddered and moaned, a deep frustrated growl of wounded pride and sexual longing. Being forced to sniff through Nataliaâ€
s sweaty toes was bad enough, but what really got the cave girl was the humiliation, the way the smug brunette wiggled her foot, rubbing it in her face to show Sabre just how much of a loser she was.
This indignity, though, didnâ€
t stop Sabreâ€
s pussy from aching with desire. She needed Nataliaâ€
s body, even if she was going to get degraded in the process.
With a put-upon grunt, Sabre extended her tongue, pressing it into the bottom of Nataliaâ€
s smothering foot. Following her tormentorâ€
s instructions, she prodded the arch of the Dreamâ€
s sole firmly with the tip of her tongue, trying to stimulate that sensitive spot, before licking down the remaining length in a slow, controlled arc. Sabre could taste the slightly salty tang of Nataliaâ€
s residual foot-sweat, but that didnâ€
t bother the unfussy cave girl - it was the forced subservience she found hard to swallow. Still, she needed to keep going, and would continue to press her tongue into the base of Nataliaâ€
s sole and obediently lap at her foot.
Sabreâ€
s angry scowl did soften lightly as she saw the cute brunette make a show of lathering her body. As the sponge slipped between Nataliaâ€
s legs, Sabreâ€
s own hips thrust upwards in longing. The sexy display kept the floored girl fired up, and as she licked her captorâ€
s foot she would emit muffled moans of desire. Despite the humiliation her blood was pumping and her hormones were racing.
"mmmmm...mmmmmm... Oh Sabre-chan, you lick so good..." Natalia moaned aloud as the cavegirl lapped her soles so good. The Dream rubbed her foot on her face a bit and then lowered it to wiggle her toes on Sabre's lips. Then she stepped back and finishing soaping herself to then let the hot water wash away the soap. She looked down at Sabre and smiled happily. "You have such a delicious body, Sabre-chan.... and I am going to fuck it so hard" The Dream said running her foot down from Sabre's lips all the way down her neck, between her tits, rubbing the cavegirl's belly in circles to finally put her foot on the savage cutie sex, posing over it. "Your sex is mine." Natalia claimed victorious.

The Dream then knelt besides Sabre and picked one of the girl's leg, lifting it up as she slid one of her legs over Sabre, sitting so that her sex pressed directly into the cavegirl's own sex, and Sabre's leg was placed straight up and in between Natalia's breasts. Still with the sponge in her hand, The Dream began to massage and soap Sabre's stretched leg, rubbing it with her tits while she moved her hips in slow circles, pressing her sex against Sabre's sex in a very dominant way. "You are going to have to beg, Sabre-chan"
Sabre lay breathlessly on the wet floor as Natalia finally removed her foot from her face, the Dream sensuously staring down at her, talking dirty, making the cave girl ache with lust.
She moaned excitedly as Natalia knelt and pressed herself against her. Sabre swallowed hard, shuddering at the renewed stimulation of her sensitised sex. She felt deliciously helpless at the brunetteâ€
s assured touch, the gentle, soapy caress of her raised leg keeping the amazon simmering with desire.
After the submissive tonguing Sabre had been forced to lavish upon Nataliaâ€
s sole, it was good to have her own foot rubbing against the brunetteâ€
s breasts, it felt almost reciprocal… until Natalia tilted her hips into a dominant position, telling the savage she would have to start begging.
Sabre bit her lip, chewing thoughtfully. She had taken humiliation, foot and ass smothers as the price of her defeat - but her warrior soul drew a line at grovelling like a pet. She could be tortured and tormented, sure, but taming her was a whole other matter.
So, despite her lust and longing for this girl, she couldnâ€
t jump this final hoop. Sabre clenched her fists as she tried to marshal her hormone-addled senses.
"You take your fucking prize… and donâ€
t push your fucking luck…" she snarled, locking eyes with the Dream to show she still had some will left in her.
Natalia kept staring into Sabre's fiery eyes, looking back at her through the mask. She didn't flinched at all with the savage girl outburst, Natalia knew she had a dangerous wild beast under her but she wasn't scared, or at least did an impressive job hiding it. All she did to answer Sabre's yell was to smile sweetly at her victim, while she kept rubbing herself against Sabre's leg and pussy. She gave Sabre's heel a soft long sweet kiss and then pushed the cavegirl's leg to the side, opening her up to rub her pussy against Sabre's more firmly. The blue eyed cutie leaned forward slowly, placing her hands on Sabre's shoulders and very gently letting her tits and hardened nipples fall on top of Sabre's own tits. She then tilted her head to the side and began to softly kiss Sabre's neck...at the same time her hips began to move furiously in circles, hammering her sex faster and harder on Sabre's own.

"but I want you to beg..." Natalia said with almost an hypnotic voice, whispering on Sabre's ear as she rubbed her wet body up and down on her prey. "Would you take your mask for me and let me see your face?" The Dream asked, her lips against Sabre's ears. The Dream could tell the mask and keeping her identity hidden was something very important for Sabre, so she wanted to see what would be her reaction to it, and braced herself in case Sabre wanted to fight again.
Sabre stared hard at her opponent, though her glare did soften as Natalia responded by rubbing against her all the more sensuously. It was difficult to keep her warrior instincts focused as the Dream brushed her dangling breasts against her own hardened nipples with such enticing skill.
The horny cave girl stayed strong, even through those sweet, delicate neck kisses. She was wavering, but was still determined not to beg. But then, Natalia gently mentioned her mask.
Sabre suddenly felt a stab of vulnerability in her gut. It seemed Natalia had found another soft spot to exploit. Her already tense body tightened further, alert, defensive, ready to fight. But Sabre had enough smarts to realise that she couldnâ€
t lash out at this point, Natalia was right on top of her, and could rob her of her precious mask at will.
"No!" she moaned, squirming with even greater frustration now. "You canâ€
t!" she gasped. "You donâ€
t want
her
, she weak!" Emotions were swirling round the white-haired girlâ€
s senses and she didnâ€
t think her heart could beat any harder than it was now.
"Leave
her
, take Sabre. Please." The cave girl grimaced as she realised that she had, in fact, resorted to grovelling after all. "Take Sabre, fuck her hard, I beg you, do what you want to her, please," she urged in a desperate voice. As far as the white-haired wrestler was concerned, any amount of rough treatment as Sabre was infinitely preferable to the humiliation of being de-masked.
Page 2 of 6 •

1, 2, 3, 4, 5, 6


---
Permissions in this forum:
You
cannot
reply to topics in this forum