Who is online?
In total there are
40
users online :: 10 Registered, 0 Hidden and 30 Guests :: 1 Bot
acuya
,
BlueMeanie
,
Deus001
,
Harrier
,
LunarWolf
,
Miss_Blackbelt88
,
SleeperAgent94
,
Teenwrestler
,
TiefBlau
,
Vcom7418
Most users ever online was
155
on Sun Oct 09, 2016 8:33 am
Champions & #1 contenders
Looking for a match.
Wed Sep 20, 2017 9:27 am by Silentcoins
As the title says, I'm looking for a match up.
I can do just about any kind of match up, though I prefer one with some hentai elements mixed into it. Wonder if there's anyone interested in a match of any kind?
Comments: 0
Taking a Few Days Off
Sun Sep 17, 2017 3:46 pm by RadiantKarna332
Well, I'm kind of burned out these days, so I'll be taking a break from RPing for a while. Maybe a few days? Sorry for the inconvenience, guys.

Comments: 16
Fright Fight Sign Up
Mon Sep 04, 2017 5:07 am by LunarWolf
It's that time again.
Fright Fight, the Halloween PPV.
Sign ups start now. As usual you may sign up here or by pm. Either just show your interest. If you have a match already decided all the better, if not we'll see if we can get you a match set up with someone that is interested.
Let's make this year a great one! A true night of Trick and Treat!
Comments: 17
Page 4 of 9 •

1, 2, 3, 4, 5, 6, 7, 8, 9

[quote="killerV":962wpo4g]
Female Darkrai
Dusknoir
Umbreon wrestler form :3
Trying to help out XD
Well hello there o.o' decisions decisions
[quote="Alexandra":962wpo4g]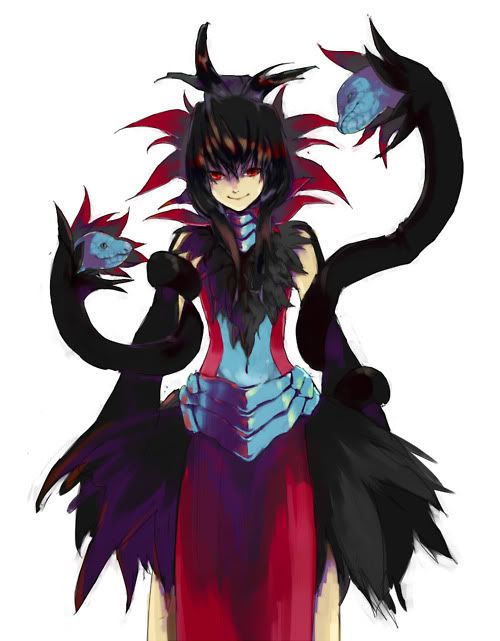 Doing my part.
o.o' she scary...maybe Hydreigon was a bad choice....although now I have been proven wrong in that these pictures are out there...especially that Darkrai and Umbreon



Posts

: 2374


Join date

: 2008-09-21


Age

: 26



They're out there for every Pokemon...just gotta do a little searching.
I call dibs on the umbreon wrestler. Who wants a match?

Also... TAKE YOUR SCIENCE OFF MY POKéMON!!!



Posts

: 7322


Join date

: 2010-03-05



Dibs on the Umbreon? Oh fooey!!!
Guess I'll have to go with my absolute non-legendary second favorite
Bring it!!!



Posts

: 2374


Join date

: 2008-09-21


Age

: 26



...okay, wow. That's one of the coolest Absol designs I've seen. Very nice.
Scolipede
Drifblim
I claim these they're the best! :3



Posts

: 8684


Join date

: 2011-07-14


Age

: 33



I like the Driftblim, but the Scolipede doesn't really say 'Scolipede' to me, outside of the coloring.



Posts

: 8684


Join date

: 2011-07-14


Age

: 33



OK
I think I'll be Snorlax...



Posts

: 7322


Join date

: 2010-03-05



I like the tamer ones. The last image isn't so tame, but it's more tame than some of the freakier shit I have come across.
Stantler
Dragonite
Golbat

_________________
Friction/Tension Pro (Females): [url=http://afwrpg.informe.com/forum/friction-roster-f10/erica-knight-the-loli-popper-t5276.html:2epaqlxz]Erica Knight[/url:2epaqlxz] [url=http://afwrpg.informe.com/forum/friction-roster-f10/hana-creampuff-moriko-t5587.html:2epaqlxz]Hana Moriko[/url:2epaqlxz] [url=http://afwrpg.informe.com/forum/friction-roster-f10/natsumi-suzuwa-t5772.html:2epaqlxz]Natsumi Suzuwa[/url:2epaqlxz] [url=http://afwrpg.informe.com/forum/friction-roster-f10/noriko-takatake-t5825.html:2epaqlxz]Noriko Takatake[/url:2epaqlxz] [url=http://afwrpg.informe.com/forum/friction-roster-f10/amaiko-hirohama-t5867.html:2epaqlxz]Amaiko Hirohama[/url:2epaqlxz] [url=http://afwrpg.informe.com/forum/friction-roster-f10/yumeko-yugure-the-imperfect-t5983.html:2epaqlxz]Yumeko Yugure[/url:2epaqlxz] [url=http://afwrpg.informe.com/forum/friction-roster-f10/chiu-lu-lin-t6083.html:2epaqlxz]Chiu-Lu Lin[/url:2epaqlxz]
Kawaii League: [url=http://afwrpg.informe.com/forum/kawaii-league-f27/kiiro-takatake-t5856.html#p141792:2epaqlxz]Kiiro Takatake[/url:2epaqlxz] [url=http://afwrpg.informe.com/forum/kawaii-league-f27/una-the-little-brave-t5960.html:2epaqlxz]Una[/url:2epaqlxz]
Tension Pro (Males): [url=http://afwrpg.informe.com/forum/tension-pro-males-f60/tyler-milton-t5539.html:2epaqlxz]Tyler Milton[/url:2epaqlxz] [url=http://afwrpg.informe.com/forum/viewtopic.php?f=60&t=5652:2epaqlxz]Ric Spalding[/url:2epaqlxz] [url=http://afwrpg.informe.com/forum/tension-pro-males-f60/trent-galvin-the-killing-joke-t6063.html:2epaqlxz]Trent Galvin[/url:2epaqlxz]
Fur and Feathers: [url=http://afwrpg.informe.com/forum/fur-feathers-roster-f52/aeryn-the-giddy-harpy-t5294.html:2epaqlxz]Aeryn[/url:2epaqlxz] [url=http://afwrpg.informe.com/forum/fur-feathers-roster-f52/lydia-t5351.html:2epaqlxz]Lydia[/url:2epaqlxz] [url=http://afwrpg.informe.com/forum/fur-feathers-roster-f52/raya-t5404.html:2epaqlxz]Raya[/url:2epaqlxz] [url=http://afwrpg.informe.com/forum/fur-feathers-roster-f52/embrea-t5419.html:2epaqlxz]Embrea[/url:2epaqlxz] [url=http://afwrpg.informe.com/forum/fur-feathers-roster-f52/nyx-the-fallen-angel-t5420.html:2epaqlxz]Syx[/url:2epaqlxz] [url=http://afwrpg.informe.com/forum/fur-feathers-roster-f52/the-mothman-t5510.html:2epaqlxz]The Mothman[/url:2epaqlxz] [url=http://afwrpg.informe.com/forum/fur-feathers-roster-f52/tsukiko-the-possessed-t5603.html:2epaqlxz]Tsukiko[/url:2epaqlxz]
Alternative: [url=http://afwrpg.informe.com/forum/alternative-roster-f32/carnage-t5496.html:2epaqlxz]Carnage[/url:2epaqlxz] [url=http://afwrpg.informe.com/forum/alternative-roster-f32/jun-fudo-devilman-lady-t5590.html:2epaqlxz]Jun Fudo[/url:2epaqlxz]



Posts

: 198


Join date

: 2011-11-02



Page 4 of 9 •

1, 2, 3, 4, 5, 6, 7, 8, 9


Similar topics
---
Permissions in this forum:
You
cannot
reply to topics in this forum