Champions & #1 contenders
Hi I'm back...I don't know where to begin...
Fri Sep 15, 2017 6:43 pm by Silentcoins
Hello everyone. I'm not too sure if anyone still remembers me, but if you do thanks.
I haven't been around for a long time for reasons I guess. If there's still anyone out there who wishes to play with me or to continue whatever we left off, please don't hesitate to reply.
It's kind of awkward just saying this.
Comments: 7
I'm Back
Fri Sep 22, 2017 11:57 am by RadiantKarna332
Alright, after a few days of hiatus, I'm back. I'm sorry for my absence, for those who have threads with me here.

Comments: 4
Looking for a match.
Wed Sep 20, 2017 9:27 am by Silentcoins
As the title says, I'm looking for a match up.
I can do just about any kind of match up, though I prefer one with some hentai elements mixed into it. Wonder if there's anyone interested in a match of any kind?
Comments: 0
Name:
Iktomi Hooghan
Sex:
Female
Age:
22
Eyes:
Blue
Hair:
Short brown
Height:
5'7''
Weight:
132lbs
Nationality:
North American Indian
Alignment:
Neutral
Entrance music:
"Ghost Dance" by Cusco
Physical Appearance: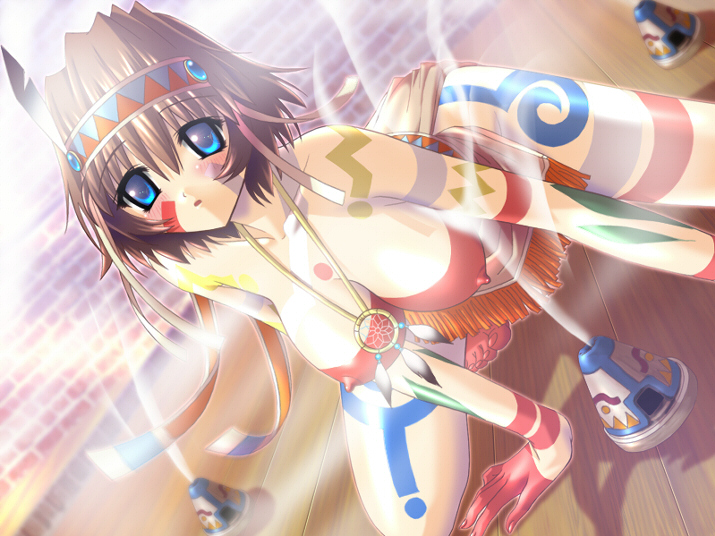 Wrestling InformationStrategy:
Sticking to whatever works best on the occasion
Style:
Mixed
Type:
Offensive
Endurance:****
Strength:****
Speed:****
Defense:**
Technique:*
Favored moves:
Slams, throwdowns, bearhugs
Finishing moves:
"Tumbleweed" (Rolling Cradle) - Iktomi moves behind her opponent and tangles one leg around one of the opponent's, as if preparing for an abdominal stretch. She locks her arms around the other leg, then falls back, forcing the opponent to fall back as well, and starts
spinning counterclockwise. She keeps herself and the opponent rolling, with the opponent's
shoulders hitting the mat at each rotation, then after a while ends the move with a pin.
"Thunderbird" (Giant Swing combo) - Iktomi grabs a laying-down opponent by the thighs and lifts him partially off the mat. She then spins around several times, building momentum, then jumps and falls to her butt, driving the opponent's back against the mat.
Personality:
Iktomi is generally kind and honest, although she can be a little sheepish
sometimes. She tries not to act tough nor seductive - mainly to not attract rivalries, but
also because she can't stand people who do so prepotently. She sees pro wrestling more as a job than anything, and doesn't let emotional issues influence her fights - or, at least,
that's what she tries to do. She fights in a very straightforward manner, and simply hasn't
ever heard of sexual attacks.
Past/History:
A member of the Koyangwuti tribe, Iktomi was raised by her mother to be a shaman and help the tribe in spiritual matters. Shamanism is by no means an exact science. In order to talk to the departed, every tribe has different rituals, each with its own peculiarities, to bring spirits temporarily back to the plane of the living. Also, because
all rituals have some mystical flaw, shamans must be thoroughly trained to cope with
irregularities.
And, by far, Iktomi's tribe has one of the most difficult rituals. For starters, the shaman must cover her whole body with painted symbols and, apart from a loincloth, remain almost always nude, be it summer or winter. Furthermore, at the end of the ritual, the spirit often arrives in an enraged, mindless state. The shaman then has to physically pacify it, or else it won't regain its senses, and this requires great strength and tenacity.
So was Iktomi's upbringing; having to wrestle almost daily with every kind of spirit, it was
no surprise that she also became a very good hand-to-hand fighter. As her tribe was having lots of problems with local farmers, she decided to join the wrestling league to earn money
and give financial aid. She chose AFW because it had the highest pay; she didn't know, though, that the dealers agreed to pay her extra money on the grounds that she was an "exotic" wrestler.
Attire
: As in the pic above, she wears a loincloth, and feathered headband and a
shamanic necklace in addition to her bodypaint; fights naked otherwise.
Special note:
This is the same Iktomi as the one in the Fur&Feathers roster. She fights in both leagues, but doesn't use any of her powers in Friction. Most of them don't have any effect in humans anyway.
Last edited by 545 on Mon Jun 28, 2010 9:55 pm; edited 1 time in total



Posts

: 1210


Join date

: 2009-06-14


Location

: Hard Knocks University



---
Permissions in this forum:
You
cannot
reply to topics in this forum