Champions & #1 contenders
Looking for a match
Sun Feb 04, 2018 9:23 pm by GrandAkumaShogun
Hey there everyone I was looking for someone to take on my newest guy Imai. Get in touch if you're interested.
Comments: 5
Back after a long absence
Sun Feb 11, 2018 10:08 pm by Iron Soldier
First off, I apologize to my friends and roleplay partners who've been left hanging. Any desire to cancel old threads is completely understandable.
I've been struggling with a serious health issue the past several months. There was a long period where things would seem to improve only to relapse, delaying things further. All that aside, just wanted to let people know I'm around again and to contact me via PM or Trillian - ironsoldier, if anyone wants to get things going again.
[
Full reading
]
Comments: 9
Offline for next week or two
Tue Feb 13, 2018 11:17 pm by peek6
Comments: 0

Name: Lethe Cherry
Age: 19
Eyes: Red
Hair: Black
Bust: A cup
Height: 5'2"
Weight: 100 lb
Nationality: Japanese
Alignment: Heel
Strategy:Offensive
Style: Mostly quiet, relies on dodging and striking, much like a boxer in a way.
Type: striker, hardcore
Preferred Attacks: punches, kicks, stomps, headbutts
Preferred Matches: Hardcore, cage, tables, anything rough
Entrance Music: "Riot" by Three Days Grace
Finishing move:
Trapping Headbutt: She'll grab both of the opponent's arms and slam her head into the opponent's 3 times before letting go.
Rug Beater(Thanks to Tatyina for the name): While the opponent is facedown, she'll grab the opponents legs and lift them up to her shoulders. From there she'll start kicking the opponent in the gut repeatedly.
Superkick: Taken from the classes she had taken briefly, she leaps forward with one foot, and brings her other leg high up for a crushing kick into the opponent's jaw.
RPG Style Stat spread(out of 5 stars)
Endurance:★★★
Strength:★★★
Speed:★★★
Defence:★★★
Technique:★★
Difficulty:Medium/Medium Hard
Personality: She's cold and quiet. She enjoys the thrill of a good fight, however, and enjoys beating down a helpless opponent even more. She's pretty much abandoned any hope of finding someone she may get along with and has closed herself up tight. She doesn't like to delve much about herself and likes it less when asked to talk about her past.
Likes:
Getting off a particularly painful move "...I don't want to do this."
Beating someone down "Do I have to have a reason?"
Skull drawings "Get out of my face..."
Hates:
Cherries "......"
When someone mentions her last name, or calls her a form of her last name (Ex: Cherry pie) "When someone taunts me like this.. I want nothing more than to break their jaw."
Girls that are overly cutesy or soft "Looking at their bright colors, their cute faces.. it makes me sick to my stomach."
Boys "Why do you think I'm in an all girl wrestling league?"
History:
Lethe Cherry used to be a shy, timid girl. She went to school like a normal girl would, and would normally just focus on her studies. She was singled out for her freakish red eyes back then, and most of her classmates regarded her as a monster.
One day, she got into a fight with one of her classmates against her will. The girl had a few inches on Lethe, and proceeded to pound the daylights out of her. Down on the ground and in pain, the girl proceeded to get on top of, and started to spit on her and humiliate her. She could hear the girls around her, laughing at her, and it was then that she finally snapped. She knocked the girl off her with a single punch, and proceeded to mount the girl and literally beat the girl within an inch of her life. While this side of herself scared her, she had found fighting to be rather thrilling in of itself.
She was expelled from her school that day for the severity of Lethe's beatdown, but she had found a new interest. After much convincing, Lethe's guardian decided it might be best for Lethe to try and control her anger, and learn some self control by attending kickboxing classes. She only took a few classes, and became bored with it soon after. She proceeded to participate in small fighting tournaments with girls her age, and came out on top almost every time with the ferocity she attacked, and the ruthlessness she displayed in the ring.
A few months later, Lethe had found the AFW, and immediately signed up for it, looking for stronger opponents, and looking to beat them down with the same ferocity she displayed in past tournaments.
Ring attire: Same as pic
Appearance: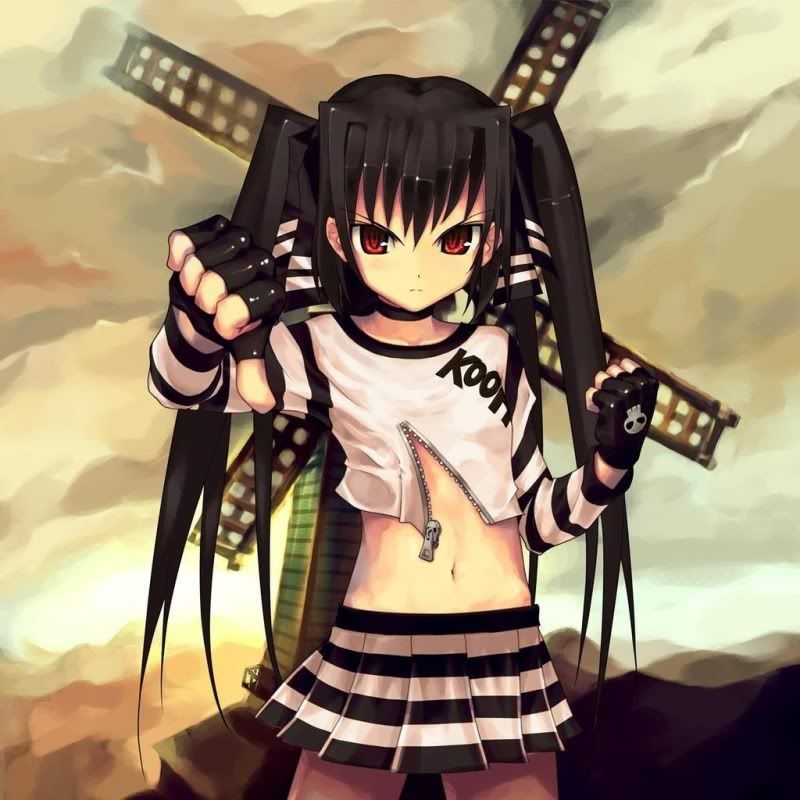 Visual Appearance: The first thing any opponent will notice when facing off against Lethe are her eyes. The hellish red hue her eyes have been painted with are quite intimidating up close. Apart from that, she doesn't look like much from her build, but do not be fooled.
Fun Facts:
**WARNING** If you attempt to humiliate Lethe, The AFW cannot be held responsible for what happens after. You have been warned. "....*A devilish grin graces her facial features*"
When she's against an opponent with large breasts, her attacks tend to be more focused there, although Lethe may not be fully aware of this. "Hmph."
During hardcore matches, she'll wear a pair of brass knuckles on each hand. "It's called hardcore for a reason."
Lethe has shut herself up tight, and is thoroughly convinced no one will want to make friends with her. "Who needs them anyway?"
Lethe names her brass knuckles. The right one is Bruiser, and the left one is Nadine. "Got a problem with it?"
AFW Information
Championships/Accomplishments:
Has placed #1 in several small time tournaments
Friends:
Allies:
Rivals:
Enemies:
Seira Mizuki
Crushes:
Won Against:
Menai
Lost Against:
Layne
Megami
Draws:
None.
Last edited by 145 on Fri Jun 15, 2012 3:40 am; edited 15 times in total



Posts

: 6476


Join date

: 2008-04-30



I have changed Lethe's character up some and added some depth to her. Hopefully now she'll be a bit more fun to play
" title="Smile" />
I'm also restarting her, so she'll be coming to the AFW for the first time again.
Last edited by 145 on Sat Feb 27, 2010 8:25 pm; edited 1 time in total



Posts

: 6476


Join date

: 2008-04-30





Similar topics
---
Permissions in this forum:
You
cannot
reply to topics in this forum