Champions & #1 contenders
Out of Town Early November
Fri Oct 28, 2016 12:13 pm by HighFly
Heya everyone, I will be out of town from November 2nd to November 8th on a trip. I won't be able to post at all as far as I know during this time, so if I don't respond to a thread that would be the reason. I will miss you guys but the trip is a vacation, not at all work related lol. Sorry for the delays but when I get back I will be on way more to get things caught up!
Comments: 0
Looking for debut match
Thu Oct 27, 2016 9:48 pm by Ragdoll_Jobbers
Hi,
I'm looking for a debut match for Sona. If you check her profile you will see that she is one who loves to lose and be knocked out so if anyone has some steam to blow off, or just wants an easy win, just pm for more details.
http://www.afwrpg.com/t15274-sona-buvelle
Comments: 1
From, Submissive Girl. Sorry about my inactivity.
Mon Oct 24, 2016 7:06 am by Submissive Girl
Hey! I know I haven't been on in a while. Unfortunately it might stay like that for a while.
I am super sorry about not being on more often. I am supper busy In real life.
Just so you understand a little bit about my life
1. I am a college sophomore taking 20 credit hours.
2. I have a job at as a cashier at a busy gift shop in a popular place in Florida (Not saying my city, but it is very busy where I am)
3. I have an intership that I work about 12 hours a week.
4. I am seeing a guy (Kind of …
[
Full reading
]
Comments: 6
Page 2 of 5 •

1, 2, 3, 4, 5

Angela didn't show it, but she rather liked that "Revisiting" idea and found herself a little caught up in the thought of it all before taking in a hard kick to her thigh, however, she ignored the pain and grabbed the incoming fist before twisting it and quickly getting behind Hina, still holding onto the girl's arm while bending it.
_________________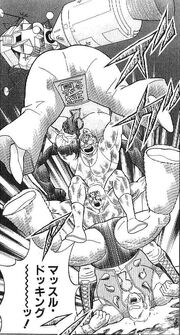 MUSCLE DOCKING!!!!!
Hina grunted and winced as her blow was countered, the poker-faced titfighter masterfully pulling the more amateur brawler's arm behind her back. She swung her other arm in blind grabs at her hair or arm, but couldn't do much to jerk out of the hold. She'd instead would have to resort to trying to stomp her heel down on her enemy's foot and try to pull out, throwing her an elbow strike if she got the space
Angela felt a foot crunching down on hers as she winced, releasing her hold on Hina and receiving a fierce elbow to the face, backing off and rubbing the pain while the crowd cheered.
_________________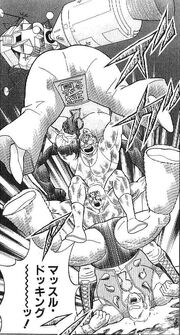 MUSCLE DOCKING!!!!!
"Now we're talkin'," Hina grunted, trying to spin around and tackle (too crude to be a real spear) Angela to the mat around the waist, trying to grab her cleavage-bearing collar to hold her steady. "Gotcha now, jugs," she grinned.
Angela was now trapped in place unable to escape. She struggled hard but chances were she wouldn't get out any time soon.
_________________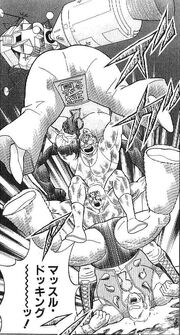 MUSCLE DOCKING!!!!!
"Nice airbags," Hina said with a sly grin. "Let's crash-test em, huh?" She'd shoot her knuckles right into Angela's tits, mashing the fleshy orb with an uppercut before a backhand fist to the other
Angela's eyes widened when the first fist landed, the crowd gasping as the woman coughed up a bit of blood. Once the second boob was hit, she cried out in pain. She couldn't deal with the harassment being done to her.
_________________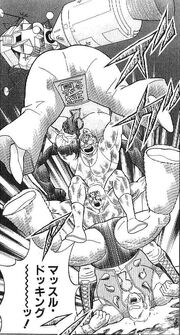 MUSCLE DOCKING!!!!!
Hina was truly surprised that the move had such an impact on the titfighter, frowning a bit behind her makeup mask. She'd grab Angela by the hair all the same, starting to stand up and trying to drag her to her feet, or at least most of the way before she kneed her in the belly. "That all you got, wuss!!?"
'Wuss?'

Angela took in a hard knee to the belly before hearing that very word. How dare a child say that to her? Angela was no longer turned on by the young girl. She was furious. As such, she ignored the blow as if it was but a gust of wind, finding the strength to wrap her arms around Hina, drawing the girl's head between her boobs once again, this time leaning her body back preparing for a suplex. If Hina wasn't distracted by the feel of Angela's chest, Angela would simply lean her body back the farthest it could go to ensure the top of Hina's head would hit the mat. However, if Hina was distracted enough, she would release Angela's head from between her boobs and simply lean as far back as most people performing a suplex did, slamming the back of the girl's neck against the mat.
_________________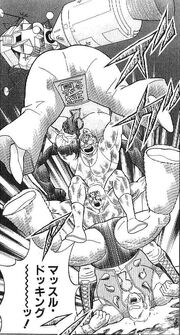 MUSCLE DOCKING!!!!!
Hina was surprised by the older fighter's resistance springing up, taken by surprise and feeling... surprisingly comfortable between her chest. It kept her distracted enough to the suplex went off without a hitch, the painted punk grunting loud but muffled by the faceful of tits as she hit the mat
Page 2 of 5 •

1, 2, 3, 4, 5


Similar topics
---
Permissions in this forum:
You
cannot
reply to topics in this forum