Champions & #1 contenders
Serious apologies to everyone....
Mon Mar 19, 2018 1:59 am by Cy_Man
To those who I RP with, I just want to say that I am terribly sorry for all my delays that I constantly do. I just have been SO unbelievably busy as of late that I hardly have any free time to be able to attempt to make posts to our threads. I really needed to get his off my chest badly, and it makes me feel like a complete piece of shit for doing this all the time. If you don't want to RP with me, I completely understand, there should be no reason or excuse for me to have to keep you waiting …
[
Full reading
]
Comments: 0
Explanations and Apologies
Sun Mar 18, 2018 10:02 pm by acuya
Okay, so.
As some of you may have noticed, the Entropy Title Match from last year's Summer Splash has come to an abrupt conclusion.
The reason for this is because my match with Lies was taking too long, and with the next Summer Splash coming up, the Entropy Belt needed to be put in play for this year.
I won't get into the specifics of WHY that happened, suffice to say it ultimately comes down to my fault, I think. For those who haven't been here long, back in the day, I had a problem with …
[
Full reading
]
Comments: 1
A match for Takeichi
Mon Mar 12, 2018 7:31 am by GrandAkumaShogun
Since both Imai and Takeshi are currently involved in matches I was wondering if anyone is interested in taking on my first wrestler I made for here, Takeichi Mori. His profile says he's a jobber but I intend to change that and hoping a match can help with that. Anyone interested please get in touch with me on here in a pm.
Comments: 1
Page 2 of 5 •

1, 2, 3, 4, 5


Angela didn't show it, but she rather liked that "Revisiting" idea and found herself a little caught up in the thought of it all before taking in a hard kick to her thigh, however, she ignored the pain and grabbed the incoming fist before twisting it and quickly getting behind Hina, still holding onto the girl's arm while bending it.
_________________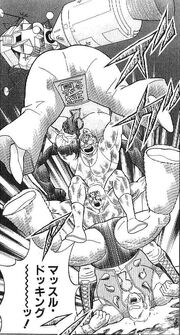 MUSCLE DOCKING!!!!!
Hina grunted and winced as her blow was countered, the poker-faced titfighter masterfully pulling the more amateur brawler's arm behind her back. She swung her other arm in blind grabs at her hair or arm, but couldn't do much to jerk out of the hold. She'd instead would have to resort to trying to stomp her heel down on her enemy's foot and try to pull out, throwing her an elbow strike if she got the space
Angela felt a foot crunching down on hers as she winced, releasing her hold on Hina and receiving a fierce elbow to the face, backing off and rubbing the pain while the crowd cheered.
_________________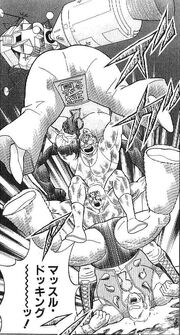 MUSCLE DOCKING!!!!!
"Now we're talkin'," Hina grunted, trying to spin around and tackle (too crude to be a real spear) Angela to the mat around the waist, trying to grab her cleavage-bearing collar to hold her steady. "Gotcha now, jugs," she grinned.
Angela was now trapped in place unable to escape. She struggled hard but chances were she wouldn't get out any time soon.
_________________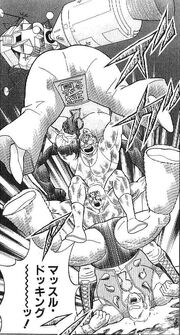 MUSCLE DOCKING!!!!!
"Nice airbags," Hina said with a sly grin. "Let's crash-test em, huh?" She'd shoot her knuckles right into Angela's tits, mashing the fleshy orb with an uppercut before a backhand fist to the other
Angela's eyes widened when the first fist landed, the crowd gasping as the woman coughed up a bit of blood. Once the second boob was hit, she cried out in pain. She couldn't deal with the harassment being done to her.
_________________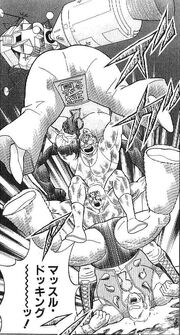 MUSCLE DOCKING!!!!!
Hina was truly surprised that the move had such an impact on the titfighter, frowning a bit behind her makeup mask. She'd grab Angela by the hair all the same, starting to stand up and trying to drag her to her feet, or at least most of the way before she kneed her in the belly. "That all you got, wuss!!?"
'Wuss?'

Angela took in a hard knee to the belly before hearing that very word. How dare a child say that to her? Angela was no longer turned on by the young girl. She was furious. As such, she ignored the blow as if it was but a gust of wind, finding the strength to wrap her arms around Hina, drawing the girl's head between her boobs once again, this time leaning her body back preparing for a suplex. If Hina wasn't distracted by the feel of Angela's chest, Angela would simply lean her body back the farthest it could go to ensure the top of Hina's head would hit the mat. However, if Hina was distracted enough, she would release Angela's head from between her boobs and simply lean as far back as most people performing a suplex did, slamming the back of the girl's neck against the mat.
_________________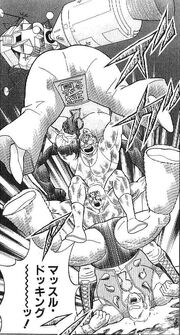 MUSCLE DOCKING!!!!!
Hina was surprised by the older fighter's resistance springing up, taken by surprise and feeling... surprisingly comfortable between her chest. It kept her distracted enough to the suplex went off without a hitch, the painted punk grunting loud but muffled by the faceful of tits as she hit the mat
Page 2 of 5 •

1, 2, 3, 4, 5



Similar topics
---
Permissions in this forum:
You
cannot
reply to topics in this forum