Champions & #1 contenders
Looking for anything!
Thu Dec 08, 2016 12:18 am by tehbohemian
Hey!! I'm Bohemian! I'm uhhhh new here! I've already debuted all 3 of my characters and wanted to know if you would want to include them in any storylines or start any new ones with them!
Shinobu won her debut match and is locked in a feud with Sandy White... so she is kinda tied up match wise but i'd be cool for any RPs with her
Sonic lost her debut... pretty badly... and even lost her crown! So she is up for a match or gym session or anything really! She is a much morr light hearted …
[
Full reading
]
Comments: 1
Got some people open for matches
Mon Dec 05, 2016 8:37 pm by TheEditor1023
Comments: 3
Taking a short break
Tue Dec 06, 2016 7:12 am by Amber Fey
Hey, I just wanted to give a quick heads up my next few days are supper busy, so I just wanted to say that I can't post until Thurday night, at which point i will do all my post, but I feel obligated to make my PPV match the number one priority. Just wanted to give a quick heads up.
Comments: 2
Page 3 of 5 •

1, 2, 3, 4, 5

Angela released her prey and breathed heavily, turning to Hina to make sure the girl stayed down.
_________________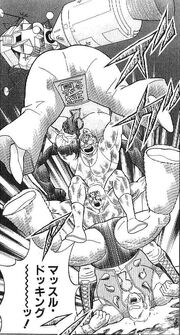 MUSCLE DOCKING!!!!!
"Ugh...." Hina struggled to try and get up, but the move had surprised and slowed her significantly, barely getting to her hands and knees dizzily before she tried catching her breath, holding her back with her one hand. "Damn... sneaky little weasel, aren't you...?"
Angela simply narrowed her eyelids thinking, 'She's vulnerable now,' rushing in for an attempted grapple. If this worked, she would force Hina's head between her boobs and hold her tightly in an attempt to cut off her air circulation long enough to knock her out.
_________________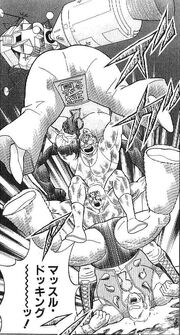 MUSCLE DOCKING!!!!!
"Nng, leggo you big-teated she-goaHmmff!" Hina was cut off by a lungful of sweaty cleavage, her legs kicking frantically in the trap a bit before she tried to whiz a fist into her side
Angela grimaced upon taking in a hard punch to her side and released her grip, now clinging to the spot that was hurting.
_________________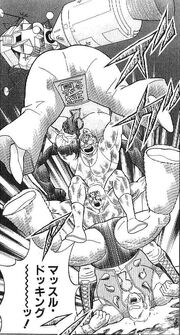 MUSCLE DOCKING!!!!!
Hina would give a quick grunt as she'd try to ram forward, hoping to spearhead the big-breasted foe and run her back into the ropes or whatever was behind her, trying to break out of the titty trap for good.
Angela's back pressed hard against the ropes as the girl cried out in pain for the first time, the crowd cheering for Hina.
_________________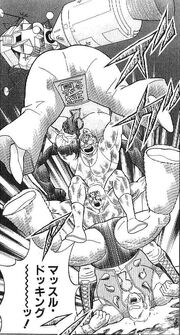 MUSCLE DOCKING!!!!!
Hina grinned toothily as her foe was pushed back and the fans won over, trying to right herself back up and steady her vision a bit after the head rush. "Alright, jugs. Let's just see how you like those big ol' works of art put out for public display!"

She'd try to latch her fingers inside Angela's top and try to tear it right down her cleavage
Angela's eyes went wide as the front of her shirt top tore open, soon the whole thing drooping down, Angela's upper body now exposed. Angela couldn't deal with the sexual harassment being dealt to her and as such, she tried her hardest to cover up her chest, finally losing her calm attitude and leaving herself weak.
_________________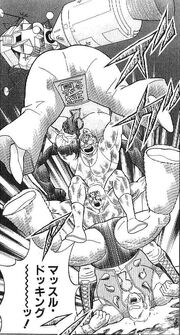 MUSCLE DOCKING!!!!!
Hina grinned widely at her embaressment, sauntering close to press her chest into hers cockily. "Aww, is old poker face bashful?" she teased, reaching up and kneading her right breast firmly, enough to make her uncomfortable but not set on hurting her yet with it.
Page 3 of 5 •

1, 2, 3, 4, 5


Similar topics
---
Permissions in this forum:
You
cannot
reply to topics in this forum