Champions & #1 contenders
Something I've Noticed
Tue Feb 21, 2017 10:06 am by scorn53
I'm not sure if anyone else has noticed, but every few weeks the same user joins the site, creates a few profiles and matches, then promptly leaves. I've only noticed because they follow a very similar profile template (and call it weird, but the use of black font), albeit they've now edited their latest one because they cannot delete it.
Upwards-
http://www.afwrpg.com/t14743-auriel-jessamine
Scarf-
http://www.afwrpg.com/t15951-maxine-rolanda
Their most recent name was 1 12 12 or something …
[
Full reading
]
Comments: 9
To get this out of the way..
Tue Feb 21, 2017 10:50 pm by Mystery Dragon
Recently theres been something wrong with me. I fell sick some time ago, as I usually do in the spring time due t several reasons and recovered but haven't really been the same since. Some days I'm completely fine and others I can barely remember what I was doing 5 minutes ago and constantly feel down or not just not well for whatever reason, I even passed out in my dorm just to wake up in the dining hall. Ive had myself checked and they cant see anything wrong with me so I don't know what the …
[
Full reading
]
Comments: 2
Looking for some action
Tue Feb 21, 2017 3:47 am by k0hryuu
Hey guys,
I'm looking to expand my horizons a bit and work with some new people, or maybe work with someone I have in the past and haven't with for a while. Or actually pretty much anyone I'm not already currently working with. I'm pretty open to play ball with whatever (just not hentai matches), otherwise my roster page shows my own particular preferences. My only demand is coherent grammar.
Everyone except Akiko and Yukiko are available, so if you see someone that might interest you, …
[
Full reading
]
Comments: 0
Name: Suzuya Haruko
Sex: Female
Age: 21
Eyes: Blue
Hair: Brown
Height: 5'1"
Weight: 104 lbs
Nationality: Japanese
Alignment: Face
Entrance music: Your favorite song of all time. Yeah, that one.
Wrestling Information
Strategy: Try not to get killed.
Style: Always in abundance.
Preferred Attacks: Fun, flashy, high-flying moves. It's totally not a bunch of nonsense that will just end in pain. Nope.
Preferred Matches: Haruko is willing to prove she is chill enough to handle the craziest of matches, so she's up for anything.
Endurance: *****
Strength: *
Speed: **
Defense: *
Technique: **
Characteristics
Visual Appearance: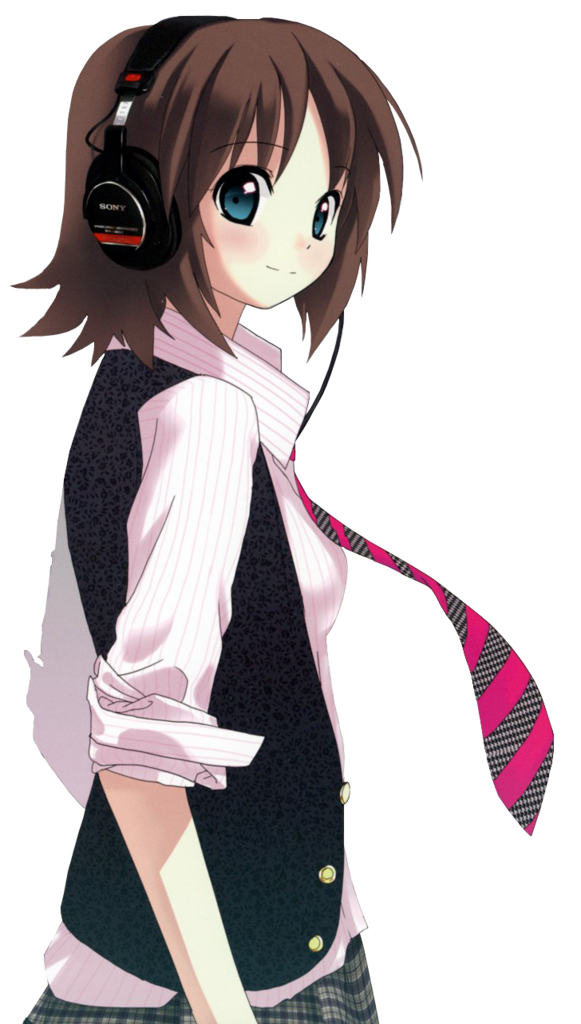 You know that one song you love? That's what she's listening to.
An alteration of her standard attire.
Remaining chill at all times requires constant dedication.
A promo image for one of her brand deals, also sometimes her hentai attire.
Why does she have a flotation device
and
 goggles? She's just that cool.
No club scene is too out there for this girl, she'll hang with whoever can handle her.
Wrestling Attire: Haruko changes attire pretty frequently, especially since she won't shy away from special attire matches.
When not otherwise specified, though, she wears a button-up shirt that cuts off at the midriff, a long vest, a tie and black trousers (in other words, the first image with an exposed belly, and pants instead of the skirt).
Personality:
She likes all your favorite bands. She has seen your favorite movie at least a hundred times. She always says no to drugs, unless you're cool with that, in which case she's totally down with the soft stuff. Whoever you are, Haruko will find at least one thing that makes you cool, and she will never,
ever
lose hers. Even if you were to beat her into a meaty pulp. Or fuck her brains out in front of thousands of people. Or humiliate her, break her, and leave her a quivering mess on the floor.
She is the chillest girl on the planet, and she's in the AFW to prove it.
Hopefully.
Past/History:
Boring early life stuff, don't bother reading:

Haruko was born to a relatively normal family in Tokyo, Japan, and while her early life wasn't influenced by any huge trauma, it was marred by the presence of massive social awkwardness. Home schooled until the age of nine, she didn't develop the social skills her peers had, and when she was finally allowed to enter the public schooling system, she was the epitome of loneliness. For the next four years she failed at making a single friend, going from the laughing stock of her class to a veritable ghost, where she developed a deep-seated paranoia of being disliked. At the age of 13, however, her mission became clear: become cool, no matter the cost. For the following four years, she studied the art of the cool, camouflaging herself in every group she could manage (a task that she found to be a lot easier when people forgot she existed), and learning what made the coolest and most well-liked people the way they were so she could absorb every bit of it. And for the most part, it worked. In her studies, Haruko found the most important common element to being cool was not letting anything bother you, and this was something she excelled at. Both physically and emotionally, she proved to be incredibly sturdy, and when coupled with her perfected imitation extroversion, she had mastered the art of the cool. By her senior year in high school, she was the most well-liked girl in her school district, even if most of the students thought she had transferred in just that year.

Unfortunately, becoming a master of chill was a full-time job, and as such her grades were... below average. Without getting into college (a notably cool thing to do, if you want to), she had to find other venues to support herself and continue spreading her image. What started as a joking challenge by a friend, that no one on the planet could go through the shit that the girls in the AFW do and keep their cool, was slowly taken very seriously, until Haruko found herself handing in a fully filled release form and contract, signing herself up for the worst of the worst.
Since joining AFW, Haruko has also made a point of using her new status as a sort of TV personality to spread her brand of cool to the masses, picking up as many advertising deals as she could. Of course, with her sweet face and upbeat personality (not to mention her small stature), she's been the face of more anti-drug and stranger danger ads than kick-ass motorcycles, but she's certain the sweetest of deals will come in due time.
Fun Facts:
-Haruko loves spicy foods. She may or may not have a terrible tolerance to spice, but she definitely loves them.
-She has a tendency to challenge people to staring contests while wearing sunglasses. She swears this is unintentional.
-Haruko genuinely does love most music, and films. The time she spent around different walks of life has given her appreciation for different types of art.
-If there's one thing that gets on Haruko's nerves, it's seeing someone singled out or excluded. She'll make an effort to include people who are being forced out whenever she can.
-Though she'll never admit it, Haruko doesn't really understand the difference between the United States and Canada.
AFW Information
Record:
Wins:
Losses:
Draws:
Championships/Accomplishments:
Friends:
Allies:
Rivals:
Enemies:
Crushes:



Posts

: 1409


Join date

: 2015-01-05




Similar topics
---
Permissions in this forum:
You
cannot
reply to topics in this forum