Champions & #1 contenders
Summer Splash interest in Natasha Loclear?
Mon Apr 09, 2018 11:30 pm by daemongirl
Well my girl hasn't missed a summer splash yet, would anyone be interested in a match with her? Open to just about anything match wise, just pm me!
Comments: 1
Been Out with the Flu
Sun Apr 22, 2018 7:47 pm by daemongirl
Just letting those I have threads with know I've been out with the flu since early last week, but I will be back to posting tomorrow.
Comments: 0
The Austrailian Mudslide is Back.
Sat Apr 21, 2018 6:20 am by Softsquad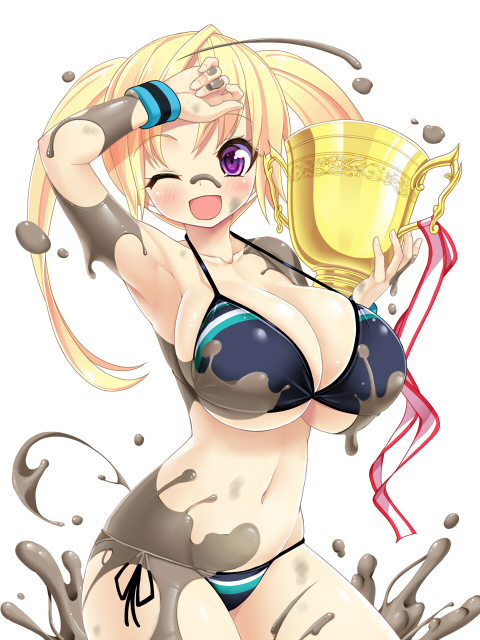 Granted that most of you won't know me or remember me, but I've had a few matches here and there some time ago. Well I think its time to become a regular around here and try to have some fun again, but at the same time keep coming back. Anyway I think its time to jump into some matches with Zoe Taylor, my mud wrestling character from Australia and get her back into the squared circle. Furthermore I will update my characters as I think some proper changes need to happen.
So if anyone would …
[
Full reading
]
Comments: 0
Page 5 of 8 •

1, 2, 3, 4, 5, 6, 7, 8


It wasn't in Alicia's nature to enjoy playing possum. She wanted to be fighting, not sitting around, but she was also considerably smarter than her aggressive attitude to combat might suggest. And, while winning wasn't her big agenda, she wanted to enjoy this match. Getting put through a table by a crazy lady or a dead-eyed psycho of a nak muay wasn't going to be fun in the slightest and that meant taking advantage of every second of recovery time that Liberty was giving her. And because she was sure she was being watched at least some of the time to make sure she was still where she'd been thrown, that meant not moving any more than necessary.

And so Alicia just sat where she was, half slumped against the railing, very clearly trying to get her head back on straight. Her thoughts were starting to clear up, her limbs feeling like they'd actually do what they were told if she needed to move in a hurry.

Patience was a virtue, she repeated to herself, just like her mum had always told her.

Let her come to you.

So she did, watching Liberty fuss over the table until the brunette was at last apparently happy with it. And only then did she stalk over to Alicia with obvious intent.

The kickboxer let her come right up to her, wincing as her hair was used to pull her up. But she didn't help Liberty at all. She made herself dead weight, forcing the other wrestler to put more effort into getting her 160 odd pounds of muscle moving.

And then, when she judged the moment right, Alicia's hand snapped up in an attempt to slam her improvised weapon into Liberty's skull. It wasn't the best angle but it was a lead pipe swung at speed and with some force by a rather angry powerhouse. It ought to do some damage. Whether it worked or not, the instant she'd done that, she planted her free hand on the ground, going to wrap her legs around Liberty's as hard as she could and twist.

With any luck, either she'd brain Liberty with her weapon or she'd hit her head on the barrier as she fell. If she was really lucky, maybe both.
_________________
Friction -
Alicia Wells
- Kickboxer, Mixed Martial Artist and Scissor Queen
Friction -
Samiya Kusanagi
- Submission Specialist, The 'Schoolgirl Assassin'



Posts

: 1018


Join date

: 2014-04-10



Alicia was in great shape, but still, the woman was heavier than she looked.

As strong as Liberty was, as accustomed as she'd become to throwing people around the ring with ease, it was a hard struggle getting the kickboxer up to something resembling a standing position. "Shit, come on!" She growled under her breath, grabbing Alicia's shoulder with one hand for a better grip. "Upupup-"

For the second time in the match, Liberty's skull was introduced to a hard, metal object from opponent she'd thought she'd had an advantage on. This one wasn't quite as bad as the last one, since she hadn't been diving towards Alicia when it happened to ratchet up the pain.

But it still sucked. Extremely so.

Liberty let out a soundless scream, as her world once again filled with raw, electric agony. She was so stunned that she was barely cognizant of the legs wrapping around her own. At least until she was thrown forward by their scissoring twist. After that happened, she was very cognizant of them.

The former champion lucked up and hit the barricade with her chest - not the most pleasant thing, but there were less padded and more crucial parts of her anatomy that could've been struck. Her arms flopped over in the process and hung over, becoming the only things that kept her from sliding down and falling flat on her back.

"Ow…" She moaned, as her senses started to come back and skull-splitting pain followed right after. "Ooooooooowwwwww…"

The throngs of fans screaming in her ear did nothing to quell the growing migrane.
Liberty and Alicia had barely an instant to register the sound of the swelling alarm from the crowd before the sky fell on them.

Abattoir had actually awoken a minute prior, while the table was being set up; having been choked out instead of knocked out, there wasn't any lingering damage clouding her thoughts and most of the events leading up to this point came rushing back to her memory. She didn't quite remember everything, but she didn't need to - the match was still going, her opponents were fighting on the outside, and that was really all that mattered. As Liberty went in to capitalize and got clocked with a pipe, the nak muay rose, dragging an enormous steel ladder out from under the ropes.

No more of this 'steadily ramping up' business. It was time to push things to the next level. She'd played nice, and she'd paid for it with her consciousness; hell, she would've lost if things had gone differently. (Presumably Liberty had interfered and prevented the match from coming to an end, because from what Abattoir remembered, kicking out would've been out of the question.) They'd skirmished, they'd tested each other's skill, now it was time for blood and carnage.

She paused for a fraction of a second to watch Alicia perform her impromptu takedown, then charged across the ring and heaved the ladder over the side at them, trying to drop it on both girls at once. Before it'd even landed, Abattoir was hauling back on the ropes, and a moment later she was slingshotting herself over the top rope, trying for the mother of all doublestomps on the ladder and anybody unfortunate enough to still be trapped under it.

The move drew a cheer of familiar approval. She did use it a lot. Maybe it needed a name.
Maybe it was time Liberty got a CAT scan. She'd never received one before, but it might be prudent. As a hardcore wrestler, she took tons of headshots all the time, and a toll had to be adding up. Better to discover it sooner rather than later.

That was just one of the more idle thoughts that ran through Liberty's head as she blinked and tried to get some sense going into the hammered mishmash that was her consciousness. Alicia had decided to use a weapon, and while the former hardcore champion could certainly appreciate her opponent getting into the hardcore mood of things, she found herself wishing it had happened while she was walloping Abattoir.

Speaking of whom…

Liberty wasn't exactly sure what happened next. She figured out it involved Abattoir by process of elimination, but everything else was a mystery. She felt something big and heavy hit her back as she laid across the barricade. A ladder, she suspected, but in a match like this there was no way to be sure. That hurt plenty, but then she felt something even heavier slam into the heavy metal thing laying on her, which just made the whole experience all the more painfui.

Liberty tumbled over as the arena erupted in a cacophonous mix of crashing metal and frantic, frenetic cheers, collapsing into a muddled heap. Whatever Abattoir did, it must've looked awesome.

"HOLY SHIT! HOLY SHIT! HOLY SHIT!"

Judging by the crowd's reaction, anyway.
Even though she'd got the drop on Liberty, clobbering her with the pipe hard enough to probably take her out with just that before taking her legs out from under her and dropping her chest first on the barrier, Alicia didn't have it in her to capitalise. Without Liberty holding her up, in fact, the redhead almost slumped back to the floor. She was only just able to catch herself on the barrier, taking deep breaths as she tried to steady herself enough to finish the job on Liberty.

She did have the small consolation at least that the psycho next to her looked, if anything, to be in even worse shape.

Alicia hadn't really been paying attention to the fans, or the relative levels of their cheering as the match went on, so it wasn't that which tipped her off to her impending doom. Given she was looking the right way, she was able to see the ladder headed right at her in plenty of time to realise she wasn't going to be able to avoid it. In that sense, she wasn't sure if she was better or worse off than Liberty.

The improvised weapon caught her across the chest, staggering the big kickboxer but worse was to come as Abattoir – finally back in the match – threw herself into the ladder right afterwards. The impact doubled Alicia over right before she fell to the side, hugging her abused ribs as if that would do her the slightest bit of good, her feet drumming an agonised tattoo against the barrier.

Oh god, oh god, oh god…
_________________
Friction -
Alicia Wells
- Kickboxer, Mixed Martial Artist and Scissor Queen
Friction -
Samiya Kusanagi
- Submission Specialist, The 'Schoolgirl Assassin'



Posts

: 1018


Join date

: 2014-04-10



All was well with the world, despite the lingering throbbing in Abattoir's skull (which, admittedly, was close and consistent enough to basically be her only friend).

She bounced boots-first off the ladder and dropped down onto one of the mats outside the ring - not exactly the most graceful landing in the world, but any landing you can walk away from is a good landing.  Much more importantly, she had a considerable advantage at the moment.  One she was intending to exploit with a vengeance.

Alicia was flailing in transparent agony, having probably never been obliterated at terminal velocity by a ladder before, and would probably be preoccupied for a few seconds with the realization that she was in the jungle now, baby.  Liberty was dazed and had taken a hilarious spill, but not before she'd managed to set up Chekhov's table and there was no way that opportunity was going to get thrown away on her watch.  It was so appealing she passed up the tempting bundle of lighttubes on the apron and went in for the kill with her bare hands.

Raising the Italian up to her knees, Abattoir gave her a resounding slap across the face.  "Wake up."  A moment later, she had Liberty by the scruff of the neck and a handful of hair, and was busy dragging her over to the eagerly-waiting table.

"Be a shame to waste the table, wouldn't it?"
While she wasn't a hateful person by nature, Liberty had a long, long list of things that could potentially piss her off. Few of those things involved violence, though - you could burn her, bruise her, break her bones, make her bleed, cut her, punch her, kick her, hit her with all sorts of plunder, and she wouldn't take it personal. All part of the game.

But she hated - hated, hated, hated - being slapped. Couldn't stand the disrespect. So, when Abattoir did just that in an effort to wake Liberty up, she succeeded. Nothing like simmering rage to get the senses pumping.

But she couldn't do much about it at the moment. She could sandbag Abattoir, make it difficult for the masked kickboxer to have her way. That was just stalling, and not enough of it. She needed more time to heal up, and she needed to buy it in a way that hurt Abattoir. Even if it was only a little bit.

"I won't." Liberty growled out that quick little quip, then brought her head down, opened her mouth, and bit Abattoir's thigh.
Abattoir's aspirations of slamming Liberty through the table were entirely derailed before they even got started.  She'd assumed a basic suplex or something similar might be sufficient to get the point across with a minimum of fuss, but as an unexpected searing pain burst into her thigh, she discovered that the slap (an attempt at getting Liberty cognizant enough to get her in position for a big move) had awakened a whole new dimension of spite.

Oh, what the fuck was this shit.  This girl was biting her.  Biting her.

A short gasp of pain escaped her lips - and make no mistake, Abattoir hated herself for it - and in surprise, she spent the first couple seconds simply trying to pull away, which actually just made the situation worse as Liberty held on.  After a moment of futile thrashing, her tactical mind returned to her, and she answered the bite with a half-hearted elbow to the head  Just enough to jar Liberty loose, at which point Abattoir hauled back on her head and whipped her up onto the apron.

For a split second, despite the adrenaline rush, the nak muay glanced down at her leg.  There were bloody teeth marks on it, in stark relief against her alabaster skin.  She returned her gaze to the former hardcore champion, glaring as if she'd been profaned somehow by the attack. The temptation to knock Liberty's scarlet-stained teeth down her throat was overwhelming.

Instead, she climbed up onto the apron and hauled the other girl upright, starting to hook her into position for a DDT - one that was almost definitely headed off the apron and through the table if she had her way.  Abattoir muttered a curse in some forgotten language and tried to get Liberty's head locked in place.

Nobody got to drink the One Woman War's blood.  That's a tablin'.
Someday, Liberty would have her own, shiny AFW DVD, with all the highlights from her best matches. This one would surely be on there, somewhere, near the top. No question. But, when the time came, she was going to have to speak with the crew and see if she couldn't, maybe, just skip over the part where she tasted Thai for the first time.

She wanted to shock Abattoir, and that part of the plan worked like a charm. The look of surprise on her face was priceless, loved that little shriek of undignified pain. Liberty only had a moment to enjoy before she took an elbow to the head and broke away, but it was worth it.

It didn't do much to change the overall situation, though. When Abattoir wanted her on the apron, she went up. When Abbattoir got her standing, she stood. When Abattoir tried to lock her in for the DDT, she went down...but that was where the resistance came in.

Before Abattoir could lock it in, Liberty started to throw her all into a last ditch effort, throwing a couple of hard hooks into the nak muay's side, both of them filled with venom.
Abattoir, vengeance-mad and full of the rush of combat as she was, shrugged off the first punch.  She was determined to drop Liberty through that table and nothing was going to stop her, least of all a couple desperate, last-second flails at her midsection.

This was when the second, third, and fourth punches landed.  All of them were on her ribs - the exact same ribs Alicia had squeezed unmercifully earlier in the match.  It was like a series of baseball bat shots to the side.  Liberty might not have been in the best position to swing at her, but in the nak muay's damaged state, she didn't need to be.  Abattoir held up briefly, trying to keep her grip around Liberty's neck, and then the onslaught proved too much and her muscles seemed to simply lock up.  She staggered, trying to maintain her balance, and another punch knocked her off the apron altogether.

She came to an unexpected stop halfway there, a rough impact against her spine that made her back arch and her eyes roll.  Glancing blearily to the side, Abattoir discovered she'd landed on the table.  She blinked once, reflexively, then glanced up at Liberty on the apron and understood exactly what was about to happen to her.

"Damnatio," she hissed under her breath.  This was gonna suck.
Page 5 of 8 •

1, 2, 3, 4, 5, 6, 7, 8



Similar topics
---
Permissions in this forum:
You
cannot
reply to topics in this forum