Champions & #1 contenders
Moonhearts Promo intro thread is O p e n.
Mon May 21, 2018 4:21 am by XSirenX
Feeling brave?, lost?, or without a thread to post in?, hit up the newest Moonheart if any of those apply!
CLICK HERE
What Moon has to offer?, many things...:
Comments: 0
The Austrailian Mudslide is Back.
Sat Apr 21, 2018 6:20 am by Softsquad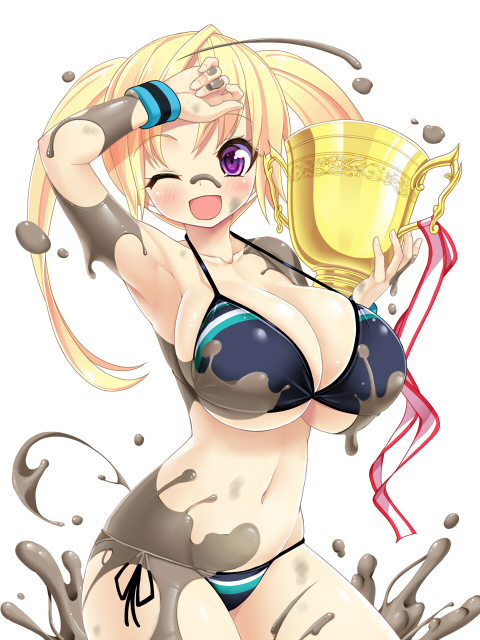 Granted that most of you won't know me or remember me, but I've had a few matches here and there some time ago. Well I think its time to become a regular around here and try to have some fun again, but at the same time keep coming back. Anyway I think its time to jump into some matches with Zoe Taylor, my mud wrestling character from Australia and get her back into the squared circle. Furthermore I will update my characters as I think some proper changes need to happen.
So if anyone would …
[
Full reading
]
Comments: 4
Page 7 of 8 •

1, 2, 3, 4, 5, 6, 7, 8


Truth told, Liberty hated submission holds. They went against pretty much everything she stood for as a Smash-and-Bash sort of wrestler, wanting to be up close and personal and moving whenever possible. She hated grinding the match to a halt like this. Just felt...wrong, somehow.

But Abattoir was proving to be annoyingly immune to smashing and bashing. Much as Liberty hated to admit it, a little variation was needed.

And, to be fair, it was working like a charm. She had the move locked in tight, her weight was keeping Abattoir down, and those brass knuckles were far enough out of reach to not be a problem. The kickboxer was fumbling around like crazy, but it wasn't getting anywhere.

Liberty opened her mouth to speak - wanting to use this opportunity to get in some taunting on her silent rival - but talking became a little difficult when Abattoir's fingers were savagely scratching away at her lips. Liberty just barely got her eyes closed in time to avoid a particularly nasty injury, and that was about all she was willing to risk.

She let go of the hold and shoved Abattoir away, taking the time to nurse her shredded face. "Gah, fucking bitch move!"



Posts

: 14621


Join date

: 2014-02-14


Age

: 31


Location

: Charlotte, North Carolina, WOOOO!



Being a scrappy kid even before she'd started into the combat sports, Alicia'd been hit with a fair number of things before. She'd been punched, kicked, elbowed, kneed, hit with bats and bags full of books and generally spent an unreasonably high proportion of her life bruised and happy as hell about it. She'd never been hit by a ladder before, let alone have one thrown at her followed by close to one hundred and fifty pounds of wrestler hitting the ladder on top of that. That on top of the other stuff that'd hit her ribs already this match meant that it was pretty understandable that it took the big redhead a while to get herself back together.

She'd kept her head down while the other two brawled, leaning against the railing to watch Abattoir go through the table. It had been just as well that the nak muay broke the cover because she'd never have made it around in time but she'd decided it was about time to get back into it when Liberty had got that variant on the Dragon Sleeper locked in.

It turned out she hadn't needed to worry – by the time she'd arrived, rather more sneakily than was her wont but she really didn't want to walk into any sneak attacks, Abattoir had got herself out and Alicia was temporarily the only one standing.

Both her opponents were down on the floor and both of them looked worse for wear, maybe not as bad as Alicia felt but hey. She could fix that. She owed both of them but Liberty had been the one on the attacking end plus she'd tried to put Alicia through a table. Yeah, Liberty first while she was nursing her wounds.

Taking care to approach from behind, Alicia stormed forward, aiming a vengeful side kick at the crazy woman's skull that was meant to literally drive it into the barrier. It was the sort of move she'd usually avoid, but at this point she really couldn't care less. Giving Liberty a concussion-

Actually, it'd seriously improve Alicia's mood at this point.

More importantly, it'd get the brunette out of her way for the follow up kick that she was going to aim right at Abattoir's thoroughly abused ribcage. Which, given the amount of punishment she'd taken, was almost certainly going to be no fun at all if it hit.

Good. If she had to beat both of them into unconsciousness at this point, she was getting her money's worth out of this match.
_________________
Friction -
Alicia Wells
- Kickboxer, Mixed Martial Artist and Scissor Queen
Friction -
Samiya Kusanagi
- Submission Specialist, The 'Schoolgirl Assassin'
If you've ever stretched a rubber band all the way out as far as it could go and then just let it snap back into place, that was more or less what happened when Liberty released the dragon sleeper.

Abattoir whiplashed forward as her spine finally, mercifully de-contorted itself, splattering unmercifully across the floor. She'd really just been surviving for the past few minutes - despite her occasional grasps at the upper hand, it appeared Liberty thoroughly had her number at the moment - and at least for now, her stamina was running in the red. No blood loss, thankfully (which meant no risk of her body just randomly deciding to fall over and refuse to do anything, like in her last hardcore match), but there was only so much she could handle at a time.

For this reason, the brass knuckles beckoned her like a gleaming beacon. The great equalizer. The nak muay scrambled towards them, rolling her neck around on her shoulders to try to alleviate the effects of the sleeper (and not having much luck; it was going to be difficult to turn her head for a week). She scooped the weapon up and turned, trying to fit it over her gloves, just in time to hear Liberty's enraged protest.

"Like you've got the moral high ground here?" she managed between heaving breaths. "You bit me, you fucking fatherless--"

The annals of history would never be able to record where exactly that insult was going (although it was probably deeply unpleasant) because this was the point where Alicia popped up, giving Abattoir about two and a half seconds to deeply regret having not kept an eye on the redhead before a series of kicks put her and Liberty on the floor. It was like taking a bat shot to the ribs. Somewhere beneath the fireworks going off in her nervous system it was very difficult for Abattoir not to be impressed with the directed power Alicia had cultivated.

Not that she was going to say this. It'd seem like a concession in the heat of combat, and also she was way too busy thrashing on the floor in pain.
Liberty didn't care too much about her overall look - her body was speckled with scars from head to toe, far from flawless - but even she wasn't too keen on the idea of walking around with scars all over her face. Not to mention the potential vision damage. Not cool.

Aside from making the cut on her forehead, worse, though, nothing all that bad seemed to be done. Liberty was still going to make Abattoir regret it. "Okay, Goth Bitch." Liberty spat to the side and started to reach forward. "Hope that mask has some serious padding on the inside."

She was all set and ready to introduce Abattoir's face to the floor, when Alicia gave her a vicious kick to the back of her head. Again. This time, the feeling was familiar, so Liberty had enough time to register what had happened and be pissed off by it...right before her head smashed against the metal barricade. After that, coherent thought became difficult once more.

Liberty's body bounced off the barricade for a moment, teetered and tottered, then flopped over and and fell right on her back. Her nose was busted and a fresh stream of blood was trickling down from it, mixing with her sweat and creating a puddle of her own fluids.



Posts

: 14621


Join date

: 2014-02-14


Age

: 31


Location

: Charlotte, North Carolina, WOOOO!



That felt better.

One, two - both the other wrestlers were down and either squirming like she'd just shattered a rib or flat on their back what looked like a broken nose. Not that Alicia intended to linger to enjoy the moment. She just paused long enough to check that Liberty was out of action before her cold, violet gaze settled on Abattoir.

Alicia was probably the best off of the three wrestlers. She'd just got a break and she was still standing, which put her a cut above the other two. She wasn't bleeding either, unlike Liberty whose face was a crimson mask. But she was still battered, feeling in need of a long hot bath, and she was in even less of a mood than she usually was to mess around. For once, she was feeling pretty damn vengeful and she knew just the way to show Abattoir at least just how little she'd enjoyed the things thrown at her in this match.

Alicia wasn't even smirking any more. Her lips were instead pressed together in a thin, ruthless sneer that promised no good to anyone who got in her way.

Stalking straight over to Abattoir, the redhead just dropped down hard to straddle her ribcage, landing all 160 lbs of her weight on the nak muay. She didn't linger long, immediately going to roll the nak muay over into a high guard position and looking to lock her powerful thighs under the woman's armpits, directly over the ribs that she'd so recently abused. Kicking her legs up high to lock the ankles, Alicia simultaneously went to clasp her hands in an s grip under her knees, adding still more compression to what would already be a devastating hold.

It wasn't often she used a Scorpion Rib Crush. It was overkill, in every sense of the word, and tricky to score on anyone who knew what they were doing. Generally, her bodyscissors were more than enough to score taps but Abattoir had proven herself to be a tough nut to crack so it was time to bring out the heavy artillery. It also had the huge advantage of pressing her right up against her opponent, relatively safe from those brass knuckles even if Abattoir had the presence of mind to use them.

And, quite aside from that, Alicia just wanted to hurt the nak muay. And applying the full force not only of those devastating thighs but her whole body to the other woman's ribcage was the best way she could think of.

Time to tap, Abattoir.
_________________
Friction -
Alicia Wells
- Kickboxer, Mixed Martial Artist and Scissor Queen
Friction -
Samiya Kusanagi
- Submission Specialist, The 'Schoolgirl Assassin'
God, what was this correlation between purple eyes and kicking her ass?

Abattoir rolled over and was already getting an arm up as Alicia dropped astride her, prepared to block the flurry of punches she was certain was incoming - it was, after all, what she would've done in the exact same situation (well, she would've thrown elbows, but the point stands). Her other arm gripped a thigh and, as she felt Alicia's weight shift, the nak muay pushed with her hips, trying to sweep her. Unfortunately, this was exactly what her opponent was trying to accomplish.

She'd been in her fair share of elaborate holds, but this - whatever it was - felt like something totally new. The thrill of discovery aside, holy fuck she was about to be seriously injured. Despite her inhuman durability and unhealthy monomania, she had a pretty realistic idea of what her body was capable of withstanding, and it had just about reached those limits. Immobilized as she was, and with what felt like a bull shark's jaws squeezing her torso, there was a very real chance that in the next minute one or more ribs were going to crack under the pressure from Alicia's thighs, and then she'd potentially be out of action for a month or more.

She opened her eyes - characteristically expressionless - and met the redhead's. And then, despite the fact that she should almost definitely be tapping, she started standing up.

It was a slow process. Alicia was bigger and had thoroughly trapped her arms, preventing her from getting a lot of leverage. Abattoir had to hook both hands behind the other girl's head and rock back onto her heels, bending her knees and resting all of her weight in a very low, horse-like stance. Alicia was practically sitting on her lap for a few seconds until, with a burst of "you are about to die" adrenaline, she surged bolt upright, hoisted the kickboxer all the way up to chest height.

Gravity, psychosis, and (theorized by the AFW fanbase) demonic possession came together in a last ditch effort, and Abattoir slammed Alicia down on her back, right on the edge of the barricade. It was kind of like a spinebuster, if you wanted to be charitable and decide it deserved a technique-based name, but really it was more like a basic slam combined with the meteor that killed the dinosaurs.

Everything she had left was going into this. If it worked...uh...Abattoir wasn't really sure what she'd be able to do to capitalize, but at least her vision wouldn't be steadily reddening anymore.
She really hadn't expected Abattoir to actually help her.

But, well, if the nak muay hadn't learnt her lesson about getting between Alicia's legs, the kickboxer wasn't going to complain at all.

She was about to be impressed though.

The few people unfortunate enough to share Abattoir's experience with this hold from this redhead had told her afterwards that the pain was practically paralysing. They could barely move. One had thrown up. None of them had made more than a token attempt at getting out and, while none of them had been professional wrestlers, they'd also not gone through the abuse Abattoir had before Alicia snared her in this lock.

They'd certainly not tried to stand up with her as dead weight. None of them would have managed it. And Alicia only had a moment of stunned incredulity before her spine came crashing down on the barrier with far more effort than she'd thought anyone could ever manage in this position.

In her hands, this was the sort of move that could end careers. Her estimation of the nak muay's toughness skyrocketed.

Alicia though was tough too.

God, it hurt. Fire raced up and down her spine, her grasp loosening from bone-breaking to merely agonising as she had to fight the instinct to arch her back. If she had been unlucky, that would seriously have wrecked her spine.

But she didn't let go.

Drawing on every drop of willpower she had, Alicia gritted her teeth against the pain assailing her spine and brought her head back up – it was her turn to meet Abattoir's gaze with dark eyes that lacked anything of her usual expressiveness.

"Ribs it is."

It came out in a quiet rasp, a hissed promise rather than a threat.

And then she tightened the hold again, holding absolutely nothing back as she brutalised the nak muay's upper body with everything she had. At this point, Alicia was only interested in one of two outcomes. Either Abattoir tapped right now or she was going to start cracking her ribs one by one until she did.

She could already feel the hardcore wrestler's torso starting to slacken in the steel vice of her thighs, her legs compressing the bones inwards until they creaked under the pressure. Seconds away in short from the first one giving in. Making it hard for Abattoir to breathe. Stealing her strength. Forcing the organs underneath to move inwards in ways nature never meant.

From past experience, it wasn't going to be much fun when the hold was released either and everything snapped back into place. But hey, if she wanted to risk her career here…

That was her stupidity. Alicia just kept the pressure up, resting her backside on the barrier as she waited to see whether Abattoir's bones or her pride would give up first.
_________________
Friction -
Alicia Wells
- Kickboxer, Mixed Martial Artist and Scissor Queen
Friction -
Samiya Kusanagi
- Submission Specialist, The 'Schoolgirl Assassin'
Sometimes when you roll the dice, you end up getting snake eyes, and it doesn't matter how much you've invested in that dice roll, you've gotta abide by the results.

Alicia's brief look of surprised pain had been encouraging, but Abattoir knew almost instantly that the slam wasn't going to save her.  The grip around her torso didn't even slacken - on the contrary, the redhead met her eyes, leaving them almost forehead to forehead, and tightened the crusher (which, Abattoir momentarily thought, hadn't even seemed possible).  Now came the moment of truth.  She was entirely out of energy, having expended everything in the slam, and she had maybe ten seconds until sustaining a career-threatening injury.  Did she go down swinging just to prove a point, or did she do the reasonable thing?

The nak muay broke their staredown for a moment to peer dubiously over at Liberty.  Nope.  Semiconscious and not in a position to break the hold up.

She hadn't made a sound yet, but it was only because her teeth were clenched together so tightly her jaw was trembling.  All the endorphins rushing down from her brain gave the experience an oddly delirious feel, a sort of twirling glee over the crash of all-consuming pain.  Abattoir's eyes flicked away from Liberty and quickly cast their gaze around her immediate surroundings.  No weapons she could grab - she'd dropped the knuckles and there wasn't anything in arm's length.

...Nope, she was done.  It was a bitter disappointment, but a deserved one.  She'd focused so much on brawling with Liberty that she hadn't kept the bigger picture in mind.  Instead of fighting smart, it'd just turned into a sloppy exercise in escalating a grudge, and now holy shit she could hear her ribs creaking--

A brief spurt of guttural Enochian profanity escaped her lips as Abattoir winced, and after checking to make sure the ref was watching, she tapped lightly on the bigger girl's leg.

Live to fight another day.  At least, in theory.  She supposed technically that was in Alicia's hands now.
This crazy witch was going to make Alicia break something, wasn't she?

Abattoir wasn't the only one with a clenched jaw. Alicia's was tight too, her eyes narrowed with the effort she was putting into the Scorpion lock, her muscles thrumming as she worked Abattoir's body. She could feel the signs of what was coming and there was not a single sign that the other woman was thinking of tapping.

Tellingly, it didn't even occur to her to slacken the hold. This was a hardcore match. And if Abattoir put her pride – because either way she'd lost this match – over tapping, that was her lookout. Alicia wouldn't feel even slightly guilty.

And then Abattoir spouted some sort of gibberish she didn't even understand and…

Seriously, what the hell had she just said?

It didn't matter – all that mattered was the feeling of Abattoir's hand slapping against Alicia's thigh, the signal that the match was over. A heartbeat later, perhaps two, the bell tolled and only then did Alicia release the nak muay from her embrace. Not that Abattoir was going to enjoy it – aside from the lingering effects, she'd be about to enjoy the feeling of those ribs popping back into place. That hurt. Alicia definitely didn't expect a sound, not from this one, but it'd be interesting to see how easy the walk backstage was for the masked fighter.

She hadn't broken anything but it'd been close.

"Good match," She meant it too. Actually, she wouldn't mind going another round with Abattoir sometime, just minus Liberty and her antics and preferably minus the weapons as well. It'd give her a chance to see what the nak muay was actually capable of. Oh, sure, she'd got a glimpse but she wanted more. But then Alicia always wanted more.

Right now though, she wanted a long hot shower and bed, preferably with a big mug of hot tea. She'd almost certainly come away the best of the three and she was still going to be stiff as Hell tomorrow, she just knew it.

For the moment, she just rested on the barrier, keeping a weather eye on both her opponents to make sure they didn't try anything now that the match was done.

Her second win in Friction and the first she felt good about. That had almost been fun.
_________________
Friction -
Alicia Wells
- Kickboxer, Mixed Martial Artist and Scissor Queen
Friction -
Samiya Kusanagi
- Submission Specialist, The 'Schoolgirl Assassin'
The release of the hold was not quite the mercy she'd expected it to be.  If the vice grip around her ribs had been bad, what followed was practically transcendent.  Up until this exact moment in time, Abattoir was reasonably sure the worst pain she'd ever experienced had been when she was about eight and her foster mother had given her a second-degree burn with a heated coat hanger.  As Alicia released her and everything snapped back into place at once, she discovered there were entirely new horizons she'd never traversed.

A few seconds later, when the world stopped being white and consciousness returned to her, she was leaning half on Alicia and half on the barricade, heaving for breath - which, as nice as it was to be able to breathe properly again, was agonizingly painful in and of itself.  Abattoir managed to deliriously push off the other girl, coming to a general rest doubled over on her knees.  Despite having surrendered most of her dignity in the past thirty seconds, it was clear the nak muay was determined to hold on to at least a tiny shred of it and not just slump against the barricade.

It was a profound embarrassment.  She could've won this thing.  She knew she could've won it; if she'd stopped getting hung up on Liberty, played to her strengths, and fought smarter, both of her opponents could've been overcome.  But she hadn't, and they weren't.  God, and she looked ridiculous in this position.  The last kick had knocked out one of her contact lenses, leaving one eye the usual red and one a brilliant sapphire blue.  It only added to the indignity.

Speaking was...probably not feasible at the moment, and if it was, it definitely wasn't advisable, and so Abattoir settled for a resigned nod to Alicia.  Fair cop, she'd won that one clean, despite obviously being out of her element.  Couldn't take anything away from her.  

As she clutched at her sides, trying to compartmentalize the agony, Abattoir's gaze fell across the gradually-recovering Liberty.  Liberty, who had drawn her into a match-costing obsession.  Whose teeth were still stained with Abattoir's blood.  Who was almost definitely going to hold a grudge for all this.

Something flickered in her eyes.

Yeah, this wasn't over.  Bitch was fucking dead next time.
Page 7 of 8 •

1, 2, 3, 4, 5, 6, 7, 8



Similar topics
---
Permissions in this forum:
You
cannot
reply to topics in this forum