Champions & #1 contenders
Posting delays
Sun Jun 24, 2018 4:14 am by Harrier
Dear posting partners and people who are waiting for an reply from me by PM,
I am terribly sorry that you have to wait for my replies for so long.
Maybe the one or another from you knows the situation, you were flying high for some weeks posting wise and then you hit rock bottom again because of some RL BS and then you barely manage to churn out enough creative output for a meager 100 words post in a week and you ask yourself how you could have seriously overextend your supply lines so much. …
[
Full reading
]
Comments: 0
Kawaii Opportunities
Sun Jun 17, 2018 7:04 am by Daaharu
Hey, guys!
With the kawaii title match at Avalanche taking on an interesting wrinkle with the interruption by the Brat Pack, we are moving forward with the overall kawaii storyline, and at this point I'd just like to take stock of what kawaiis are out there that are interested in participating in a cohesive storyline.
Can't make any promises about titles or what exactly each girl's given role would be. We can talk a little more about the specifics of where the story is going soon, but I …
[
Full reading
]
Comments: 3
Match for Takeichi
Mon Jun 11, 2018 10:13 pm by GrandAkumaShogun
So with my other two guys having their own matches I figure I should do something with my first character on here, Takeichi Mori. If anyone is interested feel free to post here or get in touch through a pm so we can plan it out. I can either have Takeichi remain a jobber or begin to work him towards being a more serious competitor.
Comments: 1
Page 1 of 5 • 1, 2, 3, 4, 5


Standard Match won via pinfall or submission
In the back Eliza was preparing for a match, over at Friction. Normally she remained in Tension, where she had built her name fighting men and women and aweing the crowd with her array of beautiful to watch moves. Indeed many a fan often expressed their adoration of the dancing passion, both for her in-ring capabilities and polite lady-like personality. Normally Friction wasn't a place that Ms Harenwood fought in, namely considering the last time she was here she suffered a defeat at the hands of Akiha. But there was much demand to have the dancing passion grace Tokyo, that in the end she agreed to fight there for one match.
Melody White was the name of her opponent for this evening, sadly attempts to find any information out about this woman was fruitless. The name was interesting, but that was all there was. Regardless Eliza was undaunted, the enemy might have the advantage of being an enigma to the dancer. But not many wrestlers seemed to have knowledge of Ms Harenwood here in Friction, and if the opponent didn't watch Tension then she might not know anything about the British woman.
Eliza was prepared in her attire, she wore what she often had in the ring. But that was concealed under her ballroom dress, she also donned a small masquerade mask and a pair of folding fans. These were the things that helped Ms Harenwood to make her entrance what it was, that and other factors of course.
Spoiler:

http://i01.i.aliimg.com/wsphoto/v0/495317017/Free-Shipping-SD0118-New-Red-Ballroom-Dancing-Dresses-Girls.jpg
Spoiler:

https://sites.create-cdn.net/siteimages/16/2/7/162799/89/3/9/8939796/500x387.jpg?1408017718
Spoiler:

http://www.toaspa.com/media/catalog/product/cache/1/image/9df78eab33525d08d6e5fb8d27136e95/k/9/k9-t20012-10.png
Without a word Eliza made her way to the entrance ramp, the lights in the arena went dark. The crowd in attendance began muttering in hushed whispers as to what this might entail, a large red velvet curtain was lowered so that if covered the top of the ramp. And a bright white spotlight would then shine on it, revealing the shadow of a woman.
And then the song that was known as Pena Flamenca began to play, and instantly the crowd began loudly voicing their approval. The shadow danced behind the curtain until the 0:16 mark whereupon Eliza emerged from the curtain, a smirk was on her lips however it was concealed by one of her fans. The British woman bowed to the audience before briskly walking to the ring, doing a few spins as she did so. When Ms Harenwood entered the ring she promptly walked to the middle of it, and gave a simple nod and tilt of the head. She then waited at her corner, eager to see who her opponent for this evening would be.
_________________
Check out my wrestlers
here
, but PM me for match requests.
Solaire of the AFW.
Melody was happily listening to music on her headphones whilst she got ready for her match tonight. Her time in AFW had been troublesome, she wasnt a wrestler, she wasnt even able to get angry half the time, so the fact she persisted with fighting other girls was a mystery. For the match tonight she had elected for an outfit that was similar to what she would wear at her favourite nightclub, "Epic" which was located in her home city. As the happy girl bopped and twerked around the backstage area she could feel the gaze of the backstage crew and it made her uncomfortable.
Melody was wearing a cut off T shirt that hung nicely just showing the underside curve of her very ample breasts and her toned flat tummy, along with this she wore a pair of "Daisy Duke" cut off jean shorts. On her feet were her favourite pair of skate shoes.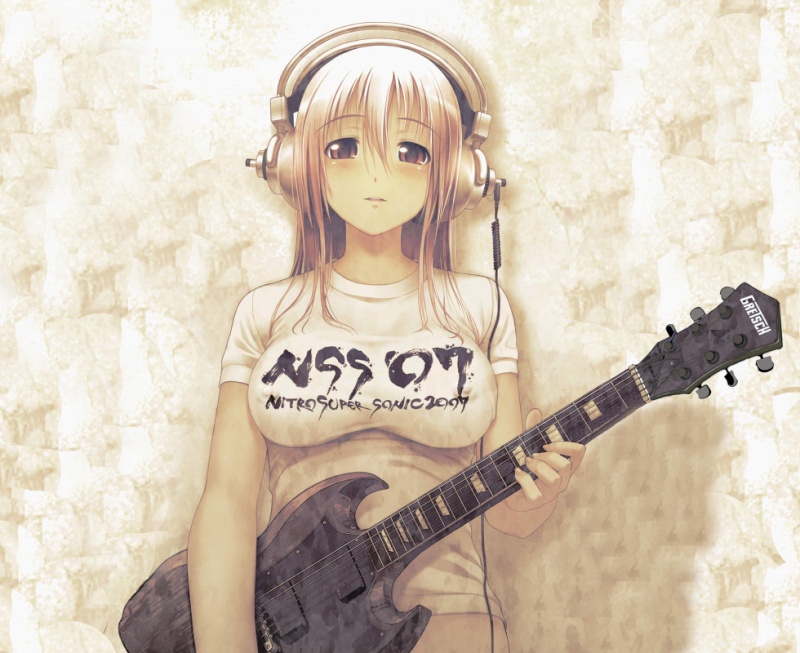 (minus the guitar)
Moving out into the arena on her cue she bounced full of energy as the music took over and gave her vital energy. She ket her focus directly ahead not paying attention to the crowd who were electric with anticipation at what this "wrestler" could do. Reaching the ring she climbed in through the ropes and gave a casual glance at her rival before moving to a corner and with both hands on her headphones, paused so she could enjoy the next track. It wasnt until the ref girl came over and took her headphones off that Melody's bubble was burst.
"What are you doing?" she questioned with an almost tear in her eye at the thought of being deprived of her beloved music for even longer than necessary. The ref girl explained somewhat bemused that this was a wrestling match and it dawned on Melody. "Oh right, ya!" She then looked at her rival with more respect and took in the details of our outfit and style. Melody took a few steps forward so she could introduce herself.
"Hiya! I am Melody, what is your name?"
The opponent made their way to the entrance, Eliza remained still where she was. Her narrowed eyes concealed by the masquerade mask, it seemed she was a rather peppy sort of girl. The opponent's attire was quite casual, in stark contrast to Ms Harenwood's very elaborate outfit. As the woman neared the ring something became more apparent to the dancing passion, she was really quite tiny.

Eliza wasn't the biggest woman around, but still she had a few good inches above her opponent. That might serve as a plus in allowing Ms Harenwood to maybe use power based moves on her seemingly lighter opponent, something that she rarely if ever indulged in. That said however the smaller frame of the enemy would make them a more difficult target to strike with her trademark kick attacks, Eliza was more accustomed to having her opponents be taller than her. Nevertheless she trusted in her ability to deliver swift offence and leave her enemy a fallen and crumpled heap on the mat.

Still it didn't seem like Eliza's foe was very well interested in fighting the dancing passion, as evidenced by her seemingly listening to another song on her headphones before the ref prompted her to remove them. And her opponent introduced herself as Melody, rather fitting given her headphones Eliza surmised. As Melody did this Ms Harenwood quickly dropped her fans and removed her mask, placing them below the bottom turnbuckle.

"My name is Eliza Harenwood, a pleasure to meet you Ms Melody." Eliza politely stated as she effortlessly removed her ballroom dress to reveal her attire for tonight's match, a modest red corset with red and black stockings. Ms Harenwood smirked at the loud responses of the crowd and gave a bow, even if they had curious about this newcomer Eliza was still the favourite of the people. Based off of Melody's statement she had no prior knowledge of the dancing passion, something that could work to her advantage.

After a little bit of stretching Eliza would be prepared for tonight's bout, a plan had already formed in the young British woman's mind. She would wait till the bell rung, to signify the start of the bout. Ms Harenwood would move forward, pacing herself from left to right to try and make the opponent guess. Before suddenly going on her left leg and shooting our her right leg at Melody's chest, a straight kick right there would set the pace nicely and display to her opponent what sort of things would await her tonight in this fight.
_________________
Check out my wrestlers
here
, but PM me for match requests.
Solaire of the AFW.
The music loving girl was a bit taken with how elaborate andcolourful her rival seemed. However even in a fight situation she beleived in doing things right and so introduced herself as if it were some awkward speed dating scenario. Melody loved how Eliza seemed to be so theatrical, so beautiful and graceful. "Wow you move so well" she blurted out, before the red hue of embarrasment crapt across her cheeks, Melody bit her lip realizing she was gushing with admiration for Eliza, which was hardly the type of battle plan an ordinary girl would take.

It was only the sound of the bell that shook Melody into action. "Oh yah, wrestling" she comically mumbled as if it was some "chore" she had to do instead of a match. Melody fluffed her hair back and stepped forward moving towards Eliza, her eyes were almost hypnotized by the slick and efficient movements of her rival. It was so captivating that Melody didnt see the kick coming.

"WHAM!" Melody cried out with a horse gasp as she tried to get soem air, the pain in her chest exploding right through her. She fell back and landed with a bump on her behind. Her hands coming to clutch at her ample chest. Her eyes screwed up tight with a slight tear dancing along the corner. That was a strong kick and dancers legs would be stronger than most.

"Gah!" Melody dropped to her back and rolled over where she tried to crawl as best she could for the ropes that were still some way ahead of her. This was going to be a long night for the powderpuff like girl
Eliza's opening attack connected, as she expected it to do so. During her time in Tension one thing had been made very clear by the dancing passion, her legs were very powerful weapons. They certainly were not to be trifled with, they were her main form of offence in battle. It allowed her to fight and win against taller, heavier opponents that she was used to facing in battle and brought them down to size. There was no martial arts practise behind that either, only years of dance training that equalled toned legs that could strike at a moment's notice.

Still though Eliza's attack surprised even her a little bit, Melody went flying in response to it. Though the British lady quickly reminded herself that Melody must be a lightweight, which meant it was going to be easier to send her flying. It was a rare situation for Eliza to be in where she was the bigger foe, but it was something she believed she'd enjoy. Melody was reeling from the attack, and rather than get up as one should be able to considering the fight just started the opponent was crawling for the ropes.

Ms Harenwood paused briefly, was the enemy truly this weak? Or was a sort of ruse on the opponent's side? Regardless Eliza felt that since she had gotten the first strike in she should press the fact that Melody was downed, and the dancing passion would attempt to move in to the side and cinch in a basic headlock. For now Eliza would keep things simple, and the fancier stuff would be done later for when she felt it could work.
_________________
Check out my wrestlers
here
, but PM me for match requests.
Solaire of the AFW.
Melody's night had gone from bad to worse. She was not a wrestler and knew very little about moves, defending herself or anything connected to the ring really. She was a complete and utter rookie and her only win came from an easy pin when a rival got too ambitious and botched a top rope splash, landing on her face and not Melody.

As Melody lay there still reeling from the kick still wincing she had gotten so close to the ropes that they were a fingers length away. As she reached she felt herself pulled back and gasped in surprise.

"Ugnhaahh" Melody kicked her legs drumming them on the canvas as she felt the cinch on her head and neck. Melody struggled and pawed at her rivals arms as she tried to get free.

The crowd were loving the display and had quickly got behind the supple dancer. "Make her tap!" some yelled, "Pin her!" others cried out. As Melody arched back she could feel the t shirt ride up and expose some underboob to the crowd which sent Melody bright red

All that was going through her mind was, "how was she going to get out of this?"

Eliza was considering herself quite fortunate to have things going so well for her in the beginning of the match, it was how she wished it'd to be. Though it wasn't something that often happened for the dancing passion, given how her opponents tended to edge her out in various categories that enabled them to have a better chance of getting the head start.

The dancer normally refrained from submission holds till later into the fight, when the enemy was more worn out. That said though Ms Harenwood felt now could be a good time, Melody might hope to use her small frame and natural agility that came with it to out move Eliza. Though that wouldn't easily be done. Eliza had her opponent where she desired, and would attempt to keep her headlock cinched in.

Melody's reaction was a tad over dramatic, given how she was drumming her legs on the mat like a child having a tantrum. Eliza failed to notice the fact that her opponent's shirt was riding up, her focus on applying pressure to her hold. The pawing at her arms was making some light scratch marks on the dancing passion's arms, but it wasn't enough currently to make the British woman relent. Melody would have to do better to get out of this situation.

_________________
Check out my wrestlers
here
, but PM me for match requests.
Solaire of the AFW.
Melody despite her best efforts (which to everyone else was barely even worth the energy) was still stuck in the headlock. Eliza wasnt exactly yanking hard, but Melody was a huge jobber and soft touch. She even once lost a match from a single slam and pinning move by a much bigger rival in AFW. Still her struggles had managed to loosen her rivals grip just enough. She had gotten them both to within reach of the ropes and Melody made a desperate lunge for them hoping that she would grab them so the ref girl could order the hold to be broken. This was Melody to a tee. Nearly all her moves were pure fluke and usually based on squirming, random slaps and chance.

A few of the crowd members had taken notice of Melody's top riding up which was an chance for a photo shoot. As the camera's flashed it only intensified Melodies desire to escape. She flapped her hand and prayed that she would grab onto the ropes.

"UUGNNNN come.. on!" she gasped in a breathy tone, her voice quivering from the strain of the situation.
In practise Eliza strongly suspected that this hold wouldn't be applied for very long, even the weakest fighter wouldn't fall to a simple submission this early in the fight. Still the dancing passion was pleased to see that the initial going was quite clearly in her favour, though perhaps Melody's desperation was making her a bit better in dealing with her situation. Because it had only been a matter of time until Ms Harenwood's opponent managed to reach that scared bottom rope, which would provide salvation from the pain focused around her neck area.

Sure enough Melody would be able to get to the ropes, Eliza had been more focused on trying to keep her headlock in. Though as soon as the ref prompted for the break Ms Harenwood would do so immediately, Eliza was of course one who abided by the rules in the ring. Which was one of the things that had helped make her quite the fan favourite no matter where she fought. After letting go of Melody the British woman would stand back a bit, Eliza was feeling rather confident in herself and visually displayed this with a simple flourish of her hair.

"Whenever your ready~" Eliza stated plainly as she settled herself back into her stance, it had been a good start for the dancing passion so far. She had to admit, being the more dominant fighter in the match was nice given the rarity of her being so due to her usual array of foes.
_________________
Check out my wrestlers
here
, but PM me for match requests.
Solaire of the AFW.
Feeling the hold break Melody gasped a sigh of relief and gingerly moved her head from side to side with her eyes tight shut. She got herself up off the canvas ad back to her feet with a rueful look on her face. Seemingly troubled by the pain in her neck. This was the thing with Melody, people could never work out if she was playing her part and selling each move to the maximum or if she was indeed hurt. She wasnt the biggest nor the strongest girl in the AFW and her skills were almost zero but she loved the fact people got behind her which a very very small number of the crowd did

She gave her neck another tweak and faced Eliza who looked proud and was the figure of excellence in the ring. Melody approached and smiled at her rival. "that was good, you got me, but can we just be friends?" she said in a quivering voice truely showing her weakness to everyone. Melody even went as far as holding out a hand in a sign of friendship to Eliza, ensuing quite by accident that their space was cut shorter and shorter

For most rivals this would be interpreted as a rouse, an act to kid the other wrestler into believing the gesture. But was Melody capable of such "evil?" could she even dare to think of delivering a cheap shot to her rival for a brief moment? The crowd looked on in anticipation.

"I think you are amazing" Melody added in a bid to win over her rival.
Page 1 of 5 • 1, 2, 3, 4, 5



Similar topics
---
Permissions in this forum:
You
cannot
reply to topics in this forum