Who is online?
In total there are
35
users online :: 10 Registered, 1 Hidden and 24 Guests :: 2 Bots
Cy_Man
,
I_care_not_till_I_must
,
Kitten
,
Link-mon
,
Mystery Dragon
,
Novalacrosse
,
peek6
,
RadiantKarna332
,
St.Ambs
,
Yori
Most users ever online was
155
on Sun Oct 09, 2016 8:33 am
Champions & #1 contenders
Seeking: Friction Spar Match
Mon Nov 20, 2017 6:40 am by Yori
Looking for a spar for
Alexa.
Howdy, I'm new to the forums and figured I should get my, and my characters toes wet with some good old fashion sparring. It can be a one off, or blossom into something else down the road for a friend/rival relationship. Alexa as a character is a fresh face, and an unrefined talent. I don't mind having someone at her skill level to have an event match, or someone superior to her to have a more one sided bout. I'm looking to use this regardless as a way to build …
[
Full reading
]
Comments: 1
Gonna be slow the next week or so... just had surgery IRL
Wed Nov 15, 2017 2:33 am by SleeperAgent94
Hey guys, got back from surgery today. Ruptured abdominal wall. In a LOT of pain right now, so posts will be VERY brief the next few days.
Comments: 6
Character updates.
Wed Nov 15, 2017 4:14 pm by Lotuswarrior
Since I'm starting to get a bit busier here, I'm trying to be a bit more professional. With that I'm going to overhaul my characters and update their profiles or release them all together. I'll post any images here of the characters I release, so that you guys/girls can claim them if you want.
Also looking for some characters to interact with outside of matches.
Comments: 0
Page 1 of 2 • 1, 2

Normal Match decided by Pin
A loud snoring could be heard in the Friction locker room as the ring area was getting louder with wild and crazy fans, eager to see the match coming up. The snoring was coming from a white-haired girl who was sleeping on a bench. Most people would think that she's just being lazy to even get up and fight, but that's only half-true. Sure, she was indeed lazy, but earlier, she spent most of her day preparing for this match and she feels it's necessary to get the rest afterwards, even if it's in the locker room before the match starts.
She then gets a nudge from the stage hand and it took her a few moments to get up, yawn, and stretch out a little. She had five minutes until she enters and she has to make a good impression for this one. As her name would imply, she is a sleeper and she can be silent and deadly when her opponents least expect it.
Soon, the lights would dim and a spotlight would appear at the back of the walkway. There would be some sparkling glitter that falls as a music box version of "Mr. Sandman" began to play. But as they fall at that very lighted area, it turned out that there was a blanket that was the same color as the floor as a figure started to rise up. This caused the audience to gasp as "Onsalught" by Cenob1te began to play at the rise. As soon as the drop hit, the figure would grab the blanket and reveal herself to be a silver-haired girl with blue eyes and a black futuristic-like outfit and skull bandana. It was Shikasaki.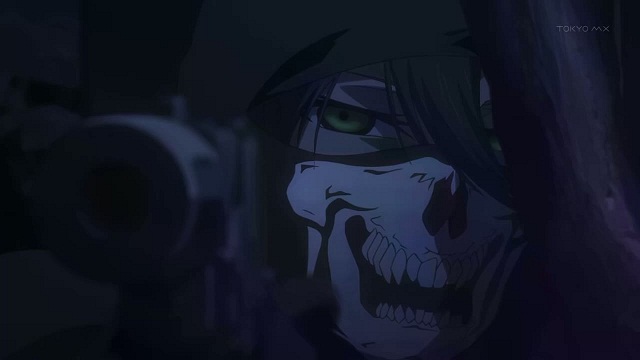 As the music continued playing, Shikasaki would start to show a few of her martial arts techniques and continue waving and throwing that blanket like a flag. She would make her way to the middle of the walkway as the audience was mesmerized by her movements. Then, she began to run to the ring and when she got close, she would slide her knees on the blanket as she leaned her body back to get under the bottom rope with ease.
Spinning back up, Shikasaki (The Sandwoman) would toss that blanket aside and playfully yawn. People would think that entrance made her tired, but that's just underestimating her. She is truly ready to fight and she is prepared to catch her opponent off guard so she can beat her down fast.
_________________
Focusing on good old fashioned basics and just having fun. Nothing else and nothing more.
The World of Dynamo
Poison Ivy trailed her hands over her leaf leotard when she heard a knock at the door, "You're on in two." the man said from the door. He then shut it and left, leaving Poison Ivy alone. She was excited for this match and she thought it would be an easy victory for her since her opponent seemed to be really tired. Her music began to play and she headed out of her locker room to the ramp. She waved and gave highfives to the fans as she made her way to the ring. Once she was at the ring, she climbed up on the ropes and slipped through and pranced around the ring. After a minute, she turned to her opponent with a smile, "Hey, I'm Poison Ivy and when I pin you, I'm gonna make you my POW." She would then giggle and head over to her corner.
(What kind of boots is she wearing?)

Poison Ivy would soon come out and make her way to the ring. Pretty much a standard walking down the way, giving high fives to the fans, but she did appear fearsome. When Ivy came over to Sandwoman to intimidate her before the fight, she remained stoic as she said, "POW, an obscure acronym for Prisoner Of War, which the defeated suffer worse from the victor. Unfortunately, I don't believe that's the case for me."

Sandwoman would follow suite and head over to her own corner. She would take a few moments to stretch out her arms and legs to ensure that her strikes hit fast and to great effect. Then the ref would call for them both to meet so that the bell can ring and the fight can begin.
_________________
Focusing on good old fashioned basics and just having fun. Nothing else and nothing more.
The World of Dynamo
Poison Ivy giggled and approached the center of the ring, "This will definitely be an easy match for me, you'll be under my body for the three count in no time cutie." She winked and waited for the bell to ring, showing off her body as she waited for Sandwoman in the center of the ring. Once the bell rang, Poison Ivy would pick up the smaller opponent and slam her down with a sidewalk slam. If it were successful, she would lay across her for the first pinfall attempt.
Sandwoman would approach the center of the ring to meet with Poison Ivy, undeterred nor unmoved by Ivy showing off her body. She would get in her fighting stance, which looked like as if she was drunk. Almost immediately when the bell rang, Ivy went in to pick her up and slam her down on the mat. Sandwoman grunted from the impact before Ivy covered her for the first pinfall attempt. As the referee was coming in to start the count, Sandwoman would quietly say, "Too soon for such an attempt."

With that, she attempted to lift herself up and break off the pin before the referee can count further from "1".
_________________
Focusing on good old fashioned basics and just having fun. Nothing else and nothing more.
The World of Dynamo
Poison Ivy giggled and stood up, circling around the ring before coming back and bending over to pick her up
From those giggles, Sandwoman would guess that she is getting too ahead of herself. If she isn't careful enough, it can lead her into a trap she can't get out of. When Ivy came back after circling around her, Sandwoman would wait until she gets closer and then tried to grab Ivy by the boots. If this worked, she would even try to trip her up before giving a curb stomp to the stomach.
_________________
Focusing on good old fashioned basics and just having fun. Nothing else and nothing more.
The World of Dynamo
Poison Ivy stopped giggling. Instead, she grunted in pain as she hit the mat and soon found herself curb stomped on. She gasped in pain as the wind was knocked out of her and she lay still
Sandwoman's little trip up had placed Ivy successfully on the mat along with a stomp to go with it. With her immobilized, she can start working her over to make her vulnerable to be pinned. So, Sandwoman would attempt to grab both of Ivy's legs and put them under her armpits. If this worked, she would start to turn her over on her back and sit down for a Boston crab to work the legs and lower back.
_________________
Focusing on good old fashioned basics and just having fun. Nothing else and nothing more.
The World of Dynamo
Poison Ivy just groaned when she felt her legs grabbed before she was rolled onto her stomach. A sharp pain shot through her legs and back as the weight of the woman was placed on her back. She screamed in pain and balled her fists before reaching for the ropes. She found they were too far away, so she lifted her body and began to make her way slowly to the ropes. If she were to make it, she would place her head between the ropes and the ref would come over to break the hold.
Page 1 of 2 • 1, 2


Similar topics
---
Permissions in this forum:
You
cannot
reply to topics in this forum