Champions & #1 contenders
Highfly Flying Out Of Town
Tue May 22, 2018 1:31 am by HighFly
Hello everyone, I just wanted to inform all I have threads with that I will be gone from this coming Wednesday through Sunday. I won't be able to post consistently if at all during this time, but I will try to make up for it next week! I am sorry for the inconvenience to everyone.
Comments: 7
The Austrailian Mudslide is Back.
Sat Apr 21, 2018 6:20 am by Softsquad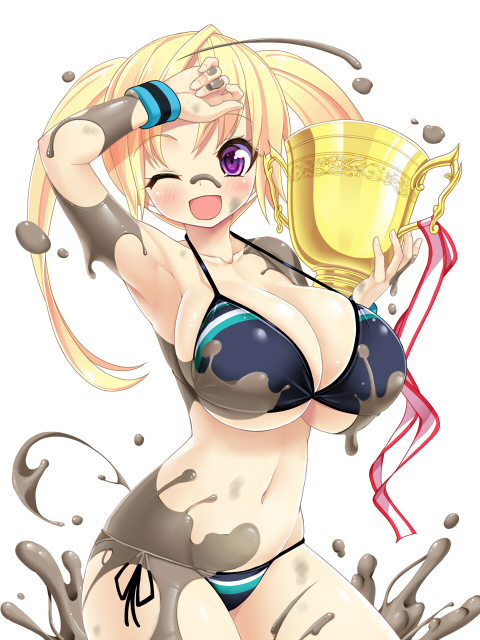 Granted that most of you won't know me or remember me, but I've had a few matches here and there some time ago. Well I think its time to become a regular around here and try to have some fun again, but at the same time keep coming back. Anyway I think its time to jump into some matches with Zoe Taylor, my mud wrestling character from Australia and get her back into the squared circle. Furthermore I will update my characters as I think some proper changes need to happen.
So if anyone would …
[
Full reading
]
Comments: 5
Page 1 of 4 • 1, 2, 3, 4


Match Type:
Standard
Victory Conditions:
Pinfall, Submission, or Knockout
Hinata:
Hinata Huerta paced back and forth in the ring, staring anxiously up at the entrance to the Friction arena. It had been several months since her big debut match in the AFW, her big debut that she
should
have won and that
should
have catapulted her into the spotlight and made her a star! But...she had lost. It wasn't even a close loss, either. It was a decisive loss, the young grappler ending up in a match against a skilled veteran that she never should have been fighting.
She needed a few months off to patch up her ego, and to get in some extra training, but tonight, at long last, the Rising Sun had returned to the ring! Tonight she was ready to give it a second chance, and to prove that she was the future of this company, once and for all! To show the world what she should have shown them in her debut!
She stopped in the center of the ring, and pounding her fist into her open palm, staring towards the entrance, waiting for her opponent. She started to grin, feeling her heart pounding faster and harder with each passing second. She didn't know who her opponent would be tonight, but...she could definitely take them this time! She didn't care who it was that was coming to the ring to face her, she was going to beat them down and walk out of here a winner!
Last edited by Alexandra on Wed Jan 21, 2015 2:50 am; edited 3 times in total
Julie:
Julie leaned against the wall, dressed in her leotard and mask, and just focused on breathing. The pre-match jitters were hitting her hard. Guess that made sense--first day in the big leagues. The AFW itself... the Japanese Juggernaut of a wrestling federation with the most cash, the most matches, and the most controversy. She knew that weight classes were more guidelines than rules her--she could be fighting a giant right now. Or, on the flip side, a little girl, or something. It seemed random as hell, but eh, they must be doing
something right
if this place was the richest, most influential in the world. She let out another slow breath. Yeah, that's where she was. Height of the wrestling world.
Julie's theme began with a few sharp picks of the guitar, then launched into the full melody... and as it did so, Julie herself appeared at the top of the runway. The 5'3 wrestler had a small frown plastered over her face as she made her way down the ramp, glancing left and right at the crowd, drinking the shouts, taunts, and cheering. They were excited, at least. Maybe she was fighting a crowd favorite? Or maybe these people just really, really liked their wrestling?
She rolled under the bottom rope, stood up, and finally took her first good look at her opponent. She looked... normal. About her height. Lighter than her.
Very
toned. She looked like a wrestler. Julie grinned, feeling her anticipation dissolve like the morning dew. She'd done this before. This league had people in it, just like the others. She put her hands to her head and cracked her neck, right and left, then let them drop to her sides, rolling shoulders and wiggling her fingers, before silently standing in her corner. This... was going to be fun.
Hinata was feeling confident. Her first match, her debut loss, had just been a fluke. Tonight was going to be different. Tonight was her night, the night that she was going to show the WORLD what she could do!

And then...her opponent appeared. Julie stepped into the arena, and Hinata felt her heart drop down to her stomach. The girl wasn't big, not as far as height went, but she was built. She was thick. She looked like she was built out of friggin' bricks!

She reminded Hinata a bit too much of La Santa, the Tigresa that she had fought and lost against in her first match, and for a brief moment Hinata wondered if all the women in this company were built like this.

She stepped back towards her own corner, letting her opponent enter the ring, watching her carefully and closely as she entered. She took a few deep breaths, trying to calm herself down. You got this, she thought to herself. You can do this! She's nothing special! Just a big, dumb looking girl that's probably as slow as mud. Just knee her friggin' head off!

Slowly but surely, Hinata's grin, that annoying cocky grin began to slip back onto her face, as she mentally psyched herself up for the match. She totally could do this! She could run circles around a girl this big and she wouldn't be able to do a single thing to stop her!

She became so excited, that when she stepped forward to the center of the ring, she yelled out to the bigger girl, pointing arrogantly across the ring towards her. "HEY! You! Thunder Thighs over there! I'm going to warn you right now! My name is Hinata Huerta, and I'm the girl who's going to kick your fat ass all over this ring!"
"Oy, fuck you!" Julie raised a hand and shot Hinata the bird, the other one planted firmly on her wide hips. "You ain't shit, chica, and sure as hell ain't gunna be kickin' my ass." She said, eyes flashing as she stepped into the middle of the ring with Hinata, glaring down at the girl from the inch she had on her--there were only a scant few inches between the woman, and Julie was a big bundle of muscle, fat, and glaring indignation.

"I ain't gunna take any shit from you, pipsqueak." She growled, leaning forward slightly. "My prediction? This is gunna be fast, hard, and painful. Hope you're ready to hit a fuckin' Wall, bitch, cuz that's what I am."

Julie raised an arm and shoved Hinata back, just enough to knock her off balance, then took a step back, raising both arms to the air. "The name's Julia Roberts, and I am gunna be dispensin' one hell of a beatin' t'night!"
Hinata glared at Julie, her eyes growing wide again as the girl stepped up to meet her, standing just inches away from the young wrestler. She could practically feel the heat coming off of Julie's body, and the girl had a lot of body to give off heat from!

She braced herself, her entire body tense, as she listened to Julie's words. She couldn't believe the arrogance of this girl! Talking to Hinata like she was just going to walk all over her! She scoffed, unable to believe the nerve of the masked luchadora. She would have to make sure to beat her extra hard just to teach her a lesson about respect!

She stumbled backwards, as Julie shoved against her shoulders with her great big hands. Hinata was quick to regain her balance though, planting both of her feet solidly against the mat, balling her hands into fists and yelling right back at Julie. "You're out of your mind! You're not a wall! You're just a big soft ball of fat!"

She would have kept taunting the newcomer, but before she could continue, the bell suddenly sounded out loud and clear, signalling the start of the mat. That bell was music to Hinata's ears, the girl ready to spring into action the moment she heard it. As soon as the sound hit her ears, Hinata exploded, launching herself towards Julie. She jumped up as she neared the bigger girl, raising her knee to try and slam it into the girl's chest, trying to get this match started off right!
Julie's eye twitched. This girl was gunna get it. "Ball of fat, huh? I'll show a goddamn ball of fat..." She growled, leaning forward--she had padding, yeah, but her core was solid motherfuckin' muscle. She wasn't going to let some asshole punk smack her around... then the bell went off and Hinata was on her like ugly on an ape!

Julie wasn't quick enough to get her arms up to block the knee--Huerta was fast, at least. Julie let out a grunt as Hinata's chest and slid backwards a foot, her bare feet sliding along the mat. She knew she sure as hell didn't feel like a soft ball of fat--if nothin' else, Julie was dense. For a second, it looked like The Wall was going to topple backwards, before she slammed her right foot down behind and re-stabilized, a snarl on her face. That had hurt. She lunged forward with her right hand, trying to grab Hinata by her bra and bodily lift the girl off her feet and up into the air, then slam her down hard onto the mat!
Hinata's knee slammed into Julie's chest, and Hinata bounced off of her, and...nothing. She had managed to move Julie back a couple steps, but the girl didn't seem like she had been hit at all! And even worse was the intense stinging running through Hinata's knee. She felt like she had just rammed herself into an actual wall.

Hinata was so in awe of how solid Julie was (like a friggin' rock!) that she couldn't do much other then stare at the girl, her jaw practically dropping to the floor. She was so in awe, that she didn't even realize that Julie was coming her way. Not until it was too late to do anything, at least.

"H-hey!" Hinata squealed, as the bigger girl grabbed the stretchy material of her top. "P-put me down, you oaf!" she yelled, flailing her legs helplessly at the air. She reached for Julie's wrists, trying to pry her hands away from her top, but then...

Then, Julie slammed her down, throwing Hinata to the mat. The so-called Rising Sun gasped out in pain as she struck the canvas, her eyes widening again, her body arching upwards. That had hurt. Julie was just as strong as she looked, and suddenly, for the first time all night, as she lay there at the girl's feet and stared up at her, Hinata was starting to wonder if she was in over her head again.
A small, mad frown was plastered on Julie's face as she glared down at Hinata. That had gone... well. The knee had hurt, but, yeah, it hadn't hurt that bad. And now her loudmouthed opponent was on the ground, with a stupid look on her face, looking kind of stunned. This sort of thing happened a lot in Julie's matches, but dammit if she didn't enjoy 'em. Especially when it happened to a loudmouth like Hinata. Julie was pretty much ready to file her away under the 'loser jerk' column.

She reached down and grabbed Hinata by her bra again--nice material. Tight, but stretchy. Good for... grabbin'.--and hauled the woman bodily up to her feet, took a step back... and swung hard with her right arm, her big, heavy fist on a collision course with Hinata's face!
Hinata lied there at Julie's feet, a myriad mess of thoughts running through her head. Despite all of her bravado earlier, she was starting to feel the heat, fear building up inside of her, starting to doubt that she could put a dent into the monster that she was sharing the ring with.

Her fear only grew deeper as Julie leaned down and grabbed her top again, jerking her back up onto her feet. A soft, fearful whimper passed through her lips, the smaller girl trying to catch her balance, wanting to try and get away, to try and attack, to try and do something before Julie came after her again.

POW.

Hinata barely had any time to get her thoughts in order. No sooner then she was standing again did Julie come lunging back in at her, her big, heavy fist swinging forward, smashing right into the side of the Rising Sun's face. The young Huerta girl went flying, the pure power that Julie was packing knocking her halfway across the ring, the girl's body dropping to the mat. She laid there, sprawled out against the canvas, a soft groan escaping her. She was barely aware of what had hit her. It felt like a brick had slammed into her face, if not something even worse!
Julie felt the impact of her punch ripple up through her arm, as her big, meaty fist collided with Hinata's face, knocking her opponent to the floor. It felt good. What felt even better was watching her tumbling back onto the floor. Bam, one right to the face. Julie glanced down at her foe, once again laid out in front of her. She didn't say anything except for a small 'heh', proud of slugging a good one into the loudmouth's face. What happened next was pretty obvious--Hinata would roll away, and Julie would suddenly jump on her and smash her back into the mat. Like clockwork--had happened a hundred times before.

She waited for a split second, then ran, jumping to preempt the roll--and... uh... Hinata didn't roll.

Oops.

Julie spat out a curse as her foot caught on Hinata's belly, the dense wrestler tripping ungainly over The Rising Sun before collapsing flat on her face. The crowd made sounds of surprise and confusion--what had just happened? Had Hinata done something? The referee looked baffled, as well, before Julie slammed her fist in the ground, cheeks bright red as she pulled herself back to her feet. That was embarrassing...
Page 1 of 4 • 1, 2, 3, 4


---
Permissions in this forum:
You
cannot
reply to topics in this forum