Who is online?
In total there are
46
users online :: 9 Registered, 0 Hidden and 37 Guests :: 2 Bots
acuya
,
Battleofomega4
,
BlueMeanie
,
BrittanyW
,
Daaharu
,
FairyGirl
,
RadiantKarna332
,
SimplyMoon
,
Yori
Most users ever online was
390
on Tue Jan 02, 2018 2:02 pm
Champions & #1 contenders
Looking for a debut (Tag Match)
Sun Jan 14, 2018 10:29 pm by Person
I am looking for a debut for my new tag team:
Rulers of Divinity
Something to build them up before I start their main feud.
Comments: 0
Trying to get back into the saddle.
Sat Jan 13, 2018 8:11 pm by Deus001
Hi all. Deus here.
You may have noticed I am a bit quiet on the forums these days. My parents split up, I split up with my girlfriend and moved house. I am moving house again in February as well. 2017 was one slow motion punch to the dick for me and my balls are still numb to be honest.
However now that I have some semblance of normality I felt why not see if anyone wants to talk RP ideas, I have a long work week ahead but a clear weekend it seems. If you have any ideas you want to do send me …
[
Full reading
]
Comments: 3
Post Delays after Winter Storm
Sat Jan 06, 2018 4:38 pm by BrittanyW
Cause the best thing after coming back from holiday is for a bomb cyclone to hit where you are. -_-
So yeah, expect more delays of posts and stuff while I have to sort out problems from this shit.
Fuck my life.

Comments: 1
Page 1 of 5 • 1, 2, 3, 4, 5

Submission Match: Anything Goes and No DQ
Hiro Schultz has been scheduled for her second match and she felt excited to fight again. But even though she won her debut match, that doesn't make anything easier on her from here on out. She had no idea how this Julie looks like and she was nervous to face her. Both may be skilled in submissions, but what if Julie does better than her? She tried not to break a sweat before she was called up to get to the walkway.
A few minutes later, purple smoke would suddenly blast up from the front of the walkway. Following that, Hiro would perform a fast butterfly twist through that smoke and land with such ferocity as "Breaking News" by Machine Gun Kelly started to play.
(she has small holes in her eyepiece so she can still see)
As the lyrics were playing, she would start displaying her skill with her chained blades (they're only plastic so that no one gets hurt). She would spin them in circles, twirl with them, and even flip with them! Her technique is definitely evident, so it should be interesting how this plays into the match. Once she got closer, Hiro would toss her blades aside before doing a cartwheel, jump up onto the top rope, and perform a fast 360 degree twist flip to land with her finishing pose.
Now, Hiro was ready to fight.
_________________
Focusing on good old fashioned basics and just having fun. Nothing else and nothing more.
The World of Dynamo
Julie never feel so nervous... it's been a while since her coming in the Afw , but it was only her second official match. This time she does not even know who is her opponent and she is almost in panic. She slap her cheek and try to be ready
"AND HER OPPONENT FOR THIS SUBMISSION MATCH... JULIIIIE"
the speaker call her name and her music echoed in the arena, as she does not has any official music she choose "Let it go" from frozen... and she appears, blushing a lot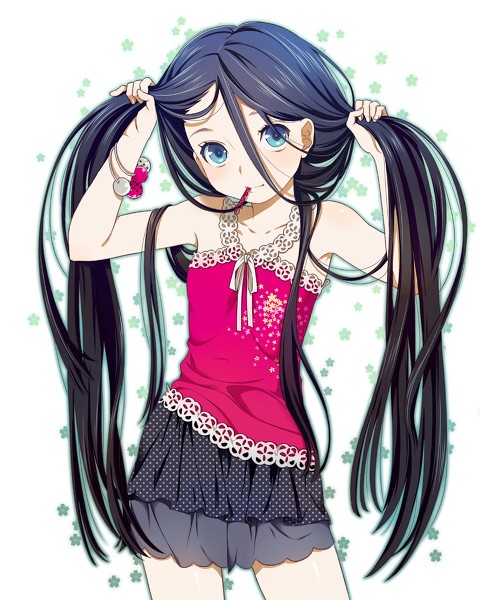 " />
Julie appear and the petite girl try to walk quietly on the ring. Some people in the crowd smile and laugh saying that she is too small and too young to be here. Julie react in a funny way, she almost goes berserk and scream to everyone who mock her. The crowd laugh at seeing this, and Julie try to calm, she feel better. Climbing the ring, she stay on the apron, and grab a lthe third rope, she pull on it a little and jump over the ropes easily. Clearly, the girl is flexible. She face her opponent, a beautiful woman taller than her. For a submission match it will be a little hard but she could do it. She walk towards her opponent and give her hands
"hi... lest do our best for the match."
(What kind of boots is Julie wearing?)

Even though her eyes were covered (with the exception of the eye holes), Hummingbird was quite surprised to see that her opponent was smaller than her. She was confused during her entrance because she acted a little awkward, but she was also irritated when the others started to pick on her because of her height and how young she looks. It is clear that Julie may need help in this one. Hummingbird stepped forth looking serious and shook hands with her opponent and said, "Yes, let's do our best."

She then leaned in and whispered, "Hey, are you nervous? 'Cause I am too. Don't let those guys get you down. I know that you're better than what they say. Do your best and I promise you that after this match, no one will make fun of you again."
_________________
Focusing on good old fashioned basics and just having fun. Nothing else and nothing more.
The World of Dynamo
(little white boot for the ring)

For sure Julie seems to be really young, but she is a real wrestler. When hummingbird gladly accept her hand shake, she is really happy to see that her opponent will offer her a proper fight. When she whisper, Julie reply "don't worry for me, I know all of that... I'll do my best and please do the same, because I go really on you... Let's do a epic match for all these people"

After this julie step back, waiting in her corner... she is ready and just wait for the bell..
DING
As soon as the bell ring, Julie use the ropes and bounce on it, trying to have more impulse, if she can she rush and try to send a dropkick on hummingbird, aiming for her head.
"Very well, let's begin." Hummingbird would back away now as she put up her hands for her fighting stance. She would watch as Julie bounced off the ropes on her end and rushed at her in a high speed. When she went in for the drop kick, Hummingbird would try to sidestep out of the way to let Julie kick nothing but air and fall.

If this worked, Hummingbird would add a chop to her body to get first hit.
_________________
Focusing on good old fashioned basics and just having fun. Nothing else and nothing more.
The World of Dynamo
Julie always try to use her speed against taller opponent, sometimes it was the only advantage she has, but when she is in a drop kick, trapped in the air she can't change the target or protect herself. On the perfect timing, the Hummingbird manage to sidestep and let the small girl fall. "Uggghhh..." Julie grunt as she receive a chop after her missed attack. She quickly jump and try to escape from the girl, holding her injured belly. After this... Julie try to circle around the girl and look more on her guard. After this Julie rush once again, this time she does not try to jump, if she can, julie try to slide on her side just a little and sweep the legs of the tall girl
Hummingbird backed away after landing a nice chop on the stomach. She wanted to give Julie the time to recover before proceeding. Once Julie stood up, Hummingbird kept watch over the smaller girl as she circled around her. When Julie rushed again, this time she would slide and went for a leg sweep to trip Hummingbird to the ground. "UGH!!" Hummingbird would grunt when she hit the mat on her back.

So both scored a hit, but it's still the beginning of he match and still anyone's game.
_________________
Focusing on good old fashioned basics and just having fun. Nothing else and nothing more.
The World of Dynamo
When julie see that her leg sweep connect she could not help but smile. When an opponent is taller, he cold hit you even before you could touch him, so the usual strategy is to put him in a place where he will have problem to use his advantage and that's what julie try to do now. Immediatly after the fall of the hummingbird, julie try to jump on her, sitting on her belly and trying to search one arm in order to twist it.
Julie try to do it properly, but she is not sure that it will be good enough against her opponent. Hummingbird seems to be a calm girl, who perfectly know how and when react.
"GUH!!" Hummingbird coughed out when Julie jumped up and landed on her stomach to sit on. This would give Julie enough time to grab her arm and start twisting it. Hummingbird grunted as she felt her opponent doing so though a bit improperly (but still effective). Her other arm was free, so she would try to use that to try and punch Julie's stomach and get her twisted arm out.

If this worked, Hummingbird would also try to grab Julie's head to get it under her right armpit and scissor her legs around her body to hold her down. Simple escape wouldn't do in a match like this, so for Hummingbird, it was always best to use every opportunity for a strike or submission.
_________________
Focusing on good old fashioned basics and just having fun. Nothing else and nothing more.
The World of Dynamo
"yeah... I... could... do... it... hmmmpphh...UGHHHH"
Julie is always serious, especially in a submission match. She put all she has in twisting the arm of her opponent, but it's not enough. Punched, Julie cough, and she is forced to let her arm out... She try to take a deep breath after the punch, but the hummingbird manage to trap her under her armpit and scissors her body
"Ughhh... nooo..."
Emilie is trapped, and she is in trouble to breath properly. She push on her leg, trying to make them roll on the mat, and put her hands on the arm of the hummingbird trying to pull on her and let her go.
Page 1 of 5 • 1, 2, 3, 4, 5


Similar topics
---
Permissions in this forum:
You
cannot
reply to topics in this forum