Champions & #1 contenders
Summer Splash interest in Natasha Loclear?
Mon Apr 09, 2018 11:30 pm by daemongirl
Well my girl hasn't missed a summer splash yet, would anyone be interested in a match with her? Open to just about anything match wise, just pm me!
Comments: 1
Been Out with the Flu
Sun Apr 22, 2018 7:47 pm by daemongirl
Just letting those I have threads with know I've been out with the flu since early last week, but I will be back to posting tomorrow.
Comments: 0
The Austrailian Mudslide is Back.
Sat Apr 21, 2018 6:20 am by Softsquad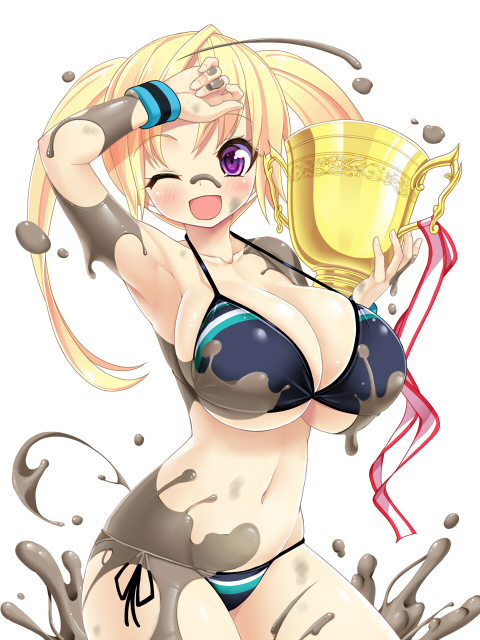 Granted that most of you won't know me or remember me, but I've had a few matches here and there some time ago. Well I think its time to become a regular around here and try to have some fun again, but at the same time keep coming back. Anyway I think its time to jump into some matches with Zoe Taylor, my mud wrestling character from Australia and get her back into the squared circle. Furthermore I will update my characters as I think some proper changes need to happen.
So if anyone would …
[
Full reading
]
Comments: 0
Page 6 of 12 •

1, 2, 3 ... 5, 6, 7 ... 10, 11, 12


If there was one thing Carmen learned from Purgatory, it was that anything can be sexy. Even something as innocuous as an ice cube could have amazing effects, and Akino was demonstrating that perfectly.

Carmen wished she had more time. She could have laid her on the bed, strapped her down, and went wild on her body, taken her apart inch by agonizing inch. Tease and denial, one her favorite scenarios, but one she could rarely find willing playmates for. She wanted Akino on the bed, thrashing, squealing, trying to decide whether she wanted Carmen to go slower or drill her even faster. She wanted her to make so much nose that people next door would come over to make sure there wasn't a murder.

But it would have to wait. She only had ten seconds left. Fortunately, she knew how to make them count.

Carmen moved her hand away from the breast and popped the remaining cubes in her mouth, making sure they were secure between her gums. She reached back and grabbed Akino by her hair, yanking her head back with a harsh tug. It was a moment of pure pain, but the erasure that followed would make up for it.

She dipped down and kissed Aniko, forcing the cubes into her mouth with her tongue just as the time ran out, letting a cold chill come over here tongue as she suddenly pulled away and stood in front of her three-minute slave.

For one, final tease, she took the ice cubes that had been up against Akino's sex and stuffed them into her mouth, slowing pushing them through her lips for added effect. "Think you can top that?"
As much as Akino would love for this to continue on, she knew that the final seconds were closing in. However, Carmen was dead set on making the most of those precious seconds.

"Agh!" she yelped sharply as her hair was suddenly yanked back. And before Akino knew what was happening, Carmen planted their lips together once again, causing the shorter to moan out in surprise as she felt the cubes being forced into her mouth. "Mmmm!" Her tongue instinctively began to glide around the icy cubes as they melted in her mouth, leaving a now familiar aftertaste of Carmen's breath and saliva.

Looking up into the eyes of her lover, she swallowed the melted water and small remnants of the cubes that remained, then gave an involuntary shiver as Carmen removed the ice cubes she'd been pressing against her pussy before watching as she slowly slipped them into her own mouth. Damn, could this woman be any more perfect?

Carmen had a sexy and powerful body capable of withstanding quite a bit of punishment, and could expertly dish it out. And though Akino might not be the biggest fan of being the submissive one, she absolutely loved the challenge Carmen presented both physically and sexually. It just made her want to put that much more effort into conquering this woman, knowing how sweet it would feel in the end.

"I guess we'll find out soon enough." she replied with a sly smirk. Her breathing was heavy from all the sexual teasing she'd just endured over the last few minutes, but Akino was eager to get the next round started as soon as possible so she could make Carmen hers for another few minutes. Taking a couple more moments to catch her breath, she moved back a couple feet on the mat and once again took her stance. "Hope you had fun while it lasted. Like I said, you won't be getting that chance again." she said, her eyes burning with confidence and anticipation.
Aniko's defiant, rebelling act was cute, and sexy, and a litte funny, too, but it wasn't bulletproof. After that little display, Carmen could see some cracks in the armor, and she liked what she was getting a peek of.

"So you say." She took the bucket and put it back in the refridgerator. She had a better idea for the next three minutes she got, but she wanted to make sure the ice was ready after she won. She planned to put a few cubes on Aniko's ass and see which slid down first. Good fun.

"But admit it - there's some small part of you that wants me to win, again. You have to be a little curious about all the ideas running around in this head of mine. What I'll do when I have an actual toy in my hands." She turned to Aniko and ran a slow hand down her chest, even put some extra shake into her step as she walked. "But maybe I'm wrong. Maybe it's not a 'small' part, at all."

Carmen moved back and went into position again, resuming her orthodox stance and starting the movements. She'd gotten good results with only two punches last time, and they were just jabs. Aniko was definitely going to be on her guard this time, but that didn't mean much in Carmen's eyes. Guards could be broken, no matter how tough. It was just a matter of time and patience.

She slid towards Akino and threw out a jab towards her face, only to pull it back before it could even close and move into the real move that her fake was hiding. She did a quick step to the left and came back with a hook, throwing it at her ribs and trying to catch her in the blind spot.
Akino watched Carmen as she walked to the refrigerator and back, her eye focusing particularly on those perfect hips of hers. But she also listened intently to the woman's words. She wasn't entirely wrong. Of course Akino wanted to retake control again, but after the wonders Carmen had just worked with a handful of ice cubes, it did make her wonder what other methods she could think of to pleasure Akino.

"Perhaps I am a bit curious. But, maybe I'm even more curious how sweet it'll be to make you mine for the rest of the night." she said, drawing her tongue over her lips. This was bound to be a hell of a night for both women, regardless of who emerged victorious. But that didn't make Akino desire victory any less, and she was fully focused as the third round began.

Things had gone bad for Akino the last round the moment Carmen's fist had struck. Simple as the strike had been, it had caught her off guard and threw her off her game, and set the quick chain of events in motion that led to Akino tapping out to a painful headscissor. Naturally, she planned to be much more careful with dealing with those deadly fists this time.

Sure enough, the boxer once again lunged forward with a jab. Instead of attempting to deflect it this time, Akino held her footing and shifted her head to avoid the fist, only to see it pulled back before even reach out far enough to strike Akino's pretty face. A feint. But where would the real attack strike? Carmen revealed that answer by shifting to her left.

Akino couldn't see most of Carmen's arm as it came around with the hook, but she could see the shoulder and part of the bicep, enough to clue the cyclops into the fact that the boxer was aiming to strike in her blind spot. She aimed to prove her earlier claim that her "handicap" wasn't the detractor people often assumed.

So, Akino stepped in and let the fist graze around her waist and her arm to crash into her ribs, wrapping an arm around the boxer's to hold it in place. The contact still stung, but didn't have quite the impact Carmen was likely hoping for. And immediately after she did this Akino pulled back on the arm and threw her legs up, aiming to hook one over Carmen's shoulder and the other just under the trapped arm. If she managed this, she would then lock her legs together behind Carmen while falling back, hopefully pulling the taller woman into a tight triangle choke.
Carmen just shook her head, trying to keep a chuckle down at Akino's retort. She expected her to say something like that, but it was still a trip to here. "Be careful what you wish for, Cíclope." She tightened her fists as her smile curved even wider. "You've never had someone like me under you, I'd bet it. I might just be more woman than you can handle."

The good thing about Akino was that it wasn't just idle chatter coming from her - she was clearly ready to back up everything she said with solid action. As she moved in for another punch and sank her fist into her lover's side, she knew that she was going to try something, and sure enough, she didn't disappoint. Carmen knew something was wrong the moment she started moving towards her instead of away - she expected Akino to try and stay out of her range, not bring herself even deeper into it. Carmen started to turtle up as years of training took over, expecting a hard blast to strike chest, waiting for the punishment.

For a second, her body forgot exactly who she was fighting and reacted like this was a boxing ring. That would cost her.

Akino moved with the practiced skill that only came from years of rigorous practice. It wasn't a series of moves or anything mechanical, but one, fluid motion. One moment she was on the floor, the next moment her legs were wrapped around Carmen's head, and the Olympic boxer could hardly follow the entire movement, let alone stop it.

She fell to her knees instead of going down flat on her back, but with the triangle hold locked tight, that was hardly much of an improvement. Her eyes screwed shut as the same thighs that gave her incredible pleasure a few minutes ago brought her agonizing pain, and even her arm, strong as it was, couldn't compete with two of Akino's limbs pulling on it.

But she was a Rodriguez, and as long as a Rodriguez has one arm to fight with, the battle's not over. The position was awkward, but she tried to throw a few quick, mean punches into Akino's back, trying to give her some incentive to let go and abandon the hold.
Carmen was right. Akino really never had been with a woman like this before. But that didn't mean she wasn't willing to try new things, especially in this case.

And it seemed Akino just might be taking one more step closer to achieving her goal as managed to bring the taller woman to her knees and synch in the triangle choke. From here Carmen couldn't use any of those deadly punching combos, and there was no making use of that expert footwork to move around.

"I've got you now. Just let me know when-- ugh!" she said, grunting out as Carmen's free fist crashed into her back a few times. The fact that the boxer still had an arm at her disposal was the one flaw with Akino's hold, at least as it was now. However, the Japanese woman had an idea to remedy the situation, hopefully before it could become too problematic.

Swinging her hips from one side to the other, bringing Carmen right along with her, Akino then attempted to roll the boxer onto her back while keeping her legs locked around the woman's arm and neck. If all went as planned, she should end up in a mounted version of the hold while sitting on Carmen's chest and neck. Simply allowing gravity to do its work to keep on the pressure in the hold, Akino would then try to reach out to grab Carmen's free wrist with her hands and pin it to the ground in hopes of neutralizing the boxer's most dangerous weapon.

"Where was I again? Oh, right. Just let me know when you're ready to give up again, Carmen-chan." she'd say, hoping to make her lover submit so she could once again have three minutes of playtime with her sexy body.
The ropes. Carmen really missed the ropes.
It was amazing how little she thought of them in most matches. They were just there, a boundary she had to deal with. Most of her best moves didn't incorporate them, and the only time they really came up was when she was Irish Whipping someone or working them over with a corner barrage.
Oh, and they were helpful when she needed to escape a hold, too, which was the main reason their absense was so sorely felt. In this 'ring' there was nowhere to escape too once Akino locked in a solid hold, nothing to crawl towards in hopes of salvation. It was just her and the hold, and she was completely at Akino's mercy...which Carmen was starting to wonder if she truly had.
The missing ropes became a moot point as soon as Akino rocked them both to the side and got on top, letting what little weight she had come down to devastating effect. Carmen started to reel back for another strike, but she was beaten to the punch - literally - when her wrist was grabbed and pinned down. Carmen fought on. She tried to kick Akino's back, but her leg lacked the flexibility, and she could barely tap it with her knee. She bucked. She squirmed. She growled. She bridged her back. She tried everything she knew to try.
None of it worked.  She hated going down so easy, but she couldn't deny reality for what it was.  Akino had her, dead to rights. Her body relaxed and a calm, accepting look came over her face.  "
"I give."
" She managed to submit with the few remaining breaths she had. "
"You got me."
"
Akino might not've been the biggest or heaviest girl on the AFW payroll, but with the high leverage she had on top of Carmen it was enough to keep the taller woman grounded and trapped, especially with her legs choking the life out of her. And once the boxer's free arm was pinned, she knew she had her prey right where she wanted her.

Carmen wouldn't go down without a fight, however. The resilient woman kicked, bucked, squirmed, and did everything else imaginable to try to unseat Akino and break her hold. Her attempts were in vain, however, as the Japanese woman expertly rode out her attempts. An impressive display of resiliency, but ultimately futile.

Finally Carmen voiced her submission, and Akino quickly untangled her legs, bringing herself to simply sit comfortably astride her lover's chest for a moment. "Good girl." she said, smiling down at her while bringing a hand to caress her cheek. She got her wish, and the taller woman was now to be her toy again for the next few minutes, and Akino already knew what she was going to do.

Removing herself from her perch atop Carmen, Akino knelt beside her before helping her to a sitting position, and form there back up to her feet. Immediately as the boxer was back to a vertical base Akino wrapped her arms around Carmen's neck and pulled her into a passionate kiss, darting her tongue to probe through her mouth. While she did this, Akino also brought her hands to fondle one of Carmen's breasts and began walking forward, leading her lover back to the bed once again.

She would keep going until Carmen was right by the edge before finally abruptly pulling back from the kiss and shoving the latina onto the bed. Akino began to climb onto the bed and over Carmen, as if she intended to do nothing more than give in to her sexual desires and devour her right then and there. However, once right above her, she leaned her mouth down by Carmen's ear and softly whispered, "You're mine again, Carmen-chan. Just lay back and relax for now. I just hope you enjoy this even half as much as I'm going to."

And with that, Akino moved back off of the bed and went straight for the rack, denying Carmen another moment of sexual pleasure. Lots of toys seemed to beckon to Akino, but there was only one present the Japanese woman had interest in, at least for now. What she grabbed was quite possibly the simplest object present there: a black blindfold. Simple, but it was perfect for what Akino had planned. Carmen did say she should be more unpredictable, and what better way was there to keep someone in suspense than with something like this?

Making her way back to the bed, Akino moved by Carmen's head before tying the blindfold on, covering her eyes completely with the black fabric. "Hope you're not afraid of the dark." she teased. "Oh, and you won't be needing this." she added, before removing the woman's top again, and lightly trailing a finger down her torso. The setup alone had taken roughly thirty seconds of her time, but Akino was confident she could make good use of the remaining minutes with what she had in mind.
It wouldn't have been the worst thing in the world if Akino decided to stay on her perch, sitting down on Carmen's chest and keeping her pinned underneath. The view was amazing, giving her a perfect picture of the heavenly form that had dominated her twice in record time. Every muscle accentuated in the shadows, as the faint beads of sweat on her skin glistened and covered her in a pale glow. Carmen was close she could almost taste the juices that were slowly come from her sex, and that's wasn't an understatement - with a little lifting of her neck, she could have easily slipped her tongue in and driven Aniko wild.

But that would have to come later. It was her turn to be the pet, and she was serving at her mistresses whim. For the next three minutes, anyway.

Sure enough, there was a steaming kiss waiting for her the moment she stood back up, and she felt that deft hands on her breast, massaging away and earning a set of fresh moans as reward. Akino had given her breasts quite a bit of attention, come to think of it, especially considering that Carmen's weren't the biggest by any stretch. Akino liked her tits, it seemed. Knowledge that might come in handy later on.

Carmen gasped as she was pushed back on the bed, though the surprise quickly turned to pure lust as her lover began to crawl towards her. Carmen hands reached up to welcome the conquering vixen, eager to make the most of the three minutes they had for a quick romp in the bed, but that wasn't what Akino had in mind, apparently. Playful as ever.

Carmen let out a dissatisfied grunt as Akino left her rutting on the bed, putting extra emphasis on the 'denial' of 'tease and denial'. "1...2...3...4...5..." She started counting down her time as she moved over to the wrack. Just to be a smartass.

The count came to an abrupt stop, though, as the blindfold robed her sight and covered her in a world of darkness and gentle caresses. It was no suprise that her top was the first thing to go, and Carmen expected the finger trailing down her chest. That didn't stop it from feeling divine. "And I can't see the clock like this. Shame." Her hand came up and joined with Akino's as she felt along body, giving it subtle guidance towards the best spots. "You could be dishonest and stretch your time out, and I wouldn't know. Not that you will. But you could."
Akino couldn't help but chuckle as Carmen began to count the earl winding seconds. But once the woman's top was off and the blindfold on, it was time to focus on her body once again. "That is rather unfortunate, isn't it?" she replied, allowing Carmen to guide her finger as it lightly moved along her toned body. "I can assure you, I would never think to do anything dishonest. At least, not intentionally."

Akino did consider herself a person of integrity, but wouldn't it just be a damn shame if she just happened to forget to look at the clock while Carmen was in no position to see it? It was almost as if Carmen already knew Akino was planning to cheat a bit wit the clock. But now that she seemed to have her open permission to do so, she began to wonder just how far she should push her time. But, that would be decided soon enough.

After a few more seconds of tracing her fingertip over Carmen's wonderful body, Akino drew her hand away and moved from the bedside for a moment, walking toward the rack once again. As Carmen had done earlier, Akino kept her steps light so she couldn't tell how close or far she was, and stopped at a table halfway between the bed and the wall. There were several specialized candles within the room, and one of them and one of them sat on the table right by Akino.

Picking it up in her hand, she walked right back to the bed again and slowly climbed up on it, kneeling beside Carmen's prone body and grinning down at it. Moving by her head, the Japanese woman swung a leg over the latina then slowly lowered herself to sit her sexy rear right on Carmen's face, with her shins pinning down her arms. "Try not to get too comfy down there." she teased, wiggling her hips a bit, as if adjusting to get comfortable on her temporary seat.

But as wonderful as it felt to have Carmen's pretty face buried beneath Akino's soft cheeks, there was still one final piece of the puzzle. Holding the candle up over Carmen, she tilted it just enough to let a bit of melted wax drip off and fall right onto her lover's abs. Not enough to leave a serious burn, but just enough to inflict the right amount of pain, hoping the sudden heat against her flesh would make Carmen moan out right into Akino's ass.
Page 6 of 12 •

1, 2, 3 ... 5, 6, 7 ... 10, 11, 12



Similar topics
---
Permissions in this forum:
You
cannot
reply to topics in this forum