Champions & #1 contenders
Summer Splash interest in Natasha Loclear?
Mon Apr 09, 2018 11:30 pm by daemongirl
Well my girl hasn't missed a summer splash yet, would anyone be interested in a match with her? Open to just about anything match wise, just pm me!
Comments: 1
Been Out with the Flu
Sun Apr 22, 2018 7:47 pm by daemongirl
Just letting those I have threads with know I've been out with the flu since early last week, but I will be back to posting tomorrow.
Comments: 0
The Austrailian Mudslide is Back.
Sat Apr 21, 2018 6:20 am by Softsquad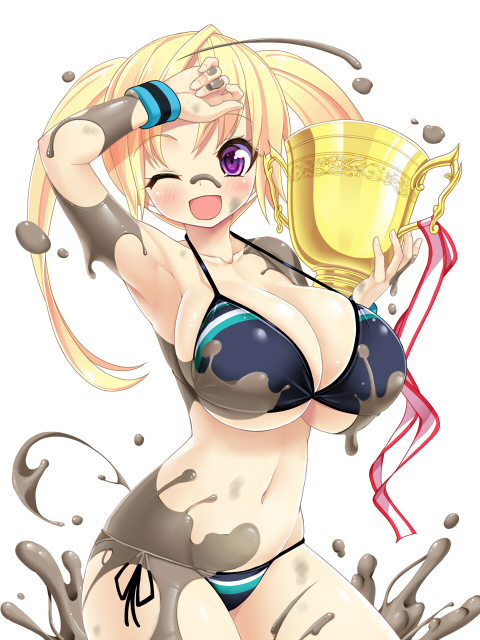 Granted that most of you won't know me or remember me, but I've had a few matches here and there some time ago. Well I think its time to become a regular around here and try to have some fun again, but at the same time keep coming back. Anyway I think its time to jump into some matches with Zoe Taylor, my mud wrestling character from Australia and get her back into the squared circle. Furthermore I will update my characters as I think some proper changes need to happen.
So if anyone would …
[
Full reading
]
Comments: 0
Page 1 of 6 • 1, 2, 3, 4, 5, 6


Kozue was going to miss her apartment. With its thin walls that let her hear the sexual activities of all  her neighbors, and its frequent visits from Japan's surprisingly large rodent population, and its strange, acrid, metallic smell that she could never quite find a source to, and the weird asshole who always had to work on his car at four in the morning.

No. Wait. She wasn't going to miss it at all. Fuck this place.

But none of it mattered, because she was finally out and free. She was making a little more money now, which meant she could afford a better apartment. One with reliable toiletry and a super that she could speak to like a normal person. Kozue was looking forward to experiencing the joys of air-conditioning once again.

Before she could move on, though, she had to move out, and that was proving to be a little pain. She made the mistake of actually buying some real furniture, figuring she wouldn't have to move for a while now that she was planted in Japan. Her car, small as it was, could hold all the stuff she needed. Barely, but it could do it. That wasn't the problem. No, the real problem was getting it all down several flights of stairs without breaking her neck. Easy to say, hard to do.

"And step." Kozue worked her nightstand down the stairs, dragging it step by step by aggravating step. Two floors down. Three to go. Then she had the joy of doing it over with her dinner table. She was dressed for the hard work, wearing her white wifebeater, her shorts with the ripped edges, some boots she'd snagged from Wal-Mart. That helped, a little. Made sure she'd didn't mess up anything nice, at least. "And step. And...stepstep, shit!" She had a minor heart attack as she tripped over a step, nearly falling the rest of the way before her catlike reflexes decided to kick in and save her. She would have been using the elevator, the same way she'd brought this stuff up in the first place, but the stupid thing only seemed  to work when it felt like it, and today it apparently wasn't in the mood. Closed for repairs. Again. The fifth time since she'd moved in.

Yeah. Fuck this place.

"Christ. Okay."Kozue took a deep breath, checked behind her to make sure she was clear, and went back to dragging it down. "And step. And step. And...step."
The apartment was a dive, but Jackie had never been the fussy sort when it came to her living arrangements. A place to sleep, a place to eat, and a place to shit and shower - those were the sole considerations on her checklist when considering any potential accommodation. She wasn't the kind to spend much time sitting indoors anyway. When she was awake, she was either working out or in the ring, and when she wasn't there she was in a bar or a pub. She couldn't cook worth a damn, so kitchen space wasn't a huge priority, she wasn't sentimental so she didn't have piles of old crap to clutter the place up with, and she didn't encourage house guests, so room for more than one or two wasn't needed. It was low on comforts here, but the rent was cheap and the landlord left her alone, and that was all Jackie needed to be sold.

She was just arriving back from another workout session, the dull ache in her muscles a pleasant distraction from her thoughts. The talk with Carmen last night had gone better than she'd expected, although what she had expected was a ferocious bar brawl that left one of them a bleeding mess on the floor. Despite her attempts to deceive the woman having failed, Jackie had reigned in her desire to pound that self-righteous face into the bar counter, and that was progress of a sort. Not that she felt she was wrong for wanting to do that at all, but it would have been inconvenient for her - she'd gotten away with what happened to Army in the bar that night more for how sudden and unexpected it was, but she couldn't just go around stomping people and not expect someone to cotton on. She felt no morale compulsion to curtail her temper, merely practical considerations for her reputation.

Still, one thing had become clear to her during the intense workout session - if she intended to make her way in the AFW, it wouldn't be enough to do it alone. In all her career to this point, she'd never had to concern herself with needing others, but that wouldn't cut it anymore, not with so many competent wrestlers around with a web of allies and friends to call on. Armando had his sister Carmen willing to back him up, and while Jackie knew she was good, she wasn't two-on-one good. She needed people she could convince to have her back in a bind, whether though deception, intimidation or blackmail, she didn't really care which, just so long as she had an answer to any attempt to gang up on her.

She pushed open the door into the apartment's lobby, her feet guiding her straight to the stairs. She didn't even bother to see if the elevator was fixed, as unlikely as it was - she preferred to keep her legs working after the walk back from the AFW building anyway. Her trainers shoes squeaked a little as she started to ascend, adjusting the shoulder strap of the gym bag slung over one shoulder, dressed in faded blue denim jeans and an old Led Zepplin t-shirt, her throw-on clothes she tended to wear after a hard workout. The T-shirt was a size too big, but she found it roomy and comfortable, and a hard glare was usually enough to convince people not to make any ill-considered short jokes. She was just turning on the landing of the second floor, when she first picked up on the sound of a slow, rhythmic thumping sound, accompanied by an almost mantra-like muttering; "And step. And step. And step."

Jackie rolled her eyes. Knowing what she was going to see before she even laid eyes on it, she walked up to the next landing, and glanced up the stairs. Sure enough, someone was trying to lug some furniture down the stairs, a nightstand by the looks of it, and as expected, it looked just wide enough to make it impossible to just squeeze past. Giving an irritated sigh, Jackie let the bag slip off her shoulders as she leant back against the wall, arms folded around her chest as she settled in to wait.

"Take your time love, no rush or anything," she said, watching the slow, slow process unfold, step by step.
"And step. And..."

Kozue was knocked out of the smooth rhythm she'd been trying to establish when she heard a somewhat familiar voice come from behind her. She dared to take a quick glance behind her and saw that girl. A new addition to the building, just came in a few weeks ago. Kozue hadn't bothered getting to know her. Nothing against her, though. Kozue didn't want to know anyone in this place. The walls were so thin she already knew more about her neighbor's personal lives that she could have ever wanted.

She grunted through the next step and kept on descending. Just two more steps to go, then she could push it over to the next flight of stairs and start the process anew. Yay. "Yeah, trust me, I am not gonna rush with this." One more step. "Almost out of your way, hold on..."
The Irish woman waited...and waited...the slow bump of the nightstand started to wear Jackie's nerves thin, tapping a foot impatiently. She was only vaguely familiar with the woman - she was pretty sure she was involved with the AFW to some extent, having caught glimpses of her around the place, wearing some sort of...hell, how would she describe it? Slutty ninja cosplay? She assumed she was a wrestler, since judging from how long it was taking her to shift the damn nightstand, she probably wasn't hauling stuff around as part of the stage crew.

"Try taking the weight across your back and shoulders," she suggested, ferreting in her pocket for her pack of cigarettes, "You'll be able to see where you're going then."

By this point, the woman had reached the bottom of the stairs, and Jackie could get a better look at her. She took in a few of the details that she hadn't seen until now - those limbs looked a lot stronger than she'd initially suspected, and the nightstand substantially heavier. Jackie was used to the sort of cheap compressed-board stuff that were light enough to be tossed around easily enough, but that looked like hardwood, and solidly built. That this woman had been hauling down, what, four flights of stairs already forced Jackie to revaluate her opinion slightly, a thoughtful look coming over her.

As the woman reached the last step and halted for a moment, readying to shift it over to start on the next set of steps, Jackie stepped up, taking a hold of it from the other side to keep it steady. "Look, this'll go quicker is someone gives you a hand," she said, keeping a bite of that irritation in her voice for good measure, but softening it slightly as she took some of the weight, "And fuck knows I couldn't stand to hear you banging all the way down the steps through those thin walls. I'm Jackie by the way." she added with a slight incline of the head, about as informal a greeting as could be expected.
Kozue let out a harsh laugh at that 'suggestion'. She'd been upping her workout routine for the battle royale, but she wasn't anywhere near strong enough to be doing crap like hauling this bulky nightstand down on her shoulder. Maybe next year, after she competed in a few triathlons and swam the entire English Channel.

"Yeah, I'll do that." She let out a long sigh as she made it to even ground again. "I'll be able to see my face all the way until it hits the floor. Nice."

She started to pull it towards the other flight, when the girl came around and did the exact last thing Kozue would have ever expected: she helped. That put her in a weird position, since she was about make a crack on her about 'walls' and 'banging'. But if she was offering an extra set of hand, the snark would have to stay in check. She could reign it in.

"Yeah, yeah, like you're not used to hearing banging around here." Still a little smart-aleck, but toned down from what she'd started with. More playful. "Kozue. And thanks."

She lifted it up with Jackie's help and started to descend the stairs, walking backwards. Much easier now, and it gave her a lot of time to look up at her neighbor with more than a passing glance for the first time. She did seem familiar. Kozue would have a hard time forgetting a tight, muscle-packed body like that. Which gave her a good idea where she remembered her from, without even thinking on it too much. "You're a wrestler, too, right?"
Jackie's arms throbbed a little as she put them to work holding her end of the nightstand, still burning a little from her workout, but it wasn't anything she couldn't power through. She gave an amused snort as Kozue asked her question

"What gave me away? The muscular build. the even temperament, the fact I'm clearly not paid enough to live somewhere nicer than this dump? Yeah, I'm a wrestler - got here a few weeks ago, haven't had much time to settle in yet."

Between the pair of them, they were eating up the remaining steps, moving at a steady pace that, while still slow enough for Kozue to find her footing before taking the next step , was a good deal faster than she would have managed by herself. A hell of a lot quieter too. It wasn't long before they were bringing the nightstand upright in the lobby, pausing to catch their breaths for a moment. "So yeah, I've seen you over there too, so I'm guessing it's a safe bet to say you're a wrestler too. Been doing it long?"
Only a little more now. Kozue could see that vending machine over her shoulders, the one that never seemed to push the candy far enough to make it fall. You could see the dents of it from constant beatings. "Eh, you're already more pleasant that about 90% of the other wrestlers I know. Which isn't saying shit, really, but there it is." She reached the solid floor of the lobby and started to get away from the stairs, minding the floor behind her. Kids played down here a lot, left their toys all over the place. "Honestly, though? If you spit in this town, you'll probably hit a wrestler. We're all over."

She leaned on the nightstand as they came to a stop. She wiped a fresh sheen of sweat from her forehead and sighed. "Long? I dunno." She rolled her neck, letting her ponytail flop back and forth. "Six months, about. But I already got more matches down than some girls get their entire career. Lot of hitting and quitting in the AFW." She glanced at the vending machine, then started to fish around for some change. Might be worth a shot today, she was feeling lucky. "What about you? Staying with it for the long haul?"

Jackie definitely had the body for it. And with a height like that, she had to have the balls, too.
Jackie leant against the wall as they took a moment to rest and recover, finally getting a chance to snag that cigarette she'd been rummaging for earlier but never gotten a chance to light up. As she lit it, she gave a shrug of her shoulders, formulating her response as she took that first pull, entirely devoid of caring for the no smoking sign directly over her head.

"That's the plan, although this is a crazy business, so who can say?" she said with a chuckle, smoke puffing out of her, "Seriously, I've only had the one match here so far, and already someone's trying to feud with me, acting like I'm the Devil made flesh."

Jackie took another long draw on the cigarette before continuing, "OK, so listen to this and you tell me if I'm the crazy one here. So I've been here all of, what, about a week at this point. I'm bored as sin just sitting in my room or going to the gym, so I decide to see what the drinking scene is like around here, when all of a sudden this big Hispanic meathead lumbers on over and starts trying to put the moves on me," Jackie rolled her eyes as she mentioned Armando, "Now I try to let him down gently, I mean I wasn't interested but I didn't want to come across a total bitch about it, but the big fucker is drunk as a skunk and doesn't want to hear it. So what's a girl to do? I drove his face into the counter and smashed a bottle across his head," Jackie smiled a little as she gave the very abridged and heavily doctored version of events. as much as she had come to view the decision as a mistake, Army's dumfounded expression was still utterly delicious.

"Now in Ireland, that would have pretty much been the end of it, but guess what? Turns out the fucker is a wrestler. Seriously, you weren't kidding when you said they're all over the place," she sighed, shaking her head as she tapped out the ash from her cigarette into a discarded soda can someone had left sitting on top of the radiator, "So first thing I know about it is that he's standing in the ring, grumbling like a bear with a sore arse about how I beat him up in the bar and he wants an official match. So sure, I obliged him, I even make it something special; no-holds barred, falls count anywhere. Can't say fairer than that, right? I mean fuck, we were both furious, sounded like the perfect way to hammer it out of each other at the time. So the fight gets brutal, like it was always going to, and when you're giving up about twice your bodyweight and over a foot in height, you can't afford to pull your blows, so the guy winds up hurting again."

Jackie stubbed out the embers of her cigarette and grinned humourlessly, "But here's the real kicker to all this. Just last night, his sister - he's fucking sister - strolled right on up to me and started making threats at me. So now I have two people out for me, and I'm pretty sure if I tried the same on her, that would just get some of her friends involved. It's an infinite cycle of arseholes," Jackie sighed, folding her arms across her chest, "I mean I came from places where all you needed to worry about was one person coming for you, two tops. Here, everyone has a bunch of pals or family that shove their nose in the moment things get rough for one of them, like it's not supposed to happen in a wrestling match. Fucking insane."
Kozue listened to Jackie while she tried to get the stupid vending machine to cooperate. It was an old model, the kind they used to have at the skating rink back home, older than most of the kids who tried to use it. The thing wouldn't accept perfectly flat paper money no matter how many times she tried to ram it in. She would have thought management would at least get this fixed, but the super was too lazy to even get easy money.

She did a quick check, left and right, making sure they didn't have any unwanted guests, before she moved over to her nightstand and pulled out a clotheshanger from the bottom drawer. One way or another, she was getting herself a break of that Kit Kat bar.

But it did seem like Jackie was having a rough go of things. Assholes just come out of the woodwork in Japan, and she'd run into a big one. And his sister. And from there the snowball would start rolling. She was curious how someone could be 'drunk as a skunk', though. Must be an Irish thing.

"Yeah, that is some bullshit." She started to uncoil the clotheshanger, straightening it out as much as you could hope to. "That's one of the big things you've got to watch out for. Everybody knows somebody that knows somebody that knows somebody, you know? And fights will find you if you look hard enough. Learned that the hard way. Got into the shit with a big-time jerk around here named King."

She got it straight enough and moved over to the coin slot on the machine, working it in. It had been a while since she pulled it off. Six years. Kozue just hoped her hand was still deft enough for it. "King is a rapist. And I don't mean, like, he just feels girls up in the ring or anything. I mean, he has literally raped women in the ring. Sick fuck. I didn't know any of that shit when we first met, though. He was just this asshole at the bar, making too much noise. I knew he was a wrestler, though, because, I mean...hell, why else would be walking around with a leopard mask on?" Made sense in her head, anyway.

She could feel the tumblers inside giving way, but she needed a little extra in there. "Screwdriver in the top drawer, flathead. Pass it to me? Pleeeeeease?"
Jackie's face twisted into a disgusted grimace as Kozue talked about this King character. He sounded like exactly the kind of brute she utterly despised, the sort she'd spent much of her life training and practicing to take out in as vicious a manner possible. She let some of that bitter hate show in her expression, intending it to come across as sympathetic anger at his treatment of women.

"Seriously, a leopard mask? Jesus fucking Christ, the gimmicks you see sometime," she shook her head despairingly, pulling open the top draw to rummage amongst the jumbled contents. If the draw had once been orderly, travelling several flights of stairs had returned it to chaos, but eventually she pulled out the screwdriver from the tangle of debris. "Here, although if anyone asks I was ignorant to your criminal activities," she said, handing Kozue the tool, "So this King guy, how did you beat him in the end?" She asked. Jackie had a feeling she already knew the answer, but she was building up to making her move slowly, and the first thing she needed was to have Kozue focused on something...or someone...that she had a real hatred for.
Page 1 of 6 • 1, 2, 3, 4, 5, 6


---
Permissions in this forum:
You
cannot
reply to topics in this forum