Who is online?
In total there are
48
users online :: 3 Registered, 0 Hidden and 45 Guests :: 2 Bots
3ho
,
Cleomori
,
Yori
Most users ever online was
418
on Tue Jul 30, 2019 9:51 am
Champions & #1 contenders
Looking for a tag team match up.
Mon Dec 04, 2023 7:38 pm by Moriarty
Comments: 0
Tension Match for Melanie~
Tue Nov 28, 2023 12:56 pm by Leon564
Comments: 9
Howdy strangers.
Wed Nov 29, 2023 1:25 am by Yori
Just a small hello from an old face. I will be coming around for a bit soon and figured I would pop in. To anymore I have an unfinished thread with, if you have a desire to continue it with me just let me know and shoot me a link. While I am open to fielding ideas for new threads, I will be very selective with taking anything while I gauge my activity capability and trim/update my roster.
Toodles.
Comments: 4
Page 1 of 3 • 1, 2, 3
Birbie Becky
vs.
Cleo the Persian Cat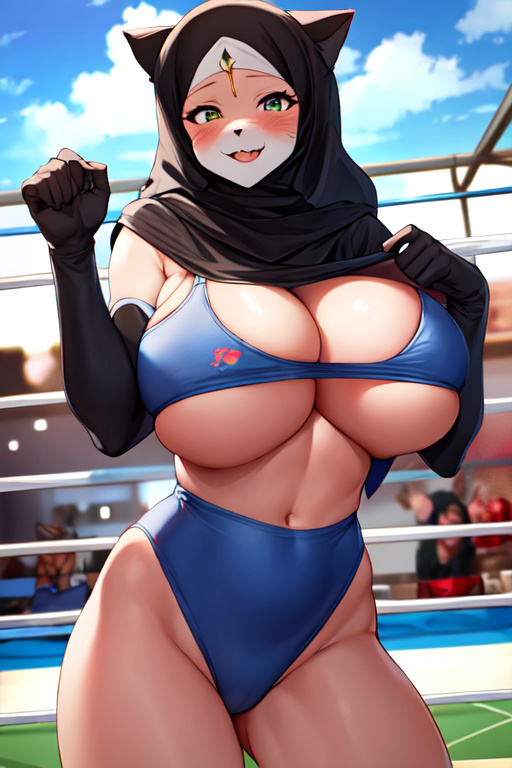 The audience was quite excited for today's match. For what reason, it wasn't that obvious at first. This was just an undercard match, nothing particularly noteworthy. That was until one looked at the match card and saw what the actual fight was of. A felinid vs. an avian? It wasn't always when the people of Tsubar would see matches between races that were rivals in ancient times, and when they did, a lot of people would come to watch it just for that thematic reason. It gave the fights a bit more spectacle and entertainment value for people. And today was no different in that regard.
The loudspeakers then started to blare out the iconic music known for whom it belongs to. People looked skywards, eyeing the air, before many started pointing at a familiar brown blur that zipped along the air, with the music punctuating her movement before she came to a halt, perching on the cornerpost of the ring. There she was, in all her 3 foot tall glory, the Raptor of the Ring, Birbie Becky!
She did a twirl before jumping off the post, and slowly descending through the air and landing on her 2 feet, and saying in her familiar motormouth high pitched voice, "BirbieBecky,heretokicksomebutts!"
Becky observed her feline opponent make her way down into the ring and enter. Seeing her do her "nya" pose made her roll her eyes. She never liked catfolk doing that, and often felt annoyed at how people just seemed hypnotized by it. What magic did they have? She just shrugged as she placed her eyes back on Cleo. Raising one leg into a kung fu stance, her arms spread out and her feathers puffing up to make herself look a bit bigger (not like that helped), Becky defiantly stood, both cute figures seemed ready to square off.

Glaring at Cleo, her mouth piped out:

"Yourcattycharmsdontworkonme,catwhoreforIamthewinditself!"
As the bell rang, Becky observed her opponent prepare and make a lunging pounce at her! Becky stood still as Cleo was almost upon her with her catty teeth bared..before she disappeared in a blur moving sideways, Cleo landing on the canvas instead where Becky had been just a second ago.

The audience tracked Becky's movement who had moved sideways, not only dodging the cats pounce, but she was also doing a flaunty pose, one foot off the ground, her arms up in the air sideways, sticking her little tongue out at Cleo.

"Tooslow."
Becky had a devilish look in her eyes, hopping side to side with her tongue sticking out like a small mischevious gremlin mocking the cat for not being as fast as she was. "Nahnahnahnaaaah!" she sang out, taunting Cleo as much as she could and milking the moment for all it was.

While she was taunting, she was mentally ready. Nagana had shown not to underestimate anyone especially when it came to speed.
Last edited by ARStudios2000 on Tue Nov 21, 2023 2:41 am; edited 1 time in total
The slap that came at Becky was quick, but it only hit thin air as Becky backstepped from the swipe quickly, now striking a new taunting pose; her hands on her hips, her eyes half closed looking almost bored.
"IfImachickenIwouldnthavebotheredtocomehereatallthisisjustawarmupafterall." was the piping that came out of her mouth while that happened. It seemed she was more than ready to give Cleo a bit more of the wild goose chase before giving the real show!
Page 1 of 3 • 1, 2, 3
Similar topics
---
Permissions in this forum:
You
cannot
reply to topics in this forum