Who is online?
In total there are
95
users online :: 4 Registered, 0 Hidden and 91 Guests :: 3 Bots
ARStudios2000
,
Jstruggs716
,
SigmaMorgan
,
Yori
Most users ever online was
418
on Tue Jul 30, 2019 4:51 am
Champions & #1 contenders
Tension Match for Melanie~
Tue Nov 28, 2023 7:56 am by Leon564
Comments: 9
Howdy strangers.
Tue Nov 28, 2023 8:25 pm by Yori
Just a small hello from an old face. I will be coming around for a bit soon and figured I would pop in. To anymore I have an unfinished thread with, if you have a desire to continue it with me just let me know and shoot me a link. While I am open to fielding ideas for new threads, I will be very selective with taking anything while I gauge my activity capability and trim/update my roster.
Toodles.
Comments: 4
Looking for a match for Lucy
Mon Nov 20, 2023 8:49 pm by NobuharuKinjo
Comments: 0
Name
: Maria "The Evil Boricua" Rodriguez
Former Alias
: Witch Bitch Rodriguez, Princesa Bruja
Sex
: Female
Age
:22
Eyes
: Black
Hair
: Black
Height
: 168 cm / 5'6
Weight
: 70'6 Kg/ 156 lb
Nationality
: Puerto Rican/American
Alignment
: Heel
Entrance music
: https://www.youtube.com/watch?v=duMk_ik21Lo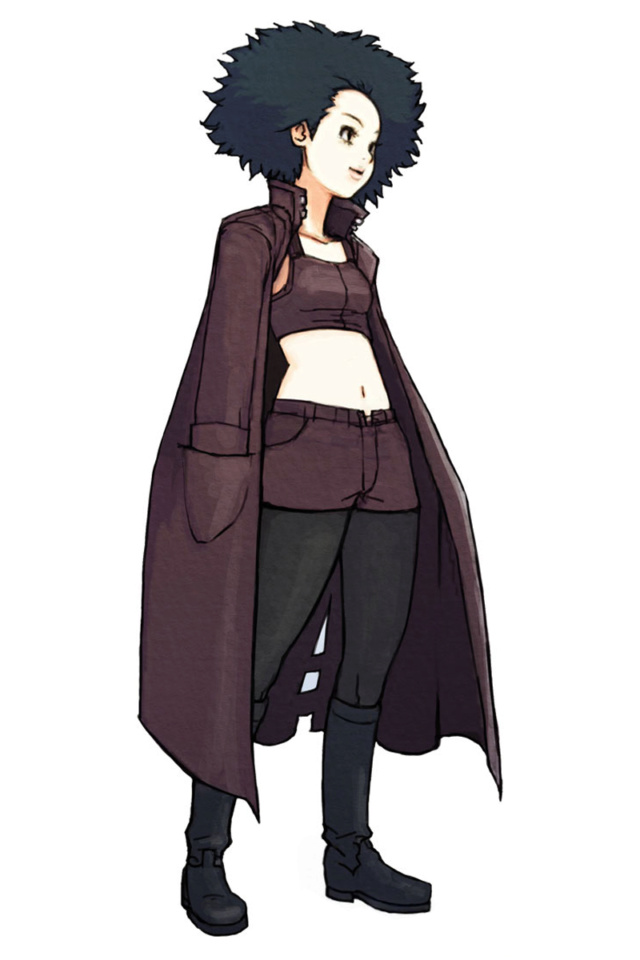 =====================================
Fighting Style
=====================================
Strategy
Her strategies revolve more around playing with the opponent's expectations and their mind than using athletisim and moves. If she detects even a bit of weakness she'll try to take advantage, if she knows about someone's insecurities, life problems or hang-ups she's gonna use that against them. She's a bit of a coward, only attempting to fight opponents when she sees them as vulnerable, when she has momentum she does just about anything to keep it, when she loses it she'd do anything just to not get hit too hard. Her offense is taken straight from the books of her Luchador teachers, though, she only goes for flipping and diving maneuvers when she's 100 percent certain they'd work. She's also not afraid to cheat, harkening back to the orgins of Lucha Libre. In her eyes, as long as she's the one doing the move it's not illegal.
Preffered Moves
:Facewash, Hair-Mare, Huricarana, Inverted-Facelock, Bite Of The Dragon, Knife-Edge Chops, Fish-hooks
Finishing MovesHoe-BreakerBrujo StompStats
Strength: 2/5
Endurance: 3/5
Defense: 5/5
Speed: 5/5
Technique: 4/5
========================================================================
Bio
==============================================================================
Apperance
Maria's a thin afro-latina woman that stands a bit above average height with frizzy, long afro hair. She has pale skin, everywhere on her body except her rosy, cheeks and her dark eyes which she usually accentuates with makeup.
History
She was simply a wrestler because her father was a wrestler and her father's father was one too, not because she was particularly good at it. She started amateur wrestling in high school but wasn't able to continue to varsity-level because of bad grades, she dropped out of school at 19 after 2 grueling years of trying to graduate with severe ADHD. As a 20 year old woman not in employment, education or training and living with her parents Maria was depressed and desperate for some direction in her life. Day in and day out she spent her money on drugs and partys, getting into precarious situations with dangerous men almost ever night and sniffing coke almost every morning just to stay awake until the next party. It was a lifestyle she got used to in her teenage years but she never thought it'd lead her to her career.
One early morning after a full 48 hour binge of partying Maria found herself in The Bronx, New York City. She crashed in a random parking lot, thinking it was a safe place to sleep off her high. A couple of hours later Maria woke up to a cup of beer being spilled on her face, just in time to catch a glimpse of a wrestling match between a former MMA star named Greg Mayker and the hometown hero Rey Brujo. After the match Greg and his friends were booked to down Rey, bringing chairs and tables into the ring as weapons. Just before the first chairshot landed Maria ran into the ring, unaware the events in front of her were scripted. She got up on Greg's shoulders and choked him from behind. Rey pulled Maria off before grabbing her by her hair and throwing her out of the ring, breaking kayfabe. Later that day when the police arrested her for assaulting Greg she was bailed out of jail by none other than Rey who'd bring her to his apartment to sleep and have a meal. He'd offer her a job position as his lackie in his stable, Casa De Brujas.
She wasn't much of a good in-ring performer, her experience in traditional wrestling only worked against her in a sport that was similar but radically differnt in many ways. Rey decided to train her, he was the first woman he's trained but he's been home-growing wrestling stars since the late 90's. The two built up Maria's natural abilities, her speed and tenacity were apparent. He also helped her develop her moveset beyond traditional wrestling, she added hard, shoot style strikes to her arsenal.
As she began to shine with new moves the fans started to notice her, hell, some would even root for her. They stopped rooting for her very quickly after a rumor about her started circulating the locker-room. She was promptly fired after someone falsely accused her of sleeping with her mentor.
Rey left after she found out Maria was fired and became her manager. Together they fled to the promised-land of AFW where even if the rumors were true it wouldn't hurt her career much. They decided to do away with their old stable name, calling themselves by their old tag-team name: Latin Murder Squad!
Personality
Maria is a very quiet, pensive woman who usually keeps to herself, skittering away like a rat from any situation that looks like it'd require emotional labor. Still struggling with addiction to drugs and alcohol, Maria spends most of her time outside of the ring doing busy work to keep herself occupied and away from her vices. Perhaps it's the stress of having so much on her plate that turns her into such a rudo whenever she's in the ring... She's economical with her words (moreso outside of the ring than in it where she screams like a banshee every time she takes a bump) tending to only talk to people for business reasons (or to tell them something that'd hurt their feelings).
==========================================================================
AFW Record
Wins:Losses:Draws:

JennyTheButcher420




Posts

: 2


Join date

: 2021-06-13



Last edited by JennyTheButcher420 on Wed Sep 29, 2021 7:14 pm; edited 1 time in total

JennyTheButcher420




Posts

: 2


Join date

: 2021-06-13



Approved, you may RP as you wish!

Yori




Posts

: 4581


Join date

: 2017-11-19



Similar topics
---
Permissions in this forum:
You
cannot
reply to topics in this forum