Who is online?
In total there are
38
users online :: 9 Registered, 0 Hidden and 29 Guests :: 2 Bots
acuyra
,
Diesel_Electric_Razor
,
Hedgehawk
,
Iceman
,
M.J.Caboose14
,
SimplyMoon
,
skip-stop
,
Tarantulust
,
Teenwrestler
Most users ever online was
418
on Tue Jul 30, 2019 9:51 am
Champions & #1 contenders
Looking for Return Matches.
Tue May 04, 2021 3:27 pm by Hedgehawk
Hello Everyone!
I am looking for anyone interested to help me get back into the swing of things and get or two going on the site.
Mostly I am looking for something from my character
Trinity
. Given her style I am looking for something on the more hardcore side, a cage match, no DQ, or even a streetfight. Given her build and her personality I don't mind her going up against males with a similar personality.
I am also up for possibly looking at setting a match up for
Momoka
. Though not sure if …
[
Full reading
]
Comments: 0
Just an update
Mon Apr 26, 2021 9:37 pm by Deus001
Hey folks just a quick public service announcement
So I'm now back at work proper now. So expect my posting to be somewhat erratic now, as we get into May I'll likely get more hours from the fam and eventually I'll be working full time for them by the end of the year. At that point I'll be able to come up with more of a posting routine, but as it stands if my post rate gets more iffy as we go into the year that's why but I'll still be doing stuff dw
Comments: 1
HAPPY BIRTHDAY KILLCARRION!
Sat Apr 17, 2021 11:29 pm by Old_Man_Tai
Happiest of Birthdays to our beloved Bird of Murder, Killcarrion.
He deserves it, this dude has worked IMMENSELY hard during his time as a mod to try and bring lots of cool ppvs, matches, stories, and such to the site and works tirelessly to try and help out as much as possible.
He's a legit good dude, and one of my absolute best friends.
Love ya buddy!
[
Full reading
]
Comments: 13
Page 1 of 2 • 1, 2
Apartment Catfight Match
Rules: All is permitted (Hardcore/Hentai allowed)
Attire: Lingerie
Victory Condition: Verbal Submission
Spoiler:
Friction certainly had a lot of strange match types. That was the thought that ran through the head of Atalante Pallas, the fairly new wrestler to Friction. She had so far been in three four matches and while the first three had been rather normal, the fourth one had been a Wine Pit wrestling match. Now, she found herself in a literally catfight as a match? Perhaps it was because of her ears? Atalante moved her hand up and flicked the fake cat ears, woven into her own hair, practically braided in place. She had forgone the tail for this match as she was to wear Lingerie after all. Standing in the center of the living room...an absurdly large and fancy apartment had been either rented or was owned by AFW for these types of matches. The living room/kitchen alone was as big as Atalante's entire apartment was right now. She was rather surprised that they had this kinda place just for these apartment style matches.
Already wearing her dark green lingerie, Atalante would shift a bit on her legs and pace around the living room a bit. Finally she decided to take a seat on one of the white couches, folding one leg over her other and leaning back. "
Phew
...This probably will be a rough night." The Grecian spoke out as she closed her eyes for a few seconds, wondering what sort of opponent she was to face tonight. Her eyes would soon open and trail off towards the windows, looking over the purple curtains and out the window to see the cityscape from up high. Atalante would soon feel rather restless and push herself back up to her feet and walked towards the kitchen and looked around...there were plenty of places and spots to fight here, a lot of them were gonna hurt.
Walking up towards the bedroom as she would take a look inside....the fight would probably end up here sooner or later. Shaking her head a bit, the green-blonde woman would saunter her way back towards the living room. Folding her arms against her chest, she would tap her bare foot a bit against the floor. All that was left was to wait, but she was getting a bit antsy and wanted to get the match going. Already anticipating the violence and sensuality that could occur in a match like this.

LunarWolf




Posts

: 22088


Join date

: 2011-02-17


Age

: 28


Location

: The Root



"Since when did the AFW sponsor official catfights?" Had been the question on Reina's mind since she had first received the news that she was to take part not in a wrestling match, or even a wet and messy match, but rather a cat fight to take place inside some apartment the organization had somewhere in the city. She had taken all sorts of wrestling lessons under the nose of her mother, not difficult given how much her mom relied on her to keep a schedule, to get into the AFW but now she found herself signed up for something that sounded more like an online porn video than a sanctioned AFW match. She wasn't upset by the idea though and once the shock wore off Reina had found herself nervous about it, but that good kind of nervous you only got when you were looking forward to something, hoping it would go well. Reina just hoped this wasn't a sign that management was doubting her wrestling ability or anything after some, more difficult than she had thought they would be, matches.
At the apartment building at least one mystery was cleared up for her. The place was close to the main AFW facility and rather than go in the front lobby a private door in the back led her to a private elevator, one that went directly to the apartment in question. The doors slid aside and Reina stepped out into her dream apartment, one easily twice if not three times as large as the one she shared with her mother. "Can...can I just live here?" Those words were her first reaction as she looked around the lavish place, pulling off her zipped up sports jacket and gym shorts while lost in her own little world.
That was until her gaze fell upon a woman with super long blonde and green hair standing in the middle of the room already in her own lingerie. "Oh! Uhhh sorry, my name is Reina and I'm guessing you're the other cat for this fight?" She said with a nervous laugh and smile, Reina folding up her cover ups and placing them on a table, her black and red lingerie now the only things she wore.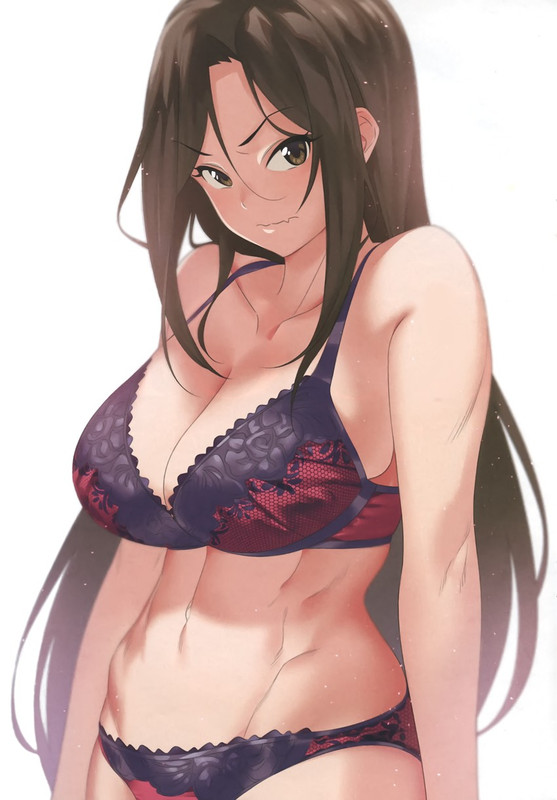 daemongirl




Posts

: 4410


Join date

: 2012-03-31


Age

: 30



Atalante started to look around the room a bit as she watched for cameras, she could see them in next to every corner of the house and perhaps hidden here and there as well. She assumed this was more of a match that AFW would sell on their website or something as opposed to a match which had a crowd and all that. It didn't really matter too much to Atalante though, she would simply shrug her shoulders and wait for her opponent.

After a few more seconds, the chime of the elevator bell rang as it seemed her opponent had arrived. Hearing the sound of a zipper being pulled down and then the shifting of clothes, the words of her opponent caused Atalante to smirk a bit. Yeah it would probably be most people's dream apartment to live in such a large and lavishing place.

When she caught sight of her opponent, Atalante would look her frame up and down. Fit, buxom and with long brown hair. She looked as if she would be a tough opponent, especially in a fight which was more focused on how tough one was as opposed to how skilled someone was. Atalante would roll her eyes a bit at the words of Reina. " That I am. Though it seems you have forgotten your cat ears. Did you not get the memo?" Atalante spoke in a very deadpan tone and expression. Hoping that the girl would take it seriously as a way to tease her in return.

LunarWolf




Posts

: 22088


Join date

: 2011-02-17


Age

: 28


Location

: The Root



"Wha...cat ears?" Of all the things Reina had expected to hear from her soon to be opponent that certainly wasn't one of them. She blinked in confusion for a moment as she thought back to everything management had told her about the catfight styled match, trying to remember anything from the correspondence that mentioned something even close to wearing cat ears but coming up with nothing. While most of her thoughts were focused on remembering Reina's eyes took a long look at Atalante and judging by the smile that crept over her face she quite liked what she saw.

She had more of a slender frame when compared to Reina herself but matched her in the hair department, a dash of green in the hair that framed her face making her stand out all the more. Not that she needed help there given what she was wearing, the black and green lingerie drawing the gaze of Reina to the woman's modest bust and those oh so toned thighs...Reina going so far as to walk around to the back of one of the couches just to get a good look at the unsurprisingly tight butt of the blonde. It was then she snapped out of the daze she had slipped into, Reina shaking her head before looking back up at the woman's face.

"No one told me anything about cat ears, you're uh pulling my leg aren't you?" Reina was more collected now, placing one hand upon her hip and the other on top of the couch's back. "I may be fresh out of school but I'm not that gullible, though if you have a spare pair I don't mind wearing them." She giggled and flashed Atalante a smile.

daemongirl




Posts

: 4410


Join date

: 2012-03-31


Age

: 30



Atalante let her eyes wander a bit as well as she looked over the brunette who looked rather surprised and confused at the teasing from the green-blonde woman. The Grecian would simply let her think about it for a while, not really feeling as if she had to correct her, it was a bit humorous as she watched the brunette draw a blank on the situation.

Though it soon seemed as if she caught onto the fact that Atalante was simply pulling her leg. Watching Reina look upon her frame with practically hungry eyes. Walking towards the back of one of the couches as she began to look over Atalante from behind as well. The Grecian simply remained standing and would fold her arms underneath her chest.

" Yes. I am I'm afraid." Atalante said with a light smile on her face as she would turn around as she would look on at Reina. Deciding to walk out of the living room a bit so she was in the dead center of the Apartment. " Now, I suppose I should introduce myself. Atalante Pallas. I hope you aren't the kind to hold grudges, cause I get a feeling this match could become quite rough." Atalante said as her green eyes would fix themselves on Reina, watching the woman as she stood ready to pounce at her at the slightest aggressive moment from the beautiful brunette.

LunarWolf




Posts

: 22088


Join date

: 2011-02-17


Age

: 28


Location

: The Root



It wasn't like Reina was afraid of Atalante or anything but all the same it felt comforting to have the couch between them, Reina pacing behind it while her soon to be opponent stepped into the center of the room. She was clearly ready to get started and truth be told Reina was as well, mostly because she knew once the claws came out and they went after each other the butterflies in her stomach would settle down and she could enjoy herself. Reina's eyes glanced over the woman's figure once more, taking a long pause to gaze at her bust now that her arms pushed up against them. "Holding grudges feels like a bad idea in a wrestling league." She replied with a chuckle, only then moving out from behind the couch to approach Atalante in the middle of the apartment.

"Rough and dirty if my guesses prove true, but thats standard AFW isn't it?" Reina had a cheerful look on her face as she stared back at Atalante while stretching her arms up above her head, slowly rising up onto the tips of her toes as she reached skyward before dropping back down suddenly and with a satisfied sigh. Her chest jiggled about afterward of course, she had known it would, and might have been trying to show off a bit in front of her opponent.

daemongirl




Posts

: 4410


Join date

: 2012-03-31


Age

: 30



Atalante would smirk a bit as she heard her soon to be opponent's words as she spoke about grudges being silly. " You'd be surprised how many cling to them." The Grecian spoke out as she would watch Reina step away from the couch. Seeing her walk towards her and then stand in front of her. Raising her arms up high and stretching out before bringing them down, the sight caused that generous rack of hers to bounce and it was quite a delightful scene. A scene which captured the eyes of Atalante for a moment or two.

When that was done with though and her eyes would move back up to stare into those eyes of her opponent. Atalante would simply nod her head. " Then let's begin." She spoke, stepping forward she would try and lash out and throw a quick knee right up into that taut core of her Reina.

LunarWolf




Posts

: 22088


Join date

: 2011-02-17


Age

: 28


Location

: The Root



Reina shook her head, she knew full well just how ridiculous some of the women and men who AFW employed could be from even her short time in the business. It was one of the few things that made her wish she had told her mom when she joined up, the stories she could have told her about working for the AFW would have likely saved her a good bit of trouble. Instead she had kept it a secret and had to learn through personal experience, though fortunately she hadn't had to fight any of these sillier women herself but she had run into a few of them backstage. She definitely didn't want to make a habit of that and was relieved to find Atalante felt much the same as her.

"Oh wait, now?" She blinked in surprise at the blonde, glancing left and then right in search of a referee who she was now certain wasn't hiding anywhere in the apartment. "Oh right, catfight so no ref I guess? Ah yea, lets get started Atalante!" She put on a brave grin and stepped forward...right into the waiting knee of the cat ear wearing woman.

"Ugh?!" Groaning in pain, Reira looked more shocked than anything as she looked down at the knee currently digging into her decently toned midsection, her curves jiggling just a little from the force of the impact. Her hands grabbed onto the offending knee and Reina stepped backwards, twisting about to try tossing Atalante by her leg on top of the large coffee table in the center of the room.

daemongirl




Posts

: 4410


Join date

: 2012-03-31


Age

: 30



Atalante would nod her head at the questioning she got from Reina, as she looked at her and seemed confused about them starting out. "That's right. It goes on until one of us surrenders. Verbally. Of course the second you cry out in submission I will stop whatever I am doing." Atalante said with a very slight cocky smirk on her face. Watching her beautiful opponent step forward towards her.

The Grecian drove her knee right up into Reina's stomach and drove it right into the abs of Reina, getting some air out of her lungs and seeing her generous bust jiggle within the confines of that bra. Atalante would be caught by surprise thought as the bigger woman wrapped her arms around her thigh. Raising her eyebrows in surprise as Reina managed to take her knee without much effect, only for her to then be pulled up a bit and yanked by her leg, throwing right onto the coffee table in the center of the living room. " Uughn!" Atalante grunted out as she landed on her back on the table and quickly arched her back off of the table!

LunarWolf




Posts

: 22088


Join date

: 2011-02-17


Age

: 28


Location

: The Root



Reina stumbled back a couple steps, bumping up against the couch after tossing Atalante down onto the coffee table in the middle of the room. She breathed out a sigh of relief and placed a hand upon her midsection, gingerly rubbing the now sore spot as she stepped back over to the table. "Well same goes for me, whenever you've had enough just say so." She said with the confidence of youth, a big smile on Reina's face as she got more into the moment and looked over the sexy body that was laid out in front of her.

"Now this is a catfight so can't be thinking too polite." Reina rationalized out loud before climbing up onto the table, getting on her knees just behind Atalante's head with her own tits casting a shadow over the Grecian's face. Her hands then shot out in front of her to sink her fingers into Atalante's bra covered breasts, telling herself this was just what one did in a catfight even if secretly it was just because she wanted to get a good feel for the woman's assets.

daemongirl




Posts

: 4410


Join date

: 2012-03-31


Age

: 30



Page 1 of 2 • 1, 2
---
Permissions in this forum:
You
cannot
reply to topics in this forum