Who is online?
In total there are
25
users online :: 1 Registered, 0 Hidden and 24 Guests :: 3 Bots
Underdog21
Most users ever online was
418
on Tue Jul 30, 2019 9:51 am
Champions & #1 contenders
Looking for fun Fights
Tue Sep 27, 2022 5:34 am by Leon564
Hello folks! Putting it out that I'm available to discuss matches for either James or Melanie.
If you are trying to find their profiles you can use the character search and type in the following;
James Elforn
Melanie L'belle
------
If it's for an author of my name tag then that's me! You're free as well to throw me a friend request on Discord since I'm not in the Discord server at this time.
Leon564#4514 (Discord)
Thanks for your read and have a great
[
Full reading
]
Comments: 0
Page 1 of 10 • 1, 2, 3, 4, 5, 6, 7, 8, 9, 10
The crowd was buzzing tonight. While Friction typically drew in tight crowds, tonight they were filled beyond capacity. Every seat had a butt in it, and unlike dual, these butts came from all around the world. America, China, Russia, France, England and more - the stands were like a living sample of the world, with many a fan holding up their flags and waving them about, loud and proud. Chatter from dozens of languages filled the air, but they all had the same tone of tension, the same excitement and awe.
This was no ordinary episode of Friction. This was the Friction Battle Royal. Representatives from great nations, from every corner of the world, would meet in the middle of that ring and fight for glory and honor, compete until only one remained. The crown jewel of the entire Friction World Cup was about to begin.
But before they got to the action, the scene had to be laid out. And for that Madison Heights stood in the middle of the ring.
She was a little nervous - partly because she was wearing a black and red-trimmed dress when she rarely ever put on so much as a skirt, and partly because this was a little beyond what she was typically called to do. She was an interviewer, called to do interviews. This sort of thing was mentioned when she signed on the dotted line.
But management liked her. So. Here she was.
"Greetings, Friction universe!"
She smiled and the crowd gave warmth back, which helped her more than she could admit. With a deep breath and a happy sigh, she moved on.
"On behalf of Anime Female Wrestling, I welcome you to the first Friction Battle Royal!"
The crowd cheered - for what, she wasn't sure, but she let them get it out of their systems before she moved on.
"The following will be a single elimination battle royal. In a moment, two wrestlers will come down to the ring, and at random intervals, new wrestlers will join them. Each contestant will be eliminated when they are thrown over the top rope and their feet touch the floor. Whoever is remaining when all other contestants have been eliminated will be declared the winner!"
Madison faced the ring as great fanfare echoed through the arena, heralding the start of the match.
"And now, our first contestant…"
----
A quick note on the rules, before we begin

I'll PM everyone when it time for each specific character to enter the ring - until then feel free to make posts spectating from backstage, so long as you don't go too overboard with it.

When you come down and enter the ring, make sure to begin each post with where you character is in terms of this five by five grid.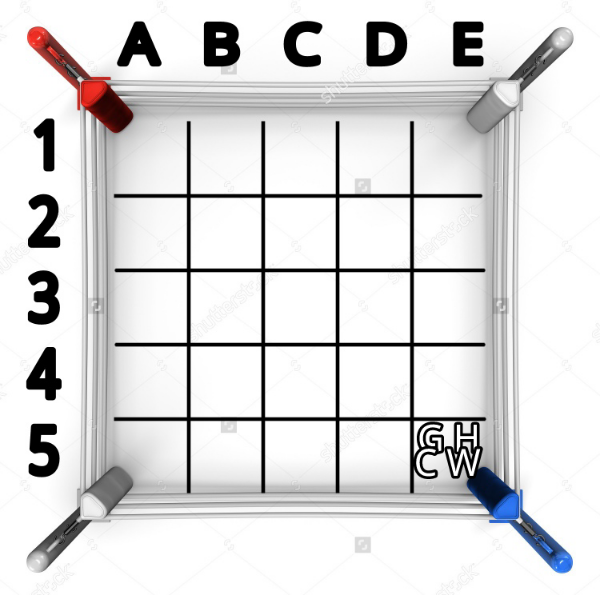 This is just to help keep track of where everyone is in the ring and to avoid confusion, and I'll try to update this picture here after every other post - if you want to a reference to the current positions, just check here. For an example of how this should work, please read my first post below. Since my character is about to enter the ring, I'll put where she ends up at the end of my post, and every post I make from then on will start with where she is, currently, then end with her final position.

As always, if you have any questions, please, PM me.
Last edited by acuya on Wed Mar 01, 2017 6:21 pm; edited 2 times in total
_________________

acuyra




Posts

: 19142


Join date

: 2014-02-14


Age

: 36


Location

: Charlotte, North Carolina, WOOOO!



The crowd was started off on a rather bad mood, as the first music they heard was a tune they didn't much very much didn't like. As usual the boos began before the woman they belonged to even came from the curtain, though she couldn't have conceivably cared less about their opinion. That simply wasn't Cindy Won's way.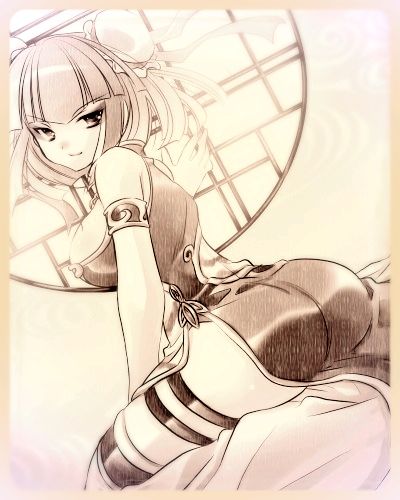 The elder Won sibling made her way down the ramp with a haughty strut, proudly staring down on everyone in attendance - save for a small contingent of her countrymen, cheering her on in the upper rafters. Them, she regarded with a quick nod to their area, before she slid into the ring and took position in the center.
She spun about on her heel as her music faded and faced the ramp, awaiting the poor, unfortunate soul she'd have the pleasure of demolishing first...
[C,3]
_________________

acuyra




Posts

: 19142


Join date

: 2014-02-14


Age

: 36


Location

: Charlotte, North Carolina, WOOOO!



The next theme the crowd heard got a slightly better reaction, as Canada's own, Gallium Heart, came down the ramp. Hair dyed pink, clad in nothing but her tight, form fitting, white backless spandex one piece.

She got modest applause, the Canadian's in the crowd applauding for their representative, while others that did clap for her likely only did so due to the girls association with fan favorite, Silver Ace, as the girl herself was building a rep of someone who was gusty, willing to go all in...but had limited success, having yet to win a match.

Not willing to let that deter her though, she slid under the ropes, entering the ring and moving towards the corner, waving to the crowd before turning to her taller first opponent, bouncing on the heels of her bare feet as she waited for the bell to ring.

"I'm ready for you! I won't get tossed out so easily!"

(E,5)

Old_Man_Tai




Posts

: 9304


Join date

: 2008-04-29


Age

: 32



[C,3]

Cindy Won had been smiling a moment ago. She liked to smile. She liked to make the masses despise her more and more, let them know exactly what she thought of their derision without even saying a word. It was a good thing, to show her contempt, and she would never miss an opportunity to rub it in their faces.

But when her opponent arrived, that smile became larger. Deeper. More genuine.

While she'd originally thought her luck was poor for coming out so early, she was starting to see her fortunes shift. This young one looked so bright and innocent and pure - she was practically begging for a kick to the face. One that Cindy would not hesitate to give her. Repeatedly.  "We shall see, little one." Cindy stepped back to her corner. "We shall see."

The moment the bell ring, the elder Won sibling came out of the corner at full steam, dashing across the ring like a bolt. The moment she was close enough to Gallium, she jumped towards her with her leg raised, attempting to hit her face with a flying knee.

[E,5]
_________________

acuyra




Posts

: 19142


Join date

: 2014-02-14


Age

: 36


Location

: Charlotte, North Carolina, WOOOO!



[E,5]

"EEP!"

Gallium yelped, ducking out of the way just in time to avoid the sudden and fast knee, barely avoiding having her cute young face caved in by a hard knee smash.

Knowing full well that Cindy wasn't going to hold back on her, Gallum was quick to respond, standing up while Cindy was still getting steady, and leaped up, starting out by kicking both bare feet out to dropkick the bitch!


[E,5]

Old_Man_Tai




Posts

: 9304


Join date

: 2008-04-29


Age

: 32



[E,5]

Cindy was getting rusty. It was management's fault for not adequately using her and her sister, denying them the matches and opportunities they so rightly deserved, holding them back as they always had. Ignoring them. They wanted their skills to rot, so lesser contenders could sit upon the throne that was rightly theres.

At least, that was the only explanation Cindy could imagine for missing her knee strike. It was flawless, like most of her moves. It should have hit. But instead, Gallium manage to dodge by some miracle, making Cindy waste a moment. A crucial moment, as it turned out.

She managed to land on her feet and turned around fast enough, but she wasn't quite quick enough to avoid Gallium's retaliation. A pair of bare feet slammed into Cindy's chest, knocking her hard into the turnbuckle. She might have fallen down, too, if she hadn't managed to drape her arms over the ropes and hold there instead of dropping.

"吃屎!" The curse flew from her lips, even though it would be wasted on Gallium's unrefined ears.

[E,5]

_________________

acuyra




Posts

: 19142


Join date

: 2014-02-14


Age

: 36


Location

: Charlotte, North Carolina, WOOOO!



[E, 5]

Not speaking Chinese, Gallium had no idea what Cindy had just cursed at her, but what she DID know was that she had a brief advantage, and needed to follow up!

Backing up to get some distance, she charged towards the corner, leaping when she got closer and kicking both feet out again, trying a flying dropkick to Cindy's chest!

[E,5]

Old_Man_Tai




Posts

: 9304


Join date

: 2008-04-29


Age

: 32



[E,5]

Admittedly, this was going off to a less than ideal start, but Cindy was hardly defeated yet. It was a dropkick. Only a dropkick, and all she needed was a moment to recover from such a paltry attack. She shook it off and started to move away from the corner, eager to get back into the fight and tear this wastrel apart…

...she made it all of two feet before she was hit in the chest with another dropkick. This time, she couldn't get her hands up in time after the impact, and she wound up sliding down to a sit in the corner, cradling her aching chest. Her face was screwed tight, her teeth clenched, with muttered curses weaved into her pained hisses.

[E,5]

_________________

acuyra




Posts

: 19142


Join date

: 2014-02-14


Age

: 36


Location

: Charlotte, North Carolina, WOOOO!



[E,5]

She had the advantage! She never had the advantage! Yay Gallium!

Getting more excited, Gallium got back up, looking at the cursing and wounded Cindy as she walked up to her in the corner. "Thought you could just bully me around cause I'm smaller, didn't ya!?"

She grinned, before turning and thrusting her hips at Cindy, smacking her in the face with her incredibly cute butt. To add insult to injury, the young Canadian grabbed the top ropes and began rubbing her butt against Cindy's cheek, assaulting her with the most adorable stinkface!

[E,3]

Old_Man_Tai




Posts

: 9304


Join date

: 2008-04-29


Age

: 32



[E,5]

Cindy hated Gallium

True, the Won Siblings hated pretty mostly anyone who was not of Chinese descent, but there was a select few who'd earned a high amount of their dishonor, from repeated infractions. Blade Uehara. Mighty Yukiko. Bomber Kirishima. The strong, the proud, the irritating.

Gallium, however, had worked her way to the list in record time. She instantly earned it the moment she shoved her horrid butt in Cindy's pristine face, slamming her from side to side as the crowd guffawed. For humiliating her early in her first royal, Cindy would heap revenge on the pink-haired woman…

...when she got out of this corner. Which she was having trouble doing. "Get off!" Cindy tried to pull her head free and crawl away, desperate to make some space so she could regroup and figure out where she was going wrong.

[E,4]


_________________

acuyra




Posts

: 19142


Join date

: 2014-02-14


Age

: 36


Location

: Charlotte, North Carolina, WOOOO!



Page 1 of 10 • 1, 2, 3, 4, 5, 6, 7, 8, 9, 10
Similar topics
---
Permissions in this forum:
You
cannot
reply to topics in this forum