Who is online?
In total there are
35
users online :: 4 Registered, 0 Hidden and 31 Guests :: 2 Bots
Link-mon
,
LunarWolf
,
RadiantKarna332
,
Vcom7418
Most users ever online was
390
on Tue Jan 02, 2018 2:02 pm
Champions & #1 contenders
Serious apologies to everyone....
Mon Mar 19, 2018 1:59 am by Cy_Man
To those who I RP with, I just want to say that I am terribly sorry for all my delays that I constantly do. I just have been SO unbelievably busy as of late that I hardly have any free time to be able to attempt to make posts to our threads. I really needed to get his off my chest badly, and it makes me feel like a complete piece of shit for doing this all the time. If you don't want to RP with me, I completely understand, there should be no reason or excuse for me to have to keep you waiting …
[
Full reading
]
Comments: 1
Explanations and Apologies
Sun Mar 18, 2018 10:02 pm by acuya
Okay, so.
As some of you may have noticed, the Entropy Title Match from last year's Summer Splash has come to an abrupt conclusion.
The reason for this is because my match with Lies was taking too long, and with the next Summer Splash coming up, the Entropy Belt needed to be put in play for this year.
I won't get into the specifics of WHY that happened, suffice to say it ultimately comes down to my fault, I think. For those who haven't been here long, back in the day, I had a problem with …
[
Full reading
]
Comments: 1
A match for Takeichi
Mon Mar 12, 2018 7:31 am by GrandAkumaShogun
Since both Imai and Takeshi are currently involved in matches I was wondering if anyone is interested in taking on my first wrestler I made for here, Takeichi Mori. His profile says he's a jobber but I intend to change that and hoping a match can help with that. Anyone interested please get in touch with me on here in a pm.
Comments: 1


Name:
Dmitri Markov Voranov
Age:
25
Eyes:
Black
Hair:
Black
Height:
5"9'
Weight:
145 lbs
Nationality:
Japan
Alignment:
Face
Entrance music:
San Francisco by Midocronica
Wrestling InformationStrategy:
Martial Arts, specifically  Tae Kwon Do. Dmitri may not be able to hit the hardest, but what he lacks in power, he more than makes up for in raw speed. He has great balance, which allows him to rattle off a lot of kicks before he has to put his feet back down - his strategy is basically to pepper the enemy with kicks and keep them at a distance while he breaks them down.
In hardcore matches, he busts out a pair of tonfa.
Style:
Kickboxing
Type:
Martial Artist
Preferred Attacks:
Mostly kicks, some punches to mix things up along with basic grapples. Will use the turnbuckle and ropes to aid him.
Preferred Matches:
The more room to move, the better, so backstage brawls are naturally good for him. Will do just about anything if asked, though.
Endurance: ★★★
Strength: ★★★
Speed: ★★★★★
Defense: ★★★
Technique: ★★★★
Favored moves:
Spinning Hook Kick, Axe Kick, Leg Sweep, Tornado Kick
Finishing moves:
Scissor Kick:
Executed similar to Booker T's classic, Dmitri typically opens with a kick to the opponent's stomach, then comes in and hits them with the Scissor Kick, driving one leg into the back of his opponent's head and the other into his neck.
Decap:
Dmitri hurls his enemy into the ropes, then leaps up and hits them with a perfectly timed spinning heel kick right in the face - guaranteed knockdown, high-likelihood of a three-count, or a KO if he's lucky.
Characteristics
Visual Appearance: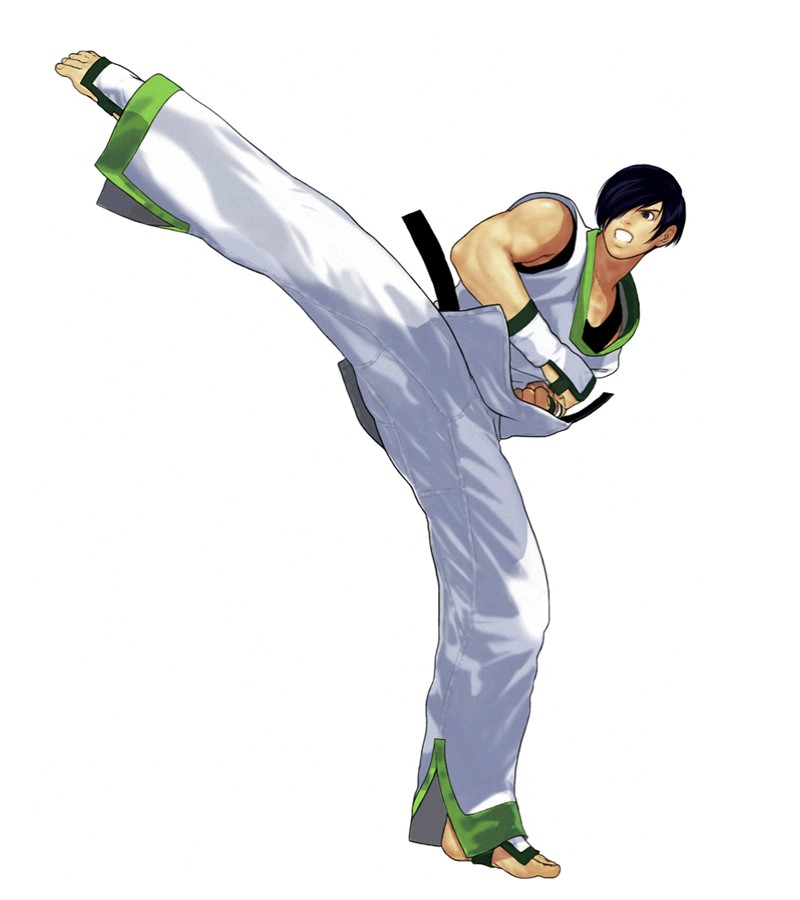 Personality:
Shy, nervous, a bit of a wreck - six years of being downtrodden at a PR firm will do that to a guy. He's a nice - almost too nice, even at times when it would aggression is called for, like in the middle of a fight. He still has trouble attacking people, especially women - it's something he has to work his way up to, hopefully before he gets beaten black and blue.
With a bit of an inferiority complex, he tends to underestimate himself - he's not a perfect fighter by any means, but he's a lot more talented than he gives himself credit for. While it takes a lot to get him to really open up, he's very personable once you get to know him - you can even goad him into telling the occasional joke.
Past/History:
Born the son of a Russian and Japanese diplomat - hence the name, in case you were curious - Dmitri received a lot of flak growing up because of his heritage; many of the kids in his school regarded him as 'impure' or a 'half-breed', and he was constantly bullied. He took Tae Kwon Do classes to mitigate this growing up, and that helped things a bit, but all the martial arts classes in the world couldn't help him when he went to the workforce.
He went to college to be an accountant, but he faced a lot of discrimination when he finally got into the workforce; though he could never prove it, he knew he was being passed over for less qualified individuals. Dmitri graduated top of his class - he was smart, he had the credentials, just not the right blood.
He finally made it to a PR firm and got a job there, but even that wasn't the end - he was passed over for promotion after promotion, piled on with work. He worked that job for five years, and he hated every single second of it.
After being turned down for a promotion for the seventh time, the straw finally broke - he quit. Which, sense he was literally living from paycheck to paycheck, wasn't the best idea.
He needed money, and he needed it fast - with his skills as a martial artist, the AFW sounded like a good idea. At least they wouldn't hold his heritage against him.
Wrestling Attire:
For his first match, he tried wearing his business attire to the ring as part of a weird gimmick. It didn't work out too well, so now he's trying something a bit more sensible and wearing his Tae Kwon Do uniform - most flexible, reasonable attire that accentuates his skills.
Fun Facts:
-Has a bit of a smoking habit, but he's trying to quit. He's on the patch, currently.
-Dmitri is remarkably adept at learning new languages. Russian and Japanese are a given, but he's also fluent in English, Spanish, French, and he's currently trying to get the hang of German.
-A wee bit obsessive compulsive. Few things really piss him off, but the biggest one who have to be moving his stuff and not putting it back. He hates when he goes to look for something and it's not where he knows it should be. Hates it.
-He has two siblings, and he's the middle child. His older brother (Akashi) and his little sister (Usagi) have regular Japanese names because their parents took turns naming them. He happened to be born on his father's turn.
Championships/Accomplishments:
Friends:
Allies:
Rivals:
Enemies: Lady Phantom
Crushes: Tiffany Laurence
???: Alicia Wells
----
1.
Dmitri vs. Lady Phantom
- LOSS
Dmitri debuts against the enigmatic Lady Phantom. Doesn't go well.
2.
Lucy Grange vs. Dmitri
- WIN
More determined now, Dmitri tries his hand agaisnt a member of the famous Knight clan. Does better.
3.
Dmitri vs. Tiffany
- LOSS
Everything's bigger in Texas…
4.
Dmitri vs. Astra Rechelle
- IN PROGRESS
It's showtime!
5.
Come into my parlour
Dmitri meets a nice girl, goes back to her place, sleeps there.
6.
Fool Me Twice
Let's try that again.
Last edited by acuya on Tue Aug 02, 2016 6:50 pm; edited 5 times in total
[align=center:jdjnn5wc]|Dmitri's Timeline|[/align:jdjnn5wc]
[align=center:jdjnn5wc]Record: 1-2-0[/align:jdjnn5wc]

1. [url=http://afwrpg.informe.com/forum/viewtopic.php?f=28&t=9959:jdjnn5wc]Dmitri vs. Lady Phantom[/url:jdjnn5wc] - LOSS
Dmitri's first match doesn't go very well. At all.
2. [url=http://afwrpg.informe.com/forum/viewtopic.php?f=28&t=10061:jdjnn5wc]Dmitri vs. Lucy Grange[/url:jdjnn5wc] - WIN
After Dmitri's first humiliating defeat, he's back, taking things a little more seriously this time.
3. [url=http://afwrpg.informe.com/forum/viewtopic.php?f=28&t=10189:jdjnn5wc]Dmitri vs. Tiffany Laurence[/url:jdjnn5wc] - LOSS
Dmitri goes up against returning veteran, Tiffany Laurence!
4. [url=http://afwrpg.informe.com/forum/backstage-f67/high-kick-rendezvous-for-acuya-t10272.html:jdjnn5wc]High Kick Rendezvous[/url:jdjnn5wc]
Dmitri tries to be a good Samaritan and lands in a bit of trouble.
Last edited by 12547 on Thu May 29, 2014 6:25 pm; edited 10 times in total


Similar topics
---
Permissions in this forum:
You
cannot
reply to topics in this forum