Champions & #1 contenders
Summer Splash interest in Natasha Loclear?
Mon Apr 09, 2018 6:30 pm by daemongirl
Well my girl hasn't missed a summer splash yet, would anyone be interested in a match with her? Open to just about anything match wise, just pm me!
Comments: 1
Been Out with the Flu
Sun Apr 22, 2018 2:47 pm by daemongirl
Just letting those I have threads with know I've been out with the flu since early last week, but I will be back to posting tomorrow.
Comments: 0
The Austrailian Mudslide is Back.
Sat Apr 21, 2018 1:20 am by Softsquad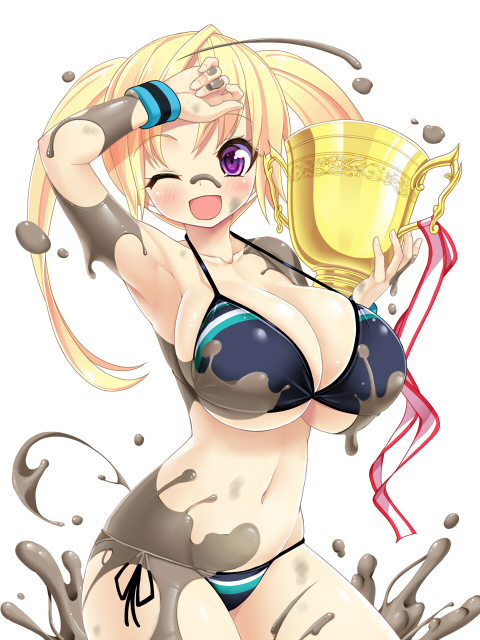 Granted that most of you won't know me or remember me, but I've had a few matches here and there some time ago. Well I think its time to become a regular around here and try to have some fun again, but at the same time keep coming back. Anyway I think its time to jump into some matches with Zoe Taylor, my mud wrestling character from Australia and get her back into the squared circle. Furthermore I will update my characters as I think some proper changes need to happen.
So if anyone would …
[
Full reading
]
Comments: 0
Page 1 of 8 • 1, 2, 3, 4, 5, 6, 7, 8


Hentai P.O.W. match
2 out of 3 falls
Fall earned by pinfall, knockout, submission, orgasm.
Winner will take loser as prisoner for three months.
Mayu was almost jumping on her spot as she waited for her upcoming match. It's time to prove whether she had improved... in the hentai department. The only thing that made her nervous was the ridiculously long time the loser would spend as a prisoner. Three months? What would she do with the other girl for that much of time if she won? She didn't even have any idea how she would spend the night! Even worse, what would happen to her if she
lost
instead? Mayu gulped as she imagined the possibilities before shaking her head. The match hadn't start, she shouldn't even thinking about losing! Slapping her cheeks lightly, the short haired girl would proceed to make her entrance as one of the crews gave her the signal.
"Yosh! I'll win tonight!" she muttered to herself before skipping towards the arena.
Her [url=http://www.youtube.com/watch?v=DKaJ6SagFJo:18ff5a19]theme[/url:18ff5a19] blasted over the speakers as she walked onto the ramp. Wearing a white tank-top, a black pantie covered with a big belt, along a pair of white shoes, she looked confident enough as she's heading towards the ring. The crowds' cheer made her felt a little relief, though her heart was still racing. It had been a while since she had any sexual encounter, so it might take a while until she could get into the match's mood. Mayu wasn't about to let her hinder her, though. She's going to fight as hard as she could tonight.
One she got inside the ring, Mayu would wave around slightly to the crowds before waiting around the center of the ring. She didn't know much about her would be opponent for tonight, apart that the girl had been here for a while. The short haired girl felt that she should have an even chance at the very least. After all, she was pitted against The Dream right on her first match. She had been working hard since then to show Natalia how much she had improved since that day. Today could be the day where she made her mark on the erotic wrestling division.
Last edited by 10553 on Tue Jul 23, 2013 3:40 am; edited 2 times in total
Mayu's opponent for the night, Tira, stood backstage in the locker room as she finished changing into her ring gear for the upcoming match, a few taps upon the door telling her the other woman was making her entrance and that it would be her turn in a couple minutes. When Tira had first heard of the match she had not only triple checked the message but had also gone down to the AFW offices to make sure it was right as the pow match stipulation, which she normally had no issue with, was an unheard of and to her simply ridiculous three damn months. They had assured her it was not a mistake leaving her with either just going through with the match or quitting, and Tira never turned away from a fight.
"One hour or three months, it doesn't matter how long the pow stipulation is because I am never going to lose. Lyanna is going to love having someone new to play with after I take this Mayu girl home with me."
After one last look at the picture of her and her childhood friend, and now tag team partner, Lyanna back when they were in high school Tira slammed her locker door shut, turning around to gaze upon her still quite new wrestling attire in the mirror making sure everything was in place. Her long brown hair was pulled neatly behind her shoulders with not a strand out of place, her large breasts perfectly fitting within the very revealing black top and her matching pants looked almost painted on they were so tight. Smirking Tira she raised her right fist up to double check the straps holding it on were nice and secure before she performed a little practice punch upon the wall to her left, finding it perfect as it didn't loosen at all. The glove on her left hand was much longer and had more padding along its length than over the fist itself, which worked great for her since she used her left arm mostly to block since she was right handed.
Another tap on the door told her it was time to get moving, Tira not looking the least bit worried about the match as she strolled out of the locker room with a wide grin upon her lips. Her [url=http://www.youtube.com/watch?v=LoQYw49saqc:2j99wkji]music[/url:2j99wkji] would replace the song that had been playing before just as Tira stepped through the curtains to greet the crowd, the woman putting on a little show as she began to shadow box while walking down the ramp towards the ring. As she reached the edge of the ring Tira shot an amused but smug look at Mayu before reaching up to grab the ropes, pulling herself and through them before she walked towards the center of the ring to come face to face with her opponent.
She raised her arms up and struck a pose to show off her powerful body, looking like an amazon as she kept her eyes staring into Mayu's own. As she dropped her arms back down and placed her hands upon her hips Tira began to wonder who it was in management that hated this girl, to put Mayu up against her with such a prize on the line seemed kinda cruel. "You know if you want to call off the match I won't blame you, three months is quite a long time to be anyone's prisoner, even mine."
The moment her opponent arrived at the scene, Mayu gulped. The other girl looked sexy and tough at the same time, but she wasn't about to be intimidated by appearance alone. She couldn't help but to look at her would be opponent's breasts for a bit, though. Those voluptuous pair of this Tira girl was more than enough to make Mayu envy her. The short haired girl stared back at the girl's eyes, letting her knew that she's ready for this fight.

"U-uh... I'm not backing out!" Mayu said rather nervously as she made a determined expression. "I'll give it my best... and take you as mine...!" she declared bravely, pointing out a fist at Tira.

Mayu felt an awkward heat riding her back as she did that. She wasn't normally the type to challenge other people like that. However, she was advised to be a bit more aggressive on the ring, as it'd give a stronger impression to her opponents. Being nice to others was good and all, but it didn't seem to help her career.

"In any case, I'm looking forward to have a good match, Tira-san," she smiled kindly at her, lowering her fist. "I'll... uh... I'll make sure to take a good care of you for that three months! Tee-hee~"

Despite her bravado, Mayu was wondering how her somewhat clumsy speech would affect her opponent. She knew she didn't pulled that one pretty well, but hey, that was already an improvement from when she just arrived here. Even the crowds seemed to cheering her for that. Perhaps they're all just found it as amusing to see Mayu acted like that.
Looking over her opponent a bit more Tira felt quite secure in thinking she had the power advantage, Mayu however might have speed or flexibility over her though judging from her slender body type. During her quick inspection of her opponent Tira didn't fail to notice exactly where Mayu focused much of her time staring at, Tira smiling down at her opponent and even going so far as to puff out her chest a bit more to give the woman a closer look.

"Well if thats your decision I respect it, I don't back down from fights either no matter the stakes surrounding them." Tira said while staring down at the outstretched fist of her opponent, her eyes glancing back up to lock with Mayu's gaze as if asking if she was sure she wanted to do that. "You know you would seem more threatening if your voice and body didn't tremble when you made grand declarations like that Mayu, maybe we'll work on that during your three month stay as my prisoner."

Tira wasn't typically the helpful sort and wasn't one to talk much before or during a match except to taunt her opponents, Lyanna was the one who liked to give people advice or compliments even in the middle of submission moves, but there was something about Mayu that made Tira want to help her, if just a little. It might have had something to do with the confidence she was trying to fake even in front of someone like Tira who was quite a bit larger and clearly stronger than Mayu was, it reminded her of Lyanna back when they had first met as kids.

"I wouldn't worry about this being a good match, anything with three months as a prisoner on the line is sure to drive the fighters to give their all, and I expect no less from you Mayu." Tira would say with a smirk before taking a couple steps back and stretching her arms high above her head, rolling her neck around to loosen it up a bit before she settled back into a fighting pose with her fists up in front of her face.
Mayu clicked her tongue as she heard what Tira said to her declaration. She couldn't help but to blush slightly. She blew that up, but never mind that. Tira would soon learn that Mayu wasn't as weak as she looked. When the girl backed away from her and started doing some stretch ups, she lowered herself down to assume her grappling stance. The short haired girl adjusted her breath so she wouldn't be too tense. The last thing she wanted would be to screw up because she's being too nervous about the whole stipulation.

Focus, focus, Mayu told herself as she waited for the bell.

Soon enough the match would start as the staff rang the bell. Mayu inhaled deeply before she charged head on towards Tira. Her opponent looked like a tough type, but was she quick on her feet as well? That was what she's trying to figure out. Mayu would attempt to dive down to grab Tira's right leg, so she could slip her left behind the girl's other leg and trip her down.

"Hyaahh!"
Last edited by 10553 on Wed Jun 05, 2013 6:39 am; edited 1 time in total
From the look of the stance Mayu dropped back into the girl was a striker much like her, though considering her body looked to lack power she was betting she was mostly a kicker and not much of a puncher, though she would be keeping an eye out for everything in the early moments of the match until she figured out more of her style. The suspense was quite thick as the two women stared each other down waiting for the match to begin, Tira feeling her heart beginning to pound with excitement while her smile grew even wider.

"Don't blink Mayu!" She called out to the girl just as the bell rang out through the arena signaling the match had officially begun, both wmen moving forward immediately though Mayu did indeed look to be the faster as she closed the gap quickly. Tira was used to fighting someone not only as fast as Mayu but even faster though, her tag partner Lyanna often sparring with her to prepare for their matches, and knew what to look out for.

"There it is!" Tira thought to herself as she saw Mayu drop to the ground reaching to take hold of one of her legs, Tira expecting either a trip or some sort of submission hold to follow so she sought to disrupt whatever move Mayu had planned. She clasped her hands together into a hammer fist before dropping down onto one knee, looking to bring her hands crashing down upon Mayu's spine up near her neck.
Mayu wasn't blinking at all as she ran towards her opponent, and once she caught Tira's leg she felt like she could land the first blow to the girl. To her surprise, however, the other girl dropped down to one knee and hammered her fists onto her spine. Mayu managed to move her head aside at the last second, causing Tira's strike to hit her shoulder instead.

"Ah!" the short haired girl cried and stumbled to her right side.

The hit was quite stunning, enough to make the short haired girl release her opponent's leg. Tira seemed to be just as strong as she expected, but Mayu wasn't about to be dazed with a single hit so early in the match. Holding to her hurt shoulder, she would shift around, and swing her nearest leg towards Tira's own, attempting to bring her down once more.
Most matches started out slow with the fighters testing each other or simply circling about while taunting one another, but Tira was pleased to see this match wasn't going to start with any of that nonsense as Mayu rushed her as soon as the bell rang out, bringing a smile to Tira's lips as the action got right underway. Mayu proved that her suspicions had been correct as she displayed solid speed, the woman defiantly faster than she was but that wasn't going to throw Tira off her game. With a quick dive Mayu got a hold on her leg but she was made to pay for that a moment later as Tira delivered a hammer fist down against the woman's shoulder.

The blow threw the girl off balance, Mayu stumbling over onto her side while releasing Tira's leg so she could clutch her injured shoulder instead. "You're fast but my tag partner is faster, you're not gonna take me by surprise like that Mayu." Tira said in a voice much like that of a teacher who was disappointed with their student, raising her fists back up for a second strike while she stared down at the fallen woman. Suddenly the girl spun about and lashed out with a kick which struck Tira in the only leg supporting her weight, sending her falling over onto her side beside Mayu, a stunned look on her face.
Mayu had a half grin half grimace as she managed to bring down Tira. She might be a bit surprised that the girl could deal with her quick strike, but in the end she still got the job done. Not without a price, though, as her shoulder was aching now, but Mayu felt like it shouldn't be too much of a problem in this early stage of the match. She had way worse than this before.

"How about that?" she asked in a rather mocking tone in reply.

The short haired girl got up to her knees and reached for her downed opponent's nearest leg. Mayu wanted to wrap her arms and legs around it so that she could apply a kneebar to Tira. The lesson she learned during her first hentai match was to wear down her opponent as much as she could first before she started pleasuring them. Aiming for the leg should be good enough. No matter how strong Tira was, she would definitely struggle to keep up with Mayu if one of her legs was injured.
Tira hadn't been expecting a whole lot of fight out of Mayu and it seemed she had been wrong in doing so as the girl not only pushed through the pain from her hammer fist, but also did so quick enough to take advantage of her bad footing with a kick that had sent Tira falling onto her side as well. "What was that?" Tira said in quick reply, she had just been beginning to like this girl when Mayu had found the nerve to mock her, and even though the girl was only responding to something Tira had just said she found herself with a sudden desire to put Mayu in her place all the same.

"One move and you're a tough girl I see." Tira said with clear sarcasm in her voice, only the pain in her leg as Mayu locked in a knee bar keeping the woman from saying anything further. Grinding her teeth together to deal with the pain Tira glared into the eyes of Mayu as she dug her fists into the mat instead of using them to try and pry Mayu off of her leg. If Mayu was confused by this she soon wouldn't be as Tira would pull back on her captured leg as hard as she could, before quickly lashing out with her free leg aiming to drive the bottom of her boot into Mayu's forehead, repeatedly if thats what it took to get her off of her leg.
Page 1 of 8 • 1, 2, 3, 4, 5, 6, 7, 8



Similar topics
---
Permissions in this forum:
You
cannot
reply to topics in this forum