Who is online?
In total there are
60
users online :: 11 Registered, 0 Hidden and 49 Guests :: 2 Bots
acuya
,
Daaharu
,
Kelsea
,
killcarrion
,
KillerV
,
Mystery Dragon
,
Old_Man_Tai
,
OmegaVan0
,
Person
,
RadiantKarna332
,
SimplyMoon
Most users ever online was
390
on Tue Jan 02, 2018 2:02 pm
Champions & #1 contenders
Kawaii Opportunities
Sun Jun 17, 2018 3:04 pm by Daaharu
Hey, guys!
With the kawaii title match at Avalanche taking on an interesting wrinkle with the interruption by the Brat Pack, we are moving forward with the overall kawaii storyline, and at this point I'd just like to take stock of what kawaiis are out there that are interested in participating in a cohesive storyline.
Can't make any promises about titles or what exactly each girl's given role would be. We can talk a little more about the specifics of where the story is going soon, but I …
[
Full reading
]
Comments: 1
Match or RP?
Wed Jun 13, 2018 3:48 pm by Lotuswarrior
I'm just looking to do something while I wait for match replies. Really want to get some characters cemented a bit with a rival or some interactions with other characters here.
If anyone wants to do something hit me up.
Comments: 0
Match for Takeichi
Tue Jun 12, 2018 6:13 am by GrandAkumaShogun
So with my other two guys having their own matches I figure I should do something with my first character on here, Takeichi Mori. If anyone is interested feel free to post here or get in touch through a pm so we can plan it out. I can either have Takeichi remain a jobber or begin to work him towards being a more serious competitor.
Comments: 0
Page 1 of 3 • 1, 2, 3


Match Type: NHB Match- No Holds Barred Match
Rules:
Both opponents are free to use any tactics they please (Dirty or Clean) In order to win the match.
The winner shall be decided by Standard Match Rules: Pin, KO, Submission.
Opponents are free to take the fight outside of the ring.
Fall count anywhere.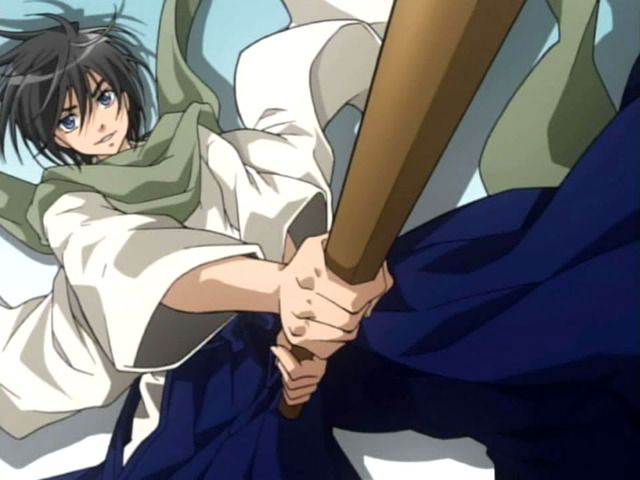 [size=150:1hjdgbhu]VS
Kyo, dressed in his normal wrestling attire that included a loose, white, fitting martial arts top and navy blue pants, sandals, and a extremely long green scarf, yawned a bit as he rested against the turnbuckle of his corner. He had finished off his entrance and was currently waiting for his opponent to be unveiled. He looked around the ring to see a medium-sized crowd. It seemed about normal for him on an afternoon in the middle of the week, although the body count was a bit higher than expected. Kyo started to wonder why. They certainly couldn't be their for him. Still being a newbie...he had a long time until he made it to an popularity among the crowd. They must of been here for the other newcomer that he was facing. Unlike his previous matches, he would usually run into his opponent before the match. But he had heard of the rumors surrounding this girl....Iroha. Since she had been joined the Fed, she hadn't been seen by too many people, so there was much speculation around her looks, anything from being a skinny and small girl, to anywhere from a scary hulking muscular woman. Kyo didn't believed them because knowing his luck...would probably score a extremely beautiful girl. Another difference in this match was that he was feeling nervous like would in earlier matches, the nervousness stemming from his extremely sexy opponents. He had actual slept and woke up about 20 minutes before his match so he was still a bit groggy. However, he was in for a very very loud wake up call as his opponents music finally started to play.
As Iroha's music plays she steps into the arena wearing her custom made sexy maid outfit and walking elegantly and gracefully as she does with her hands in front of her waist As the crowd all goes "whoa..." and comes to a stop on the stage and then sits down on her knees with her hands on her lap and bows to crowd. Iroha stands back up after bowing and continues walking towards the ring elegantly with grace as her unsupported breasts bounce up and down with each movement until she reaches the ring. The sexy maid lowers her upper body once she reaches the ring, giving the crowd behind her a good view of Iroha's ass as she slips under the middle rope and over the bottom rope. Iroha walks to the center of the ring and sits back down on her knees and bows to the crowd again in front of her and rotates herself to bow again until she bows to all 4 sides of the arena. Iroha then faces the camera ands speaks to it. "I'll do my best in this match. So watch me perform, my Master." She says as she bows once again to the camera to her master and then stands back up and heads to her corner and faces her opponent who looks like an armorless samurai.
Kyo's eyes slowly widened as he watched the entrance of his opponent. "Ahh.....
" title="zomg" /> " Kyo was completely speechless. The rumors he had heard...had nothing on what was slowly coming closer and closer to him; the real thing. He opened his mouth wide, to the point where it felt like it fallen off his face as the cheers of the crowd escalated into a blazing fury of Hoots and Hollars. It seemed that, just because of that...her appearance...she was going to be automatically a crowd favorite. The cheers even went higher as she bowed before them. Kyo thought this as odd, but he was too stunned to think much more about it. Iroha didn't even seem to noticed him as she initially entered the ring. Her attention was focused on the cameras as she started to talk about...her Master. However as turned away from him, her backside facing him, and bowed towards the crowd, Kyo felt his nose almost burst open as he got an extremely up close view of her ass. As he watched her underwear sink up into those perfect cheeks, he had to turn away, otherwise he felt he would of passed out from her potent and sexy aura. "Ooogh....Jeezz..." When she finally was done with her..."strange ritual", it seemed he finally noticed him as Iroha looked straight at him. Staring at her for a moment, a grave look came over his face. "Hmmmm...." He hummed a bit...his eyebrows looking serious but also conflicted. Now with the euphoria worn off for the short time, he realized that this was his opponent. He narrowed his eyes in abit of annoyance. Why did he get always get the extremely pretty girls to fight!? With the crowd cheers dying down, the stared at the two fighters and blink...there was an odd silence. To them, the pair seemed to match and cast a strange atmosphere over the arena...but then again it might of been because they were both wearing extremely flowing outfits. It didn't seem like a normal wrestling match."Ahh....Hey there...I guess your my opponent?" Kyo finally asked her..even though he already knew so.
Last edited by 10463 on Mon May 20, 2013 12:33 am; edited 1 time in total
As Iroha is looking at her opponent from her corner who is looking at her in a strange way with blush on his face the maid tilts her head and raises an eyebrow wondering what he is worked up about, oblivious about the fact that her perfect body and sexiness is the cause of it until he speaks saying something obvious. "Yes, I am your opponent, and you are my second opponent." The maid says as she walks to the center of the ring again and bows to Kyo politely. "Let us have a good match together, Kyo-sama."
Kyo, again was taken back by her strange behaviors of conduct. Even though his opponent , she acted quite formal and respectful; almost Maid like for lack of a better term. Well she did play the part after all pretty well. It was a frist for Kyo, facing such a "noble" acting opponent since his enteranc3 into AFW. What more was that, by now, his female opponents would be out for his head due to some misunderstanding he fell under, such as accidentally pushing his head into their breasts when he bowed to them. Of-course, he made sure that he had enough between the two of them. Well...so far so good...although it was all subject to change. "Ah..." Kyo was a bit shocked by the formality of Iroha as she even bowed to him and went as far as calling adding "sama" at the end of his name. Sure brought back old memories of him at his father's dojo.

Kyos demeanor suddenly changed as he grinned at her, the odd curiosities she had given him had riled him up. "Hmmm...yes...let us Iroha..don't hold anything back..." he replied to her with his own bow before taking a few steps to center ring and instinctively assumed a fighting pose. The crowed looked onward for a moment at the two...this certainly was not going to be a typically wrestling match for them...it seemed like it was developing into an old fashion martial arts fight. Of-course most of those in attendance wanted to see Kyo dominate and most likely screw Irohas sexy body after she lost infront of them...but they were all a bit jaded by whenever they saw a match with Killer King in it. Kyo wasn't that type of fighter...

As the bell rung, a smirk of Kyos face slowly faded and was replace with one dire seriousness. He could already tell that Iroha must of had more experience in martial arts and less than in wrestling. Maybe this would be a match where he could fight like he use to...as he watched her...letting her try to take the first hit on him...
Last edited by 10463 on Mon May 20, 2013 12:36 am; edited 1 time in total
Iroha nodded in response to Kyo saying to not hold anything back. The maid looked around the arena to see the mad cheering for her and Kyo from the crowd, although Iroha gets the feeling they are cheering for a different reason but regardless of it Iroha has a match to fight and when she got a look at Kyo's fighter stance she recognized it as a martial arts stance and then Iroha got into her own martial arts stance while standing on one leg as the bell rings, starting the match and Iroha lightly hops on her one leg out of her corner towards the center of the ring and starts to circle Kyo and then she dashes to his side as she throws a palm strike to Kyo's abdomen and then follows it with a spin kick to the back of his head.
Kyo watched Iroha as she assumed...a crane like stance. His eyes sightly widened, caught off guard. "ah..." He was suddenly interested in what sort of martial arts she was taught in. However, it would prove to be a mistake as she suddenly moved at graceful but uncalled-for speed around an unready Kyo. "Huh?!" Kyo narrowed his eyes and was just barely able to turn his head towards her as she came dashing right at him. "Grguhhh" Kyo twitched as the palm strike to his abdomen made its mark. Quite a bit of power...as it pushed Kyo slightly. However, the hit was enough to snap Kyo back into serious mode. He was ready for her next attack. He stared straight at her just as she was about to turn into her spin kick. Although he got a nice view of her underskirt and black thong, it was enough to distract him...yet..." "Hrgghhh....!!!" Kyo suddenly bent his down, letting Iroha's kick sweep right over his head. Feeling the wind it created, Kyo would try to follow up with a counter. He leaned forward and placed his hand on the ground, twisting his own body into a spin. Usually he would aim this attack to his opponents face...but Iroha was no street thug...far from it....so he aimed from the best spot that would do a good amount of damage if the attack made its mark. Twisting his leg around him, he proceeding do a spin kick of his own, hoping to land the attack right into Iroha's upper abs. The attack wouldn't be as strong since he wasn't wearing steel toed boots like in his street fights...but the heel of his foot should do enough damage. If successful, the kick should be powerful enough to kick her back a few steps...or if he was lucky, knock her off her feet. His foot would then follow through, skidding around until it stopped at the 360 degree mark of his spin.
Last edited by 10463 on Mon May 20, 2013 12:43 am; edited 2 times in total
Iroha had taken the first strike with her palm strike to his abdomen, but her spin kick aimed at the back of his head failed and she noticed that Kyo looked like he was distracted twice. The first she knew that he was interested in her highly trained crane style martial arts but the second time she was oblivious to and it left her wondering but not enough to make the maid lose her focus, although it WAS obvious that her sexiness was the cause but she didn't know this.

Almost right after her spin kick missed Kyo would start to attack back with a spin kick of his own. Iroha moves a bit forward and then turns to face the kick and catches it with both of her arms, but the force was still enough to push her back and hurt her slightly. "Is that all Kyo-sama?" The maid asked as she then falls down and spins to bring Kyo down. Once she does this and if she is able to Iroha with her grip still on Kyo's leg will grab the other leg and then position them and puts him into a painful 4 Figure Leglock submission hold.
Kyo glanced up at Iroha as his kick start to fall on her, but he was slightly shocked that she was quick enough to react to it...even more so that she was able to catch it!! He felt his attack halted by both her arms, the only thing that kept him from falling was his arm still anchored to the ground. "Grrrhh...Hrrr...Huh?" His eyes narrowed in shock. This was not the best position to be in. Being so unbalanced and more or less in her grasp, There wasn't much he could do....Unless! He thought about using his other foot to kick out of this awkward positioning, however, the thought came way to late as Iroha seem to have other plans for him. "W-w-whoa!!..GRRRrrrrrr"" Kyo would yell as he could feel the support of his arm be twisted out from under him by her as they both landed on the floor, the fall dazing him only for a second. but a second was all Iroha needed. Not good not good not good...was the thought that went through his mind until. "Grrrrrr...!!" Kyo yelped out a twinge of pain as she was able to lock him in a pretty well executed Figure-Four Leg Lock. Although he had the pleasure of his one leg grinding up against her two soft, thick and otherwise uncovered thighs, the pain she was inflicted upon his own legs was quite precise. Feeling the muscles in his elongated leg pull as she did the motion and the strain building up in the knee of his bent leg, this was not the move he wanted to be in so early in the match. He did need his legs after all. Kyo needed to get out of this one fast. He propped himself up and looked down at her with a painful grin. He he had underestimated her wrestling skill. "Hmph....nicely done Iroha...I underestimated you a bit...But...!" He stopped in mid-sentence as he grabbed ahold of the mat and forcefully twisted his upper body around. "Grrrr hrrrgggg!! Your gonna have to wear me down a bit more in order for this move to really have an effect on me!!" The sudden twist of his upper body was forced by him tensing all his muscles in that area. He knew he have enough strength to flip her over her stomach...hopefully it would work that way so that he could set her for his own hold.
Last edited by 10463 on Mon May 20, 2013 12:40 am; edited 2 times in total
Iroha was torturing Kyo very well with the Figure 4 Leglock submission, she pulls and tugs back every now and then to cause more pain to his legs. Taking out or weakening an opponent's legs is a key to winning a match early and quickly since they need the legs to move and kick, she was able to keep a good pace until she started to hear Kyo talking to the maid about needing to wear him down more before using this submission on him again as he forcefully rolls the two of them over onto their stomachs and Iroha was somewhat impressed. The maid knew that using this tactic can reverse the submission and harm the performer instead but she knows a trick to double counter this maneuver. The maid will push her hands against the mat to push herself up and stretch her flexible into an upside down U as she reaches back and over Kyo's body. "Not bad, but you need to do more then that." Iroha then wraps her arm around Kyo's neck and pulls forward on it to add back stretching pain and neck pain to the man along with the leg pain.
Page 1 of 3 • 1, 2, 3



Similar topics
---
Permissions in this forum:
You
cannot
reply to topics in this forum