Who is online?
In total there are
36
users online :: 9 Registered, 1 Hidden and 26 Guests :: 2 Bots
dlamp
,
Kamoi
,
Kelsea
,
killcarrion
,
LunarWolf
,
Miss_Blackbelt88
,
RadiantKarna332
,
Teenwrestler
,
Vcom7418
Most users ever online was
155
on Sun Oct 09, 2016 8:33 am
Champions & #1 contenders
Looking for matches
Mon Oct 16, 2017 11:31 pm by kiranar
I am looking for matches for most of my characters or rps they are all links listed. I am also looking for an opponent for Celeste see Carpathian impaler for profile and Emerald Moons for an opponent or opponents for avalanche ppv event. I prefer atm non hentai matches, but I may make exceptions for some characters depending on the idea.
Comments: 0
Leaving AFW
Sun Oct 15, 2017 2:20 am by Winner3
Several months back, I had quietly left without saying a formal goodbye and I wanted to take the time to do that now. I apologize to those I have left hanging on threads. And more importantly, I apologize for disappearing without having said much of anything.
As far as excuses go, nothing majorly traumatic or life-changing went on. Rather, several members have been pretty hostile to me during my time at afw. In my time here, I've been lied to, ignored, berated, talked down to, called names, …
[
Full reading
]
Comments: 9
Italian, 25, Athletic, Seeking Partner
Fri Oct 13, 2017 1:33 pm by scorn53
No. Sadly not
that
sort of partner.
She already has one. Or two.
Testing the waters to see if I can find any interest of my rarely used main
Diana Accera.
Sparring partner, training partner, tag team partner. Any and all.
PM Me folks. Peace out~
Comments: 0
Page 1 of 3 • 1, 2, 3

Heather was driving through the streets at night after a day at the AFW complex with quite the resolution on her mind. After speaking with Karina a few days ago, something caught her ear with what she was describing to her. She claimed that her mother had taught her everything that she knew about wrestling. This surprised Heather a bit, but figured that it was some sort of family tradition or something for Karina. It was this revelation that made it so she had to go see Karina's mom right away.
"Im sure this will help.." Heather said to herself, looking to find exactly the right methods to beat Karina. If she could learn from the one who taught her, she was sure that she had would be able to come up with the perfect plan against her. She just hoped in the end that Karina's mother would be cooperative with her at least.
As she finally arrived at the address that was written down, Heather would take a deep breath and exit her car. She stretched out her arms a little bit as she would nod her head, walking up to the front door. From there, she would ring the bell (Or knock if there isn't one), preparing herself for what was to possibly come.
She was dreaming so nicely until the bell sddenly went off, making her twitch on the couch she was laying on. She slowly sat up on the bed and rubbed her eyes gently before fetching her glasses to place them back where they belong though still looked rather sleepy. She began to think who was at the door as she rose up onto her feet and made a slow pace towards it, not really caring that her fuzzy blouse was only halfway over her shoulders. She wasn't expecting any visitors today, nor a package, so she was left with the idea that it might be a stranger, or just distant relatives.
She didn't take the time to look presentable, grabbing the keys from the counter and used it to unlock the door, letting out a quick yawn to get it over with before opening the door, glaring sleepily at the person in front of her whom she had never met before...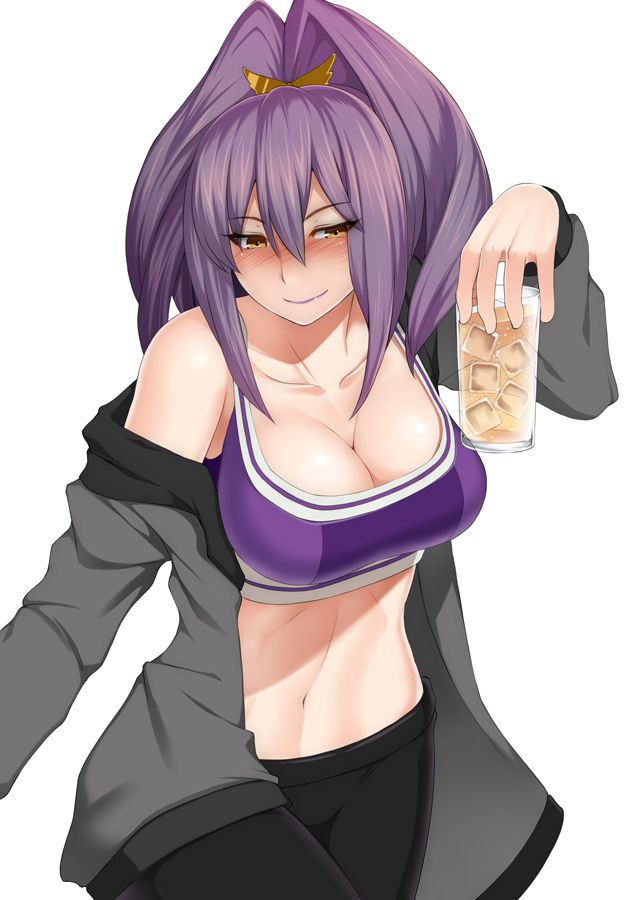 " Ha..? "
Last edited by 131 on Tue Feb 12, 2013 3:05 pm; edited 1 time in total
As Heather waited in anticipation in front of the door, she would hear some stirring around from inside the building. She would nod her head again, preparing for what would greet her. She was expecting someone to answer the door with clear characteristics as a wrestler. Someone imposing and intimidating, causing Heather to clench her fists in preparation for who would step out, ready to greet maybe a famous, well-known wrestler or something. Her excitement and nervousness was building up until the door finally started to open.

"Ah..." When Heather saw the girl who answered the door, she was stunned for a few seconds. The girl seemed quite drowsy and messy, her huge bust sticking out, unavoidably catching Heather's eye for a second before she would shake her head. It definitely wasn't what she was expecting when it came down to it.

"Um...are you..Karina's mother?" She let out, blushing just slightly from the appearance of the girl.
After that question, she began to blink. This girl apparently knew her daughter Karina. " Mm.. Yes.. My name is Kahlana. " She would rest against against the side of the doorframe, crossing her arms underneath her oversized chest to make them stand out more, her eyes now wondered on Heather's body before they went back to her face. " What can I do for you? " Instead of just wondering what the girl was doing here, she would simply ask it in a blunt manner, still trying to wake up from her disturbed slumber.
Heather nodded her head as Kahlana replied to her. She was still getting over her appearance, but it was something that Heather had to deal with. She knew that Karina wouldn't lie about what she said, and so far Karina's family has proven to be quite tough to her, so Heather would keep on with the reason that she came here. "Um...well..your daughter told me that you..taught her everything she knew about wrestling..and uh..Im..sort of..trying to figure out how she works...like...figure out how to beat her...I-I know she's your daughter and all but..I was wondering if you might be able to help me s-somehow."

Heather realized how crazy it was to ask Karina's mother to help her beat Karina, but she came this far, she wasn't going to turn back now. She would turn her head in slight embarrassment, hoping that Kahlana would take it right.
" Oh..? " She would let out first, her attention finally grabbed by Heather when she heard that Heather knew about Kahlana having trained Karina in the art of wrestling, pushing off from the door fram to stand straight once more. " You want to know how to beat my beloved daughter, hmm? " She asked with a rather casual tone, it would be weird for a mother to tell a stranger how to beat up their own daughter but Karina wasn't the avarage daughter to begin with so..

" You don't look like the type of girl that would be able to go directly at her without a backup plan... " She would take a few steps back. " Come in and give me a reason why to give you advice on how to beat my daughter. "
Heather would nod her head at Kahlana's casual sounding question. She was sure from t hat that it was a lost cause, that the mother wouldn't be giving her the tips that she needed. She should have figured as much. She was about to apologize the the girl before she would hear her continue on, saying what she did. "Kh.." Heather would clench her teeth a bit and clench her fists on her sleeves at the girl's words. She hated how many people said something like that about her and was a little sick of it. Just from that she wanted to just turn around and go and challenge Karina with the abilities that she had now, prove that she could beat the girl, but she decided against it, figuring that as much knowledge as she could get wouldn't hurt.

"R..right.." Heather let out, entering the house, taking a few steps in past Kahlana before turning to her. "I just..want to prove to her that I can beat her..prove to everyone that I'm not some weakling. I mean..I feel like I don't have her full respect until I do beat her. She seems so confident that she's better than me, I just want to prove her wrong..It's..a bit selfish but that's how it is.
After Heather got inside the house, she would close the door behind them and lead Heather into the living room, allowing the girl to take a seat on the couch Kahlana was sleeping on a few minutes ago. She headed to the kitchen, grabbing glasses with one hand and a bottle of soda with the other, making her way back to Heather, all the while listening to her while she placed the two glasses on the table in front of the couch and poured each full of soda. She took a seat besides Heather and rested back against the couch, letting out another yawn, which seemed a bit offensive since Heather was still taking.

" So, to make this all clear. You want to beat Karina, just to gain her full respect? Well, you are right about one thing.. She is very confident in anything she does because that is the kind of attitude you need to come out victorious. " She would once again cross her arms underneath her chest. " And you want me to teach you how to beat her? Hmm, well then.. I have nothing to do, so I don't see why not. " She would take her glass of soda and took a quick, long sip from it. " But, I hope you realize that this will not be easy. "
As Heather sat on the couch, saying what she did, she would watch Kahlana get a few things ready it seemed, pouring her that glass of soda as well as one for herself. As she let out that yawn though, Heather would click her tongue a bit at the end of what she was saying, thinking the girl wasn't really paying attention to her words. She would shut her eyes, taking the glass and taking a little sip before the girl would say what she did to her.

"S...Seriously?" Heather let out, a bit in surprise at Kahlana's words, her eyes lighting up as it seemed that she agreed to help her out. Heather nodded her head at her next words, putting the glass down. "I know it won't be and I'm fine with that. Whatever it takes really. I'm just glad you've agreed to help. I'll make sure it's worth your time.
" Karina is my prodigy in many ways, especially with that attitude of hers that I used to have. Giving her an opponent that has the ability to defeat her, would truly make her happy. " She placed the glass back upon the table and turned to look at Heather. " So tell me.. What are your strengths and what are your weaknesses? We will begin by exploiting your strengths and removing any weaknesses because if you want to face Karina, you will need to do that without hesitation. " She would finish the rest of the soda she still had in her glass before her full attention was brought back towards Heather, once again examining her body. " Any chance to strike you, she will take head on. "
Page 1 of 3 • 1, 2, 3


Similar topics
---
Permissions in this forum:
You
cannot
reply to topics in this forum