Champions & #1 contenders
Seeking: Friction Spar Match
Mon Nov 20, 2017 8:40 am by Yori
Looking for a spar for
Alexa.
Howdy, I'm new to the forums and figured I should get my, and my characters toes wet with some good old fashion sparring. It can be a one off, or blossom into something else down the road for a friend/rival relationship. Alexa as a character is a fresh face, and an unrefined talent. I don't mind having someone at her skill level to have an event match, or someone superior to her to have a more one sided bout. I'm looking to use this regardless as a way to build …
[
Full reading
]
Comments: 1
Gonna be slow the next week or so... just had surgery IRL
Wed Nov 15, 2017 4:33 am by SleeperAgent94
Hey guys, got back from surgery today. Ruptured abdominal wall. In a LOT of pain right now, so posts will be VERY brief the next few days.
Comments: 6
Character updates.
Wed Nov 15, 2017 6:14 pm by Lotuswarrior
Since I'm starting to get a bit busier here, I'm trying to be a bit more professional. With that I'm going to overhaul my characters and update their profiles or release them all together. I'll post any images here of the characters I release, so that you guys/girls can claim them if you want.
Also looking for some characters to interact with outside of matches.
Comments: 0
Name: Rinko Muscle
Nickname: Muscle Woman
Age: 18
Eyes: Violet
Hair: Purple-ish
Height: 5'8
Weight: 175 lbs
Nationality: Japanese
Entrance music
Kinnikuman Go Fight!
http://www.youtube.com/watch?v=Y5HAR1xvnQo&feature=related
Wrestler Type
No specific type
Favored moves
Back Drop- Need I describe this?
Flying Kick- It's pretty much as it sounds, a flying kick to the opponent's face
Boston Crab- Rinko sits on the opponent and pulls on the opponent's legs holding the ankles under her armpits.
Front Suplex- I need to describe this?
Dragon Suplex- Rinko applies a full nelson and then bridges her back, lifting the opponent over her and onto the opponent's shoulders down on the mat.
Atomic Drop- Rinko lifts up the opponent and rams the opponent's bottom into her knee.
Figure-4 Leg Lock- Rinko wraps her legs around the opponent while the opponent is down and closes her legs around the opponent's neck.
Cobra Twist- When beside an opponent, Rinko straddles and opponent's legs then reaches over the opponent's arm with the arm near the opponent's back and locks it pulling the opponent inward applying pressure to the abdomen.
Enzuigiri- A term used to describe any strike to the back of the head
No. 1- A punch strong enough to send an opponent into the post, though it takes a lot of energy out of the arm to use it.
Flying punch- Rinko leaps off the ropes delivering a punch to the opponent upon descent.
Muscle Curtain- Rinko holds up her arms like a curtain to cusion the blows she takes in.
Finishing Move
Fuu Rin Ka Zan- Rinko puts the opponent in a double underhook hold, spins the opponent around with her body, throws the opponent from arm to arm and slams the opponent into the canvas. If she has enough energy, she continues the move by grabbing the opponent's arm and leaping into the air, flipping over and setting the opponent up for a piledriver.
Muscle Buster- A slightly more escapable version of Asuna's Ashura Buster, she holds the opponent upside down, neck against her shoulder, and locks their thighs in a split formation. Then Rinko leaps into the air to apply additional pressure to the opponent's body.
Muscle Driver- When the opponent is airborn, Rinko sets the opponent up for a piledriver, only she places her hands firmly against the opponent's ankles and her feet against the opponent's arms adding to the damage dealt by the move.
Match Preferences
No specific preferences as she has little to no knowledge of the sport.
Physical Appearance
Personality
Rinko... how do I describe her? She's kind of... childish... yeah...
She often complains when things don't go her way, pouts when someone gets more attention than her and will usually only fight when motivated with food or some other kind of reward.
However, underneath this childish appearance is a kind and noble heart and when times are at their worst, her courage will surpass that of most of the world's greatest warriors. She often fights better when she notices something dishonorable or shameful about an opponent. Her honor and friendship shown during tough times can sometimes be, dare I say, inspirational.
Background
Rinko was born the daughter of a great king, but one day, a weasel snuck into Rinko's room while she was asleep and her father rushed in. Her father's an idiot, so he couldn't tell the difference between the two and threw Rinko out into the cold where she was found by an old man and taken in to be his discible when she grew older.
He always tried to train her to fight, but Rinko was too lazy and would rather sit around reading manga and watching TV than train. However, the old man one day died from liver failure and his grandson, a young boy named Alex, taught Rinko some of the techniques his grandfather taught him.
She decided to become a wrestler in memory of the old man, but when she lost her very first match in a matter of seconds (10 to be exact), she admitted to needing help. So she seeked the wisdom of the very woman who defeated her and this woman taught Rinko a series of more advanced techniques and how to counter out of holds. Rinko joined friction against her will. Alex and her instructor forced her to join for the sake of gaining experience. And thus begins a series of events... not sure whether to call them unfortunate or not.
Attire
A short tubetop and a Speedo
Note: I really hope I didn't overdo it with this one
Record:
Asuna (Interrupted her match with Carol)- O (Muscle Buster)
Carol- O (Dragon Suplex--->Pinfall)
Asuna and Kima (With Carol's help)- O (Muscle Docking)
Avryl- O (Muscle Driver)
Devil Carol- X (End of Show)
Devil Carol (Rematch)- O (Incomplete Muscle Spark)
Mary- T (No Contest)
Carol- T (No contest)
_________________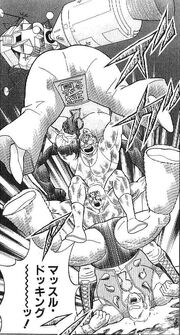 MUSCLE DOCKING!!!!!



Posts

: 1489


Join date

: 2009-02-10




Similar topics
---
Permissions in this forum:
You
cannot
reply to topics in this forum