Champions & #1 contenders
Serious apologies to everyone....
Mon Mar 19, 2018 1:59 am by Cy_Man
To those who I RP with, I just want to say that I am terribly sorry for all my delays that I constantly do. I just have been SO unbelievably busy as of late that I hardly have any free time to be able to attempt to make posts to our threads. I really needed to get his off my chest badly, and it makes me feel like a complete piece of shit for doing this all the time. If you don't want to RP with me, I completely understand, there should be no reason or excuse for me to have to keep you waiting …
[
Full reading
]
Comments: 2
Explanations and Apologies
Sun Mar 18, 2018 10:02 pm by acuya
Okay, so.
As some of you may have noticed, the Entropy Title Match from last year's Summer Splash has come to an abrupt conclusion.
The reason for this is because my match with Lies was taking too long, and with the next Summer Splash coming up, the Entropy Belt needed to be put in play for this year.
I won't get into the specifics of WHY that happened, suffice to say it ultimately comes down to my fault, I think. For those who haven't been here long, back in the day, I had a problem with …
[
Full reading
]
Comments: 1
A match for Takeichi
Mon Mar 12, 2018 7:31 am by GrandAkumaShogun
Since both Imai and Takeshi are currently involved in matches I was wondering if anyone is interested in taking on my first wrestler I made for here, Takeichi Mori. His profile says he's a jobber but I intend to change that and hoping a match can help with that. Anyone interested please get in touch with me on here in a pm.
Comments: 1

Name: Veronica Maria.
Wrestling name: "The Nevada Nightfall".
Gender: Female.
Age: 21.
Eyes: Light brown.
Hair: Shoulder length black hair, sometimes tie's it up in a short bob.
Height: 6'0".
Weight: 141 lbs.
Nation: United States of America, northeast of Las Vegas, Nevada. Now living in Japan, living in a apartment a few miles down the road of the airport.
Alignment: Face.
Occupation: Pilot, College student, AFW Friction wrestler.
Entry theme: ACDC-Back in Black.
"Take em down, take em out, ask questions later. And if you fall down, get back up and train, sometimes you can achieve higher."
Veronica: "On a good day, heck, I'm always on a good day."
Veronica: "Don't get any idea's."
Veronica: "I think I might fly my jet later, for aerial training."
Veronica: "Fine, just one pic of me, nothing more ok?"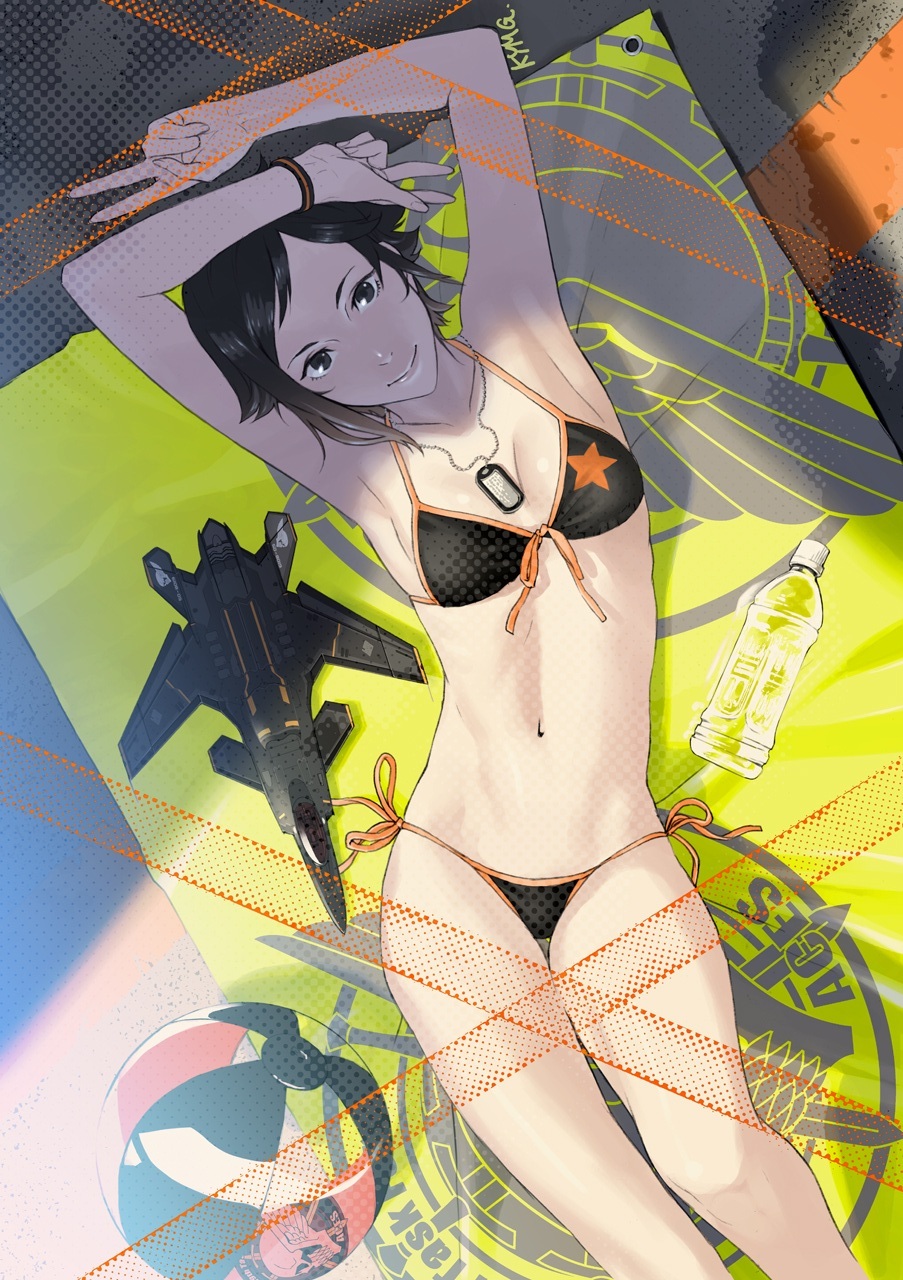 Fighter type: Raw strength, brute and submissions.
Combat Style: Good old fashioned army tactics and American wrestling, slams, counters, rock hard punches, backbreakers, but despite her current air force career, Maria is quite the tough nut when it comes to a full on fight. Having learned a few Japanese Arts while being stationed there, Veronica likes to mix it up with her brute power, making herself a formidable Female opponent not to take lightly.
Combat~
Strength:  




Defense:  



Endurance:  



Speed:  


Technique:  




Wrestling:
Strikes:  




Submissions:  





Powerhouse:  




Aerial:  



Counters:  



Signature moves:
1.Incoming Bombshell.
Running to the ropes, she will bounce off the rope delivering a hard clothesline with her arms, slamming right into her opponents head viciously.
2.Cook N Kill.
Grabbing her dazed opponents while they're lying down, Veronica will pick them up in her arms, and slam them down hard on her knee crouched down, a backbreaker. Normally this would break someone's back considering Veronica's raw power, but she makes sure she doesn't break them, soft as fluff at heart.
3.Nightsky beauty.
Trapping her opponent between her legs, facing up with they're head lay on her lower area, Veronica will continue to squeeze them out in submission, while placing her hands around there chin bending it backwards.
Finishers:
1.The Nevada Nightfall.
Simply a Tombstone Piledriver. Veronica will pick them up, and continuously drop there head in the piledriver position from her strong build of strength, stopping it until her opponents body goes limp.
Personality: Veronica, is a very down to Earth girl, a confident, witty, caring one of those around her. Though while keeping to the "don't break the rules" mind, she sometimes feels like breaking the rules for the better, that saying, V is a tough girl as well as she is friendly to others. While in a fight, she can be "hard as nails" best described by her friends. Always believing in herself, trying her best, and giving second chances to folk. Logic and brawn, over un planning and powerhouse, the helpful kind of girl to cheer somebody up at the end of a training session, with a smile, giving them a good job appreciation.
Veronica is also respectful of her opponent's, offering advice, pointers, and shaking hands before a match or spar.
Past and history: Veronica Maria, one tough fighter on the outside, but caring and watchful in her heart. Brought up on a farm on the desert countryside outskirts of the sprawling paradise known as Las Vegas, Veronica lead a hard work no rest upbringing from her parents and brothers, tending to manual farm work whilst working up her strong, fit body suited for her dad's work he dished out to his children. While living that life through her childhood, Veronica grew up to become the tough sister of her brothers, surprising them with her strength and knowledge in school growing up. It wasn't long until she started competing in strength sports, like wrestling, where here talents shined as she trounced a few tournaments in her home town, winning first prize every time. But when the news of her brothers joining the air force as pilots, her heart shook a little after she had cared for them on those thunderstorm nights on the farm, reading them stories and knocking out the odd troublemaker for them...Veronica deep down, cared for her family, so her career in the air force had began from a tough Nevada farm girl, to a fighter pilot in the air force.
Being stationed at a aerial base in Japan, previously built during a conflict in the continent, Veronica now works there as a pilot in training, though her skill in flying was rusty for the first few weeks, she gradually became better at flying a jet in the skies over Japan, winning love and care from her family back home. Now Veronica attends a college in Osaka, not caring if the other people there thought it was weird to see a American, but carrying on her education in engineering and hand to hand combat sports.
But when a stray letter arrived on her apartment doorstep one morning, the words AFW Friction opportunity printed on it, Veronica smiled, knowing this was something of a liking that sparked to her tastes. So signing up the next day, Veronica now compete's in the Friction roster's, winning some money for herself, testing her talents she was known for back home wrestling, and enjoying the time she's living in Japan for a little rest along with doing her time in F-22 pilot training and college studies.
Attire: Pic 1. A white vest and dress, also wears high heeled shoes. Pic 2, sometimes she will wear casual black clothing, along with her orange sunglasses.
In the ring: Pic 2. Sometimes she will wear casual black clothing, along with her orange sunglasses.
Everyday: Out by the airfield carrying supplies to one of the hangar's, or having a friendly spar with her other pilots.
Fun facts:
-The strong, knowledgeable, bigger sister of her two brothers.
-Called "The Nevada Nightfall", for leaving her beaten opponents completely knocked out to sleep.
-Slightly carefree to strangers, but a hell of a smack if they try to hit on her.
-Soft at heart, big and brutal on the outside.
-Enjoys a nice day of walking around the town, sightseeing, having a jog, or ordering some fast food sometimes.
-Still has some farm girl traits to her, along with her accent.
-Secret collector of old rock song records, MP3 and Ipod's are for "zombie's" in her words.
-Extremely good in a one on one fight, once took on a gang of thugs before, when they were hanging around the hangars.
-Very pretty, caring, and a tough mind.
-Her personal jet has,"Maria", spray painted on the nosecomb.
-Train's hard all her life and childhood, making herself into a body she can feel proud of.
-She can't stand cheesy Japanese gameshow's in general, theme tunes.
-Not the romantic type, flowers and chocolates from a man, kind of sicken her.
-A family centered woman, willing to break someone's arm back if they talk bad about her brothers or family.
Achievements, trophies, belts, past and present:
-Earned her badge with the aerial force, for superb flying and training.
-Holder and winner of the "Queen of the ring" wrestling tournament belt Nevada 2009, keeping it in her apartment in Osaka.
Wins-
Ongoing-2.
Veronica VS Jonny.
Veronica vs Jessica, the bar room debacle.
Loses-
Allies-
Rivals-
Enemies-
Crushes-
Relationships/connections etc:
Last edited by 11215 on Wed May 21, 2014 7:01 pm; edited 26 times in total
_________________
FIGHTERS READY, ENGAGE.
SELECT:



Posts

: 2820


Join date

: 2013-01-04


Location

: -




---
Permissions in this forum:
You
cannot
reply to topics in this forum