Who is online?
In total there are
56
users online :: 19 Registered, 0 Hidden and 37 Guests :: 2 Bots
321Shazam
,
Alexandra
,
BloodstalkerZ
,
DizzyKnight
,
dragonswill
,
Gator_Tooth
,
Iron Soldier
,
JohnnyFlash
,
killcarrion
,
LunarWolf
,
miachan
,
Miglico
,
RJD
,
shanecawf
,
starvalentine
,
Teenwrestler
,
Underdog21
,
Winner3
,
wrestleryu
Most users ever online was
155
on Sun Oct 09, 2016 8:33 am
Champions & #1 contenders
Belated Apologies
Sun Mar 26, 2017 9:58 am by Clobber Jobber
So, I'm not super fond of doing non-match threads because it messes with my organization, but I feel I owe everyone an apology. I just kind of up and dissapeared for, what, a few months? With the exception of one wave of posts, I've been super quiet, and a lot of threads have been held back because of me. So, I'm sorry to everyone about that, and I'm going to at least get another wave in.
To explain myself a bit, I've had a few things going on that slowed me down. For the first couple months, …
[
Full reading
]
Comments: 0
Looking for debut matches/RP's/microphone exchanges/Gym sessions/What have you
Sun Mar 26, 2017 6:14 am by JohnnyFlash
Hey gang!
According to our wonderful administrator
Person
I am happy to report that both
Buzzy Armstrong
and
Johnny Flash
have been deemed acceptable. Woohoo!
Logically, the next step would be to get their proverbial balls rolling with their respective debuts. I am interested in any kind of
match
,
promo segment
,
gym meetings
,
backstage
elbow rubbings, or whatever else have you with either of the two boys. I could always just do an open promo but I am up for ideas and story building with …
[
Full reading
]
Comments: 2
i am sorry
Sat Mar 25, 2017 2:51 pm by xalex
Hey guys
I won't talk much about it just wanted to put it out here
I need to step back from are dramatically because of stress in the uni and some problems of mine
I will keep working on the ppv matches I am in and maybe one or two more but to the rest I need to say sorry
Thanks for understanding
Comments: 4
Name: Noriko Takatake
Wrestling Name: N/A
Age: 25
Height: 5'11"
Weight: 131 lbs.
Eyes: Blue
Hair: Blonde
Nationality: Japanese
Place of Birth: Tokyo, Japan
Entrance Theme: [url=http://www.youtube.com/watch?v=5RLYyDKLUYo:2bujbdhr]Adrenaline Mob - Undaunted[/url:2bujbdhr]
Fighting Style: Brawler
Attire: Refer to "Appearance."
Alignment: Heel
Birthday: August 12th
------------------------------
Wrestling Information
Strategy: Use any opportunity to turn the tide of battle, no matter how morally appalling it may seem.
Preferred Attacks: Punches, kicks, low blows, and cheap shots.
Preferred Matches: It does not matter to Nori.
Combat
Strength:★★★★
Defense:★★
Endurance:★★★★
Speed:★★★
Technique:★★★
Wrestling
Strikes:★★★
Submissions:★★★
Powerhouse:★★★
Aerial:★★
Counters:★★
Hentai
Endurance:♥♥♥
Defense:♥♥♥
Arousement:♥♥♥
Technique:♥♥
Pacing:♥♥♥
Signature Moves
Banshī: Noriko pulls her foe's hair from behind and wails on them when her opponent reels in pain.
Piledriver: Her favorite wrestling move. One of the few she actually uses.
Fake Out: Claps her hands inches away from her opponent's face. If her foe flinches, Noriko will attempt to land the strongest punch she can throw.
Finishers
Bodybag: Noriko grabs her foe's wrist and wraps the arm around his/her neck. Noriko twists her own body around, which makes them both face opposite ways while still keeping the arm around the neck of her opponent. She then bends over, lifting the opponent off the mat. This causes the secured arm to press against the foe's throat, thus choking him/her.
Skimmed Milk: Noriko twists her opponent's nipples to the point that they turn purple. She uses it as a submission hold.
Hentai Finishers
Grinder: Noriko kneads her opponent's genitals with her fist or foot to make him/her cum.
------------------------------
Appearance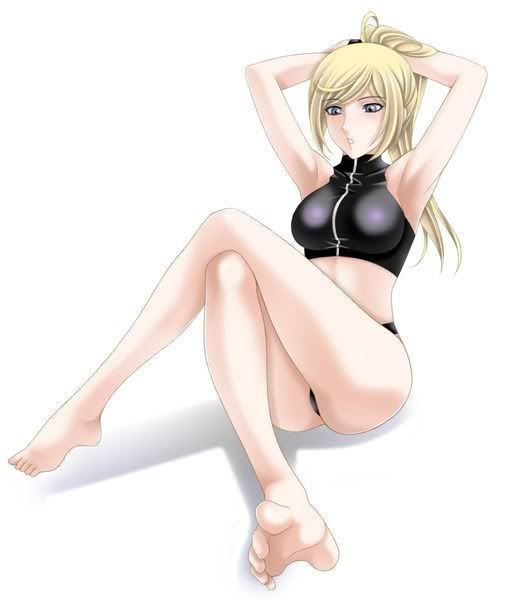 Her wrestling attire. Nori will wear this suit in every match she participates in. She wears black boots during normal matches, but prefers being barefoot for hentai matches.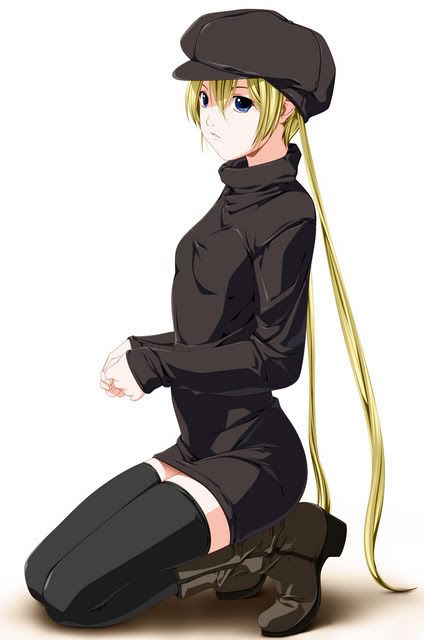 Noriko in her casual attire.
------------------------------
History: Noriko was born and raised in a rough part of Tokyo. She entered poverty the day she was born, like most of the people who resided there. People were hateful in this area. It held one of the highest crime rates in the country. To make things worse for Noriko, the nastiness was present in the children she met as well. The negative atmosphere she was exposed to contributed to her current attitude. Years later, her father passed away. But in light of this, her mother gave birth to her sister Kiiro. It took her a while to accept Kiiro, but Noriko eventually viewed her little sister as being a "blessing." Before she was around, Noriko did not harbor loving feelings for anyone but her parents.
The happiness did not last long, though. One morning, she and Kiiro woke up to an empty house. Their mother had been in a struggle with someone, but they slept through the entire thing. Both of the children assumed that they had been abandoned, and were left to fend for themselves in the rough neighborhood. They spent more than a decade as children living in dust. Noriko was a regular brawler who always seemed to find trouble. She thought her fighting knowledge could have been put to use. When she learned about the AFW, she immediately signed up. Her sister did the same, much to Noriko's chagrin...
Personality: Noriko is a bitch to put it bluntly. She doesn't seem to like anybody
BUT
her sister Kiiro. Noriko is extremely defensive of Kiiro, and people who hurt her will have hell to pay. If she especially despises a person, she will make that person suffer during a fight. It takes so much effort to gain Noriko's complete trust because she has been betrayed too many times in the past. Noriko is waiting for that special person who will convince her that life is not entirely gloomy. But even though she hopes for it, she doesn't think such a person exists.
Likes
- Her sister.
- Showing others what she is capable of.
- Spending time with her sister.
Dislikes
- People in general.
- Those who pick on her sister.
- Spoiled brats.
Interesting Facts: Nori and Kiiro have opposite alignments, but they treat each other with love and kindness like sisters should.
------------------------------
Current Record: 0-0-0 (W/L/T)
Wins:
Losses:
Draws:
Championships/Accomplishments:
Relations:
Kiiro Takatake (siblings)
Friends:
Allies:
Rivals:
Enemies:
Crushes:
Lovers:
Alliance:
Last edited by 8023 on Thu Apr 19, 2012 5:38 pm; edited 3 times in total

_________________
Friction/Tension Pro (Females): [url=http://afwrpg.informe.com/forum/friction-roster-f10/erica-knight-the-loli-popper-t5276.html:2epaqlxz]Erica Knight[/url:2epaqlxz] [url=http://afwrpg.informe.com/forum/friction-roster-f10/hana-creampuff-moriko-t5587.html:2epaqlxz]Hana Moriko[/url:2epaqlxz] [url=http://afwrpg.informe.com/forum/friction-roster-f10/natsumi-suzuwa-t5772.html:2epaqlxz]Natsumi Suzuwa[/url:2epaqlxz] [url=http://afwrpg.informe.com/forum/friction-roster-f10/noriko-takatake-t5825.html:2epaqlxz]Noriko Takatake[/url:2epaqlxz] [url=http://afwrpg.informe.com/forum/friction-roster-f10/amaiko-hirohama-t5867.html:2epaqlxz]Amaiko Hirohama[/url:2epaqlxz] [url=http://afwrpg.informe.com/forum/friction-roster-f10/yumeko-yugure-the-imperfect-t5983.html:2epaqlxz]Yumeko Yugure[/url:2epaqlxz] [url=http://afwrpg.informe.com/forum/friction-roster-f10/chiu-lu-lin-t6083.html:2epaqlxz]Chiu-Lu Lin[/url:2epaqlxz]
Kawaii League: [url=http://afwrpg.informe.com/forum/kawaii-league-f27/kiiro-takatake-t5856.html#p141792:2epaqlxz]Kiiro Takatake[/url:2epaqlxz] [url=http://afwrpg.informe.com/forum/kawaii-league-f27/una-the-little-brave-t5960.html:2epaqlxz]Una[/url:2epaqlxz]
Tension Pro (Males): [url=http://afwrpg.informe.com/forum/tension-pro-males-f60/tyler-milton-t5539.html:2epaqlxz]Tyler Milton[/url:2epaqlxz] [url=http://afwrpg.informe.com/forum/viewtopic.php?f=60&t=5652:2epaqlxz]Ric Spalding[/url:2epaqlxz] [url=http://afwrpg.informe.com/forum/tension-pro-males-f60/trent-galvin-the-killing-joke-t6063.html:2epaqlxz]Trent Galvin[/url:2epaqlxz]
Fur and Feathers: [url=http://afwrpg.informe.com/forum/fur-feathers-roster-f52/aeryn-the-giddy-harpy-t5294.html:2epaqlxz]Aeryn[/url:2epaqlxz] [url=http://afwrpg.informe.com/forum/fur-feathers-roster-f52/lydia-t5351.html:2epaqlxz]Lydia[/url:2epaqlxz] [url=http://afwrpg.informe.com/forum/fur-feathers-roster-f52/raya-t5404.html:2epaqlxz]Raya[/url:2epaqlxz] [url=http://afwrpg.informe.com/forum/fur-feathers-roster-f52/embrea-t5419.html:2epaqlxz]Embrea[/url:2epaqlxz] [url=http://afwrpg.informe.com/forum/fur-feathers-roster-f52/nyx-the-fallen-angel-t5420.html:2epaqlxz]Syx[/url:2epaqlxz] [url=http://afwrpg.informe.com/forum/fur-feathers-roster-f52/the-mothman-t5510.html:2epaqlxz]The Mothman[/url:2epaqlxz] [url=http://afwrpg.informe.com/forum/fur-feathers-roster-f52/tsukiko-the-possessed-t5603.html:2epaqlxz]Tsukiko[/url:2epaqlxz]
Alternative: [url=http://afwrpg.informe.com/forum/alternative-roster-f32/carnage-t5496.html:2epaqlxz]Carnage[/url:2epaqlxz] [url=http://afwrpg.informe.com/forum/alternative-roster-f32/jun-fudo-devilman-lady-t5590.html:2epaqlxz]Jun Fudo[/url:2epaqlxz]



Posts

: 198


Join date

: 2011-11-02



---
Permissions in this forum:
You
cannot
reply to topics in this forum