Champions & #1 contenders
Highfly Flying Out Of Town
Tue May 22, 2018 1:31 am by HighFly
Hello everyone, I just wanted to inform all I have threads with that I will be gone from this coming Wednesday through Sunday. I won't be able to post consistently if at all during this time, but I will try to make up for it next week! I am sorry for the inconvenience to everyone.
Comments: 7
The Austrailian Mudslide is Back.
Sat Apr 21, 2018 6:20 am by Softsquad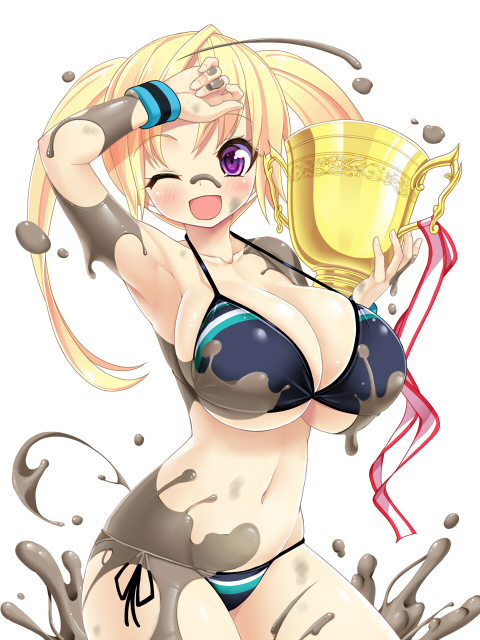 Granted that most of you won't know me or remember me, but I've had a few matches here and there some time ago. Well I think its time to become a regular around here and try to have some fun again, but at the same time keep coming back. Anyway I think its time to jump into some matches with Zoe Taylor, my mud wrestling character from Australia and get her back into the squared circle. Furthermore I will update my characters as I think some proper changes need to happen.
So if anyone would …
[
Full reading
]
Comments: 5
Page 2 of 10 •

1, 2, 3, 4, 5, 6, 7, 8, 9, 10


Tai sighed. "Hentai is....the polite word for sex I guess. My point was that Friction wrestlers have sex matches all the time and think thats fine, but the second a guy gets involved in one, they think hes evil"

At her further question he nodded "Well, not exactly broke, I mean, in the 8 years Ive been year, I spent my first 3, 13-16, as a jr. lifeguard for the pool area, where sometimes the Kawaii's would fight. But over the last 5 years Ive been wrestling and making some money, its just that now AFW is literally taking away my money."

"As for matches, Ill be bringing over guys and girls for singles, tags, triple Threats, what have you. Id like to arrange a fight between the Friction champ and Sex Wars champ if I could."

He leaned back, more at ease now that he felt he wasnt about to get jumped and gang beaten by girls.

"You wont have to do anything that you dont want to do, I give you my word, the only hentai matches will be between people who agree on it before hand, plain and simple. Should I take that as a yes on my offer then?"
Taylor smiled mischievously at the mention of the Friction champ. "Akashi... she'd be a handful for you, little fella. Or anyone. She's something."

She sat back a little and thought it over. "Not... a yes, no. I'd say... I'm interested. Sounds like it could be fun to beat up on new chumps, and... well, I haven't met anyone of... that's a guy, since moving here, and... well it's not... ya know." Taylor was a little surprised that she actually blushed a little, and blushing itself was embarrassing enough. She turned away from Tai and hopped down from the desk.

"If I did it... it'd be a straight ahead pro wrestling rules match. Singles or tag, as long as you don't pair me with a retard tag partner. No funny stuff. God help you all if there's funny stuff." She strolled over to Tai, measuring each step and putting one foot right in front of the other. She stood in front of him and leaned down with her hands on the armrests. "And I'd want to know who my opponent is. I want a good fight. An interesting fight. Got it?"

She flashed the same smile that she gave crowds when she was singing with the punk band in NY, her chin tucked low, with a sly look up at Tai. If she had a guitar in her hands, she would've felt like a rockstar... the same insecure, chaotic excitement of jumping into something without knowing where it'll end up that she did when playing shows in the states. Those were the days, and these were new days. Different, but just as good.
Tai smirked as Taylor named her conditions to accept his offer, leaning back in his chair as she leaned down right in front of him, the boy making sure to keep his eyes on her face, in order to avoid giving her the impression that he was just some pervert.

"Although she does have a nice bod...Stop thinking like that!"

Tai nodded and adjusted himself, making it easier to look at her face instead of her too-close body.

"All reasonable conditions that shall be met I assure you....As for your opponent....After some debate, I think I can give you his name right now if youd like."
Last edited by 143 on Mon Apr 11, 2011 9:30 pm; edited 1 time in total
Taylor smiled and arched an eyebrow coquettishly. "Oh, really? Wow, what an honor. Does it matter? Have I heard of him?" She straightened up and cocked her hips to the side, reaching up with both hands to fix her hair in the back. "The answer's no. I don't care about you pro-rapist types, but I'm all about getting to kick someone's ass from Rape Wars. As long as it's on my terms."

She turned and started to stroll around the desk, tracing one hand along it as she went. "So... you don't seem like your average man-hooker type. Maybe you're just so experienced that you can turn it on and off, but like... what's your story?"

She could've signed the papers and left, but she so badly craved some kind of social interaction with a guy that at that moment she wouldn't have minded just making small talk forever and ever.
"Well thank you for the compliment, I try to avoid looking slutty. I have more pride in my appearance then some of my male coworkers."

Tai was curious at this girl, He couldnt put his finger on her. No other Friction girl that he had met was remotely interested in his past. Leaning back and taking a breath, he decided it couldnt hurt to have small talk.


"Lets see....Well, I was born in America, but my parents couldnt take care of me, so I ended up being adopted by a nice Japanese couple, who had adopted a couple other american kids since then, my younger siblings. I had a normal childhood, became a fan of AFW from watching the tv, Ironically, Mom was friends with one the Friction wrestlers at the time...umm...thanks to Japan allowing children to work as early as 13 provided they werent in school and several forms were signed, Mom's friend was able to get me a job with AFW in their pool area, as a lifeguard for the Kawaii whenever they would have pool matches, Which I did for two years."

Tai stopped, taking a breath before continuing.


"Then, once I turned 16, I showed an interest in joining AFW, and would meet with and get training from whatever Friction wrestlers would talk to me...It was like that for a bit, until one of the other lifeguards, an attractive girl named Mimi, who like me, was interested in AFW and was getting training from the Friction stars, forced me into a hentai match with her, which she kicked my ass in. After that, I became more motivated and with assitance from those who trained me, I became an unoffical member of Sex Wars, living in the dorms, fighting guys and girls at every oppurtinity, even getting a fluke win over then Sex Wars Hentai Champion, who gave me the belt as a reward, before I turned 18 and was legally able to apply, my friends in the company getting me hired, and Ive been here legally for 3 years now. Thats about it really."


"What about you? Hows a cute girl like you end up in a place like this?"

"Cute Girl? You moron, She might get offended and kick your ass!"
Taylor watched and listened attentively to Tai's story. Then without missing a beat she coolly responded "Cute doesn't scratch the surface, Betty."

She hopped up on the desk again and looked down at her feet while she thought. "Um... well I've always fought. Like, in school and stuff. Not by choice usually, ya know, and... it didn't go well. They didn't. The fights. I did some other stuff, but... after high school I hit up a pro wrestling gym, 'cause... like I knew I had the looks and the attitude and everything, and I was always pretty athletic, ya know, and I loved the whole vibe or pro wrestling. It's so..." She tried to avoid using a word that'd make her into something she didn't want to be. "Well it was really great, so I wanted to try it... I played in a band before that, but that was getting lame.

"Once I came out the other end of the school, I think I just... wanted to get out. Of New York. And, uh, like I only knew one person from the gym, and my family didn't really care and my friends had kind of hung me out to dry by that point, so I thought what the hell, I'll try Japan. I heard these guys really take this stuff seriously. I do other stuff to, ya know, I can move and I can fight. But... fighting is the only thing I ever thought I was fit to do."

When Taylor sat back, she realized how horrifyingly open she was being. She didn't mean to be. She usually made it a point not to talk about herself like that, but she was off her game. Her eyes widened and for a moment she looked afraid and embarrassed, she blushed a little, but she recovered quickly. She propped one foot up on the armrest of Tai's chair and leaned back on her palms.

"But I guess we're all just freaks here. And I've got to start kicking ass before I get spit out the bottom. I'll have to start kicking my own ass if I don't start racking up wins against these hooched-out, prom-queen, prep school homo head cases." She felt like she needed to emphasize her point a little more. "Because I'm GOOD, yeah? I'll fight anyone any time and sometime soon Friction girls and Rape Wars nut-jobs will be too scared to fight me. I can fight."
Tai listened intently to Taylor's story, respectfully nodding at what the girl had to do to come here, taking big risks.

He sat up for a second as a flash of shock and embarrassment passed across her face, before her foot on his armrest made him sit back, listening as she spoke with confidence about kicking ass and taking names. Tai clapping lightly as she finished.

"Very nice...you would be very hard pressed to find wrestlers here as dedicated as you are to the art of ass-kicking."

Tai then stood up, adjusting his shirt before smirking.

"In that case, I would like to offically introduce you to the person Ive decided will be your opponent. Someone who has a knowledge for wrestling and a respect for those who have the same knowledge. Someone who I assure you will be willing to give you a great fight that if you manage to win will give you bragging rights bigger then you thought possible."

He struck out his hand towards her with an honest smile on his face.

"Tai Bac....no...""Betty""....Kamiya"
Another sly smile and Taylor took a moment to really measure this guy up. He had more experience than anyone she'd fought, probably, but he sure didn't look all that dangerous. Taylor did her best to look unimpressed.

She picked her foot up off Tai's chair and wrapped her leg around his back to pull him in closer, ignoring his offer of a handshake. She sat up straight and leaned in so that her forehead was nearly against his.

"I want you to remember, after the fight, that you're the one who booked it. You'll have no one to blame but yourself when we get all kinds of video of you crying your eyes out. Kaaaaaay?" Her smile expanded into a delighted and mischievous grin and she put her foot against Tai's chest to shove him back.

With one quick motion she hopped to her feet on the desk and cocked her hips to the left. "So when do we do this, cowboy." She cocked her hips to the right. "Soon, I hope, I'm not a patient girl."
Tai blushed as the girls flexible leg got around his back and pushed him into her, her forhead nearly against his.

Tai nearly gulped as their faces got so close, his sex wars instincts kicking in and yelling in his head.

"Kiss her! You know the drill! Make out and then take her out!

Tai resisted, before smiling at Taylors speech.

"Well, if your really that impatient, We could have ourselves an unoffciall little match right here in the gym...if the girls there agree not to jump me that is."
Taylor laughed. "That'd be funny. If they do try to jump you, gotta warn ya, you're on your own. I'd much rather be the one kicking ass, but it isn't like I have any sway over what they do."

She nimbly jumped from the desk to Tai's chair, landing with one foot on the base and the other on the back, and rode it down to the floor as her momentum tipped it over. "You're really wearing that, though? Sweatpants? I hope you remembered a jock at least." She said with a look over her shoulder as she walked out of the room and started making her way to the gym. She assumed Tai would follow.

After a quick stop at her locker to retrieve her knee pads, she arrived at the gym. The practice ring was empty. She rolled under the bottom rope and began bouncing lightly on the balls of her feet to get warmed up again. This should be pretty fun, she thought. She couldn't keep the grin off her face.
Page 2 of 10 •

1, 2, 3, 4, 5, 6, 7, 8, 9, 10


---
Permissions in this forum:
You
cannot
reply to topics in this forum