Champions & #1 contenders
Summer Splash interest in Natasha Loclear?
Mon Apr 09, 2018 11:30 pm by daemongirl
Well my girl hasn't missed a summer splash yet, would anyone be interested in a match with her? Open to just about anything match wise, just pm me!
Comments: 1
Been Out with the Flu
Sun Apr 22, 2018 7:47 pm by daemongirl
Just letting those I have threads with know I've been out with the flu since early last week, but I will be back to posting tomorrow.
Comments: 0
The Austrailian Mudslide is Back.
Sat Apr 21, 2018 6:20 am by Softsquad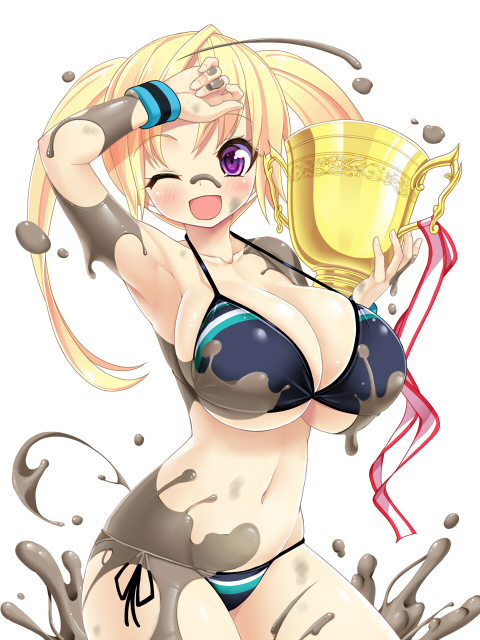 Granted that most of you won't know me or remember me, but I've had a few matches here and there some time ago. Well I think its time to become a regular around here and try to have some fun again, but at the same time keep coming back. Anyway I think its time to jump into some matches with Zoe Taylor, my mud wrestling character from Australia and get her back into the squared circle. Furthermore I will update my characters as I think some proper changes need to happen.
So if anyone would …
[
Full reading
]
Comments: 0
Page 2 of 3 •

1, 2, 3


Suki noticed something. It was too quiet.

This wasn't totally unexpected. You could only expect the crowd to get so excited about a trash-job. It's cool at first--oh shit, she's really eating it out there!--but then the momentum starts to drag. Oh. She's still beating the shit out of her. Hm. You end up with dead air between the moves.

But there's a solution to this problem! A voice in the wilderness to fill the void. An announcer.

Suki stretched her back as she stepped up and over Vamp towards the ropes. "Hey Twin Tails! Hey!" Madame Mum was slouched in her chair. Headphones dangling around her neck. She gave Suki a look like death. "What's going on? You just decide to...take a paid day off, Mami-chan?"

Suki gave her signature, exaggerated shrug. "Hey, I get it! Everyone needs a mental health day. I'll cover for you. Let's see, I think you'd be like, OH FUCK!!" As she shouted, she rounded on Vamp, planting a boot in her back. She stepped over her. "This badass chick's really tearing that vampire joke to shreds. Sucks-Sewage Suzumori should just tap out now before--OOOOH NOO!"

Suki jumped to the first rope, then the second, then the third!

"SHE'S GOING FOR A FULL-BODY SPLAAAA--"

There was a small part of Suki's brain, just then, who tried to pipe up for the first time in a while. It was balding and a little overweight and named Greg. He was one of the few male parts of her inner circle. The other mindlords made fun of the coffee stains on his shirt when he wasn't around. He said: Hey, um, maybe we shouldn't. I mean, it's, you know, the third rope, and we haven't...really beat her up yet, and um--

No one listens to Greg.
Suki should've listened to Greg, because Vamp already had enough of this stupid nonsense. When Suki planted her boot into her back, Vamp squealed in pain. Not only that she embarrassed herself in front of a large crowd, she also got herself taken down by a cheap shot from her opponent. Her head was still throbbing in pain, but she would force herself to get up, though it was quite a hard thing to do.

Then, Suki did more nonsensical things before she leaped from the top rope, going for a full body splash towards Vamp. Seeing this as her chance, Vamp would immediately roll herself aside, getting herself out of Suki's way so that she would end up crashing into the mat. And at that moment, Vamp pushed herself up to her knees, whipping her hair back and looked at where her foe might have landed. Her crimson eyes were seething with fury as she snarled, baring her fangs into clear view.

"Rrgh... y-you'll pay for this..." The back of her head still hurt from being dropkicked earlier. In one way or another, her foe would pay for the humiliation that she had experienced earlier.
The audience would be able to see the exact moment when Suki saw her landing pad had shifted five feet to the right. It happened when her legs pointed at the sky, forming a perfect line with her head towards the ground.

No, it would not be in our structural interest to put that much force into our back. By best heuristics, we just took 12-15 feet of air, meaning the force of the coming impact would exert strain on the joints exceeding any reasonable safety limitations and would likely lead to a moderate to severe fracturing of several key lower body components. So--

OVERRIDING ORDER: loosen up total body musculature, draw in the legs, cover the head, orchestrate a backwards rotation of approximately 130 degrees, brace knees for impact.

Arms snapped from splayed to clutching her head. Legs came up to her chin. Her body took the fall in the balls of her feet first. Her thighs and bent knees took the impact like a bumper, crumpling in stages as she rolled into the fall onto her back, over her head, and then--spring--onto her feet.

Instinct, refined by thousands of hours of training and capable of thinking faster than language, knew how to handle this shit.

Meanwhile in the rest of Suki's brain: OH FUCK OH FUCK OH FUCK. She stood there. Teetering. Bent over and clutching her head like a little girl on her first day of tumbling. Completely oblivious to Vamp.
Shaking her head, Vamp got up on her feet, ignoring the throbbing pain in her skull as she directed a glare at her opponent. Now's not the time to maintain her character anymore. It's time to teach this upstart why she shouldn't ridicule her in front of a large crowd. Coming over to her, she would then cup her by her chin, forcing her to look up at her.

"Got anything funny to share? More stand-up comedies to perform?" Vamp snarled before she let go of her chin. Almost immediately after that, she would deliver a kick right into Suki's stomach, wanting to make her doubling over so that she could trap her head in a front headlock. Then, she would reach down to the band of Suki's shorts before she attempted to lift her off the mat, throwing her behind with a snap suplex. Despite her diminutive size, she had enough strength to actually lift someone who was bigger and heavier than her, provided that she did not overuse her strength while in the ring.
Even bent over, Suki had more than a few inches on Vamp, so the Nightmare Princess had to pull her face down to the right level. The world snapped on her face. Oh, right. Frau SuzuMoe.  Vamp's breath stung against Suki's eyes. Little Miss Darkness was breathing hot gusts. Tired? No. No, not tired. Angry. Ready-to-break-your-face furious.

Oh, poor baby. You know what you need? A good old fashioned slapping right across your over-painted, over-designed, under-developed, sad little--

Vamp's kick locked Suki's knees. She would have fallen on her face--but Vamp caught her belt, and she hung for a fraction of a second at her rival's navel, sick at the vomit taste at the back of her throat.

"F-fuck..."

By-most-current-heuristic-analytics--

"AAGH!"

Vamp's suplex hit faster than Suki could think. It hit like a sonic boom--one moment there was just a red haze and this small girl handling her crotch, and then--

Move.

Suki was on her back. Lights burned into her retinas. The crowd was boiling and screaming in the periphery. Her back felt splintered, and her legs were shaking. She couldn't move--she didn't have feet or hands.

Move you stupid slut!

"...We've heard her yapping all match long, folks, but that snap suplex seems to have shut the rookie's mouth. Is she even there anymore? She's just rolling around on the mat!"
Right after throwing her opponent behind with the snap suplex, Vamp finally let go of her head before getting up to take a good look on her work. Now, she was smirking, knowing that she finally got herself an upper hand in this match. The back of her head still hurt, but the satisfaction from seeing her foe on the mat had somehow dulled the sensation.

"And so you finally shut up..." Vamp said, her smirk grew wider. "It makes me wonder why you became a wrestler in the first place instead of becoming a stand-up comedian..." she walked over to Suki's side before she delivered a stomp right into her midsection. "Well, either way... it's your bad luck that I'm destroying you here tonight in your debut..." Removing her foot from Suki's stomach, she would then move to her feet and grabbed them by her ankles.

"Let me hear you scream, loser..."

She would cross Suki's legs over her leg before turning around, trying to put her in a sharpshooter. She wanted to torture her first, as she's not content with just merely defeating her in this match.
I told you to move.

The pain made it hard to think.

Now you're the little one's plaything. And you know what's worse? Even Greg saw it coming. You sad, stupid bitch.

Vamp applied pressure gradually, so that every second it felt like a steel wedge was being driven deeper into Suki's back. Sweat soaked her hair and ran into her eyes. She felt ready to shatter. But the vampire kept going, like she didn't have any limit--how strong was this monster?--and every second she stood there, smirking, soaking in the light like a cruel princess.

"Nice camel-toe!"

Whoever shouted it had a voice that carried.

Suki felt her face go pale, then purple. The crowd erupted with laughter. That was worse than the steel wedge. It was true: Kaida's costume was retarded. The adhesive-strapped front chafed her breasts, the fur itched, and yes, the shorts were way too tight. Especially when a girl of super-human strength stretched them to their functional limits.

It started as a rumble, then grew into a chant: "Let her rip!" Then they stomped, three times.

You deserve to be laughed at, wearing that trash.

"Let her rip!" Bang bang bang. "Let her rip!" Bang bang bang.

"No! No, no, NO!" Suki beat the ground. Repeatedly. Until her hands stung. Finally, she tried to push herself up onto her elbows. Oh, now you move. Finally, she began to try to crawl towards the ropes, face blazing from the effort and embarrassment.

Greg: Uh, I-I dunno about trying to outmuscle her, she might be, uh...

Kaida: Stronger than you.
The ref would come over to Suki to ask her whether she yielded or not, but then figured out that she was trying to power through Vamp's sharpshooter. After a while when Suki was trying to drag herself towards the ropes, Vamp would finally let go of Suki's legs before stepping away in a dramatic manner. She would observe her handiwork, grinning impishly all the while, displaying her cute little fangs for all to see. Her head still hurt a little from the dropkick earlier, but now it's something that she could shrug off easily.

But she would not let Suki crawl towards the ropes as Vamp would move on to her next move. Stepping over to her opponent, going to her side, Vamp would bend down and grab one of Suki's arm by her wrist. Then, she would plant a foot right into Suki's back while holding her wrist with both hands.

Right after that, Vamp would drop into a sitout position, roughly yanking her opponent's arm as she fell. This particular move, Sacrificial Maiden, would cause severe pain in her opponent's shoulder if executed perfectly. And all the while, Vamp was grinning diabolically as she looked upon her downed foe.
I underestimated Suzumori.

You overestimated yourself.

Suki's efforts to power through the hold fizzled out like straw in a coal-fired engine. Vamp didn't even seem to notice her wriggling, and finally, the Nightmare Princess just let her flop on the ground. Blood rushed back into all the torn muscle at Suki's back--and hurt her worse than the hold. Little Miss Not-Mizushira scrambled away from Vamp, back arched in pain all the while. Then Vamp caught her arms and put a boot into her back.

Let me hear you scream, loser...
Let me hear you scream, loser...

Vamp had picked up the bra-less wonder like she was a box of Styrofoam. Suzumori had thrown her so fast and so hard that it shattered all her instincts and made her mind run sideways. And then Vamp locked in a submission with more force than Suki had felt from a wrestler three weight classes above the Princess. Suki had disastrously, mythically underestimated the Vampire Queen.

But she still wasn't ready for The Sacrificial Maiden.

The crowd got quiet when she started screaming. Even they hadn't expected that kind of animal noise, that kind of howling and screeching. They didn't expect the tears, or for Suki to squirm quite so much like a child.

The world got quiet, but inside, all Suki could hear were screaming violins.
Suki's scream was like a music to her ears as Vamp used Sacrifical Maiden on her. She let go of her hand and let her writhe and squirm on the mat. Grinning devilishly, Vamp would then brought her foot up before she stomped on Suki's shoulder with her boot, aiming to hurt her shoulder even further. To add insult to injury, the petite vampire would then grind her sole right on her shoulder, wanting to make this her opponent's worst experience as she tried to hurt and humiliate her even more.

"Do you understand your place now, worm?" Vamp asked after she removed her foot from Suki's shoulder. "No one... and I mean, NO ONE... shall ridicule ME!" And with that, she would attempt to deliver a kick right into the side of Suki's head, wanting to prolong her opponent's suffering even further for her disrespectful attitude.
Page 2 of 3 •

1, 2, 3



Similar topics
---
Permissions in this forum:
You
cannot
reply to topics in this forum