Champions & #1 contenders
Highfly Flying Out Of Town
Tue May 22, 2018 1:31 am by HighFly
Hello everyone, I just wanted to inform all I have threads with that I will be gone from this coming Wednesday through Sunday. I won't be able to post consistently if at all during this time, but I will try to make up for it next week! I am sorry for the inconvenience to everyone.
Comments: 7
The Austrailian Mudslide is Back.
Sat Apr 21, 2018 6:20 am by Softsquad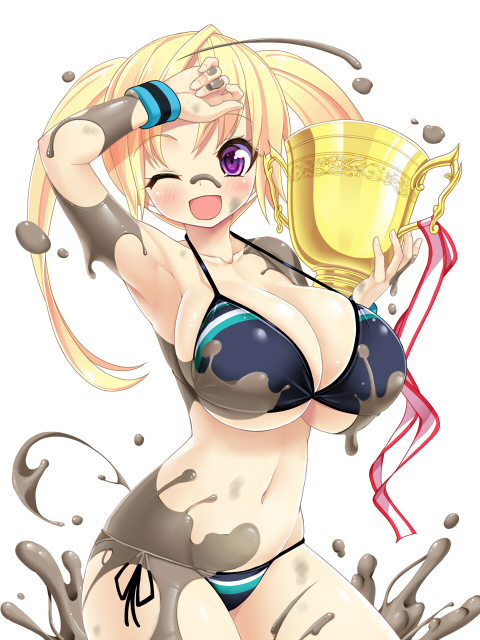 Granted that most of you won't know me or remember me, but I've had a few matches here and there some time ago. Well I think its time to become a regular around here and try to have some fun again, but at the same time keep coming back. Anyway I think its time to jump into some matches with Zoe Taylor, my mud wrestling character from Australia and get her back into the squared circle. Furthermore I will update my characters as I think some proper changes need to happen.
So if anyone would …
[
Full reading
]
Comments: 5
Page 1 of 6 • 1, 2, 3, 4, 5, 6


-VS-
Match Type:
Standard
Victory Conditions:
Pinfall, Submission, or KO
***
Ryoko Urameshi waited in the gorilla position, dressed up in her Black Fang outfit - everything save the mask. In a minute, her music would play and she'd slip it on and become the Black Fang, AFW's defender of truth and justice, friend to the downtrodden and enemy to the downtrodders. But, for the moment, she was just regular Ryoko. And she was thinking.
Her time in the AFW so far had been...mixed. While she hadn't won so much beyond a few dark matches, she'd had some exceptional bouts with great foes. Teddy Cat Hori and Mikki Wylde were both formidable and dangerous - if often overlooked - opponents, and she counted herself lucky to hold a candle against them, let alone be competitive. She loved wrestling, she loved competition, and winning wasn't necessarily required…
...but it would be nice, Ryoko wouldn't lie. She didn't come to the AFW to lose all the time. Her mentor had trained a winner, and she wanted to prove that. So, as she stood there and her music began to play, she made a silent pact with herself: today, at least, she was coming out on top.
With that thought, she became the Black Fang and stepped out  into the bright lights.
Always staying upbeat, she made her way to the ring with a proud march and her head held high , until she reached the bottom and hopped up on the apron. From there, she grabbed the rope, yanked herself over with a somersault, and landed smack dab in the middle of the ring in a three-point stance...perfect superhero landing.
While she far from being the biggest star in the company, the crowd seemed to appreciate the theatrics. Felt good.
Meanwhile, in the change room opposite, a completely different mask was being put on.

Maria slid her mask on and took one final, appraising look at herself in the mirror. Her red and black outfit hugged her, highlighting her fit, athletic build and her shimmering bronze skin. Personally satisfied, she brushed a hair through her dyed white hair and turned to get a 360 of herself.

She had come far, she told herself, these past few years.  Sometimes, she even managed to forget what it was all like before.

She put the thought out of her head. She was thousands of miles away from home, and if things worked out well, she would never have to go back.

Besides, she didn't have time to think about all that: she heard the roars of the crowd outside, and knew that it was her cue. Time to impress the crowd.

Striding into the arena as her metal theme blared, Maria wasted no time on showmanship, folding her arms behind her head and gyrating her lower body suggestively on her entrance. That got them cheering. Walking down the ramp, Maria got a better view of her opponent, and caught a glance of a slender former in black, black hair...and a black mask.

Another luchadora. Interesting.

Sliding into the ring, Maria hopped to her feet and looked her opponent over. She definitely wasn't anything to sneeze at, with a body and posture that spoke of experience and natural agility.

"Figures, they'd want to put me against another mask," Maria said, half to herself, before locking eyes with her opponent. She was Japanese, a fact that she hadn't noticed from far away. She knew that Japan had its own masked fighters, but had never encountered one until now. "So, I guess introductions are in order: I'm Maria Tempesta, the Devil's Handmaiden. Who the hell are you?"

Heavy metal was rarely a good sign when it came to opponents, in the Black Fang's experience. Nine times out of ten, it heralded the arrival of someone who either took things far too intensely or someone with ill-intent, a rogue looking to scare her opponent into submission with the opening notes.

As her opponent's theme played, she found herself picturing what sort of individual would come out to such a tune, and to her surprise, she wasn't that far off. The colors, the hair, the arrogant swagger, all things she expected. The biggest departure was the mask, which left the Black Fang torn. While her foe came with dark imagery and a tone that seemed rife with demonic notions, she was of the opinion that there were not nearly enough masked wrestlers in the world today. It was a lost art, in her opinion, so seeing it on a fellow wrestler - even one who came out to the music of the damned - was welcome.

She made her way to the center of the ring, sizing her opponent up as she spoke her blunt words. She certainly seemed fit enough. It was hard to tell with the mask, but the accent was distinctly Mexican, rich with Latin flavor. While she had never heard of the 'Devil's handmaiden' before, she was willing to bet such a name hadn't come about by exhibiting virtue between the ropes. This one, she would have to watch.

"Who am I?" The Black Fang put her hands on her hips and stood tall. "I am the defender of justice, the champion of righteousness, and the protector of all those who starve for protection. I am a blessing to the innocent and a curse to the guilty." She pointed straight at Maria's chest. "I am the Black Fang, and I'll be sending you back to abyss with a message for your master. Pray that he heeds it."

The Black Fang smiled and nodded, enjoying the fanfare.Good start. Good start.
Well, this was definitely getting interesting. Her opponent seemed to understand that the whole point of being a masked wrestler was to get into character, to develop a persona and use it to play to the crowd. And as fate (or perhaps the will of the managers) would have it, she had just been paired against a masked wrestler who was acting as a dyed in the wool superhero. Good versus evil, hero versus villain, average attractiveness versus drop dead gorgeous-- it was a match made in heaven.

"Champion of Righteousness? OHOHOHO, that's rich!" Maria exclaimed, using the villainous cackle she had been working on for a while. "Well, you're more than welcome to be a defender of the innocent after I stomp you into the mat." She almost theatrically stretched her arms behind her head in callous disdain, before stepping in close so that she was eye to eye with the Japanese girl. "I just hope you last a few minutes while I defang you, Black Fang."

The crowd were eating it up. The two hadn't even traded blows yet, and already, the crowd was getting into it.
The response that the Black Fang received surprised her, in part from the words Tempesta spoke, and also because of the impressive evil laugh she managed. Cackling was a lost art, and this woman seemed to have it down pat. Maybe some would take it for granted, but the Black Fang was definitely not in that number.

She had to resist the urge to smile, and made a note to thank whoever had booked this match. She could already tell, she couldn't have found a more suitable villain to oppose if she'd handpicked her.

"It's the Black Fang." She stepped forward to meet her newly anointed rival. "You talk with bold words, hellion." Her eyes narrowed into hardened slits, and she added a little Batman gravel to her voice for effect. "Take care that you're able to back them up."

The referee just groaned and stepped between them. "Okay, enough of that." She pushed at their chests to separate them. "To your corners, both of you, go."

The Black Fang walked back to the turnbuckle nearby, waiting for the bell to ring. The moment it did, she came out with arms raised and started to circle the ring, looking to get a feel for the way her foe moved before she engaged.
Last edited by acuya on Sun May 07, 2017 12:56 am; edited 1 time in total
And now she was doing the Batman voice. Right here, in the ring, her opponent was trying the trademark, gravelly, grrr-I-am-scary Christian Bale Batman voice. It was enough to make her want to laugh out of sheer joy, and so she did, evilly, once again. The preamble to this match was almost as enjoyable as she hoped the match itself was going to be.

She didn't have the opportunity to retort, however, before the ref girl made them both back up to their corners. Sighing, Maria slid into her corner, watching Black Fang from across the arena, her eyes never once straying from her opponent's. This girl wore a mask and everything, which was great-- but that didn't mean she was worthy of it.

The bell rang, and Maria darted out of her corner, watching Black Fang warily. Smiling at the other girl, she put a hand behind her back and extended the other one in an obvious challenge...or was it an obvious trap? Either way, Maria wanted to keep her opponent guessing...
Despite the reputation her way of talking often garnered amongst the less dramatically inclined, the Black Fang was not an idiot, and wasn't foolhardy enough to not suspect a trap. Especially when it was so clearly displayed for all to see.

That being said, the Black Fang was nothing if not a traditionalist, trained to fight by the unspoken rules of wrestling. When a challenge was made, a true heroine didn't back down. Ever.

She stared at the hand for a moment, narrowed her eyes, then moved into a mirror image of Tempesta's own pose, extending her hand in the exact same way while her other waited behind. Her eyes stayed solid and focused as she laced her fingers with her opponent's and started to increase the pressure, putting more and more effort into the squeeze…


Maria's eyes widened a little when she saw that Black Fang was actually taking her up on her little challenge. Grinning, she clasped the other girl's hand firmly and pushed, trying to gain the upper...well, hand. Gritting her teeth as she felt some strong resistance from the Fang, she added her other hand to the mix as well, trying to push back against Black Fang.

If she managed to slowly but surely overpower Fang, then she would push her all the way into the corner post, so that their masked faces were almost touching. Even if she didn't manage this, however-- if the two of them remained deadlocked, and Black Fang resisted Maria's attempts to overpower her-- her next move would be the same: she would lean close to Black Fang's ear and whisper "Let me show you how a real masked warrior fights, chica," before dropping back, kicking her knees up against Fang's midsection to flip her hard onto her back!
The tie up was risky, but the Black Fang saw it as a necessary part of the match, and something she could use to her advantage regardless of what happened with it. After all, she knew precious little of her opponent, and this would be the best way to gain some measure of the demoness.

So she played the game, and the result saw her getting pushed back, further and further, step by step. It wasn't a complete wash, with the Black Fang able to muster some serious resistance and even gain a few steps back here and there, but Maria had the slight edge. That was all it took.

She sneered at the taunt, but there was little time for a proper reply before the trap hurled her her backwards and ended up with her flopping on her back. But she didn't relinquish their grasp. Instead, the Black Fang kept the finger lock on, rolled over, pulled them both up to their feet and tried to surge forward, hoping to pin Maria in the corner and reverse the situation.

Maria relished the look of surprise on Fang's masked face as she flipped her over, sending her crashing to her back with an audible thump. The Black Fang had surprises of her own, however: demonstrating good chain wrestling, Fang didn't let go of Maria's hands. As such, Maria gave her foe a faintly surprised look as she was pulled it, and suddenly pushed into the corner in turn.

She gritted her teeth, not liking being pinned in the corner like this, face to face with her foe, though at the same time her respect for the Fang quietly grew. Gritting her teeth, she tried to push back against Fang, the two of them so close that it looked almost like it might lead into a kiss...that was, until Maria tried to reverse them around and stun Fang with a blunt chop to the chest.
Page 1 of 6 • 1, 2, 3, 4, 5, 6


---
Permissions in this forum:
You
cannot
reply to topics in this forum