Champions & #1 contenders
The Austrailian Mudslide is Back.
Sat Apr 21, 2018 6:20 am by Softsquad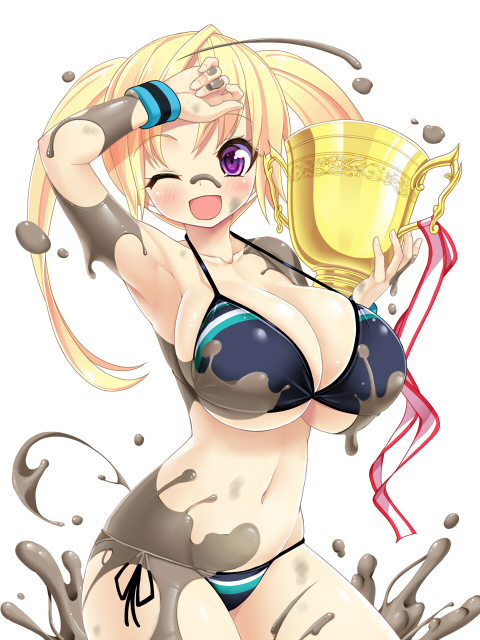 Granted that most of you won't know me or remember me, but I've had a few matches here and there some time ago. Well I think its time to become a regular around here and try to have some fun again, but at the same time keep coming back. Anyway I think its time to jump into some matches with Zoe Taylor, my mud wrestling character from Australia and get her back into the squared circle. Furthermore I will update my characters as I think some proper changes need to happen.
So if anyone would …
[
Full reading
]
Comments: 4
Looking for debut thread.
Sat May 12, 2018 9:28 pm by Hedgehawk
Hello All.
I am looking for a debut for my girl Trinity (http://www.afwrpg.com/t18107-trinity-cordova#495678).
This doesn't have to be a match, it could be a gym battle, interview or anything else. I just want something to help get Trinity off the ground. If you wanna plot feel free to reply to this message or fire me a PM.
Many thanks in advance and thank you for reading my message,
Hedge
Comments: 0

Standard Match
Submission or Pinfall

Morgan stepped out to the usual chorus of boos, her face impassive as she started walking down the ramp. Despite her expression, the tension in her body was visible. Tonight, she was having a special match. Rules-wise, there was nothing out of the ordinary. Her opponent, however, was what made this match abnormal. She was a veteran, a hardened survivor with keen instincts and more experience than most people the Canadian knew. More important than that was who she was affiliated with. Or rather, who she loved.

Karina Rine had come to avenge her wife, and Morgan was her prey.

Each step felt like she was dragging leaden weights around. Even so, Granite did not relent. There was a non-zero chance she could win, so there was no reason for her to be afraid. As long as there was a path, as long as there was a way for her to survive, she'd take it. That she was bound to suffer before she could reach her destination was a given. Clenching her teeth, the Canadian flipped over the ropes, her solid frame shaking ever so slightly as she landed on her feet. This wasn't the first time she met somebody who'd take on the persona of a walking apocalypse. It would be like her previous experience: This fear would pass, and give way to anger. Granite clenched her right fist, turning to the stage as she waited for her enemy to come. If Karina wanted to devour her, Morgan would just have to break the Wolf's jaw!
There was a certain vendetta when it came to the lovers, mainly projected towards their targets more than themselves. Both of them were very competitive, always had fun no matter how rough they were and there were certain times where people actually thought they were out to draw blood! As of late, the two lovers have become seeking out new targets, ones that had messed with the other lover in the past and did certain things that made it personal. Her first target was Brittany, a rather powerful woman who was close to defeating the mighty Fenrir but in the end was forced to strip, cum and admit that Karina was the better woman!
This was going to be a different one, though. Karina was fueled with a different kind of lust, the lust that only the violence of battle could give her. She had nicknamed herself Fenrir due to her violent, primal like behavior in the ring, adapting herself to what Cecilia had called her in the past and found it a much more deserve alias than ' the Beast ', which had already been claimed by a different wrestler in this place. She was backstage, stretching her arms up and just got herself roused up while her opponent's entrance was still going on. Dressed in her new attire, Karina was ready to sink her teeth into this new prey and show that she was ready to fight anyone who dared to cross her path.
Soon her theme song blasted through the arena, not even seconds after Morgan was done with hers. Karina was not patient enough, stepping out onto the stage to face the crowd, stopping at the center before she crouched low, a rather sadistic grin on her face before she rose up and tilted her head back, releasing a sharp, howl like battle cry that was packed with loud bangs and fireworks all over the stage to hype out the crowd! The battle cry lasted a few good seconds, definitely drying out her lungs before her head dropped low to face the ring, lips parted to briefly inhale some air before she marched her way down the ramp and to the place her opponent was waiting.
Karina brought a single hand up to brush through her own long, wild looking hair before she rolled herself underneath the bottom ropes and quickly onto her feet with a short bounce. She quickly targeted her opponent as she headed to the center of the ring, briefly closing her eyes and inhaling loudly through her nose before she slammed her fist down to the canvas and assumed a crouched, predatory stance! She could see the quick flashes from cameras hit all around the ring as it looked like Karina was more than just spirited, she was here to deliver a message and the receiver was ready to take it!
To say that Morgan was unnerved by Karina's howl was an understatement. Despite her best efforts to suppress her fear, she was visibly shaken, even backing up a few steps as her opponent walked to the ring. In fact, the only reason why she stopped inching away was that her back hit the ropes, which led to her rolling out quickly to put the ring between them. Of course, Morgan was right to be anxious. In her view, she was facing a woman... No, a beast in human skin. How could she possibly withstand such a foe? The worst part was that Karina was likely faster than her, so she wouldn't even be able to run for it.

So, what choice did she have but to fight? If she wanted to make it through this match, she'd have to show bravery and skill that she had never been able to muster before. After all, Karina would be more ferocious than anybody else she had faced. Thinking that her normal tactics would work against somebody like Fenrir would be a fatal mistake! Taking a few steadying breaths, the Canadian sharpened her gaze as her enemy entered the ring. When the wild haired wrestler slammed her fist down, Morgan tried not to flinch. After all, she could very easily imagine that deadly blow crashing onto her face if she had been lying on the mat. With clenched teeth, she forced herself to move closer. It was much like extending a hand towards a wild wolf, not knowing when she'd be bitten or how bad it'd be. Still, she persisted in re-entering the ring, stepping through the ropes with a wary look in her eyes. Letting her nerve break now would just give her opponent an insurmountable advantage.

"Rine." With that simple word, she had started to find her balance again. The shakiness in her body cleared, giving way to a coldness she was starting to get used to. "Have you come to fall like Northman did?"
Straightened herself up onto her feet, eyes never leaving Morgan as she took in every little detail this woman offered, a rather sadistic grin appearing on her face when the woman said that last part, shaking her head in response before she got into a grappling stance. " It's good that you know my last name.. " She responded, completely ignoring Morgan's question, patiently waiting for the bell to ring so she could get things started, a battle plan had already formed in her head and she was just counting the seconds to initiate it. " You will be screaming that throughout the match. " She flashed a fanged grin, arms raised to get ready for use.

Once that bell went off, so did Karina! She lunged forward, aiming to either lock up with Morgan or get her hands on the woman's shoulders to immediately show off her strength by pushing forward, trying to get that woman to hit the turnbuckle behind her!


There was no doubting it, Morgan was in big trouble right now. She could tell that sort of sadism synergized well with Karina's bestial nature. Even if there hadn't been a grudge, she would deliver a vicious curbstomping anyways. Upon recognizing that fact, the Canadian could feel some beads of sweat make their way down her forehead, even though she tried not to let weakness show. Morgan had previously found resolve by believing the worst she'd have to do was endure a serious thrashing, but the malice she saw in her enemy's eyes promised far worse than that. When she dropped into her grappling stance, it was far more squared and defensive than her counterpart's. She was being pressured into the defensive enough before the match even began.

"I will not even let you scream." She shot back, trying to pump herself up for the confrontation. "I can promise you this, I will crush that throat of yours and silence you forever!"

Bravado was all she had at the moment, and even that was crushed quickly when the bell rang. Karina's lunge was hard for her to intercept, such that she was driven back a few steps on first contact. The worry that broke through her composure compounded itself as she found herself in a dire struggle for life. They had locked up, and Morgan had to struggle with everything she had just to keep things at a stalemate. Even a slight shift could send her reeling back towards the turnbuckle, and she wasn't sure if she would survive if she ended up with her back to the steel. Now giving in to desperation, she put all her weight on her front foot and leaned in with all her might in order to push Karina back!
Not one to ignore a threat like that, she will make sure to make Morgan feel the greatest agony she had ever given someone and she even bashed someone's head in with a guitar in the past but that was going to be child's play for what she had in store for Morgan. She used a simple charge to find out how much strength Morgan had at her disposal, almost disappointed with the way the woman tried to handle the lock up, forcing her back a few steps just before the lock and soon found the woman trying to push forward with quite an amount of strength but it was not going to be enough for Fenrir to deter herself.

" To say that you will crush my throat.. " She mumbled lowly, soon her eye staring with pure malice straight towards Morgan before she hissed out the words she had only ever said to once person in her entire career. " ..You're dead meat. " With that, she surged all her strength forward, wasting little time to show Morgan the true strength that Karina had within her body, trying to utterly bulldoze right through Morgan's stance and send her back against the turnbuckle.
The gruesome images Karina had in her head weren't known to Morgan, but she could feel the violent intent and brutal power driving her back with ease. It was hard for the Canadian to believe, but it felt like Fenrir was even stronger than Cecilia. If that was the case, she stood no chance at overpowering the monster that relentlessly attacked her. The impact of her back slamming into the turnbuckle was immense, knocking the breath out of Morgan! That motion stunned the Canadian, a dual blow to both body and spirit. She had put every ounce of her strength and weight into resisting her enemy, but she had been cornered in a split second. After that, there was no doubt in her mind that Karina was the absolute strongest person she had ever faced!

While she did recover quickly, the threat she received made her freeze up. She could imagine it vividly, the teeth of the apex predator tearing her throat out and ending her life. For a long moment, she didn't know if she could keep fighting. She had to get away! The moment she could move again, her thoughts turned to fleeing out of the ring to create some space between them. Unfortunately for her, their arms were still tied up and she sincerely doubted that she could break out of Fenrir's grip without using a technique. With fear and desperation motivating her forward once more, she started trying to throw off Karina's balance, legs scrabbling to find purchase and give her the opportunity to trip the powerhouse that had trapped her!
Karina had her opponent on the run through raw strength, strength that had been harnessed and mastered for years to become the experienced fighter she was today. Morgan had done quite a few things wrong already, one of them was messing with Cecilia. The second was underestimating her and even threatening her! The last one was definitely accepting a test of strength with Fenrir, who raged right through Morgana's defenses and worked her up against the wall. She wasted little time to spread her arms wide together with the woman, thrusting her chest hard into her opponent's pair while maintaining eye contact the entire time.

She knew what Morgan wanted, a simple way out by just pushing against her but Karina was not going to give her that, heck she had a much different plan she would usually do. There was no punch hard enough to break Morgana's resolve further and instead went for a more mental way of attacking Morgana by trying to squash her into the corner. She didn't attempt to break free, instead seeking to entwine their fingers together so there was no way of freeing those hands without Karina's consent. Her feet spread out a little for better balance and pushed forward to make sure to even out the pushing power. All the while, Karina's eyes were dead on Morgan's, refusing to give an inch, to even budge to the side!
As Karina forced Morgan back, the Canadian let out a desperate gasp. This exertion and crushing chest to chest impact briefly robbed her of her oxygen reserves, forcing her to take a few shaky breaths. Could there have been any other result? The sheer power she was up against was relentless and brutal to the extreme, such that she could only resist instead of triumph. That said, things weren't completely hopeless for her. By now, she was used to being on the losing end of such struggles. Yes, wasn't that right? She had been in so many pinches by this point that she shouldn't be scared of loss! Her eyes began to show defiance, almost as if she was sneering right in her enemy's face.

"You won't break me, Rine." She gritted out through clenched teeth. Each breath came steadier and steadier until she was able to reach equilibrium again. "Even if my bones are shattered, I won't quit."

She suddenly bent over, abs flexing as she began her assault with a headbutt aimed at Karina's nose. Her roar wasn't as feral or powerful as the ones that the veteran could put out, but Morgan was starting to get in touch with her own inner beast!
" You will, depending on the bones.. " Karina's voice was harsh, a feral type of growl that came from the beastly woman would only have ill omen for her opponent. Normally she would be grinning and enjoying competition that was not afraid to compete with her in strength. Morgan was a whole different thing, not even considering her an opponent but rather a victim, a punching bag she was going to wear out and make sure the word fear would be described on her forehead whenever the woman would come face to face with Karina. She had left her rather violent wrestling past go but she might just have to revisit it in this ring.

She had a hunch that a headbutt would follow with this distance, watching the woman move in for such a close yet lethal attack, Karina knew she couldn't dodge it and rather lowered her head enough to let northern area of her forehead take the brunt of the attack. It was still going to make her sore but it would be enough to keep Karina in the fight. She would not allow Morgan any reprieve for this, eyes narrowing and fangs bare as she would focus on a counter attack, raising her right foot from the ground and attempt to rocket that bend knee straight into those abs!


Similar topics
---
Permissions in this forum:
You
cannot
reply to topics in this forum