Champions & #1 contenders
Looking for matches
Mon Oct 16, 2017 11:31 pm by kiranar
I am looking for matches for most of my characters or rps they are all links listed. I am also looking for an opponent for Celeste see Carpathian impaler for profile and Emerald Moons for an opponent or opponents for avalanche ppv event. I prefer atm non hentai matches, but I may make exceptions for some characters depending on the idea.
Comments: 0
Leaving AFW
Sun Oct 15, 2017 2:20 am by Winner3
Several months back, I had quietly left without saying a formal goodbye and I wanted to take the time to do that now. I apologize to those I have left hanging on threads. And more importantly, I apologize for disappearing without having said much of anything.
As far as excuses go, nothing majorly traumatic or life-changing went on. Rather, several members have been pretty hostile to me during my time at afw. In my time here, I've been lied to, ignored, berated, talked down to, called names, …
[
Full reading
]
Comments: 9
Italian, 25, Athletic, Seeking Partner
Fri Oct 13, 2017 1:33 pm by scorn53
No. Sadly not
that
sort of partner.
She already has one. Or two.
Testing the waters to see if I can find any interest of my rarely used main
Diana Accera.
Sparring partner, training partner, tag team partner. Any and all.
PM Me folks. Peace out~
Comments: 0
[align=center:36n497pr][size=150:36n497pr]
General Information
[/align:36n497pr]
Name: Hitomi Shiraishi
Alias: "The Merciless"
Sex/Gender: Female
Age: 21
Eyes: Dark bluish gray
Hair: Light blonde, cut shoulder length
Height: 5'8"
Weight: 122 lbs
Nationality: Japanese
Citizenship: Japanese
Wrestling Information
Strategy: Offensive
Style: Submission
Type: Heel
Preferred Attacks: Submissions, grapples, strikes
Preferred Matches: Standard matches, Submission only, Humiliation matches
Difficulty level: Medium-hard
RPG Style Stat spread:
Endurance:★★★★
Strength:★★★★★
Speed:★★★★
Defence:★★
Technique:★★
Finishing Moves:
Giant Swing: Not quite a submission, but plenty powerful to suit Hitomiâ€
s tastes. Sheâ€
ll grab her opponent by her ankles, and then start spinning round and round, building up speed until she lets go and her opponent flies away. Hitomi doesnâ€
t get dizzy easily, so she can spin around more than other wrestlers and even use the spinning motion to submit her opponent.
Aerial Muscle Buster: A power move that Hitomi likes because it hurts, a lot. Sheâ€
ll either elevate her opponent by using the ropes first, or sheâ€
ll just do it standing on the mat. She hooks both her opponentâ€
s legs with her arms and lifts her opponent above her head, upside down. She would then drive her opponent shoulder-first into the mat, damaging her opponentâ€
s shoulders and also crushing her opponentâ€
s abs.
Romero Special Dragon Sleeper: She would start with the standard Romero Special ceiling hold to submit her opponent. If her opponent doesnâ€
t submit, she would let her opponentâ€
s upper body down slowly and grab her opponent in a headlock while still keeping her opponentâ€
s legs locked in tightly, putting pressure on her legs while simultaneously choking her.
Sharpshooter: Hitomi starts with an opponent on her back. She grabs both her opponentâ€
s ankles, crossing them behind one of her legs. She would then turn around while holding onto both of her opponentâ€
s legs, flipping her opponent onto her back and putting pressure on her opponentâ€
s lower back.
Hentai Moves:
Reverse Grapevine: Hitomi would grapevine her opponent from behind, securing her opponentâ€
s arms under her armpits. Hitomi would then use her hands to pleasure her opponent, either groping her opponentâ€
s breasts or fingering her opponentâ€
s pussy.
Entrance Music: "Mind as Judgment" by Faylan
[align=center:36n497pr][size=150:36n497pr]
Characteristics
[/align:36n497pr]
Visual Apperance: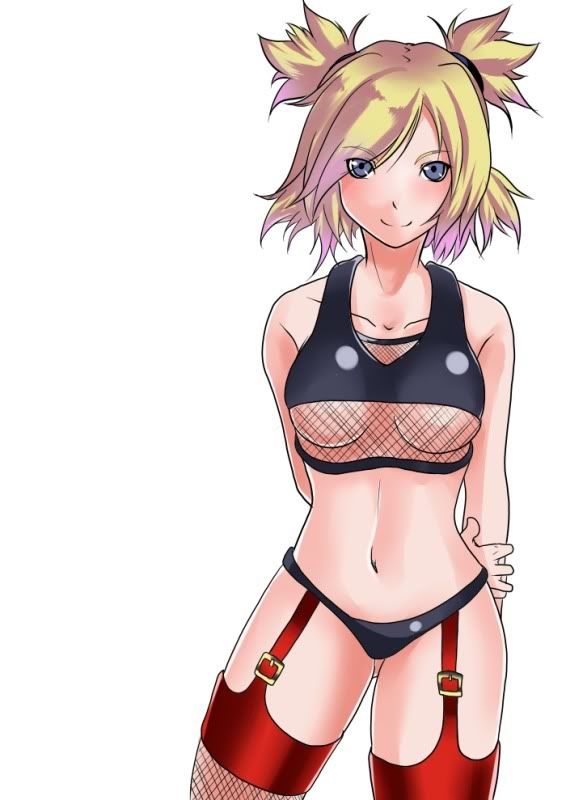 Personality:
Filled with spunk and vigor, Hitomiâ€
s personality is almost a force of nature. She impresses upon every person she meets, and always leaves an indelible impression. Most people consider her outside of the ring to be a decent person, kind and considerate without being seemingly weak. In the ring however, Hitomi is a merciless bitch. She despises people who give up, and yet loves making people give up to her. She fights with the single-minded determination of trying to beat an opponent down with any technique available, whether fair or not fair. Rules in her book are meant to be broken.
Past/History:
Hitomiâ€
s father used to be an executive for the Shiraishi Group, a large and powerful Japanese financial combine. But, due to the Japanese financial meltdown in the 1990s, her fatherâ€
s company dissolved. He committed suicide soon after, leaving a widowed wife and grieving daughter. Their family ran into financial trouble soon after as creditors arrived and robbed them penniless. Hitomi thus went from the pampered daughter of a rich executive to the depths of poverty, all within a year.
During the hard times, she took to the streets, fighting for survival. She took on odd jobs, dropping out of school to help her mother out. Her mother fell sick soon afterwards, and Hitomi had to somehow find the money to treat her mother. She considered prostitution, but was saved from doing that by a man who signed her up instead for underground fighting. In the underground wrestling leagues, she was without a doubt a weak jobber, getting easily beaten up by any and all opponents she faced. This however, trained her to be a hard and merciless fighter, if only to survive. As she grew and matured, she finally got the physical prowess to start winning. That, combined with some extensive self-training from books, made her a fighter to be feared in the underground leagues.
Though she got a lot of money from her fights, it still wasnâ€
t enough to save her mother, who was dying of grief over the loss of her husband and the loss of her way of life. When Hitomi was 18, her mother finally died. It was a loss that shook her more than her fatherâ€
s did, for she had spent nearly four years supporting her mother through her sickness. She didnâ€
t become hateful or detached or mentally unstable like many people who have suffered loss though, because her mother said to her to always live on for the bright things in life. Hitomi thus retained her positive outlook, despite her dark past. It is only in the ring that she lets the darkness and her hatred take over, using it as fuel for her merciless fights.
Attire:
As shown in the picture for standard matches (she also wears long black stockings and heeled boots). She also has a black bikini outfit. For special matches, her attire is determined prior to the match

Fun facts:
Hitomi might actually have multiple personality disorder, since her behavior in a fight is very different from her normal behavior.
She has a penchant for stripping her opponentâ€
s naked after defeating them, so watch out for that.
[align=center:36n497pr][size=150:36n497pr]
AFW Information
[/align:36n497pr]
Record:
Wins:Sister Solar(submission)
Losses: Karisma Zahin (KO)
Draws:
Championships/Accomplishments:
Friends:
Allies:
Rivals:
Enemies:
Crushes:
Alliance: Heel
Last edited by 265 on Mon Jun 07, 2010 8:50 pm; edited 1 time in total



Posts

: 8232


Join date

: 2008-09-28



---
Permissions in this forum:
You
cannot
reply to topics in this forum