Who is online?
In total there are
41
users online :: 5 Registered, 0 Hidden and 36 Guests :: 2 Bots
Lobo
,
noob
,
Old_Man_Tai
,
scorn53
,
XSirenX
Most users ever online was
155
on Sun Oct 09, 2016 8:33 am
Champions & #1 contenders
Just so y'all know
Thu Jun 22, 2017 3:27 am by LtLukas
I am going to a wedding, and will be traveling for the next few days. Sadly, I will not be able to post. But do not worry, I shall return. Sorry to all the people I am delaying.
Comments: 0
Not dead! Sorry!
Wed Jun 21, 2017 5:02 am by veritech892
Sorry for the recent slowed responses and disappearing act! Life, work, all that stuff, kind of got the jump on me! I'm back now though, promise - or I really hope I'm back now at least. I'll be replying to all the threads I have now, and hopefully I'll be around more now that things seem to (hopefully) be slowing down a bit.
Comments: 0
Does anyone feel up for an open thread bar?
Tue Jun 20, 2017 10:05 pm by Ragdoll_Jobbers
Hi guys, um well...considering I've been gone for a few months contemplating on life and death, uh that's dark, I was wondering, any body up for an open thread bar? I have some ideas but was wondering, well, if I open a bar thread, I would need "customers". Thoughts?
Comments: 3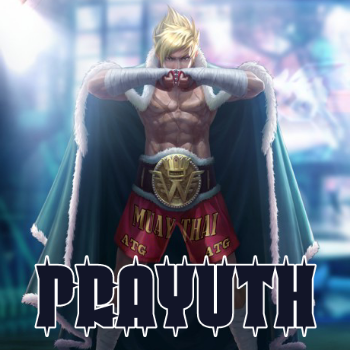 Name:
Prayuth 'Pray' Sakda
Sex:
Male
Age:
29
Eyes:
Green
Hair:
Black (often dyed white)
Height:
5"9'
Weight:
141 lbs
Nationality:
 Bangkok, Thailand
Entrance Music -
Ong Bak -Battle Royals
Wrestling Information
Strategy:
Pray comes in hard and heavy with powerful shots, breaking bones and advancing. His aim is to wear away on the enemy, until there's nothing left to attack.
Style:
Muay Thai
Type:
Strong Style
Preferred Attacks:
Strikes, Power Moves
Preferred Matches:
Standard
Physical Statistics
Endurance:
★★★★ - A veteran of the ring, Pray's used to taking some hard hits, even if the movie life has dulled him a bit.
Strength:
★★★★ - Far above average for a man of his height, though not a heavyweight.
Speed:
★★★★ -  Moves fast, delivering his powerful strikes in quick succession, beating foes down with ease.
Defense:
★★ - Pray does his best work on offense. Tends to falter when he has to work with someone in the same mindset.
Technique:
★★★ - Skilled in kickboxing, fresh in wrestling.
Wrestling Statistics
Strikes:
★★★★★ - Hits hard.
Submissions:
★★ - Has a decent cobra clutch that he can use, and some basic moves aside from that.  
Powerhouse:
★★★ - Not his mainstay, but he's more than strong enough to pull out the occasional slam.
Aerial:
★ - Not his style.
Counters:
★ - Is a bit too straightforward for this sort of thing.
Finishing Moves:
Cobra Clutch Slam
- While applying a Cobra Clutch,  Pray begins to stand, lifting up his opponent while maintain the hold. Once they're both upright, he lifts up and throw his opponent straight down on the back of his/her neck, full force.
Knee Bomb
With his opponent stunned, Pray leaps towards them and slams them in the face with a flying knee. Simple. Effective. Brutal.
Physical Appearance
Prayuth Pre-Fame:
Prayuth Post-Fame:
Personality
Whatever he may have been at one time, Prayuth's came to embrace the rock star lifestyle of an international movie star. Quite frankly, he's come to think he's invincible - he's got the money, he's got the talent, he's got the drive. When he sees something he wants, he can just go and get it. Anything his money can't handle, his fists can.
This sort of lifestyle has turned him into a very impatient, brash and cocky individual, someone that many believe is in dire need of having some humility beat into him. No one's rushing up to take the challenge, though…
Despite his often lackadaisical nature, Pray can be a fierce fighter when angered enough, and isn't one to be underestimated. His rage can work against him or for him - it makes him a beast to deal with, but he can be easily goaded.
History
Though you'd never know it to look at him now, Prayuth actually started off with fairly humble beginnings. Born in Thailand to a poor spinstress, Prayuth's father was a vacationing American she hooked up with. He left Bangkok without even knowing that he'd conceived Prayuth, leaving the boy to grow up fatherless.
The first few years of Prayuth's life were quite difficult - he was often picked on growing up, teased and taunted and beaten up by a little gang of youths that hung around the neighborhood. To help him out, Prayuth's uncle trained him in the art of Muy Thai, and it was quickly discovered that the boy had an affinity for the style. Naturally gifted, he very quickly mastered it and went on to win championships and national acclaim.
Though Muy Thai was the love of his life,  Prayuth had always had a second passion: cinema. He was a great lover of film, so when the offer came up for a small role in a martial arts flick being filmed in the city, he jumped at the chance. While he didn't have a noteworthy role, he did the best with the ten second fight he had in the movie, and managed to turn a few heads his way..
Prayuth had a unique look - thanks to his heritage, he has a rather unique face, one that can easily pass for just about any Asian nationality with the right makeup. With blonde hair, he even looks convincingly American, and he'd learned how to speak English and fake a decent accent. This, along with her prowess in Muy Thai and understanding of film, made him a good fit for action films. A small time studio took a gamble on him with Red Castle, a brutal action film about a cop who finds himself trapped in a apartment complex that doubles as a gang hideout and has to fight his way out.
The movie did well critically, becoming an underground hit, and Prayuth soon found himself staring in other lead roles - Red Castle 2, the Destroyer, and he played Joe Higashi in a Fatal Fury movie adaption. As time went on, Prayuth became more and more accustomed to the luxurious lifestyle, to the point where he barely visits or even thinks about his roots anymore…
Looking to pry his trade a bit more, Prayuth's agent convinced him to try a stint out in the AFW's Tension league, and he happily agreed, thinking that it would essentially be a vacation -  show off his skills, spread his name, while also wrestling about with hot women and making more money. Couldn't go wrong.
-Fun Facts-
+Prayuth is a dedicated film fan with an almost encyclopedic knowledge of cinema. His favorite director is Quentin Tarantino, with Django Unchained being his favorite movie. He's been known to rather frequently sneak movie quotes into his everyday conversations.
+Really wants to learn how to drive a motorcycle. He owns one, but hasn't got around to learning yet.[/b]



Posts

: 11863


Join date

: 2014-02-14


Age

: 30


Location

: Charlotte, North Carolina, WOOOO!



---
Permissions in this forum:
You
cannot
reply to topics in this forum