Who is online?
In total there are
38
users online :: 3 Registered, 0 Hidden and 35 Guests :: 2 Bots
acuya
,
Daaharu
,
Teenwrestler
Most users ever online was
155
on Sun Oct 09, 2016 8:33 am
Champions & #1 contenders
Reduced Post Rate
Tue Jun 27, 2017 12:14 pm by RadiantKarna332
For those who are currently roleplaying with me in threads, you guys may have noticed my reduced post rate. I'm sorry for being so late to inform you guys about this, but due to some real-life businesses, I have no choice but to post infrequently compared to usual. I'm so sorry about that.
So, I will return to my normal schedule next week, so please don't worry about me not posting. Have a nice day.

Comments: 3
Catching up and stuff
Wed Jun 28, 2017 4:19 am by LARIATO
Hey guys.
First, trying to finally get my ass in gear and get caught up with threads and everything. Pretty sure I've finally posted to all active threads I'm involved with now. But I can be very scatterbrained and forgetful at times. So if anyone's got an active thread still waiting for a post for me, it probably just means I've forgotten, so PLEASE let me know about it so I can get on that asap.
And second, I'm aware it took me a long ass time to get around to a lot of these posts, and some …
[
Full reading
]
Comments: 0
Active Kawaiis
Sat Jun 24, 2017 1:25 am by Daaharu
Hey, guys. I'm hoping to get a sense from everyone of where the active kawaii girls are at. No guarantees or anything, but I am looking to figure out who is out there consistently making matches because we are looking to inject some new blood into the kawaii title scene, and I don't want to have tunnel vision on just the players and characters I know.
So, if you've got a kawaii girl who's had at least one match and is currently active, can you let me know either here or via PM or IM? This …
[
Full reading
]
Comments: 6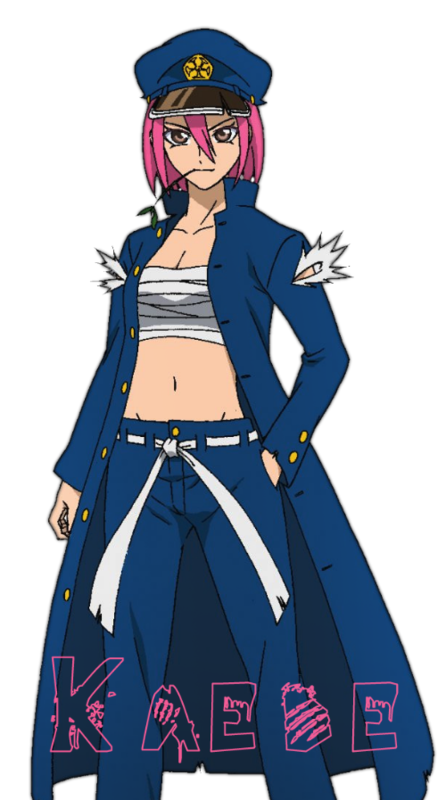 Full Name:
Kaede Komatsuzaki
Nicknames:
Queen of the Fist, the Terror of Sarayashiki Junior High (Self-Given titles), Bitch, Pinkie, That Crazy Girl With the Straw In Her Mouth
Age:
18
Eyes:
Hazel
Hair:
Pink
Height:
5"7'
Weight:
134 pounds
Home:
Japan, Nagasaki
Entrance Music:
Thrasher by NERD
Wrestling Information
Strategy:
Punch, kick, scratch, elbow, knee, headbutt, stomp. Do whatever it takes to win! Full steam!
Kaede is very much lacking in wrestling ability. She can do basic moves - Irish Whips, snapmares, maybe the occasional arm wringer - but anything more advanced than a DDT is really out of her wheelhouse. She knows this, too, and falls into a strategy of just doing what she's good at: hitting her opponent until they fall down. If said opponent is too hardy or skilled for that to work, well…
Style:
Authentic High School Brawling
Type:
Anything-Goes Striker
Preferred Attacks:
Strikes. Strikes all day. Strikes for breakfast, lunch, dinner, and a midnight snack. There is a hint of karate in her moves, as she can execute some kicks that you wouldn't expect some random youth to do, but not much beyond that.
Preferred Matches:
Is a particular fan of the Backstage Brawl. Interested in hentai, but not with just anyone.
Physical Statistics
Endurance:
★★★★★ - The only stat she really excels with. Is used to taking a beating.
Strength:
★★- Stronger than she looks, but then, she doesn't look too strong to begin with.
Speed:
★★★ - Can strike pretty quickly when she gets whipped up.
Defense:
★ - Kaede never met a punch she wouldn't take.
Technique:
★ - ???
Wrestling Statistics
Strikes:
★★★★★ - Her bread and butter.
Submissions:
★ - Unless mounting someone and punching them until they give counts as a submission move, no.
Powerhouse:
★★ - She's fairly skinny. Could lift someone around her own size, but it would take much effort.
Aerial:
★★- Has been known to leap off tall things in order to punch people more effectively.
Counters:
★ - Nope.
Finishing Moves:
Curb Stomp:
With her opponent rising up to their feet after being beaten down, Kaede run to her from the side, jumps up, plants her foot against the back of the opponent's head, then stomps it into the floor. Simple. Effective. Cool to watch.
Personality:
Scrappy.
One simple word, but it perfectly describes Kaede in almost all aspects. Most of Kaede's time and energy is spent either getting into fighting, fighting, or healing up for fights. The woman absolutely loves combat, and she doesn't even seem to care that much if she wins - yeah, she prefers to come out on top, but as long as it's a good bout, she's overall happy. As such, she'll do just about anything to instigate a fight with anyone for any reason. Size, shape, age, sex, doesn't matter the time, doesn't matter the contest, Kaede
WILL
fight you
Beyond that, she's surprisingly laid back in other areas of life, even lazy. When there's nothing to tweak her aggression, she becomes rather placid and takes little interest in everyday affairs. It's hard to get her motivated towards anything that doesn't involve wanton violence.
History:
Kaede loves to fight. According to her mother, she came out of the womb kicking away at the doctor as she cried, and according to all sources, she was an extremely rambunctious child even before she could remember. There's no particular reason for this - her parents were perfectly loving, treated her well, gave her a good upbringing. It was just a part of her DNA that she always loved combat. Watching and participating.
Her parents thought that karate might quell some of her fire, but they were wrong. She treated karate like a fight club, putting in the bare amount of effort needed for her instructors to let her spar. She had no patience for learning forms or katas or getting new belts. She just wanted to fight. All she wanted to do was fight.
After about two years where she never advanced beyond a white belt, they gave up on the idea, but Kaede never forgot the training, and used it in her school, constantly picking fights. Some she'd win. Some she'd lose. All she'd be punished for. She kept doing it, and racked up quite a reputation as a brawler within her class halls.
Until she was expelled, right around the age of sixteen.
With her academic future in the drain, her parents finally buckled down and forced her to work for a living. She went through multiple jobs, but none of them really seemed to work out for long for the predictable reasons.
When she finally turned eighteen, however, she knew what she had to do: join the AFW. She'd been a long time fan, and their nonexistant hiring standards meant she could get in with ease, and they'd pay her to do what she loved doing best. Made perfect sense.
-Attire-Note:
While she wears this attire to the ring, Kaede takes off the jacket and getta before the actual match starts, wrestling barefoot. The hat stays, though. Lucky hat. She also keeps the straw in her mouth.
Boot to the Head!:
Bring it on:

]
What she'd look like if she were a guy. Which she's not.:
If Kaede were a Pokemon, she'd be…:

SHE WOULDN'T BE A DAMN POKEMON



Posts

: 11925


Join date

: 2014-02-14


Age

: 30


Location

: Charlotte, North Carolina, WOOOO!




Similar topics
---
Permissions in this forum:
You
cannot
reply to topics in this forum