Who is online?
In total there are
38
users online :: 9 Registered, 0 Hidden and 29 Guests :: 2 Bots
acuya
,
Cicilia
,
Daaharu
,
Harrier
,
Hedgehawk
,
KillerV
,
Old_Man_Tai
,
Tarantulust
,
Yori
Most users ever online was
390
on Tue Jan 02, 2018 2:02 pm
Champions & #1 contenders
Highfly Flying Out Of Town
Tue May 22, 2018 1:31 am by HighFly
Hello everyone, I just wanted to inform all I have threads with that I will be gone from this coming Wednesday through Sunday. I won't be able to post consistently if at all during this time, but I will try to make up for it next week! I am sorry for the inconvenience to everyone.
Comments: 7
The Austrailian Mudslide is Back.
Sat Apr 21, 2018 6:20 am by Softsquad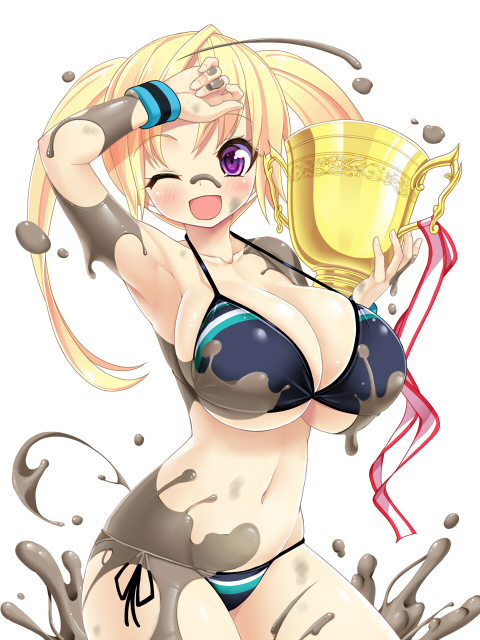 Granted that most of you won't know me or remember me, but I've had a few matches here and there some time ago. Well I think its time to become a regular around here and try to have some fun again, but at the same time keep coming back. Anyway I think its time to jump into some matches with Zoe Taylor, my mud wrestling character from Australia and get her back into the squared circle. Furthermore I will update my characters as I think some proper changes need to happen.
So if anyone would …
[
Full reading
]
Comments: 5
Page 1 of 4 • 1, 2, 3, 4


"..................yay..............we're dating."
This was perhaps the most enthusiastic endorsement Strawberry was capable of giving.  High praise, for sure.
Having put on a rather questionable performance in
her match against Natsuki Tsukino
, scored a draw in same, and then accepted an invitation out to the cafe from her former opponent, the blonde was having an unexpectedly eventful day.  That was a lot of action to pack into six hours (which, mind you, was how long her days typically lasted).
This was not a complaint.  She didn't mind action, she minded having to put forth effort.  It was an important distinction.  And right now, Strawberry didn't need to put forth any effort at all, being as Natsuki was carrying her down the sidewalk towards the coffeeshop.  It certainly beat having to make the walk from the arena (which, a normal person would probably argue, was extremely close - especially for a trained athlete - but this was Strawberry.  Things worked differently).  So that was pretty cool.  She appreciated it, not that there was any indicator.
Indeed, her eyes were listlessly cast skyward, head flopped back dramatically and arms limp as Natsuki brought her closer to their intended date.  She looked...not
quite
dead, more 'doing a bad job of portraying a dead person in a stage play'.
".......thanks for taking me, I guess......" Strawberry managed, not bothering to look up at the taller girl.  "It'll be good to go see the cafe.  Especially if they have ice cream..........but y'know............no pressure...........they don't have to have ice cream if they don't want to.............that's okay.  I guess."
Ice cream was her second-favorite treat, coming in a comfortable second to prescription sleep aids, and as much as Strawberry was pondering the possibility of having a sugary coffee of some kind, the possibility of a sundae seemed to appeal to her even more.  Not enough to actually do anything about it, of course, but it's the thought that counts.
"Mhmmm! Yes we are~" Natsuki agreed cheerily, an unabashedly idiotic grin on her face. Given how low her success rate with these kinds of things usually was, every victory was a great victory. Even if this came at the cost of getting a draw in her first match and likely getting yelled at by her manager later on. But that would be later. For now, a date!

The dark-haired girl was so lost in her glee, she really didn't think much of how bizarre the two of them looked, much like she was happily carrying around a fresh corpse. Natsuki had cleaned up quite nicely after the 'match', and was now dressed in a snappy white-button up shirt and fancy striped skirt, which improved the image somewhat. But not by a lot.

"Oh and don't worry, my dear Strawberry, just from talking with you, I had surmised you had quite the sweet tooth," Her name is Strawberry. "and have selected the perfect place with that in mind~ And here we are!"

Arriving at the intended destination, Natsuki nudged the door open with her foot, carefully shuffling inside sideways, taking extreme care not to hit anything with her corpse date. A table for two please." the dark-haired girl said to the waitress at the entrance, seemingly oblivious to the strange look she was receiving. "A booth, if possible."

"R... right away miss."

".......nice."

The possibility of sweets had raised Strawberry's spirits, not that it was possible to tell, and her lips quirked upwards in what was almost definitely kind of sort of maybe a smile.  Ah, life was good.  As the puzzled waitress escorted them to a booth - an excellent choice, since it let her sprawl a bit - Strawberry shifted in place and let Natsuki set her down on one side.  Immediately, she cozied up to the cushions and found the optimal point to rest the side of her head on her forearm.

Thus positioned, she turned her head to glance at their waitress and made an attempt to blow the hair out of her eye.  It failed, naturally.

"....hmmmmmm...."  Strawberry bit her lip, and for the first time since Natsuki had met her, it seemed like she was thinking intently about something.  "....I...will have...."  One finger twitched atop the table.  "......I'll have a double fudge chocolate chip caramel ice cream sundae with extra whipped cream, espresso sprinkles, and a cherry on top."

"Um," said the waitress, her eyes wide.

"..........and I guess a glass of ice water."
Natsuki could barely contain her own shock at Strawberry's order, not at the contents of it, but rather the precision and directness with which it was delivered. It was... unexpected to say the least.

I guess I was spot on about the sweets. Good job me!

"Ah. I'll have a choco honey toast and an espresso please." she looked at the waitress with a smile, having quickly regained her composure.

"I-I'll be right back." the waitress scribbled furiously onto her notepad, likely to finish up Strawberry's order, then with a few more quick strokes, bowed her head and left.

Natsuki watched the cute waitress walk away for a brief, but deliberate moment, then turned back towards her date, leaning over. "This was quite sudden, so I hope you aren't too tired after our match." she said politely, giving Strawberry yet another charming smile (likely to little end, but it was the thought that counted, right?). "Oh but don't worry, I would be more than happy to escort you home afterwards, if you wish. I could never let such a cute girl like you be alone at this late hour.
With the promise of eventual sweets, Strawberry seemed to settle back down into her slouch.

"...........cool," she finally announced, flopping in place. A breeze from the air conditioner caught her errant bangs and blew them up her forehead, and at long last, she was looking around with both eyes for a few minutes. "...nah, not really tired yet....I guess....well, maybe a little....just give it a few."

The waitress passed, dropping off a tall glass of ice water on her way to another table, and Strawberry rummaged around in her hoodie. It was difficult in her position, and so at last, she begrudgingly sat upright, pulled a fob keychain out, and shook out a pair of pills, which promptly chased a hearty swig of the water down her throat. The blonde allowed herself a contented, lazy smile and leaned back on her arm, watching Natsuki with semi-focused eyes.

"........nice. Um, if you want to, you can take me home, I guess....when we're done, I mean..........uh............if you want to. I can get back all right. But it doesn't really matter to me." One of those sentences probably would've sufficed, but she was on the slopes of Mount High As Fuck On Ambien and about to begin her ascent; coherence was not going to be Strawberry's strong suit. "Whatever works...I guess..."

A moment went by in silence.

"....so, like....do you do this stuff often?"

It was not clear whether 'this stuff' was wrestling, dating coworkers, coming to the cafe, or possibly all of the above at once. An explanation was probably not going to be forthcoming.
Natsuki just continued to smile as Strawberry consumed her pills, resisting a powerful urge to ask about them. She didn't know much about medications, but they were probably important. Probably...?

"It... it would rude to ask, wouldn't it...?"

"Oh do not worry, Miss Strawberry, it would be my honor to escort you." she replied, happy to change the subject and push her nagging curiosity to the side. She paused for a moment, perhaps waiting for a response, or maybe for Strawberry to offer an explanation for those pills (a far as a reach as that would have been, to expect that kind of effort). Alas a single, awkward second passed by before the blonde girl spoke up.

"This? Of course!" Natsuki replied happily, immediately assuming Strawberry was talking about the date. Naturally, this was a blatant lie, as her blunt and rather pushy behavior usually ended up with her getting rejected, punched in the face, or both. "Whenever I see a cute girl, I feel the urge to pamper them like a princess!" And come on to them like a sleazy prince. "Not that I'm so horrible to cheat on anyone, I mean. I like to engage in open relationships. Oh, but right now, I only have eyes for you, Miss Strawberry! Just say the word and I will be yours and only yours, if that's what you wish."
"....oh...."

Strawberry found herself gradually relaxing. I mean, even more than usual. Her eyelids fluttered as she settled in, enjoying the steady breeze from the air conditioner. Oh man, that was perfect. She'd picked just the right spot to lean on the table, and the current was hitting her just under the chin. Sometimes, this didn't work out as well and she ended up being slightly off (or worse, with the breeze blasting her right in the face) and that sucked because there was no way Strawberry was going to the effort of getting up to readjust her position or, worse, try to change the A/C. Who could be bothered with trying to figure those things out? Not here.

She raised a lazy eyebrow at Natsuki's hasty explanation of her dating habits, weighed this information, and then finally shrugged. Or, well, twitched a shoulder slightly. Huh.

"....relationships are a ton of work," the blonde announced - or probably announced; given that 'of work' kinda trailed off into a yawn, her meaning had to be mostly inferred from context. "It sounds....mmm....like too many people to keep track of."

Ah yeah, this was the stuff. The Ambien was kicking in and the breeze was cool and the ice cream was on its way. Strawberry felt the world around her grow pleasantly warm and enveloping, punctuated only by the refreshingly cool breeze. Life was good.

"Don't you get tired of.....um...." She blinked for a moment, trying to phrase it in the lowest-effort way possible. "....relation....shipping all the time?" There. Mission accomplished.
Ah. Changing the subject. A subtle, gentle rejection. Not that Natsuki was disheartened in anyway. Perhaps she needed to be more direct. Or perhaps a bit more convincing was needed. Yes. Strawberry didn't seem like the kind of girl who rushed things (not an understatement at all).

"Aha, of course not! Seeing a beautiful, smiling face gives me all the energy I could ever need!" Natsuki explained proudly, "And I could never forget the name of any beautiful face, as it is etched upon my heart!"

Or something like that, anyway.
".......Uhhhhhhhhhhhhhhhhhhhhh..."

The idea of caring about something, let alone caring about it as much as Natsuki evidently cared about looking at hot girls, was alien to Strawberry, who would've been right at home on an internet discussion forum or other such location where admitting to caring about things is tantamount to suicide.

She narrowed an eye, trying to process this.  The taller girl was something of an enigma to her - granted, Strawberry didn't spend much time investigating enigmas, although there were many in her life (ranging from 'what motivates Natsuki to chase skirts, albeit in such a gentlemanly and dapper way?' to 'why is my resting heart rate 45 bpm, is that normal?').  But the brunette had been nothing but nice to her, and now she was in a position to have a delicious treat, sooooo....

Speaking of which, the waitress arrived a moment later and set a massive sundae down in front of the half-snoozing blonde, whose eye seemed to light up a little at the sight. "Uh, h-here you are, ma'am," she managed, looking a bit frazzled.  Natsuki's espresso and honey toast followed shortly.  "Is there anything else you need, or...?"

Strawberry pushed herself upright with a force of effort comparable to Atlas holding up the earth and cast an unusually serious eye over the mountain of ice cream.  At last:".........nah."

She took an experimental bite of the sundae's base.  Delicious.  Just the right amount of caramel.  Strawberry smiled widely (an unusual sight, compared to her perpetual flat stare) and began digging into the sundae in earnest.

"....so, um....."  She paused for a mouthful of chocolate.  ".....is that why you got into wrestling?  Cause there's...Iunno...lots of girls, or.........?"
Natsuki smiled kindly at the waitress, thanking her for bringing their order, and only just barely holding herself back from trying to hit on the girl in the process. No no no. It would be rude while I'm on a date with Strawberry!" As the slightly confused-looking waitress turned to leave, the dark-haired girl turned her attention back to her blonde companion, who was already starting to work on her ice cream.

"Oh, now that is such a gorgeous smile, Miss Strawberry." Natsuki couldn't help but grin as she saw Strawberry's reaction upon trying her sundae. "I think that's the first time she's actually looked so happy. Mmmm. I must take a mental note of this... Ice cream is the way to go." the dark-haired girl thought to herself, taking her knife and fork while starting to cut the thick crust of the toast in a very proper manner. While a bit on the plain tasting side, the crunchy edges complemented the sweetness of honey-soaked bits of bread.

Taking a few bites of her own dessert, Natsuki stopped to pour some sugar and cream into her coffee, when Strawberry made her inquiry. "Uh, well that actually was the primary reason, but..." That seemed like kind of a poor answer. Even she did kind of acknowledge how irrational her decision to join the AFW was. "A-ah, well... Despite how handsome I appear, I am still pretty tough after all. Haha. Ummm..." she scratched the back of head with slight nervousness. "I mean, I used to be a model, but that was kind of boring, so I wanted to try something a bit more... hands-on. Of course, all the beautiful women here are just a bonus.

"A-and, if I hadn't joined, I would have never encountered such a pretty flower such as you, Miss Strawberry." Cue sparkly effects. "If I may so bold as to ask, what made you want to become a wrestler?"
Page 1 of 4 • 1, 2, 3, 4


---
Permissions in this forum:
You
cannot
reply to topics in this forum