Who is online?
In total there are
40
users online :: 9 Registered, 1 Hidden and 30 Guests :: 2 Bots
acuya
,
axe2029
,
Harrier
,
I_care_not_till_I_must
,
killcarrion
,
Lobo
,
Person
,
Tarantulust
,
Yori
Most users ever online was
390
on Tue Jan 02, 2018 2:02 pm
Champions & #1 contenders
Highfly Flying Out Of Town
Tue May 22, 2018 1:31 am by HighFly
Hello everyone, I just wanted to inform all I have threads with that I will be gone from this coming Wednesday through Sunday. I won't be able to post consistently if at all during this time, but I will try to make up for it next week! I am sorry for the inconvenience to everyone.
Comments: 7
The Austrailian Mudslide is Back.
Sat Apr 21, 2018 6:20 am by Softsquad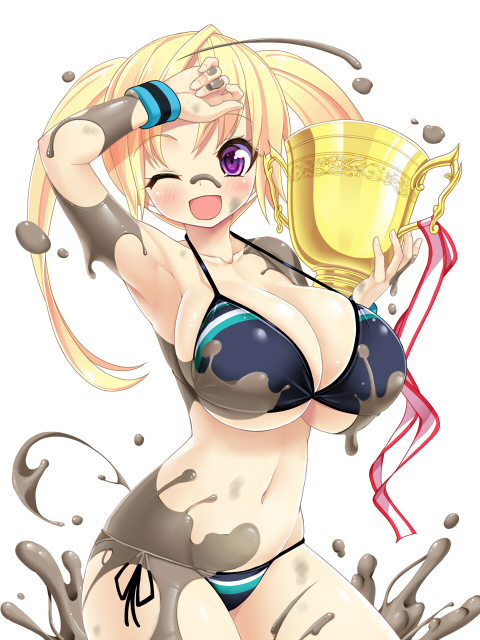 Granted that most of you won't know me or remember me, but I've had a few matches here and there some time ago. Well I think its time to become a regular around here and try to have some fun again, but at the same time keep coming back. Anyway I think its time to jump into some matches with Zoe Taylor, my mud wrestling character from Australia and get her back into the squared circle. Furthermore I will update my characters as I think some proper changes need to happen.
So if anyone would …
[
Full reading
]
Comments: 5
Page 4 of 5 •

1, 2, 3, 4, 5


After all the shit Gwen had put Liberty through, all the taunts she'd hurled her way, the smug sense of superiority she'd lorded over everyone and the damage she'd been consistently dishing out since the opening bell, it was impossible to put into words just how satisfying this moment was. Like finally smushing a bee that's been buzzing around your head all day.

It was a common move. Just a German Suplex, the kind you see in every other match on the AFW. But the simple act of picking Gwen up and slamming her down on her immaculate shoulders was incredibly cathartic, especially when she made that distinctly unladylike squawk at the end. Liberty wanted to do it again.

So, she did it again. Simple as that.

Keeping the waistlock tight, she stood up and rose with Gwen, hugging her close all the way. When they were both up enough, Liberty hammered her heels into the mat, arched her back and lifted the wrestling princess up for another suplex. She even stood on the tips of her toes, eager to get as much out of the move as she possibly could. "One more!"

Tugging, scratching, yanking and pulling were gaining Gwendolyn little leeway in freeing herself from Liberty's boorish clutches. Nevertheless, her lack of noticeable progress hardly deterred the dainty debutante from her scrambling efforts. Being this unbearably close to Liberty sent a shiver up her spine for a multitude of repulsive reasons. Though for the moment, her primary concern was not having to endure another ring rattling suplex.
Begrudgingly rising to her feet with Liberty's heaving chest and sweaty frame still hopelessly latched onto her, that familiar sense of dread washed over Gwen when she heard the anarchist's bellowing call. "Yah!!" Gwen gasped before re-experiencing that familiar sense of terrifying weightlessness. Widening her eyes and reaching out to nothing in particular as she sailed through the air before being once again planted onto her shoulders with vicious authority.
Gwen extended her toned legs skyward from the jarring impact and it's reverberating pain before eventually slumping over and collapsing limply to her side. By now Gwen's fervent resistance had been thoroughly suplexed out of her, the rattled heiress resigning herself to groan miserably against the canvas while a deafening audience roared in approval from seeing the dainty blueblood get consecutively slammed around with ease. An echoing chant starting slow from the Liberty faithful and building up more momentum as time went on...

"

One more time!...

One more time!!...

One more time!!!...

"
"

One more time!...

One more time!!...

One more time!!!...

"
Now
that
was what Liberty liked to hear.
Her smile was wide and feral as she brought Gwen down for another suplex, making the arena rattle with her impact. She had to admit, she'd never been too big on the more traditional wrestling moves before - she had a few in her inventory, but most of the time she opted towards simple brawling and using whatever she could hold with two hands to bludgeon her opponent. This was plenty satisfying, though, and after she finished up here, maybe she could talk to Odessa, see if she could get a few more slams under her belt.
But for now, she was content to ride this out as long as possible which meant…
"You guys want one more?" Liberty called out, as she hauled Gwendolyn up again. "You got it!"
Liberty arched her back for another German Suplex, this time letting her arms go at the crucial moment. She wanted to make sure Gwen got as much hangtime as physically possible on this one, launching her skyward with a mighty grunt.
The thrilling spectacle of seeing the dainty debutante be flung head over heels with was an immensely crowd-pleading sight that left them clamoring for more. All to the groaning displeasure of the heiress herself, her shaken sensibilities only just recouping when Liberty would start to shuffle them both back back to their feet for another go around in this hellacious roller coaster.

"Rrgh..." Gwen grumbled through gritted teeth as the burly anarchist hoisted her upward once more, her weary frame slackened and slumped over. Offering not even a token resistance towards Liberty's manhandling. Her first experience being on the receiving end of any tangible punishment in this match wasn't going so smoothly, Gwendolyn seemingly resigning herself to her fate when she was hoisted overhead with an immense amount of brute strength...

...so much sheer force, in fact, that Gwen's nimble instincts would kick in and compel her to tuck her legs in for a stunning mid-air roll that would land her on her feet!! After backpedaling slightly to straighten her wobbly stance, Gwen's sudden adrenaline surge had her dashing to Liberty just as she was rising upward while turning to face the aristocrat. The sprinting heiress would apply a front facelock on Liberty and continue to ride her forward momentum by jumping upward, stiffening her regal frame like a washboard, and falling back down to drive Liberty's cranium straight to the canvas for a leaping implant DDT!
Liberty's roar was deafening as she hurled Gwen up and over, putting everything she had into the mighty move. All her strength, all her fury, all her fight, dedicated to one powerful, deadly maneuver. Her only regret was that she couldn't turn around in time to see Gwendolyn come down for a hard landing on her oh-so post posterier. She'd just have to settle for the replay.

"Yeah!" Liberty pumped her fist in the air as she sat up, feeling the raw energy flow through her veins. Just one more slam. One more big hit. She'd put Gwen down with her finisher, win this match, and shove every smug little word the blonde bitch said right down her throat.

She stood up, turned around to make her dreams a reality, and that was when things got a little crazy.

Suddenly, Gwen was close. Uncomfortably close. Way, way, way too damn close. Before Liberty had the chance to really do anything about it, her head was wrapped up, her body was being jerked forward, and the top of her skull was being hurled towards the canvas at alarming speeds.

'Implant DDT' was the perfect name for the move, because that was almost what happened. Liberty's head with earth-shattering force, and for a sweet moment her body stood ramrod straight, perfectly balanced on the canvas. When that moment passed, though, gravity brought her down right on her back and left her rolling around in pain on the floor, stunned and agonized as she rolled around in the wood.
The cataclysmic thud of Liberty's head being hammered into the canvas was accompanied by a mixture of stunned silence and sympathetic groans for the burly rebel, balancing herself like a freshly planted anarchistic tree before teetering over. The surging adrenaline that compelled Gwendolyn to counter her lamentable situation had taken a backseat to the residual aches and pains from being doubly suplexed on the back of her head. Leaving the heiress cradling the back of her golden haired cranium while rolling to her side and seemingly in no better shape than Liberty who was just off to her side. The polar opposite competitors having one moment where they had something in common.

Several seconds of bated anticipation would pass before Gwen would gradually arise back to her knees while rubbing the back of her head, all to the fervent boos of the audience and cheering applause from her faithfully employed entourage. Being subjected to one too many power moves was an...unfavorable, outcome for her dainty frame. But her less muscular physique enabled her to have the swiftness and agility to make up for it.

Glaring through wincing eyes at Liberty's languishing form, Gwen's next method of attack would be decidedly less elegant. After shuffling towards the front of Liberty while on her knees, Gwen would clench her hands onto the anarchists filthy mane of hair and repeatedly  slam her equally filthy face into the canvas. The heiress hopping on her knees in place with every impact until eventually the ref's counting and disqualification threats would put an abrupt end to the head banging.
"Guuuuuuuuuuuuh."

What just happened? Liberty was doing well...okay, no, she was getting her ass kicked, but she'd been in the middle of a solid comeback. Her suplexes were doing the job. And then just - WHAM BAM - it was over. Just like that. She was riding high, and suddenly it was all over, and she was on the floor, and Gwen was grabbing her hair, and-

"Ugh!"

Down her head went, crashing against the mat.

"Unh!"

Again, just as hard as before.

"Ah! Nnh! Guh!"

And again and again and again, each time harder than before. Gwen was a small thing, but she packed a surprising amount of power into that lithe frame. When the headbanging was over, Liberty was left to wallow on the floor, groaning and growling as she tried to push her way back up. It wasn't easy - she was moving slow, feeling heavy and exhausted, and would've taken her a while even if she wasn't in the middle of being assualted by the world's most well-groomed pitbull.
After venting her frustrations in a decidedly undignified manner, Gwen would relinquish her hold on Liberty's hair and take some soothing breaths to help center herself as she climbed back to her feet. Regaining her royal composure by primping up her illustrious golden curls and dutifully examining her manicured finger nails for any unsightly hangnails with a snobbish pout on her face...

...all while the writhing anarchist squirmed and struggled at Gwens pearly white boots. Liberty's sudden resurgence had briefly given Gwen cause for concern, but after some rather therapeutic sprucing up of her divine figure, Gwendolyn felt the time had come to put this loathsome rapscallion out of her misery.

"I do hope this little fracas of ours settles any lingering doubts as to how woefully inept you are as a competitor, Lady Liberty..." Gwen pompously stated while still analyzing her extended fingers, not even sparing a fleeting glimpse down towards Liberty as she gloated onward. "In actuality, you should feel quite honored~... A commoner such as yourself being allowed to engage in civilized combat with someone with such a vastly superior pedigree, and performing as well as you have~...Take this lesson of your own inferiority to heart, lest you risk me imparting it unto you yet again."

After having delivered her lasting monologue, Gwen would pivot in place while clenching tightly on to Liberty's hair when she was back on her knees. Clamping her smooth thighs tightly around Liberty's cranium, Gwen strained her leg muscles while reaching behind her to snatch Liberty's wrists and tug them forward. The angered fans immediately recognized the setup from Gwendolyn's last match with Akiha, booing their hearts out before the heiress would leap astoundingly high in place to attempt her Arbre généalogique royal finisher~...
Get up.

Liberty was by no definition a 'light women', but she'd gotten used to turning her weight into an asset instead of the liability everyone expected it to be. She could move fast enough, get around well, even bust out a halfway decent somersault when the mood swept her.

Get up, Liberty.

But now she felt obese, like the heaviest weights were pulling down her shoulders, pushing her to the floor. Everything was sluggish. Her muscles, mighty as they were, refused to work like she knew they could. She was dismantled, and while this wasn't the first time she'd taken a beating, she couldn't remember it ever happening this quick, or with some who weighed so much less than her, or with someone who talked so goddamn much she wanted to rip her stupid curls off her head and shove them down her throat.

"Shut up." Liberty grumbled, pushing up and trying to keep Gwen's words from taking root in her mind. "Just shut-"

Suddenly, Liberty couldn't hear Gwen anymore. That would've been fine, except she couldn't hear much of anything else, either - it was a little hard to listen to anything when she had thighs wrapped around her ears. Her wrists were snatched up, and while Liberty didn't know exactly what was about to happen, she could make a guess that it would involve her face and a lot of pain. It turned out that she was exactly right, as the canvas swiftly rushed up to meet her face.

And then, darkness.
The deafening thud and slackened frame of Liberty's grotesque form were all the telltale signs of the impending conclusion of this match, the wishful hopes of a momentous comeback being deflated with one skull rattling finisher. As hopelessly one-sided as the match had become, there was still a flickering candlelight of hope for the burly anarchist to give this match a storybook ending...before a certain cold reality would extinguish that light permanently...

Remaining on her knees after having implanted the anarchists cranium into the canvas, Gwen sported a malicious smirk with her slackened arms at her side. Saying all she needed to say in one pompous sneer and allowing herself time to revel in the cascading boos of practically every living soul in the audience...except for the ecstatic cheers from her beaming entourage, of course. Clearly relieved at having not been needed to get involved this time around and put their own health at risk.

After rolling herself over, and simultaneously flipping Liberty over to her back in the process, Gwen would scooch forward and hook one of Liberty's legs under her armpit for a matchbook pin attempt. An intended consequence of this pin was having the heiress' perfect posterior emphatically shoved right on top of Liberty's mumbling face. The heiress gleefully fulfilling an earlier promise to Liberty to have this match end with her grimy visage enveloped beneath her soft and curvy backside, Gwendolyn leaning far back into the heavenly smother until her golden curls were dangling behind her in the extravagant pinning predicament~...

"1"!
Page 4 of 5 •

1, 2, 3, 4, 5


---
Permissions in this forum:
You
cannot
reply to topics in this forum