Champions & #1 contenders
Highfly Flying Out Of Town
Tue May 22, 2018 1:31 am by HighFly
Hello everyone, I just wanted to inform all I have threads with that I will be gone from this coming Wednesday through Sunday. I won't be able to post consistently if at all during this time, but I will try to make up for it next week! I am sorry for the inconvenience to everyone.
Comments: 7
The Austrailian Mudslide is Back.
Sat Apr 21, 2018 6:20 am by Softsquad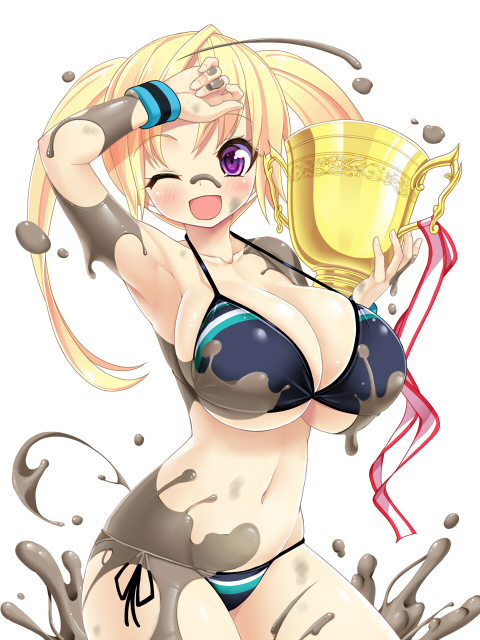 Granted that most of you won't know me or remember me, but I've had a few matches here and there some time ago. Well I think its time to become a regular around here and try to have some fun again, but at the same time keep coming back. Anyway I think its time to jump into some matches with Zoe Taylor, my mud wrestling character from Australia and get her back into the squared circle. Furthermore I will update my characters as I think some proper changes need to happen.
So if anyone would …
[
Full reading
]
Comments: 5
Page 5 of 7 •

1, 2, 3, 4, 5, 6, 7


Jessica loved it when girls reacted properly. Her lovemaking skills were superb in her own estimation and she loved seeing the effect that her dominance had on women. This particular bout of fucking was unconventional to say the least, but the results were no less deniable. The Violent Violet could see the pleasure written all over Ven's body as she struggled under the showerhead. The begging made it all the more euphoric for the cruel Jessica and the moans emanating from her mouth spoke far louder than any of her words ever could.

She breathed in deeply, taking the situation all in. Ven's dam was about to break hard and Jessica bit her lip. Being this up close and personal with a woman about to orgasm was an entirely new experience for her and Jessica was already enjoying it. Ven's sensual womanhood was going crazy and Jessica reckoned that she had sent the Silent Retribution to the highest highs of pleasure.

"Cum for me." Jessica's command was sharp and came with an implicit message: Jessica would control even the biological processes of the woman for the rest of the week. Ven's sex stood no chance against her.
As much as Ven wanted to avoid Jessica's command with as much useless resilience as she could muster it was very clearly apparent to her that such defiance would be pointless and the very definition of ineffective. With both her mind and body completely drowning in the overflow of unrelenting pleasure Ven could feel that the inevitable was about to be swiftly thrust upon her. The Silent Retributions futile struggling dramatically increasing in magnitude for the moment, almost as if she was trying to fight off the oncoming orgasm with her weak flailing.

"Huuu!!~ Aaaahaa!!~" Ven cried out at the top of her lungs as her womanhood finally gave in and began overflowing with the sweet production of Jessica's attention. For a moment the taller woman's flailing transformed into stiffness, her entire body remaining motionless for a moment or so as the exotic pleasure of what had just happened continued, leaving The Silent Retribution trapped in both an amazing physical and terrible mental place.

A few moments later however, Ven's stiffness completely dissipated and she fell both extremely limp and silent. Upon closer inspection The Violent Violet would also see that the taller woman's eyes were shut, fresh spit awkwardly dribbling from her mouth as she had apparently been fucked unconscious!
Jessica hated bitches that didn't listen. Jessica viewed herself as higher than anyone and when people did not respect that she got angry. It was so nice to have a woman in her arms that would listen to her, even if it was little else than a biological demand. She loved her shower head almost as much as she loved annihilating women in the ring, and Jessica was quite pleased to see that it had a rather similar effect on Ven. The Silent Retribution was reduced to a twitchy and stiff mess before she went completely limp. Jessica looked down to see two eyes that were very much closed. If Ven couldn't handle that without going unconscious, what Jessica had in store for the rest of the week would surely overwhelm her completely.

The Violent Violet let Ven down softly and straddled her body. She washed herself thoroughly and quickly. All of the sweat and grime of the day was circling the drain as Jessica continued to stand over Ven's body. She was quite hot, out cold on her shower floor, and Jessica considered taking a picture for later. Jessica placed her foot on Ven's chest so as to wash under her leg a little bit and then placed the soap in the little container. Jessica then washed her hair completely before stepping out of the shower.

She wrapped a towel around herself and then sat on her chair, waiting for Ven to come around. Jessica wanted to see just how coordinated Ven could be after such an awe inspiring orgasm. She peered around the shower curtain and waited for the Silent Retribution to rouse herself.
After everything had so suddenly cut to black Ven was finally given a little bit of a break, even if it came at the cost of being knocked unconscious via a forced but nonetheless breath-taking orgasm, any form of temporary freedom from Jessica was undoubtedly reliving.

Not too long after The Violent Violet had taken her seat Ven slowly started to come to. At first it might not have been so evident as the taller woman's eyes barely crept open, the bright bathroom extraordinarily blurry to her newly awoken vision for a few moments before swiftly becoming much more clear, causing The Silent Retributions heart to quickly sink down into terror as she suddenly remembered exactly where she was and what had happened to her.

With a frightened gasp Ven shot up into a sitting position, scanning her surroundings for a moment like a frantic mouse before eventually managing to calm herself down a bit, slowing her movements and eventually looking down at her still naked body with a quiet yet deeply saddened whimper. After a little while of upset contemplation passed Ven attempted to climb back up onto her feet, only managing to get around halfway up before slipping and clumsily collapsing right back down again with a thud of failure. Feeling far too much shame and defeat to try and get up again the miserable woman just remained in the same seated position, desperately trying to use her hands to gain some coverage over her most private of areas.

Jessica laughed. Seeing Ven fail to even stand up after such a raucous orgasm would have been comical even to the angels. And Jessica was pretty damn far from an angel. All her blustering about vengeance and justice had come to this: her, naked on the floor of Jessica's shower, not even having enough steam to get up under her own volition. It was sad, really, but Jessica's mood was far from lachrymose. When she giggled her large breasts laughed with her, jiggling out their joy even within the confines of the towel.

She held up a finger to stop Ven. The Violent Violet would have no more of this torrid. "Sit down if you have to, but you will wash yourself completely." She seized Ven's hand to ensure that no part of her would be recondite to Jessica's purple eyes. "I will see you." Her tone suggested that there was little room for debate.

"You are going to get really dirty tomorrow." Jessica said in a malicious tone. "I would highly recommend you make yourself as clean as possible." The Violent Violet was spent from the activities of the day and yawned.
Even as Jessica did the smallest action of raising one of her fingers Ven flinched back a little with an expression which read afraid and unsure. Everything which The Violent Violet had done to the taller woman had been horrible and nefarious in it's every own unique way and always seemed to come out of nowhere, causing The Silent Retribution to become truly on edge and fearful of every passing moment which she spent with her devilish captor.

"Hah!" Ven gasped in shock as Jessica suddenly aggressively snatched her hand, forcing her to retreat into an even further submissive state as she did all she could to try and avoid Jessica's line of sight, the single hand which The Violent Violet had a tight hold of beginning to gently tremble in fear, not a ridiculous amount, but it was evident nonetheless.

"B-But..!" Ven whimpered out in response to Jessica's poisonous words, only daring to speak up and look at her captor for a mere moment before immediately shying away, regretting that she had even uttered a slightly challenging word and trying to continue on as if she had said nothing. Not wanting to stall things out for longer than she had to Ven would slowly start to rise up once again, this time just about managing to find her footing as she moved to try and sort out the showerhead, the fact that it wouldn't go high enough just acting as an extra kick in the teeth.
Jessica was always very material. Spiritual matters came to meet complete insouciance on Jessica's part, and to see the tangible reactions of Ven were like a blessing from the same above she did not believe in. Even as Jessica performed one of the most innocuous of acts, holding her finger up, the effects were so so real. Tremors of fear pervaded Ven's body, and Jessica saw that. Her lips curved into a smile. There would be no protest. The Silent Retribution's mouth was writing checks that her body could not cash.

She sent Ven's booty a nice little smack. It was so nice and rotund and Jessica could feel the muscles and power in it. "That's the only butt I care about. Now wash yourself." She sat back as she wanted to enjoy the show. She had already seen Ven at her most bare, now she wanted to see the woman at her most vulnerable. There were very few depths she could sink Ven to that she had already not sunken her to. Things could get incredibly interesting.

The girl was too tall for the shower. Jessica kinda wished she were a few inches taller to be that much more intimidating, but the fact that Ven could not even wash herself was comical. "Wash yourself. Do you think I have all night?" She rested her chin on her closed fist.
"Ah!" Ven yelped momentarily as a light stinging sensation rippled throughout her rear end, the initial impact causing her to flinch a considerable amount before she managed to quickly calm down, realising that she wasn't under attack from Jessica and that her captor wasn't doing anything else particularly wicked right now, she simply gave The Silent Retribution's ass a good slap because she could, luckily it was nothing more.

"No. Of course not. S-Sorry Jessica." Ven mumbled nervously as her captor asked a daunting question riddled with impatience, the taller woman clumsily fumbling around with the foreign designed shower to try and get it turned on, having to do quite a lot of inspection before she actually managed to press the correct things.

With a hot spurt of water the shower was functioning once again and Ven wasted absouloutely no time before doing as she had been asked, forced to hold the shower head in one hand due to it being too small for her to properly fit under. Grasping the freshly used soap with the other hand she began cleaning herself as thoroughly as possible, paying special attention to both her beautiful hair and beaten face as they are the areas which were most effected by The Violent Violets awful show of dominance. Although the situation in which she was forced to do it was humiliating, it at least felt good to finally get all of the sweat and dirt from the horrible day off of her.
Jessica relaxed a bit. She still gave off the appearance of focusing intently as she didn't want her pet to relax for even a second lest she slide into ease of mind, but in her head she relaxed. The tall girl in front of her was going through the motions of washing herself, and Jessica was enjoying the show. The girl was too lanky for the shower head to effectively wash her head, which made Jessica smile. The Silent Retribution had even struggled to turn the damn thing on and Jessica chuckled as a result.

She stood up and threw her towel on the floor. "I have known many women before." She proclaimed. "But none as thick as you. I have possessed many women before, but taking your liberty was by far the most enjoyable. You thought you were so proud and righteous standing before me and look at you now. Under my thumb." Jessica waved her thumb towards Ven just so she got the message.

"You are finished." She turned the shower off in one motion and smacked Ven's rear again with the next. Jessica threw open the shower curtain and roughly wrapped a towel around Ven's body. It was pleasantly firm yet oh so feminine even under the towel. There were a few more days of their time together still, and Jessica was looking forward to each and every second. Finally she stopped, once she considered Ven's breasts dry enough. "Finish yourself off."
"Huuu." Ven sighed out in minor aggravation as she was forced to withstand another barrage of Jessica's hateful comments, tightening her grip on the shower for a moment as a way to try and constructively vent some of her buildings anger, taking great care into keeping herself calm as she feared what she might say to her violent captor if she did not. Truth be told, although The Silent Retribution was considerably afraid of Jessica, flinching at her every move, there was a certain fury which was gradually building within her, a fury which could quite well result in her lashing out under false beliefs of being able to stand her ground, if it was not controlled correctly.

"Mmf!" The taller woman grunted as another stinging slap impacted with her sensitive ass, cringing slightly as the pain lingered for a moment or so before swiftly dissipating. After Jessica had so roughly wrapped a towel around her Ven began gently stepping out of the bath, her mind beginning to contemplate exactly everything which The Violent Violet had done to her today, each thought filling her with more and more righteous rage, her face partially lighting up red and her fists balling as she attempted to keep everything in check.

Suddenly, with Jessica's final comment Ven lost it. Making sure that her captor was turned away the taller woman stripped off her towel, quickly balling it up before abruptly throwing it at the back of Jessica's head. Certainly a defiant show born from the ever-building rage of the evening.
Page 5 of 7 •

1, 2, 3, 4, 5, 6, 7


---
Permissions in this forum:
You
cannot
reply to topics in this forum