Champions & #1 contenders
Posting delays
Sun Jun 24, 2018 12:14 pm by Harrier
Dear posting partners and people who are waiting for an reply from me by PM,
I am terribly sorry that you have to wait for my replies for so long.
Maybe the one or another from you knows the situation, you were flying high for some weeks posting wise and then you hit rock bottom again because of some RL BS and then you barely manage to churn out enough creative output for a meager 100 words post in a week and you ask yourself how you could have seriously overextend your supply lines so much. …
[
Full reading
]
Comments: 0
Kawaii Opportunities
Sun Jun 17, 2018 3:04 pm by Daaharu
Hey, guys!
With the kawaii title match at Avalanche taking on an interesting wrinkle with the interruption by the Brat Pack, we are moving forward with the overall kawaii storyline, and at this point I'd just like to take stock of what kawaiis are out there that are interested in participating in a cohesive storyline.
Can't make any promises about titles or what exactly each girl's given role would be. We can talk a little more about the specifics of where the story is going soon, but I …
[
Full reading
]
Comments: 3
Match for Takeichi
Tue Jun 12, 2018 6:13 am by GrandAkumaShogun
So with my other two guys having their own matches I figure I should do something with my first character on here, Takeichi Mori. If anyone is interested feel free to post here or get in touch through a pm so we can plan it out. I can either have Takeichi remain a jobber or begin to work him towards being a more serious competitor.
Comments: 1
Page 1 of 4 • 1, 2, 3, 4


Match Type: Hardcore
Winner by Submission
Weapons and Hentai Allowed
Alex muttered to himself, cracking his neck back on forth as he waited for his music to play. It seemed to be a reoccurring theme with these past few matches, if his memory served him right. Although, perhaps the fact that his match count was not so numerous, the ones he participated in held a large chunk of his remembrance to the so believed "phenomena". He was always second to be called out. Perhaps it was just complete coincidence that it was like that.....
No matter. The match ahead was no enigma to the Russian. Hardcore Rules. Anything Goes. Extremely Limited Referee Interference. Winner by Submission only. These phrased played off like beautiful hymns in Alex's sadistic mental frame. His only unanswered question was who the unlucky bastard that had endure the torment?! Coming out to a cheering crowd of AFW fans, the Russian didn't waste any time with slow introductions. Alex's god-like body was cladded in a "black-out" version of his normal attire, the only thing the same was his red headband that kept his long locks of blonde hair back. It wasn't like him to be so riled up at the start of the match....but when the rules of battle went his way, he couldn't help it....
Running downing the ramp, he soon came up to the ring and hoped up over the top rope. Landing on the un-padded matt with a termor, Alex  raised his arms up in the air, and was meet with another round of cheers as well as some boos. His eyes quickly darted around the perimeter of and inside the ring. The whole arena was littered with all sorts of neat "toys": tables, chairs, bats, metal ladders, a trashcan, even the metal steps. Showing his teeth in a wide grin, Alex nodded his head before roaring to the crowd. "YAAAAAAAAAAAAAAAHHHHHHHHHHHHHH!!!"
Calming himself down from his exhilarated state, the man had hardly noticed the girl near him in the ring. The large brute looked at her in confusion. Was that the ref? Strange attire for such a brutal match. Going on with the assumption, Alex took a step forward and asked whom he thought was the scantly-clad dressed cat ref. "Oi! Cat-ref. Where is my opponent at?"
Last edited by kamina_tamotsu on Tue Jul 07, 2015 8:40 pm; edited 2 times in total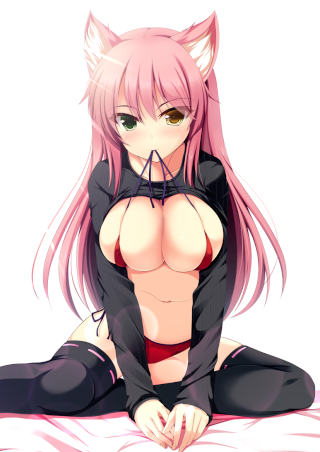 " />
Two humiliating matches. Mint had taken part in two matches and lost them both in a tremendously spectacular manner. Sure she had managed to get one or two hits in but what did it matter if she just ended up getting tossed around like a ragdoll for most of the match before losing? No longer, This time she was going to win no matter what. If She didn't then she could end up getting trapped in a one way losing cycle for the rest of her wrestling career.
To make matters worse this match was being held in Tension rather than Friction meaning that Mint would be fighting in a completely different place. Although it may seem like a minor complaint it all just added to the already abundant amount of nervousness she was feeling.  
Having already made her usual audience appreciating entrance accompanied by strangely intimidating music Mint was now just waiting patiently for opponent in the same attire she always wore. Trying her hardest to eliminate any negative thoughts which found themselves unpleasantly lingering within her mind.
When her opponent did eventually make his way to the ring Mint's fear skyrocketed. This guy was built like a reinforced tank and had a very intimidating aura to top it all of, before the fighting even started she knew that this was not going to be easy.
"Your looking at her." Mint responded with an irritated tone whilst looking up at Alex with eyes filled with fire. She might have been intimidated by him, but she was doing everything she could to act as if she wasn't.
The large Russian seemed slightly stunned at the cat-girl's words. "Whut!?" He darted his wide-eyed gaze darted around the ring area once again. Weapons, pain, steel....his eyes came upon her once more....cute, sexy cat-girl..... If anything, she was thing that didn't seem to fit in this situation.....There just had to be a mistake.

After his few seconds of stun, Alex began to chuckle at girl's words. "Ah..ha....hahahahaha.....Surely you jest, right? Are you sure you are in the right ring?!" He asked the cat-girl with a intrigued shrug, his pecs contracting as he shifted his massive arms upwards. Surely it must of been so. He just couldn't take what she said seriously. She probably, out of some naivety of hers, came into the wrong ring at the wrong time! Alex was pretty sure that she might not of left just because she was too afraid of all the weapons around her, who girl wouldn't be, right?! The disbelief continued as Alex looked out over towards the stage. "Ha..ha....I think it might be best for you to scurry on out now...I have a brutal match that is about to start...and I need to wait for my...." DING DING DING. His voiced trailed off a bit, hearing the loud clash of bell, sounding off the official start of he match. "Ehh...." Alex came back to slower looking back at the cat-girl, now in full disbelief. "W-wha??" He grumbled to himself, the reality of the situation starting to set in. Was this for real?
Throughout the duration of Alex's disbelief Mint just chose to remain silent. Constantly watching him as her expression just began to turn more and more annoyed due to his confusion. Sure this was a rough and tough kind of match, but Mint was a wrestler! She wouldn't back down from any challenge! And this guy had the balls to stand there and talk down to her!? Like she was some kind of lost and defenceless little girl!?

"This isn't some kind of joke you overcooked side of beef! This is the match which was organised! Im your opponent! Small or not im going to kick your dam teeth in!" Mint yelled aggressively in a sudden outburst of anger after the bell had rung. Quickly taking a few defiant steps forwards to stand even closer to her much larger opponent.

"So what now huh?! This still funny?!" She asked in the same aggressive manner, if not a bit quieter this time as she realised what she had just said, as well as who she had just said it to.
Alex watched the girl take a few steps forward to him. The smile on his face only grew wider. This girl was truly naive. In her way of showing that she was she was not to be taken lightly, its as if she was giving herself as a sacrifice to the hands of the beast; the beast being him.

Dropping his hands to his sides, Alex listened to her aggressive tone in her words; completely unmoved. "Hmph...." Instead, the large, wicked grin stayed on his face as the large Russian watched her slowly comes to grips with the mistake she had just made. "Hmph.....yes I do think this is still funny.....I'm going to have fun time breaking you tonight...." He then growled out, clenching his fist and attempted at driving a full thrust punch straight into the girl's stomach. When it landed, the man would walk forward and grip the girl's hands. Bringing them up, Alex would start pushing against the girl, initiating the test of strength hold.
The very moment Alex's devilish grin grew wider Mint really began to realise how much worse she had made things for herself. Maybe earlier she should have just pretended that she was in the wrong place and quickly left. Unfortunately with Alex now making intimidating threats she understood that it was too little too late.

When Alex hit her with the deviating punch Mint's aggressive body language dropped within an instant, giving way to a look of pure shock and pain whilst she released a loud involuntary gasp. She would have fallen if not for Alex quickly grabbing a hold of her hands forcing her downwards as she put up next to no resistance in the test of strength, too weak from the bone cracking strike.
Much to Alex's surprise, the rag-dolling of his opponent seemed to come a bit too quickly as he, with a single punch, rendered the pink-haired cat girl damn near out of it. He would feel this most strongly when he initiated the test of strength, literally having to use his own strength just to keep the girl up on her feet. It annoyed him slightly to see his opponent not even able to take on blow without being knocked out...but he reassured himself that he still had yet to test her endurance. If anything, perhaps that would be the best quality about her. Pushing the girl down to her knees, trying to strain her body with his own weight, Alex asked the girl. "Hmmmmm....so...tell me cat-girl.....what can I call you?"
Just about managing to recover from the first vicious strike Mint remained on her knees whilst diverting all of her strength into pushing Alex back with a facial expression of pure determination. Unfortunately no matter how hard she was trying, Alex didn't seem to be moving an inch.

"My name is Mint! And by the end of this your never going to forget it!" She growled up at him through her teeth. Still trying her best to seem as if she was completely unafraid, despite the fact that he had almost floored her with one punch and she couldn't even make him budge in a simple test of strength.
Alex couldn't contain his laughter as the little girl spoke her name. "Ah ha ha ha ha ha!" He was mostly laughing at the fact that she still didn't seem to get it yet. It was over for her. There was no big come back, no reversal, no tipage of the scales. She was his until he was done with her. As she finished her statement, Alex lifted the girl up slightly, just enough that she was fully in his his control, before pushing back down with with even more as he forced the girl into a painful split.

"Mint huh? I wonder if you will refresh my breath when I'm done with you.....Tchahahaha!" Alex laughed out once again as he let go of one of the Mint's arms and walked to the back of her. Re-seizing the girl's hand, Alex pulled them both backwards and pressed a boot against her back. In a pulling/ pushing motion, the Russian began to brutally yank at the girl's arms. "You can call me Annihilation, Laceration, Extreme Xtermination ....or just...ALEX.... for short...!" The large man snickered as he tugged Mint's arms back once again, not accepting the fact that his acronym was horrid.
Angered to an even further extent by Alex's taunting laughter Mint continued her rather pitiful attempts at pushing him back, all the while aggressively grinding her teeth together. Truthfully Mint did understand that she was currently in way over head and that she would most likely end up paying for it in an unpleasant manner. What she was having tremendous difficulty doing was accepting this as fact.

Suddenly forced back down to her knees again Mint was way too distracted with trying to deal with the aching pain to even properly register Alex's insult. However such pain would only dramatically increase over the next few moments as Alex switched up his hold and began tugging on Mint's arms with such force she believed he was trying to rip them off!

"Agh! Ah! Ahh!.. Y-Your.. W-Wordplay somehow manages to be.. Stupider than you are.." Mint barely managed to stutter out through the fierce pain. Currently remaining still out of fear of straining her arms even further.
Page 1 of 4 • 1, 2, 3, 4



Similar topics
---
Permissions in this forum:
You
cannot
reply to topics in this forum