Champions & #1 contenders
Highfly Flying Out Of Town
Tue May 22, 2018 1:31 am by HighFly
Hello everyone, I just wanted to inform all I have threads with that I will be gone from this coming Wednesday through Sunday. I won't be able to post consistently if at all during this time, but I will try to make up for it next week! I am sorry for the inconvenience to everyone.
Comments: 7
The Austrailian Mudslide is Back.
Sat Apr 21, 2018 6:20 am by Softsquad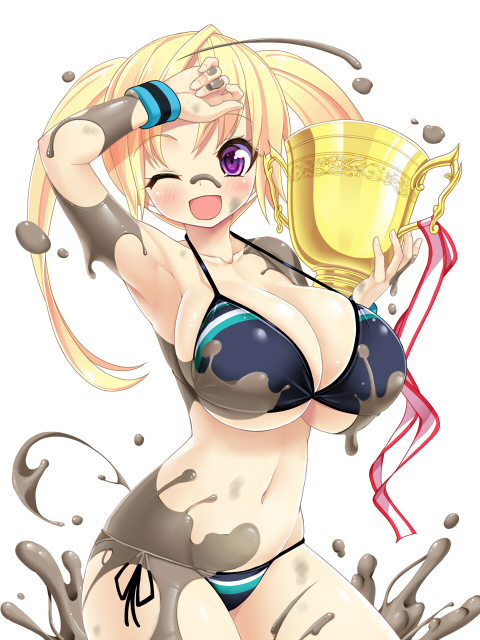 Granted that most of you won't know me or remember me, but I've had a few matches here and there some time ago. Well I think its time to become a regular around here and try to have some fun again, but at the same time keep coming back. Anyway I think its time to jump into some matches with Zoe Taylor, my mud wrestling character from Australia and get her back into the squared circle. Furthermore I will update my characters as I think some proper changes need to happen.
So if anyone would …
[
Full reading
]
Comments: 5
Page 2 of 4 •

1, 2, 3, 4


Gwendolyn was entirely truthful when she boasted about her exorbitantly priced instructors and their imparted wisdom…though as to whether or not the heiress was paying attention during those lessons was entirely different story…she got the basic gist of it anyway.

Gwen bent and contorted the captured wrist only as a brief opening maneuver to set up further arm straining mischief, but Cassie reacted without hesitation and with little time for Gwen to respond. With Cass pressed up against her the captured appendage would be immediately released as her feisty opponent curled her arm around her neck into a tight headlock, the heiress bending lower with a grunt as the hip bump into her abs angled her further downwards.

Gritting her teeth from Cassie's annoyingly professional counters, one of Gwen's arms would send repeated fore arm strikes into Cassie's lower back to loosen the hold and give her enough leeway to hopefully pop her golden curled head free.
"Ow," Cassie said flatly. She was striking? Was it that kind of spar?

The forearm strikes thudded against her back, and she decided she didn't want that. She stepped over and spun behind Gwendolyn, and ducked low to grab hold of her ankle. She folded the leg up and drove into her, trapping her standing leg with one of her own to bring her down to the mat.

The moment they hit, Cassie hopped on Gwen's back and wrapped her legs around her, trying to hook her heels in the heiresses inner thighs to make her stay put. She closed her eyes, as she frequently did in training, and drew a breath.
Gwendolyn stumbled forward slightly after the clubbing strikes apparently did the trick, freed from the headlock but not from Cassie's relentless grappling techniques. Before the heiress could even straighten her back up again to a standing posture she felt one leg swept out and bent behind her. The heiress' wide-eyed and shocked expression showed signs of her cool composure definitely thawing, hopping on one foot with her arms flailing before Cass plowed into her from behind.

The heiress tumbled backwards to a sitting position and bouncing her perky rear off the mat, barely registering the speed to which she was being taken down. Gwen's wincing face wouldn't catch the legs entwining behind her own until the heels fastened behind her thighs. With unladylike grunts and groans she shifted left and right but found herself immobilized with her legs embarrassingly spread eagled thanks to the leggy entanglement. Frustration was definitely kicking in early, the heiress using her free hands to attempt to unhook at least one of her legs before Cass could press her advantage with further grappling shenanigans.

"Get...OFF!!"
Last edited by killcarrion on Tue Nov 18, 2014 4:30 pm; edited 1 time in total
Cassie reached in front of Gwen to grab her wrists as the blonde pulled at her ankles. "Don't tense up," she said calmly. "Remember to breathe. Relax until you're ready to make a move..."

It was all basic stuff, but Gwen seemed very on edge grappling with her. Cassie kind of liked it, but she felt bad for it. She shouldn't be trying to rub anything in anyone's face.

As Gwen pulled one of Cassie's ankles free from it's position around Gwen's leg, Cassie pulled that arm around behind Gwen's back into a hammerlock. Then she deftly put her heel back where it was, and began to drag Gwen's wrist up toward her shoulder blade, threatening terrible pressure on her joints.

It was a pretty sneaky kimura, though she knew she wouldn't catch any very high level grapplers with it. Gwen obviously didn't grow up in a jiu jitsu school, though.

She fought the urge to tell Gwen to tap. She didn't want to offend her any more than she already had, and she sort of wanted to see how she would handle it.
"Don't..you..dare..presume to-nngh!!" Cassie's calming backseat coaching, while well-intentioned, couldn't help but come across as condescending to Gwendolyn and her mountainous ego. Who was SHE to entertain the notion of instructing the heiress as if she were her superior!? Gwendolyn's earlier snide remarks about Cassie being a fierce competitor were only said in jest, she never intended for their to be any truth to them!!

"Gah!!" Despite Cassie's advice Gwen's body couldn't help but tense up once the hammerlock twisted her arm behind her back. The contortion of her limb brought a searing pain into her shoulder joint, the heiress now leaning backward into the pint-sized grappler still seated behind her. With her movements hobbled by the ensnarement of her legs and the strain on her arm, Gwendolyn was utterly livid at how helpless Cassie was making her look.

She languished in the hold for several more seconds as nervous sweat drops dabbed her fore head. Appalled at the notion but finding no other recourse, Gwen breathed deeply through her nose and out her mouth, ashamedly actually taking Cass' earlier instruction. With her mind and body relaxed she noticed the ropes were not as far away as they had seemed. Using her free hand to help scoot and slide the intertwined pair along the mat, Gwen clenched her teeth as her athletically toned legs demonstrated their flexibility, her split legs widening apart even further until the tread of her boot scraped the tethered rope.
Cassie held onto Gwendolyn's wrist, but that was all. She opened her eyes and watched with an amused little smile as the rich girl labored to inch herself along the mat. The ropes were a valid option, the last resort of a journeyman, and the only option for someone in over their head.

She didn't mention that she could have broken Gwen's arm from that position without too much trouble. It would have been much easier for her to just tap out and start over, but Cassie didn't stop her from dragging the pair of them to the ropes instead.

Once the girl's foot, after a heroic effort, found the ropes, Cassie released her and rolled back over her shoulder. She let out, in spite of herself, a little giggle. She got up to her feet and backed up to the middle of the ring to wait for Gwendolyn to right herself so that they could start again.

"So what is your experience, exactly?" She asked, in a warm and friendly tone.
Gwen rolled over to lay on her front with an exasperated and immensely grateful sigh of relief once Cassie mercifully relinquished her hold. She clutched her shoulder and massaged her sore joint as best she could while working her way back to her knees. It was at this point Gwen may gotten the inkling she might have just, possibly, bit off more than she could chew.

"Tch…" Gwen's hazel eyes shot daggers at the cherubic Cassie and her coy little remark. After the heiress' embarrassing display just now, a question like that could easily be interpreted as a indirect jab at her supposed wrestling skills. And for someone as prideful as Gwendolyn that was exactly how she took it, frustrated beyond reproach at how the same diminuitive girl she tore down that night was dismantling her in the ring.

"15 years, Gymnastics and ballet. Genée International Ballet champion. 4 years, Professional wrestling….in summary." Gwens matter of fact answers were a sign of how dead serious she was moving forward, a brief summary of her athletic training over the years. Once the pain in her shoulder receded to a slight discomfort, Gwen approached Cassie in the middle of the ring with her arms at her sides with curled fists. "And you're schooling, dear Cassandra? I'm ashamed to admit to this day I still know so little about you…" A fact the heiress would soon rectify now that Cass was earning her ire more and more, her stone cold visage hardly the bright ray of sunshine Cassie's was.
"You're a ballerina?!" Cassie's face lit up like the morning sun. "That's so awesome! I... can't dance at all. I wish I could! My friends can all dance, but not ballet!"

She stowed her gushing for the moment. This was serious business.

"Me? Oh, well I came from Elliot Martial Arts, and Elliot Jiu Jitsu. That's back home in Ontario. Well, it is home. My dad runs the school, and I mostly grew up in there. I did my homework on the mats and stuff. I started learning jiujitsu when I was three, so that's kind of eighteen years of jiujitsu, and about... four years of pro wrestling."

She nodded. That about summed it up. She left out the parts about being undefeated for most of her competitive life in jiujitsu, for being a commonly known name among other jiujitsu schools, about the awards, the trophies, whatever else.

Cassie "The Phenom" Elliot. She preferred "Babybear".

"Do you know my friend Taylor? She does gymnastics, too. She trains with the olympic team or something like that once in a while."
Gwen folded her arms beneath her puffed out chest as Cassie showered her with praise and envy over her expertise in the fine art of ballet, taken aback with a twitching eyebrow at her fangirl reaction. Either Cassie was an expert manipulator and in complete control of her emotions or she really was dense enough not to pick up on Gwen's imposing body language and spiteful expression….Being treated so warmly definitely caught her off guard….this was certainly not the humble wallflower Gwen recognized from before.

"Yes, yes…your friend Taylor whom you've mentioned before is a veritable bastion of good will isn't she? You certainly rub shoulders with the greats, don't you?" Gwen rolled her eyes to the side briefly when Cass mentioned Ms. Parker, not particularly holding a grudge against her as much as she was perturbed by having another rival for the spotlight in the league. "Whatever paltry gymnastic abilities she may have wouldn't compare to the athleticism required to excel in the exquisite refinement of ballet…" Gwen wasn't entirely wrong, the tortuous poses and elegant movements are more brutal and taxing on the body than you would think.

Gwendolyn did flinch slightly as Cass detailed her extensive jiujitsu background, pieces falling into place as to how such a vertically challenged woman so easily got the better of her. "Well, most impressive, Cassandra. A child prodigy with a background like yours….it's no wonder you were able to best Dark Angel so convincingly…though I 'm afraid I must query, why hasn't the entropy title ever adorned your slim waist? You've certainly earned the right to at least be in the running…"
Last edited by killcarrion on Wed Nov 19, 2014 7:11 am; edited 1 time in total
Cassie blinked in surprise. "Entropy? Oh, well, I guess I, um..." She tried to wave off the idea. "I'm not that good. Pro wrestling isn't jiujitsu, and I'm just not as good at it. I mean, Taylor had it, and Silver Ace just won it, and... I'm just not sure if I'm really good enough for that yet. I don't think much about titles, though, I just want to compete, eh?"

She shrugged. She had no lack of confidence in her submission abilities, and for very good reason. But her pro wrestling career, though her record was impressive, just wasn't the same. She was undersized, tiny, really, and she wasn't sure that she could ever compete with the top-level girls. Just thinking about the giants, Rebecca Tomko being the biggest, deflated her. She knew she couldn't think that way, though. She just had to put one foot in front of the other and do her best.

She stepped forward and wrapped her arms around the heiress' body and gave her a tight squeeze. "Okay, let's go again. You're doing just fine."

She stepped back and resumed her grappling stance.
Page 2 of 4 •

1, 2, 3, 4


---
Permissions in this forum:
You
cannot
reply to topics in this forum