Champions & #1 contenders
Serious apologies to everyone....
Mon Mar 19, 2018 1:59 am by Cy_Man
To those who I RP with, I just want to say that I am terribly sorry for all my delays that I constantly do. I just have been SO unbelievably busy as of late that I hardly have any free time to be able to attempt to make posts to our threads. I really needed to get his off my chest badly, and it makes me feel like a complete piece of shit for doing this all the time. If you don't want to RP with me, I completely understand, there should be no reason or excuse for me to have to keep you waiting …
[
Full reading
]
Comments: 0
Explanations and Apologies
Sun Mar 18, 2018 10:02 pm by acuya
Okay, so.
As some of you may have noticed, the Entropy Title Match from last year's Summer Splash has come to an abrupt conclusion.
The reason for this is because my match with Lies was taking too long, and with the next Summer Splash coming up, the Entropy Belt needed to be put in play for this year.
I won't get into the specifics of WHY that happened, suffice to say it ultimately comes down to my fault, I think. For those who haven't been here long, back in the day, I had a problem with …
[
Full reading
]
Comments: 1
A match for Takeichi
Mon Mar 12, 2018 7:31 am by GrandAkumaShogun
Since both Imai and Takeshi are currently involved in matches I was wondering if anyone is interested in taking on my first wrestler I made for here, Takeichi Mori. His profile says he's a jobber but I intend to change that and hoping a match can help with that. Anyone interested please get in touch with me on here in a pm.
Comments: 1

-----------------------------------------------------------------------------------------------------------------------------------------------
Name:
Yui Kanno
Alias:
School Dreamer
Sex/Gender:
Female
Age:
18
Eyes:
Light Brown
Hair:
Pink
Height:
5'4"
Weight:
119 lbs
Nationality:
American
Alignment:
Face
Favourite Moves:
-School Girl Pin
-Camel Clutch
-Headscissors
RPG Style Stat spread:Endurance:★★★★
Strength:★★★
Speed:★★★★
Defence:★★★
Technique:★★★Finishing Move/s:
-
Shooting Star!:
Yui would climb on the turnbuckle with her opponent. Once on the top,she would grab her opponent's mid section in some kind of bearhug, just to leap off the corner and spin in the air,hitting her opponent's head hard on the mat. After that she would surely go for a School Girl Pin.
Entrance Music:
"Come Sweet Death" - End of Evangelion's Soundtrack.
Appearance: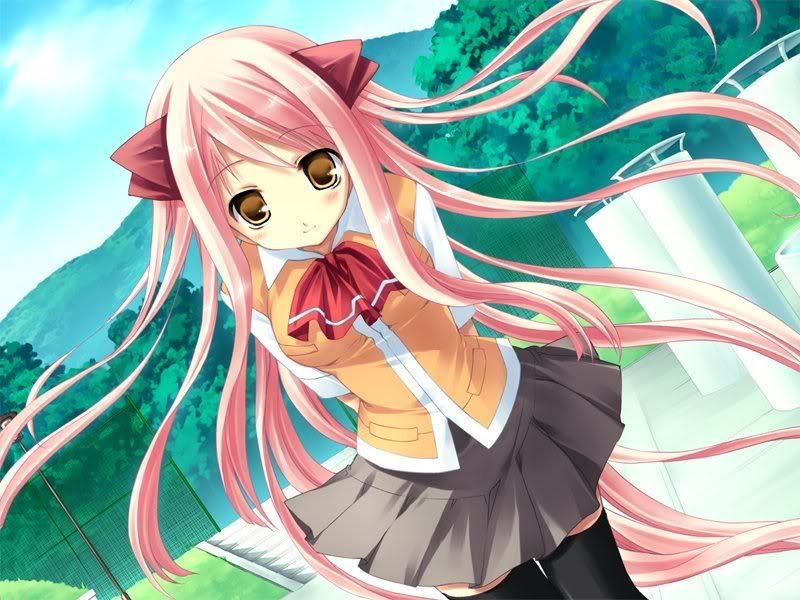 Personality:
Yui is the most kind person in the whole world. She always sees the positive side of things ,and tries to change what she thinks is wrong. There is only one way to make her get angry. Never,and I mean NEVER say that her pet is ugly. Mako (her pet) is the most precious thing for her in the world,and she wont let anybody to insult it. As her friend Shizuka,she will keep fighting until she has no energies left in her body.
Past/History:
Yui was born in Malibu. There,she met a little,purple haired girl. Shizuka? Yup. Despite the difference of ages,she admired Shizuka her entire life. They went to the same school,where Yui started to wrestle. And almost every time she fought,she lost. Until one day,she had to fight Shizuka. The little girl defeated Yui in 30 seconds or less. Yui didnt feel bad at all,and Shizuka was simply amazed of how some people can be nice even after a loss. After that short match, Yui lost her apartment and moved to Shizuka's.
The years passed,she grew older and, when she graduated from school, she left Shizuka's apartment and decided that it was time for her to start living on her own. After a short while,she found a new house. With that problem solved,Yui focused on wrestling again. She started to train hard on her wrestling moves. She always thought that it was the key to victory. Recently, she found out that Shizuka was participating in AFW,so she followed her to the league.
Recently, she accompanied Shizuka in her first spar match after her operation. Her opponent was no other than Satomi, a brilliant scientist who knew a way to make Shizuka come back to normal. She was beside of her little friend all day long, and couldnt be happier when Satomi said that only in a week, she would fight like before, and even better.
Attire:
She would often use her school uniform,except in some special matches,where she would wear a white one piece swimsuit.
Fun facts:
-She doesnt like boys because she thinks they are a little creepy and only think in sex.
-The weakest part of her body is her belly. Punch/Kick her right on the gut and she will be at your mercy.
-She loves every kind of animal in the world,including snakes and toads.
Likes/Dislikes :Likes:
-Shizuka
-Satomi
-Mako
-Nice people
-Helping people
Dislikes:
-Dirty opponents
-Guys
-Being alone
-People who say anything bad about her friends/pet
[size=150:2kzlatdo]Yui's Records
Wins: 2
- Yui won against Kanai Kanamori via PinFall
- Yui won against Aya Kirinmaru via Orgasm
-
Losses: 1
- Yui lost against Corey Sniper by PinFall
-
-
Draws: 0
-
-
-
Championships/Accomplishments:
-
Friends:
-Shizuka: Yui's best friend and definitely the closest person she has. They actually live together in Yui's apartment. She considers Shizuka as a great, strong willed girl.
-Kanai: A friend she met in the ring. Yui was captivated by Kanai's look, and once they left the stadium, they spent a night together. A night she will never forget.
-Satomi: A scientist who said she could fix Shizuka's back. Amazed by her knowledge, she trusted her and allowed her friend to try it. Yui couldnt see any evil in Satomi's intentions, so she decided that she was worth of having them as friends.
Allies:
-
Rivals:
-
Enemies:
-
Crushes:
-Kanai: A friend she met in the ring. Yui was captivated by Kanai's look, and once they left the stadium, they spent a night together. A night she will never forget.
-----------------------------------------------------------------------------------------------------------------------------------------------
Last edited by 271 on Thu Jan 21, 2010 6:26 pm; edited 1 time in total
_________________
[url=http://afwrpg.informe.com/forum/members-blogs-f42/jessica-s-crew-t2115.html:2wqwu7zy][size=150:2wqwu7zy]
Jessica's Maids
[/url:2wqwu7zy]



Posts

: 4932


Join date

: 2008-10-13




---
Permissions in this forum:
You
cannot
reply to topics in this forum