Who is online?
In total there are
40
users online :: 5 Registered, 0 Hidden and 35 Guests :: 3 Bots
dognose
,
kerflubble
,
Mart-Kos
,
SimplyMoon
,
Unlife
Most users ever online was
418
on Tue Jul 30, 2019 9:51 am
Champions & #1 contenders
Looking for... anything really.
Mon Jul 26, 2021 10:43 pm by Chaos
Hey. I'm just here to look for one more thread, just trying to be active.
Could be anything as I don't have anything in mind.
if interested, don't be afraid to PM through the forum or Discord (ChaosDeku#0180) or even here, so that we may discuss.
Thank you and hope to see you soon.
Comments: 2
Debut Match
Sat Jul 24, 2021 1:34 am by Rymiscuius
Hello.
I might have time for a thread or two.
Got one character so far, she's pretty snazzy.
PM if interested but discord will likely be easier
Rymiscuius#7782
Comments: 0
Match Wanted
Sat Jul 17, 2021 6:51 pm by KillerV
Looking for female opponents against my Killer King or Nathan Ballwin.
Prefer my males win the match.
Can discuss via DM or Discord KillerV#5130 for more details.
Thank you.
Comments: 0
Page 1 of 6 • 1, 2, 3, 4, 5, 6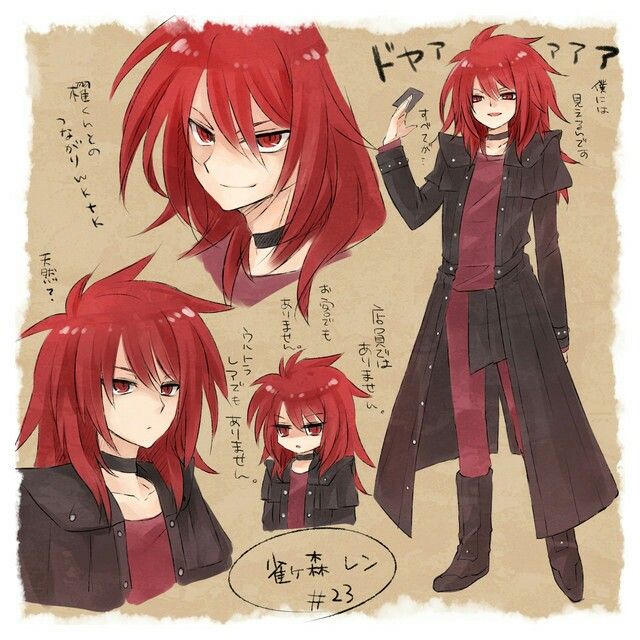 Torra Shinjiro was doing some last minute stretching in the locker room when he was called down for the match, he nodded and began to walk down to the ring.
As he was walking down to the ring he was waving to the crowd and his theme was playing and the A.C in the ring was blowing his long red hair making him look majestic. When he climbed in the ring this gave him a good opportunity to think about what he's up against. Hes against a woman named katy armstrong, But this wasn't just a normal match it was her debut match, torra wanted to give her a warm welcome so he volunteered and signed up for a match.
He was wearing his normal wrestling attire (which is the one in the pic but without the shirt and jacket only the pants) "hmm I wonder where she is." He said to himself while giving the crowd one last bow while waiting for her to come

*torra shinjiro17




Posts

: 437


Join date

: 2019-08-26


Age

: 22



"Okay, this is it. You can do this Katy. You. Can. Do. This."
Soon enough, Torra and the AFW crowd would hear the theme of his opponent. As the muscular newcomer soon made her way to the entrance ramp. Despite of having such an athletic build, there were clear signs of nervousness on Katy as Savannah decided it would be best of she made her debut alone. So she can learn to stand tall even with a packed crowd.
Katy was against it, but Savannah was stubborn and in the end she had to prove herself without having Savannah over her shoulder. So she worked up enough nerve to take a deep breath as she walked down to the ring and soon starred across from her opponent. Katy hung in her corner and waited for the referee to begin the contest though she took some advice her Texas wrestling instructor gave in that some dialogue would help cut the tension.
"I-I hope we have a good match. Good luck." Katy said to Torra as she showed she would be a sport about this match regardless of the outcome.
Katy Armstrong :

godjacob




Posts

: 195


Join date

: 2019-08-31



Torra heard the theme played and looked and saw her and blushed and started at her, she was attractive and strong! She was huge, around 2 inches taller than him! *she's awesome!* He thought to himself. Her legs were well muscled making torra stare at them a bit since he has a thing for legs and hers were great. He smiled when she wished him luck.

"Ah you must be katy I'm torra, and it's s pleasure to meet you, I hope I can make this a debut match you won't ever forget, and may the best fighter win." He shakes her hand in a friendly matter and then went back to his corner.

A few minutes has passed and the bell rang, he slowly walked around her and then he ran in fast and gave her a few punches to the stomach then jumps behind her to punch her back and then jumps to punch her ribs, if she doesn't react fast enough he would then jump and wrap his arms and legs around her arm and flips her.

*torra shinjiro17




Posts

: 437


Join date

: 2019-08-26


Age

: 22



Katy didn't have much time to react beyond the good gesture handshake, as at the sound of the bell Torra came right at her and began to fire a series of shots at her which Katy got her hands up to block as each one stung but she held her guard. Though Torra was far from done as he jumped over her and tried to strike her back.

Katy worked to try and duck this attempt, and tried to take Torra down with a leg sweep. Katy was not speedster, but she was athletic and quick for her height as she hoped to catch Torra off guard in this fast pace start to the match.

godjacob




Posts

: 195


Join date

: 2019-08-31



While torra was busy with the punches he didn't expect her to leg sweep, once she did he lost his footing and went down to the ring but he grabs on the the ropes and bounces his way back up.

Torra used the ropes to launch herself at her to a face throw attack, while he's no powerhouse he has alot of tricks and ideas for fights, brain over brawn type but he had some strength to his fists and he's gonna show her what he's made of, if she was caught off guard and his attack worked, she would of fell back on the ring and he would next elbow drop her, only if his face throw attack worked.

*torra shinjiro17




Posts

: 437


Join date

: 2019-08-26


Age

: 22



Katy was hoping to knock him down but Torra proved to be more athletic and quicker to react than she expected as he charged ahead and slammed that palm against her head as he aimed to try and take her down.

Katy was driven back some, the momentum and charge catching her off guard but she was not one to allow herself to fall so easily. She needed to prove something to Savannah, to this crowd and herself so she tried to dig her feet into the ground to try and remain standing as she aimed to grab at Torra's wrist with one hand as she would try to force it off her head working her muscles for all they were worth to try and force him off. If successful she would try to pull him in and try to take him down with a belly to belly suplex.

godjacob




Posts

: 195


Join date

: 2019-08-31



It all seemed perfect, he ran to her with the plan of catching her off guard and slamming her face to the ring floor....
Until she literally put her foot down and and stood her ground and now she wouldn't budge, it was like pushing a brick wall! Before he could get away she quickly grabbed his arm and pulled him close, he blushed a bit when their bellys and chests touched but this ended when she did a belly to belly suplex on him.

This sended him on the ring floor, this hurted a bit but he's still ready to fight, he got up and did some stretching. " wow that was pretty good, but I'm still in this fight let's see what you can do" he said playfully and then gets in a defensive position.

*torra shinjiro17




Posts

: 437


Join date

: 2019-08-26


Age

: 22



Katy had some satisfaction as she was able to overpower and slam down Torra, seemed she had a strength advantage though she could not rely on one exchange to get a concrete conclusion. Amazingly Torra sprung to life to praise her and got ready quickly showing he could take a hit in stride. 

"W-wow, uh. You recovered quickly. I-impressive, but I am still gonna give it all I have." T Katy said as she also moved in a grapple position and worked to inch close to him; extending her hands for what appeared to be an invite for a test of strength. 

godjacob




Posts

: 195


Join date

: 2019-08-31



Torra saw her approach and extended her hands offering a test of strength, torra was eager to start it so he grabbed her hands and pushed with all his might.

But..... this was a dumb mistake like... like really dumb cause test of strengths weren't his strong suits and well she was stronger than him so she wasn't even budging not even for a bit, this'll cost him the test of strength and now he's vulnerable for her to attack.

*torra shinjiro17




Posts

: 437


Join date

: 2019-08-26


Age

: 22



Torra agreed to accept her test of strength, and thankfully her hunch about her having the edge in raw power seemed confirmed as she was able to quickly overpower Torra as she had the advantage. An Advantage she used to work him to the corner where he'd be trapped and Katy could make the most of her greatest strength.

A strength she used in the form of a shoulder thrust, as she bent down and aimed to drive her shoulder into Torra's stomach. The goal of course to keep him pinned in the corner if she could get him there and work to try and drive the air out of his gut.

godjacob




Posts

: 195


Join date

: 2019-08-31



Page 1 of 6 • 1, 2, 3, 4, 5, 6
---
Permissions in this forum:
You
cannot
reply to topics in this forum